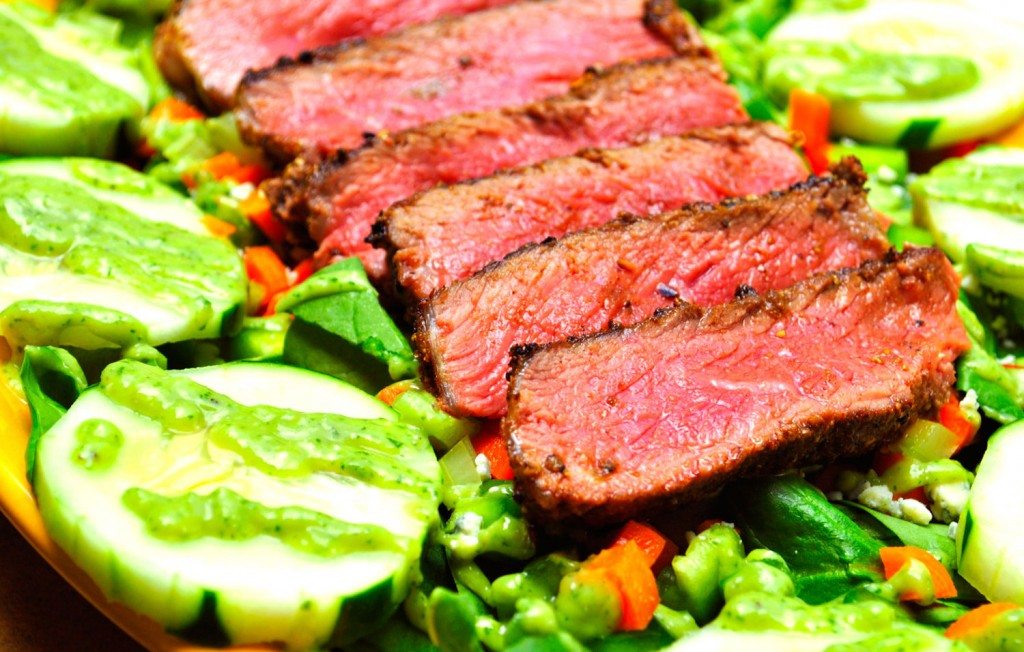 Mmmmm...steak....mmmmmm....dribble, dribble, dribble, drool....
I love me a good steak! Love, love, love!
But THIS steak is probably the best I have EVER eaten.
No lies.
Not to toot my own horn or anything (Toot! Toot!), but I'm patting myself on the back for this one. (Could I have possibly used more cliches in that sentence?!?)
And to think...I totally almost made something completely different for today's recipe.
Thank the good Lord up above that I didn't!
The hubs and I have started brainstorming recipe ideas while lying in bed at night, and that's exactly what we were doing when this brilliant idea came to light. I said that I wanted to change my recipe b/c I wanted to make something a bit easier.
So we stormed...and stormed...and stormed...making sure to stick with this week's Cinco de Mayo day theme...
And this is the result...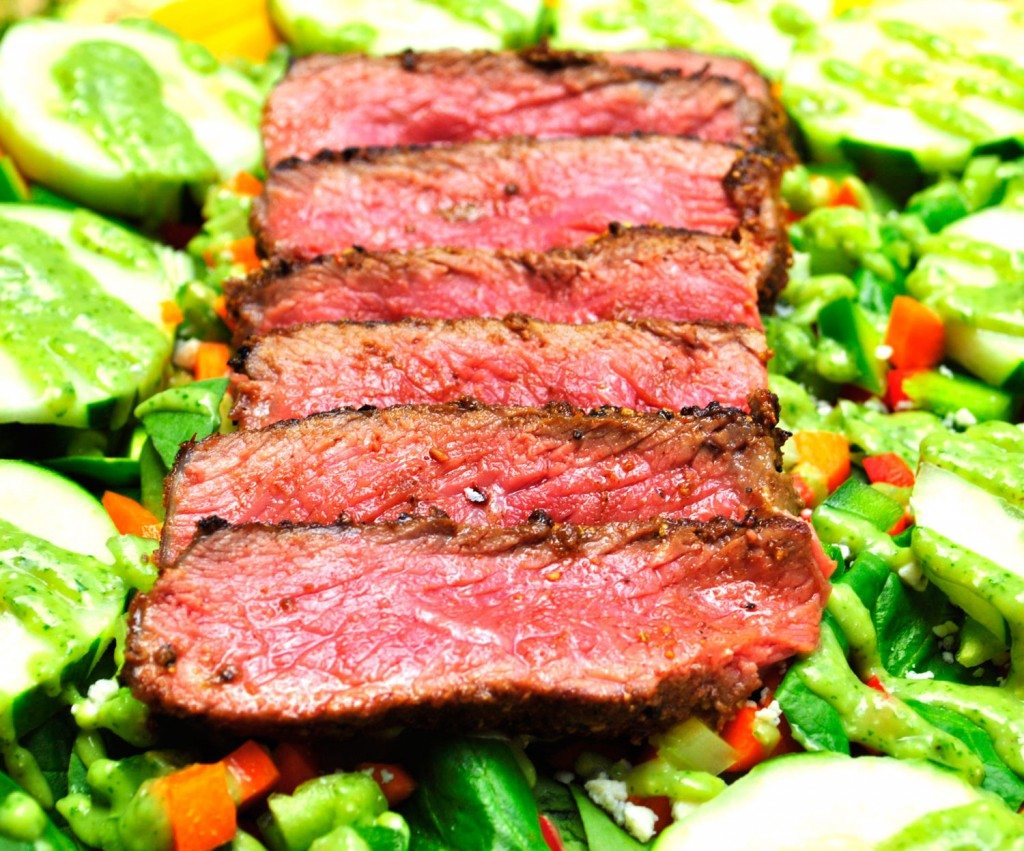 The medium-rare ribeye is seasoned just right and is spicy, smoky, salty, sassy, and sweet.
When combined with the silky smooth vinaigrette (which is oil free BTW) the salad goes into full flavor overload and is absolutely MIND BLOWING.
This recipe is going down in the top 10 for sure.
Now, go make it...and be prepared to fall in love.
Note: I still haven't figured out what's going on with the pictures 🙁 They just automatically fade when they are uploaded. Anyone have any suggestions?
Getting to know YOU...
How do you like your steak cooked?
What kind of salads do you like to make?
Have Cinco de Mayo plans?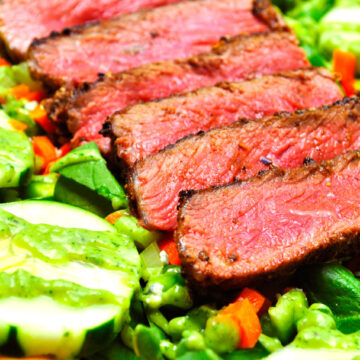 Cinnamon and Coriander Spiced Steak & Spinach Salad w/ Avocado Gorgonzola Vinaigrette
Ribeye spiced with coriander and cinnamon meets a silky avocado viniagrette speckled with gorgonzola cheese
Print
Rate
Ingredients
Dressing
1

medium avocado

¼

of a large sweet onion

1

garlic clove

½

fresh jalapeno

seeds and membranes removed

⅛

cup

red wine vinegar

zest and juice of one lime

1

handful fresh cilantro

¼

cup

gorgonzola crumbles

2

tbsp.

agave nectar

¼

cup

cold water
Salad
8

cups

baby spinach leaves

½

a red bell pepper

½

a green bell pepper

½

a cucumber

6

baby carrots

2

tbsp.

gorgonzola crumbles
Instructions
Mix spices in a bowl until well incorporated and rub the mixture all over the steak, being sure to coat it entirely. Let sit until it comes to room temperature (about 30 minutes).

Combine all dressing ingredients in a large food processor and puree until smooth. Slowly add water, one tbsp. at a time, until the dressing reaches desired consistency. Remove blade, cover, and refrigerate.

Pre-heat a grill pan over medium-high heat until it is screaming hot and slightly smoking.

Add olive oil to pan.

Grill steak to desired temperature (4-5 minutes on each side for medium- rare).

Remove steak from pan, place on a plate or cutting board, cover with tin foil, and let rest while you prepare the veggies for the salad (let steak rest a MINIMUM of 5 mins. 10 mins is better).

Chop the veggies for the salad and add to the spinach.

Slice steak, place on salad, and drizzle with dressing.

Enjoy!!!
Notes
*WWpts= 8 pts per serving* *WWpts+= 9 pts per serving*
Nutrition
Serving:
4
g
|
Calories:
360
kcal
|
Carbohydrates:
24
g
|
Protein:
36
g
|
Fat:
14
g
|
Fiber:
5
g