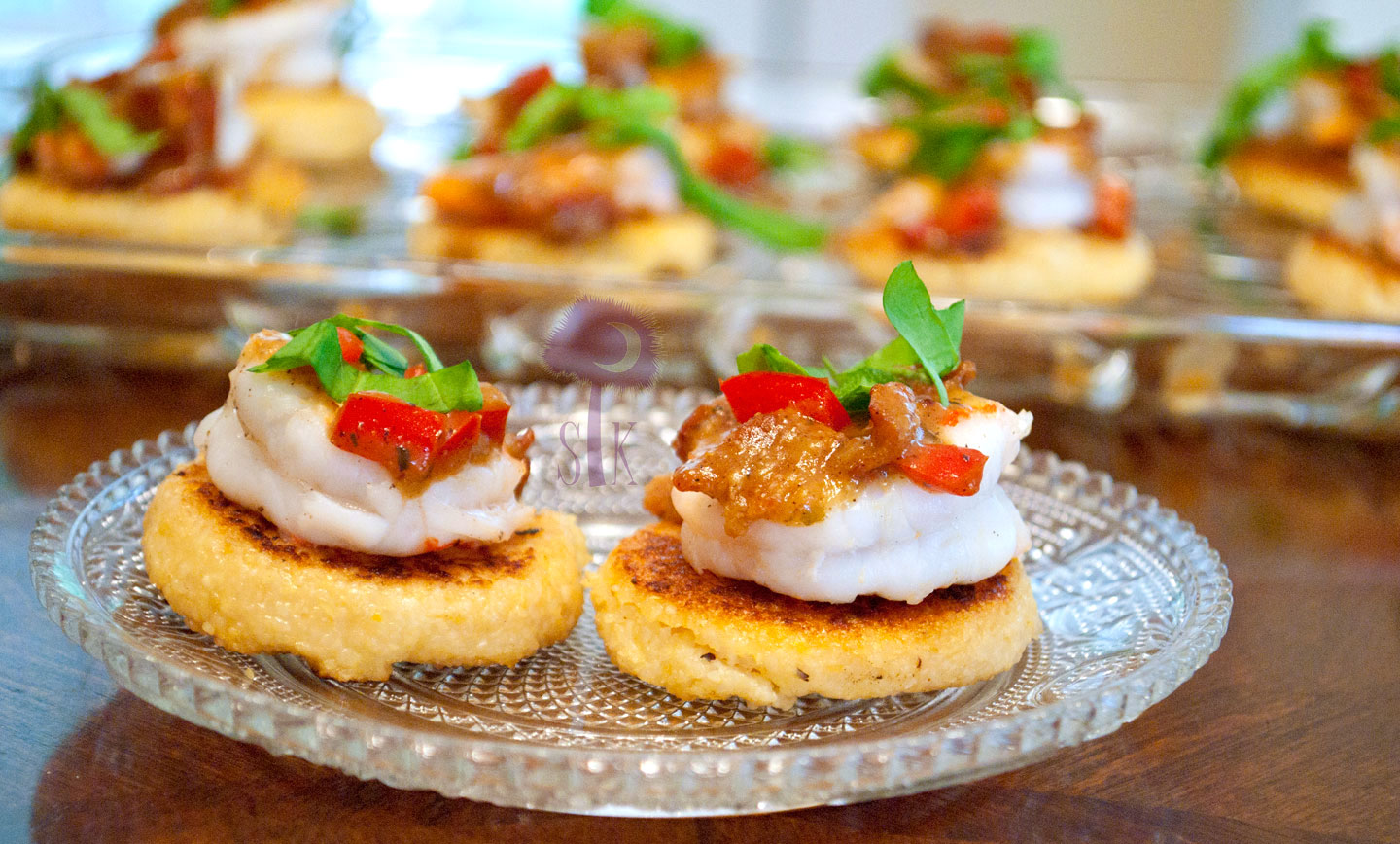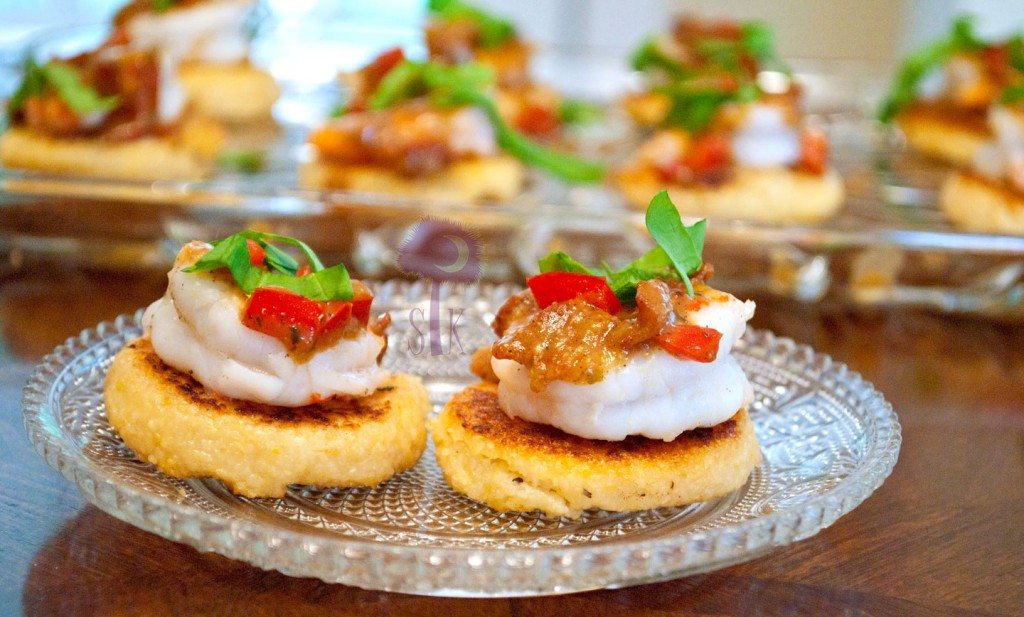 I realized something the other day.
I have been writing this blog for a little over 5 months, yet I have completely failed to post a recipe that included seafood.
That's just plain blasphemous.
Especially since I live on the coast and have incredibly fantastic and flavorful ocean life completely at my disposal.
I hope you can forgive me.
Today things will change.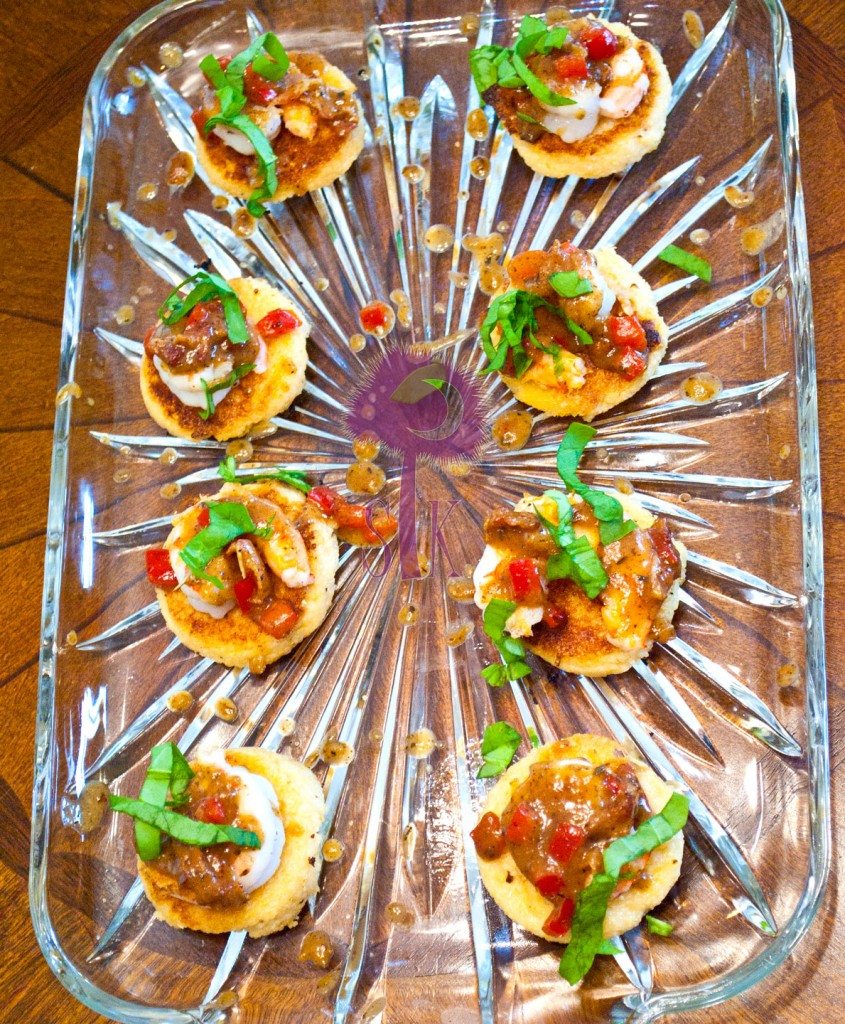 If you've checked out my Skinny On Me page, then you know that I am from and currently live in Charleston, SC.
My hometown is absolutely stunning and is rich in its own culture, people, and cuisine.
Our Lowcountry fare is famous on its own, and today I'm going to give you a skinnier and healthier version of one of our most popular dishes.
Shrimp and Grits.
The essence of a Charlestonian's soul.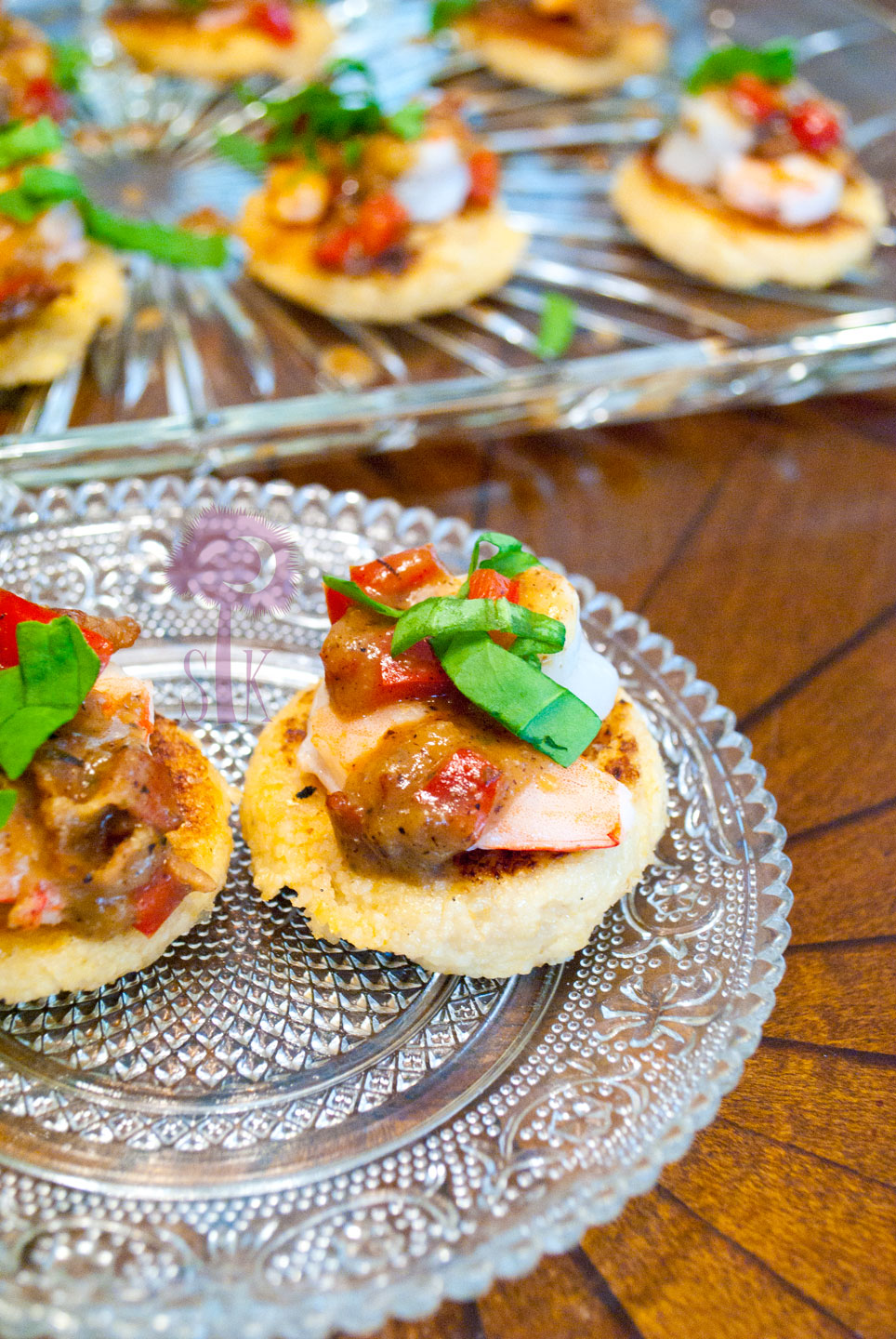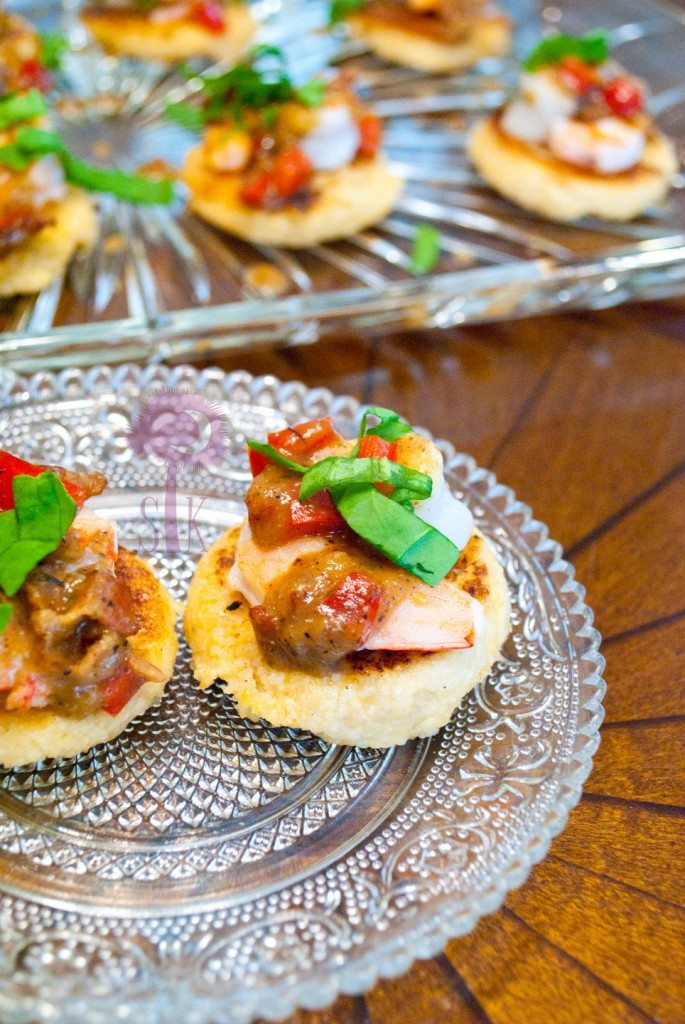 I feel completely blessed to live in this town, and I feel even more fortunate to have amazing friends in nearly every profession there is.
One of those friends just so happens to work for the most prestigious and well know shrimp suppliers in town, Magwood's Seafood.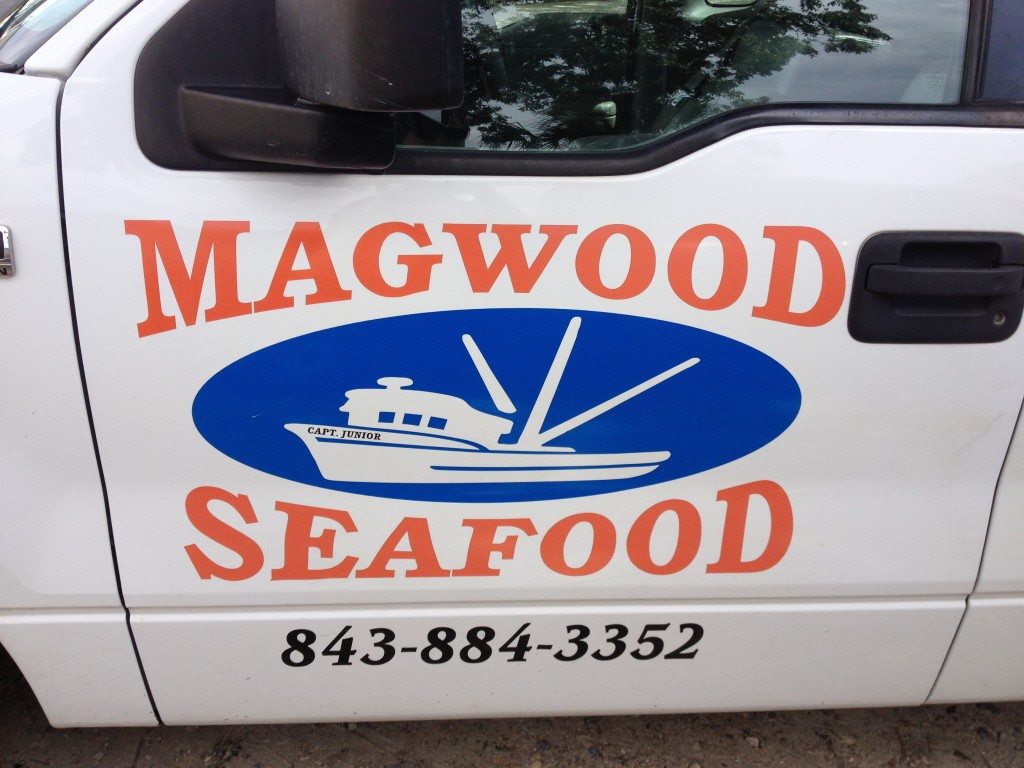 Score.
Their seafood is as fresh as fresh can get, and when shrimp are in season, the Magwoods go out on the water, catch the succulent crustaceans, and bring them back to sell from their store...on the very same day they are caught.
Can your seafood supplier say the same?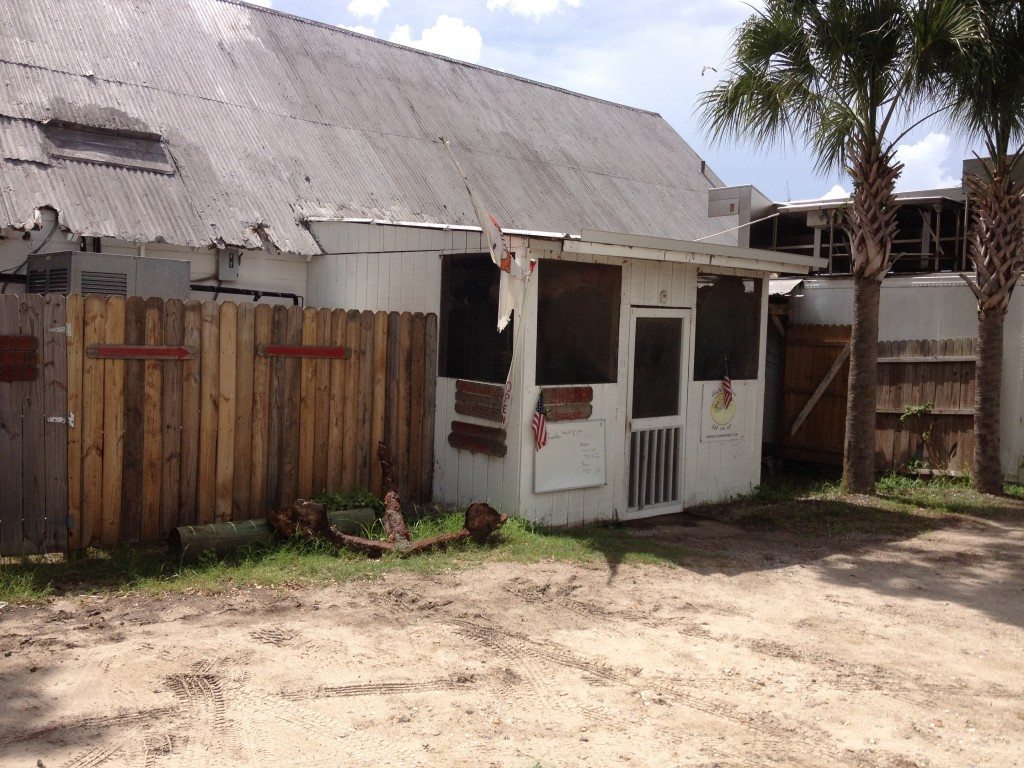 Yesterday afternoon I took a trip over to Shem Creek to meet up with my friend V. I had sent him a Facebook message the day before asking him if they had shrimp...and boy did they.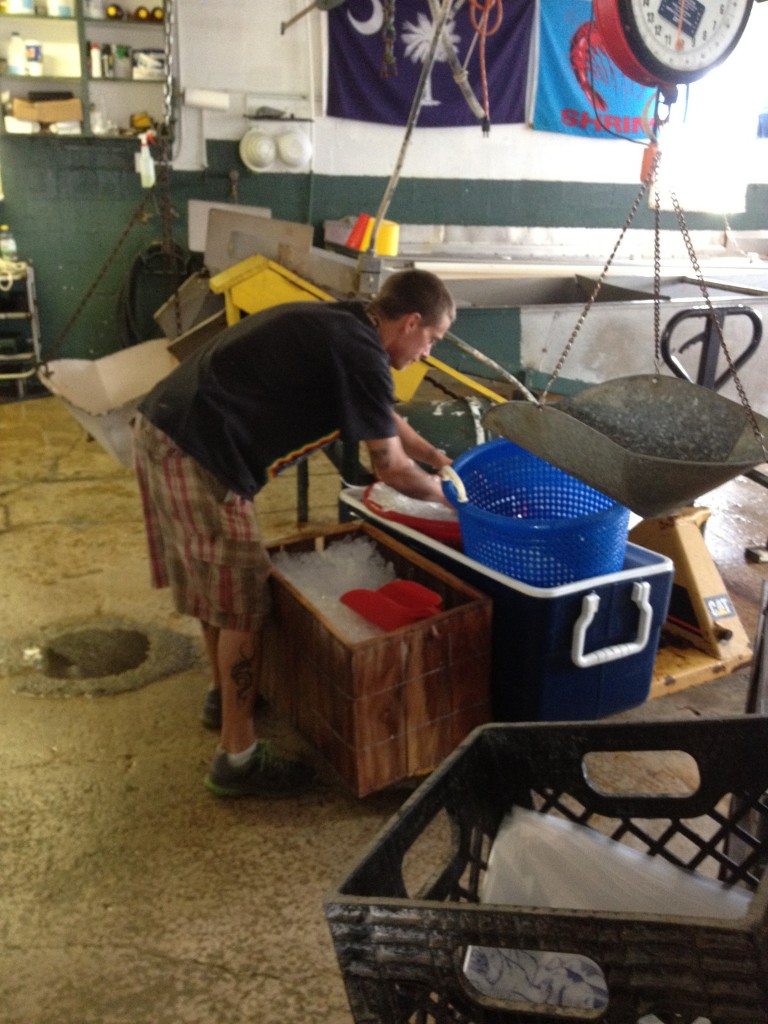 V scooped me out about 2 lbs worth, and their pricing was absolutely phenomenal and worth every single penny.
I mean...look how *GORGEOUS* these beauties are!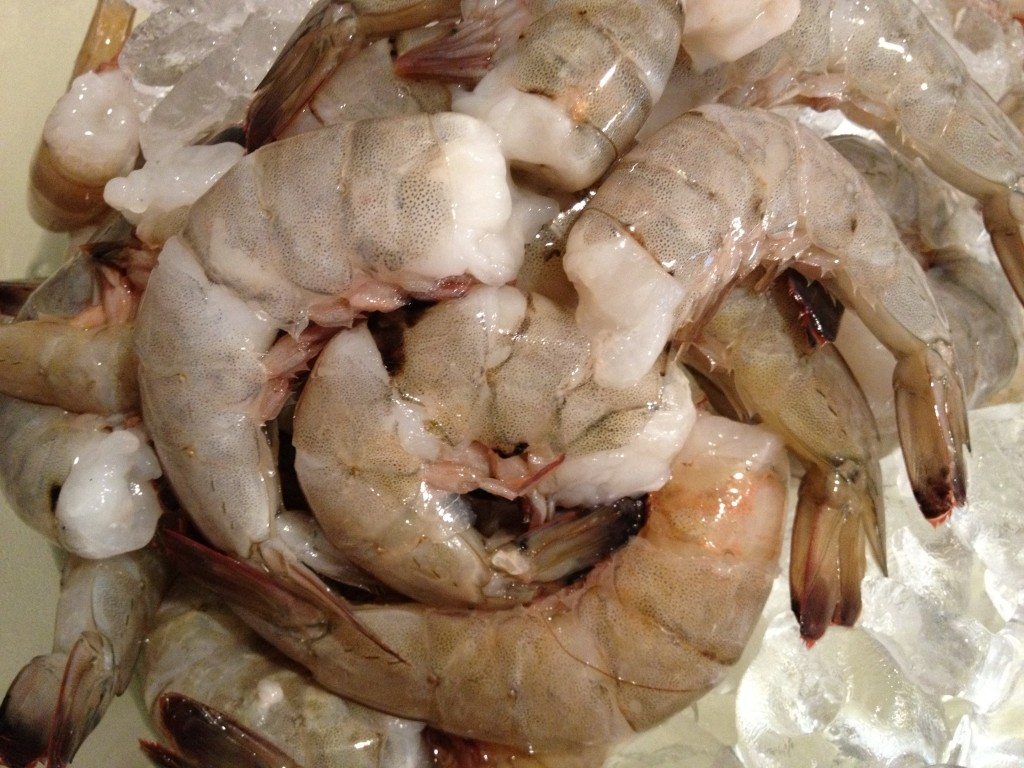 I couldn't wait to eat 'em up!
These shrimp & grit canapes are super easy to make and have the same flavors of the true dish, and are only lacking the fat and calories a standard bowl of the deliciousness would have.
You can serve them up as appetizers at a party, or do what I just did with my test subjects (Thanks Mom & Dad!) and serve them alongside a fresh spinach salad.
Yum to the O.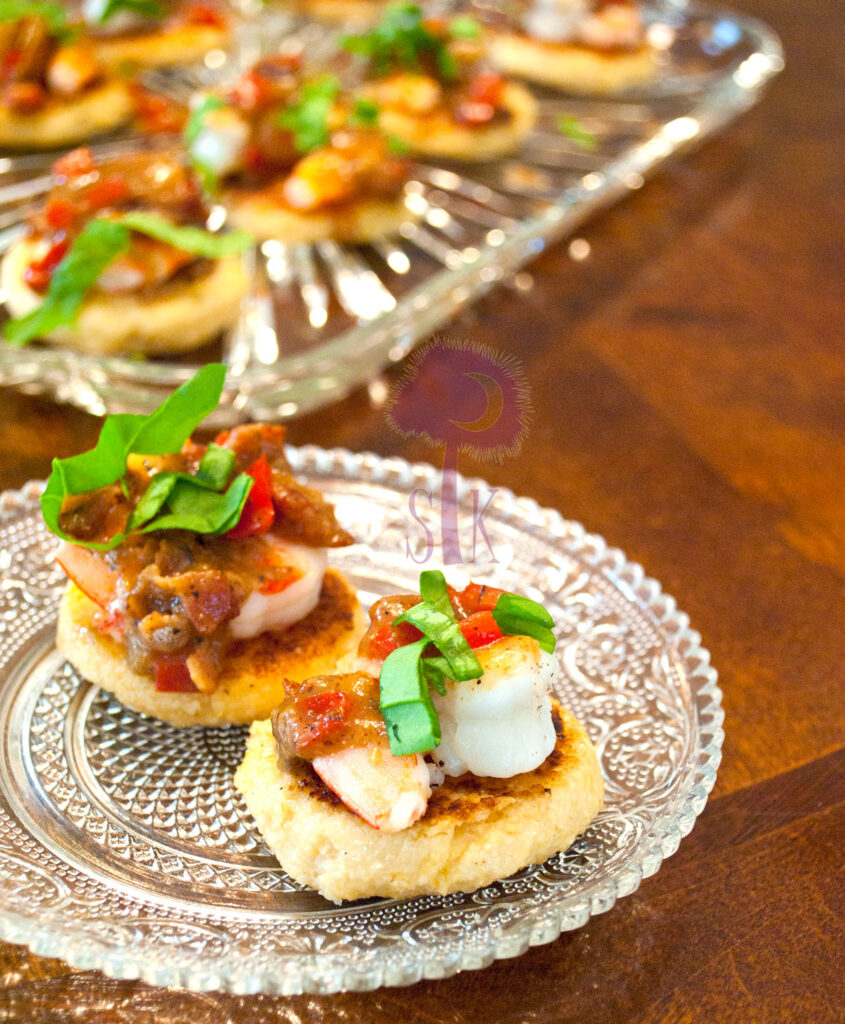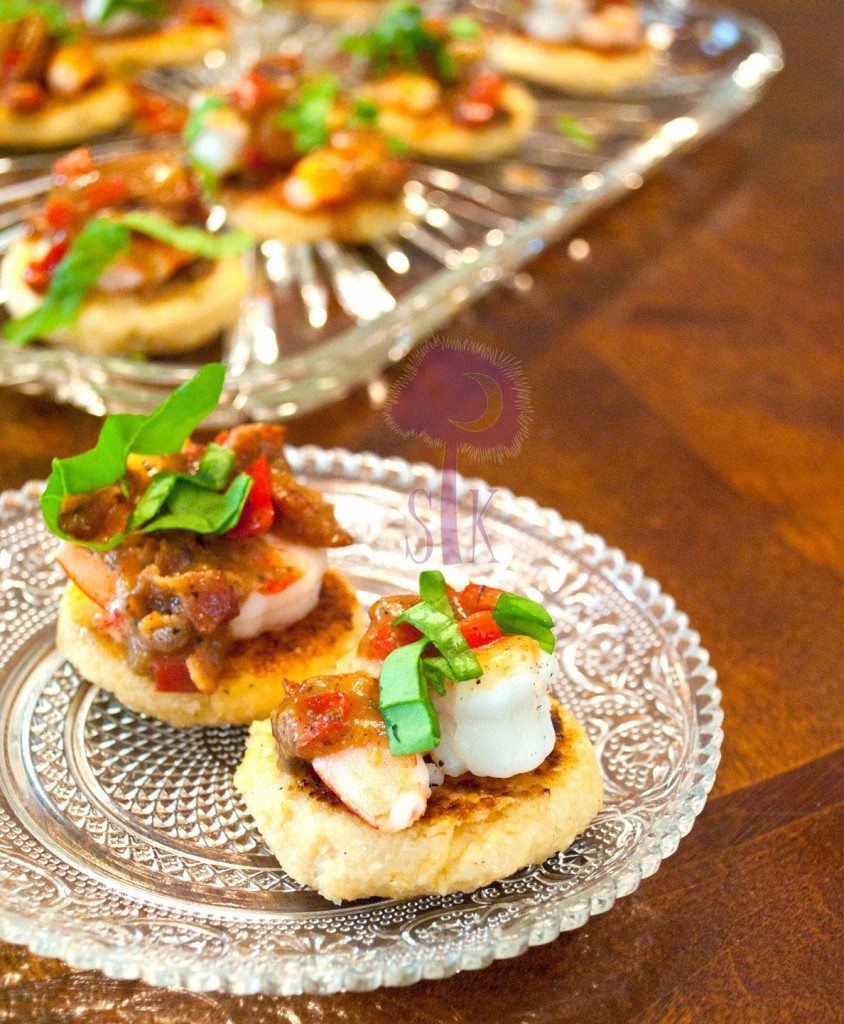 Getting to know you...
Do you have fresh seafood purveyors in your town?
What is your favorite shellfish?
Have you ever been to Charleston and had shrimp and grits? 
"📖 Recipe"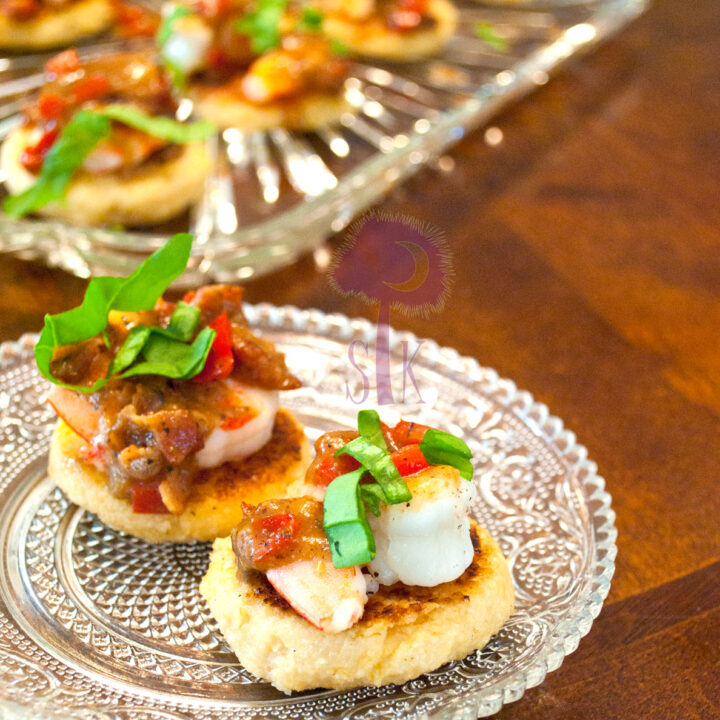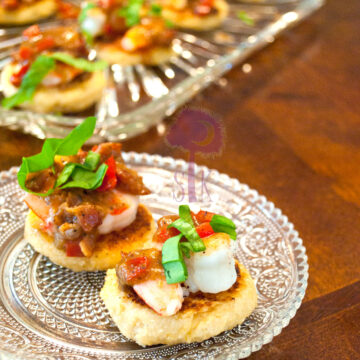 Shrimp & Grit Canapés w/ Basil Bacon Gravy
A favorite Lowcountry staple is changed into a delectable appetizer
Print
Rate
Ingredients
2

cups

water

2

cups

chicken

beef, or seafood stock-separated (I used beef)

1

cup

white hominy or quick cooking grits

¼

cup

freshly grated sharp cheddar cheese

¼

cup

unsweetened almond milk

3

teaspoon

olive oil-separated

24

large

fresh shrimp, peeled & deveined

3

strips thick

center-cut bacon, chopped into bite size pieces

½

red bell pepper

chopped

¼

of a large

sweet Vidalia onion, minced

2

garlic cloves

minced

1 ½

tbsp.

whole wheat flour

½

teaspoon

Italian seasoning

2

tbsp.

chopped fresh basil

plus more for garnish

2

tbsp.

chopped fresh parsley

plus more for garnish
Instructions
Preheat oven to 200°F.

Bring water, 1 cup of stock, and a heavy sprinkling of salt to a rolling boil.

Slowly whisk in grits and cook according to package directions, whisking constantly.

Once thick and cooked through, stir in milk and cheese.

Remove from heat and immediately pour into 24 large muffin cups sprayed with non-stick spray. Cool completely. About 15-20 mins.

When grit cakes are cooled, heat 2 teaspoon of olive oil in a large skillet over medium-high heat and cook cakes until golden brown on both sides. Note= you may need to cook these in two batches!

Once browned, place on cookie sheet(s).

Pour the last teaspoon of oil into the pan, sprinkle the shrimp with a pinch or two of salt & pepper, and add the shrimp to the oil.

Cook shrimp 1-1 ½ mins on each side or until pink and opaque. DO NOT OVERCOOK!!!

Remove shrimp, place one on top of each grit cake, and transfer to the oven to keep warm.

Add the bacon pieces to the pan and fry for 3-4 mins. Add bell pepper, onion, and garlic to the pan and sauté for another 3-4 mins.

Once the bacon is browned & the veggies are cooked through, stir in the flour and cook an additional two minutes.

Slowly whisk in the remaining cup of stock, bring up to a boil, and lower heat. The gravy should be thick and bubbly at this point.

Right before you are ready to serve, stir in the basil, parsley, and Italian seasoning as well as more salt & pepper if it needs it.

Transfer the warm shrimp & grit cakes to a serving platter and spoon the gravy over each.

Sprinkle with more parsley & basil if desired.

Enjoy!
Notes
*WWpts and WWpts+= 1 pt per serving*
Nutrition
Serving:
1
g
|
Calories:
50
kcal
|
Carbohydrates:
6
g
|
Protein:
3
g
|
Fat:
2
g