🙂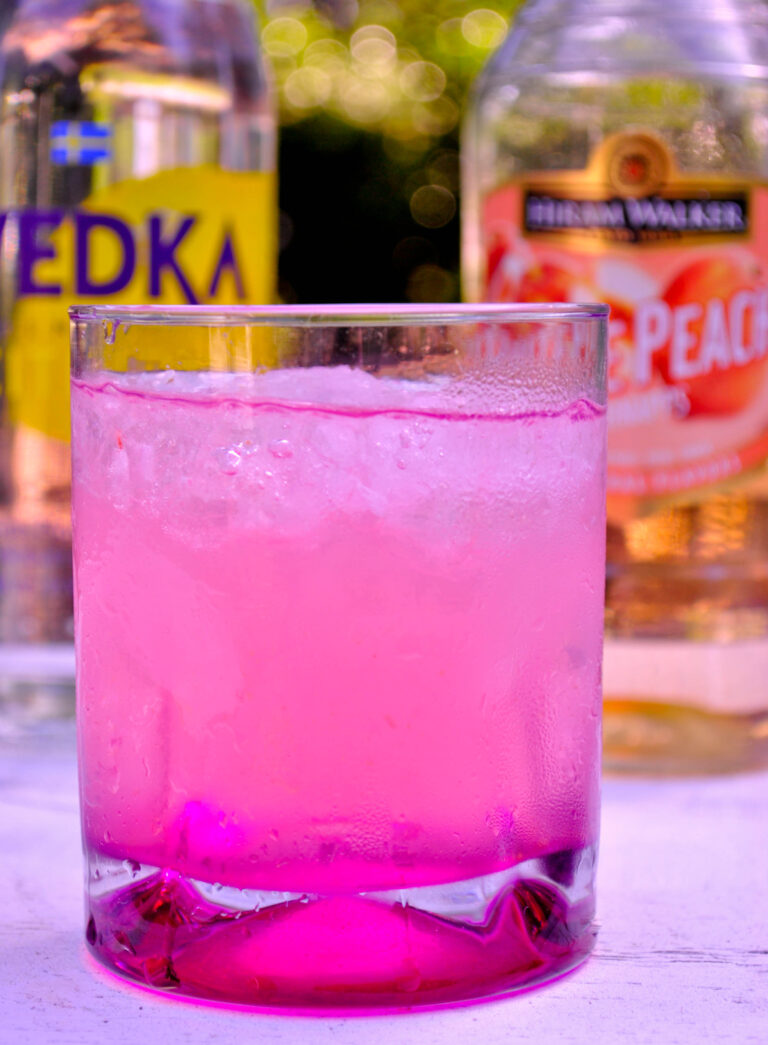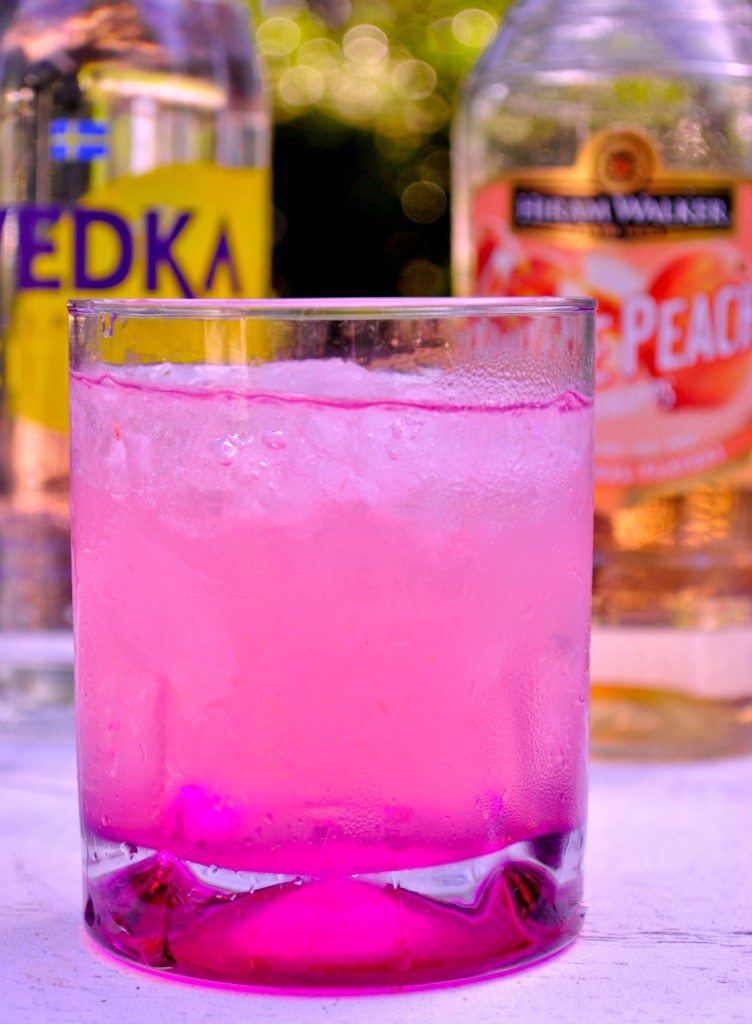 Soooo...
Do y'all ever find yourselves flat broke, but still desperately craving a fancy schmancy cocktail that could easily cost you $10 a pop, but you know you can't afford one, but you still want one really badly?
Yeah...
That happens to me too 🙁
But, have no fear! You can have fancy cocktails without spending crazy amounts of money and without consuming oodles of calories!
You just have to be creative and do what I do.
Take for instance, my Peach Pink Lemonade. Sounds fancy, right?
Would you believe me if I told you that I just this second scraped this idea together because I couldn't afford to go out and buy the booze that it would take to make what I really wanted to show y'all how to make (which I'm hoping I can pull together for y'all by Easter)?
Well, my loves, I did just totally throw this together b/c not posting a Sassy Hour recipe would be inconceivable! Plus, I'm sure y'all have all been in my shoes and are forced to utilize the ingredients that you do have at your disposal. So, that's exactly where this recipe came from!
I had a half a gallon of Crystal Light pink lemonade in my fridge that I made for the hubs. I almost poured it out because I am not a fan of lemonade. I know, I'm a southerner who doesn't like lemonade it's close to blasphemous, but I just think it's gross...unless, of course, it's full of booze. If it's full of booze, I can swallow it down like water.
So, I stopped myself from pouring it out and decided maybe I could use it for today's recipe. I went over to my liquor cabinet and contemplated my choices. Among the copious bottles of spirits, I had an unopened bottle of citrus vodka that we were given for hosting my sis-in-law's engagement party (why we were given a gift and not them, I'll never understand). That would obviously work, but I thought that by itself would be just plain boring, so I kept looking to see if I could snazz it up some more. Lo and behold, I had a bottle of white peach schnapps and thought to myself, I wonder...? I mean, seriously, who doesn't have peach schnapps collecting cobwebs in the back of their liquor cabinet?!?
So, I mixed it all together, tasted it and...was FLOORED.
It's flipping delicious and so frappin' simple!!!
Seriously, it's so good I might just make a game out of it and start playing Russian Roulette with the cordials in my cupboard!
Note: I was under the impression that Crystal Light Pink Lemonade was 0 calories, but MFP added a few to the recipe. If someone knows differently, then please let me know! Also, I have started giving WWpoints as well as WWpoints+ for all my recipes!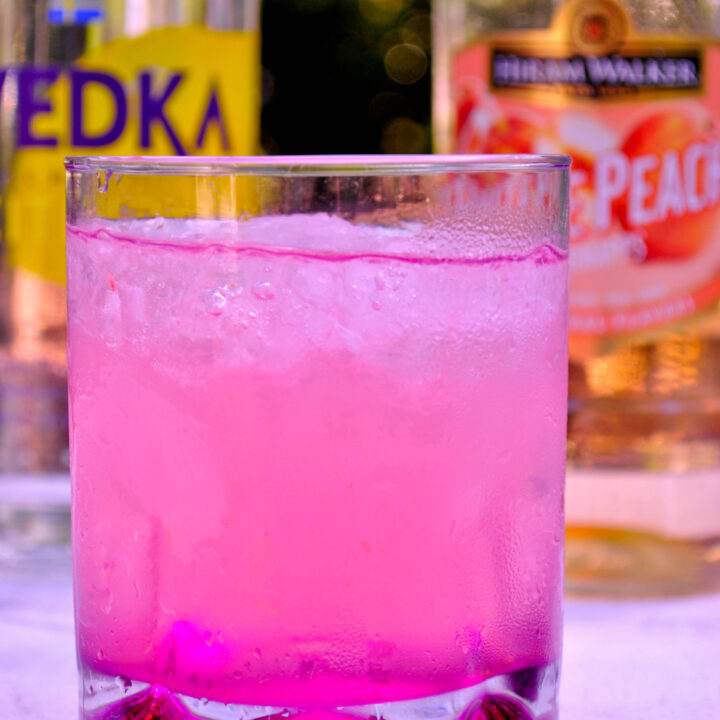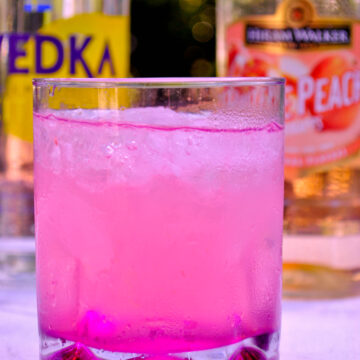 Peach Pink Lemonade
Two classic summertime favorites collide into one
Print
Rate
Ingredients
1

oz

citrus vodka

½

oz

peach schnapps

Crystal Light Pink Lemonade

Crushed Ice

Rocks glass

or make it a martini
Instructions
Put ice in rocks glass.

Add vodka, schnapps, and top off with lemonade.

Stir or shake to incorporate!

Get 'ur drank on!
Notes
*Nutrition info calculated with www.myfitnesspal.com recipe calculator. Subject to change* WWpts=2 per serving WWpts+=0 per serving *If you enjoy this or any of my other recipes, please share with your friends, subscribe, and follow me on twitter (@SlimPicksKitch) and Pinterest*
Nutrition
Serving:
1
g
|
Calories:
99
kcal
|
Carbohydrates:
100
g