🙂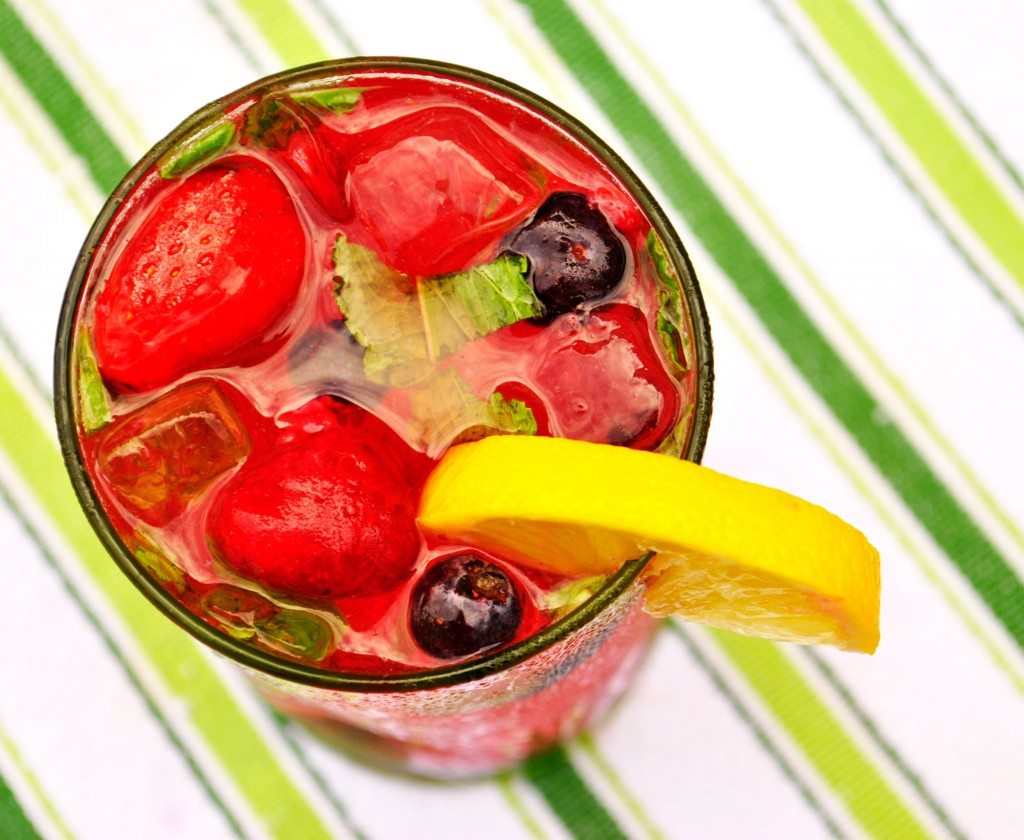 The perfect ending to Cinco de Mayo week!
I love mojitos.
However...
I will only drink them if I make them at home. I will rarely order one from a restaurant, and it may not be for the reason you are thinking.
I used to bartend at one of the busiest venues in the Charleston area, The Rooftop Bar at Vendue Inn. We would get so busy, a 12 hour shift seemed like it was only two. The bar would be five deep with more patrons rolling in the door while the guests seated at tables were loud and just acting a fool.
It was glorious.
Well seasoned customers would come up to the bar with their money in hand, yelling out "5 Bud Lights" as I breezed by. I could grab their funds, crack open their beers, and move onto the next before one could bellow "Who wants a Jager Bomb?!?".
I LOVED the excitement of it. We were so busy and so focused...until...
Up waddled the tourists who always seemed to wear black socks with Tevas who completely disheveled the best of us when the dreaded words were spoken, "Do you have any specials?"
*face palm*
It took all I had in me to always respond with...
"Oh, bless your heart, no we don't," I would say in a southern drawl as sweet as syrup all the while thinking, "Specials?!? SPECIALS?!? Do you really think I have time to prattle off our non-existent specials to you?!?
Um, no.
"Hmmm....well, let's see then..." said tourists would say.
And peace out, slow pokes.
I would eventually return (b/c the other bartenders were onto the tourists by then) and be slapped with "How about some mojitos?!?"
*face palm again*
Sometimes I would flat out lie because mojitos take a good bit of time to make, but more times than not I would make them, hissing, spitting, grumbling and mumbling the whole time.
But in the end it was worth it.
Because the tourists in the tevas were happy as a litter of alley cats at a festival full of fish AND because I can now present you with one of these...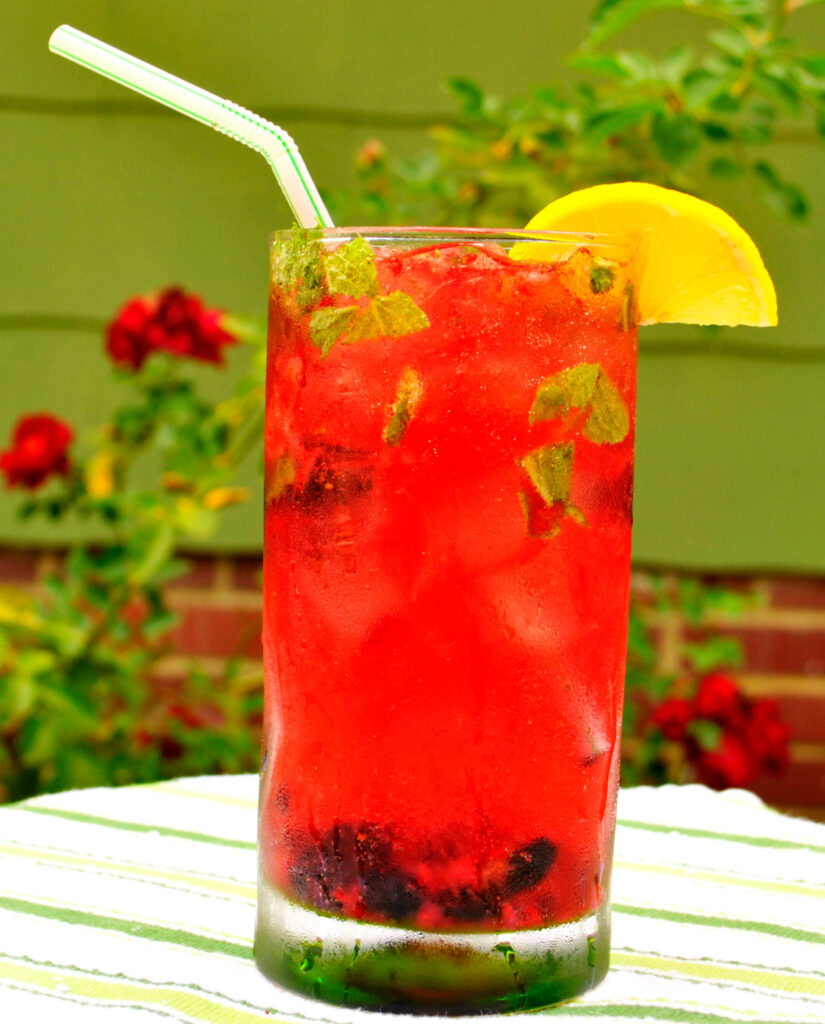 This mojito is a bit different than one you would find in your standard bar. First off, there is no added sugar or simple syrup. I'm not a fan of drinking more calories than I need to (and less booze isn't an option) so I cut them where I can. Also, IMHO, lemon goes with berries much better than lime so I switched that up also.
Note: If you use frozen berries, make sure to defrost them first!
"📖 Recipe"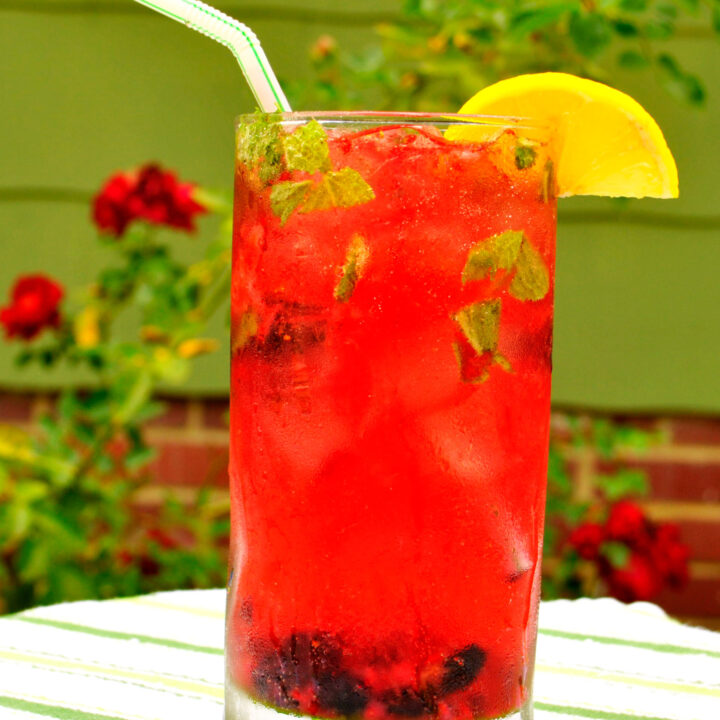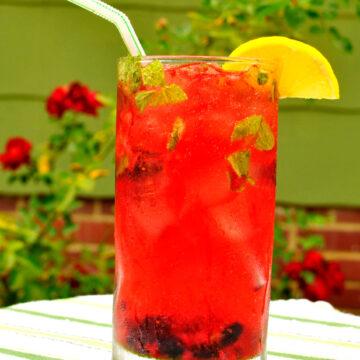 Mixed Berry Mojito
The classic flavor of mixed berries and lemons mingle with a hint of fresh mint.
Print
Rate
Ingredients
⅛

cup

mixed berries

frozen or fresh strawberries, blueberries, blackberries

5-10

mint leaves

to taste

1

lemon slice

Ice

1.5

oz

Barcadi Limon Rum

Lemon flavored seltzer/soda water

diet lemon-lime soda
Instructions
In a tall drinking glass, mash the mint, berries, and lemon together with a fork or spoon until the juices are released.

Add ice and rum.

Top off with soda water and lemon lime soda to your liking i.e. if you don't want it too sweet use mostly seltzer and a splash of soda or vice versa.

Garnish with more berries and a lemon slice.

Enjoy!!!
Notes
*WWpts and WWpts+= 2 pts per serving*
Nutrition
Serving:
1
g
|
Calories:
115
kcal
|
Carbohydrates:
5
g
|
Fiber:
1
g