Kick the can to the curb and make these slow cooker baked beans in the crockpot! The added splash of sweet amaretto, large hunks of thick, smoky bacon, fresh veggies, and herbs will revitalize your homemade baked beans game!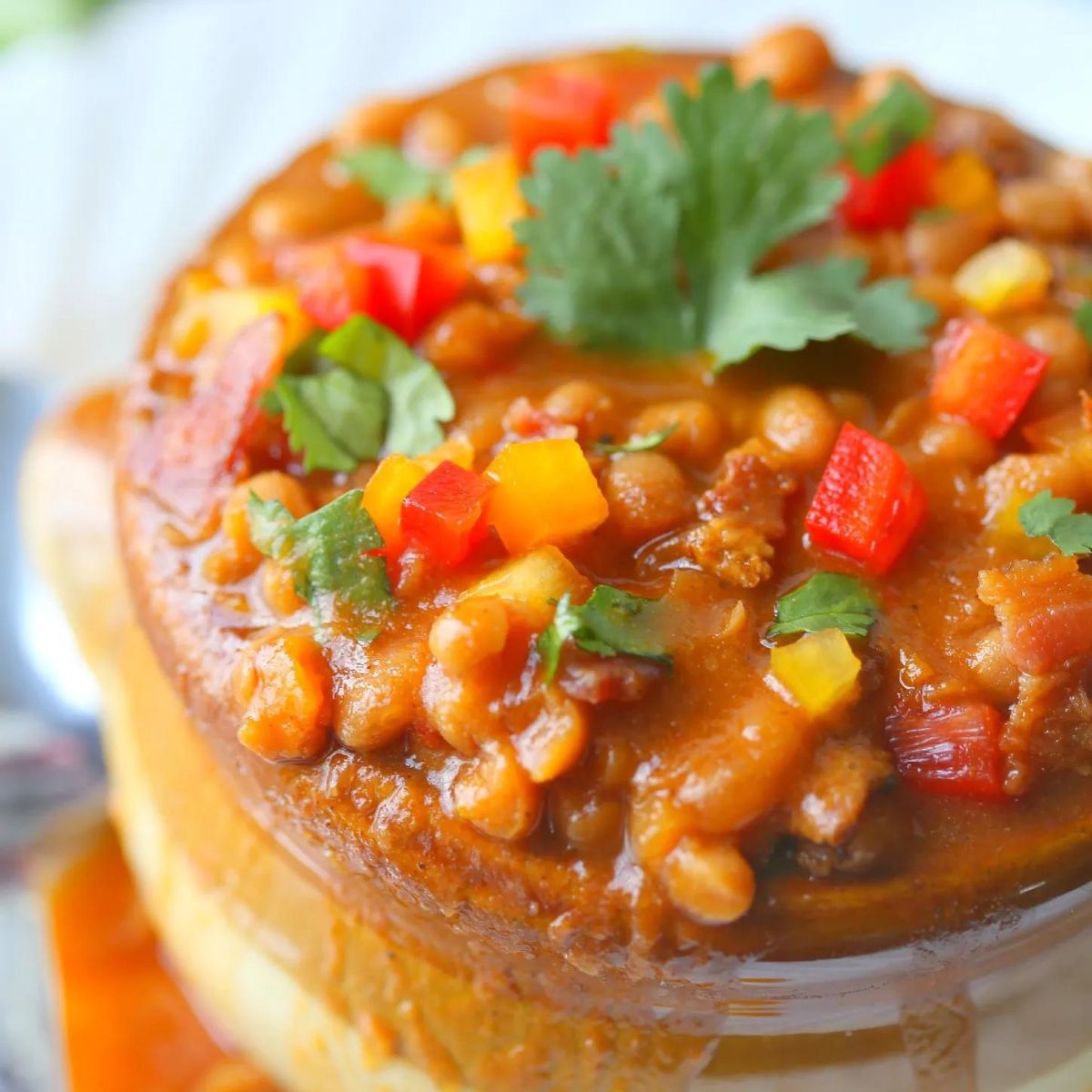 Finally a real homemade baked beans from scratch recipe.
I can't tell you how many times I've Googled "homemade baked beans" just to find a recipe that's nothing but a couple of cans of beans zhuzhed up with some tasty little add-ins.
Uuuum...can someone please explain to me how that constitutes homemade?
Don't get me wrong I love me some jazzed up beans like Mama F makes every Memorial Day and Fourth of July, but come on now! Canned beans with stuff tossed in them do not equal homemade.
Slow Cooker Baked Beans
Owen loves baked beans, but I really don't like giving him beans from cans because they're loaded with sodium and ick. I've always wanted to try my hand at making homemade baked beans so making them in the slow cooker seemed like the thing to do, especially since Fourth of July is right around the corner!
These slow cooker baked beans are even more lazy lady-friendly because I incorporated Jenn's crockpot black bean technique which completely eliminates the added step of soaking the beans overnight! Just make sure the water is HOT, HOT, HOT from the very start.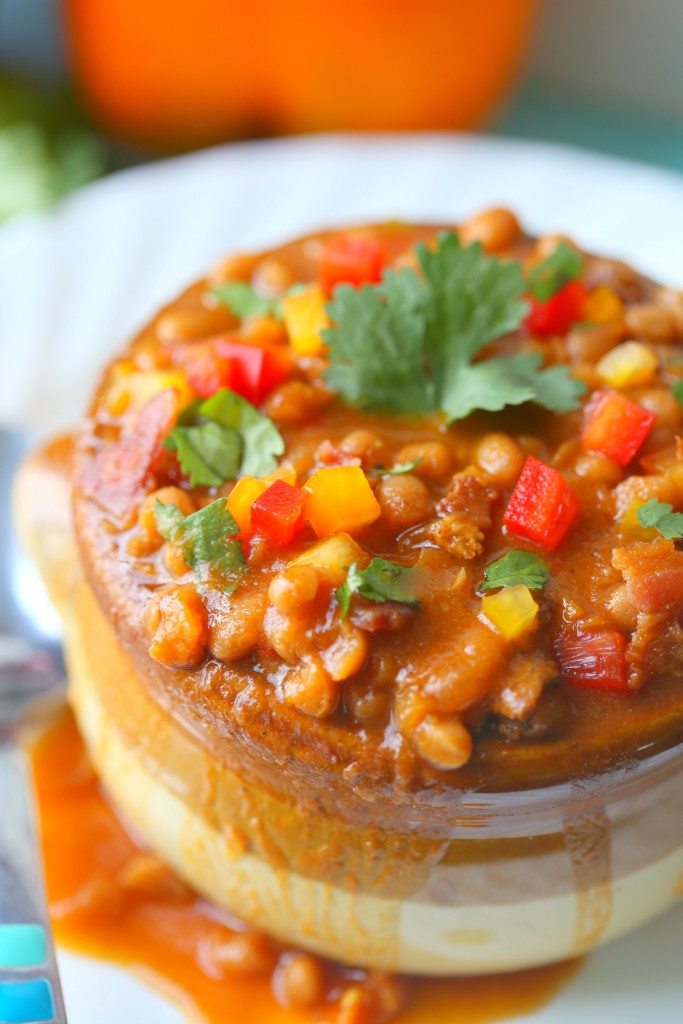 How to Make Baked Beans in the Crock Pot
I'm usually not one to cook things in a pan before throwing them into the crockpot, but I did fry the bacon and the veggies beforehand because the thought of raw bacon cooking in the slow cooker gives me the skeeves.
Once cooked, I threw all the goodies into the crock pot to cook low and slow. And, yes, throw those bacon drippings in there. My grandmama would slap me silly if she knew I let that good ole flavorin' go to waste!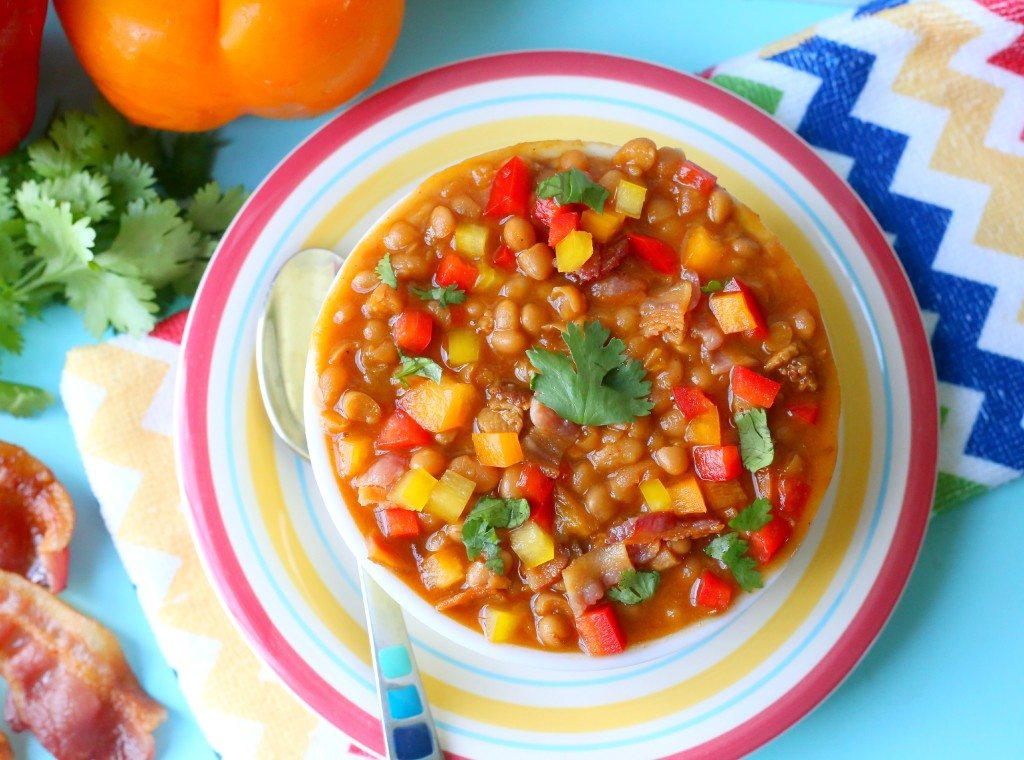 Baked Beans with Amaretto and Bacon
These beans are an easy make for a picnic, family cookout, or Fourth of July soiree!
Of course, if you're using this recipe for a ministry meal or church potluck, it's perfectly fine to leave out the amaretto. The alcohol does evaporate out when cooked, but rest assured it's totally an optional ingredient.
I also made sure these beans were naturally sweetened with real maple syrup and, aside from any sugars that may be in the booze itself, this recipe is completely refined sugar-free! Serve 'em up in a retro bean pot and watch them disappear.
Cool beans.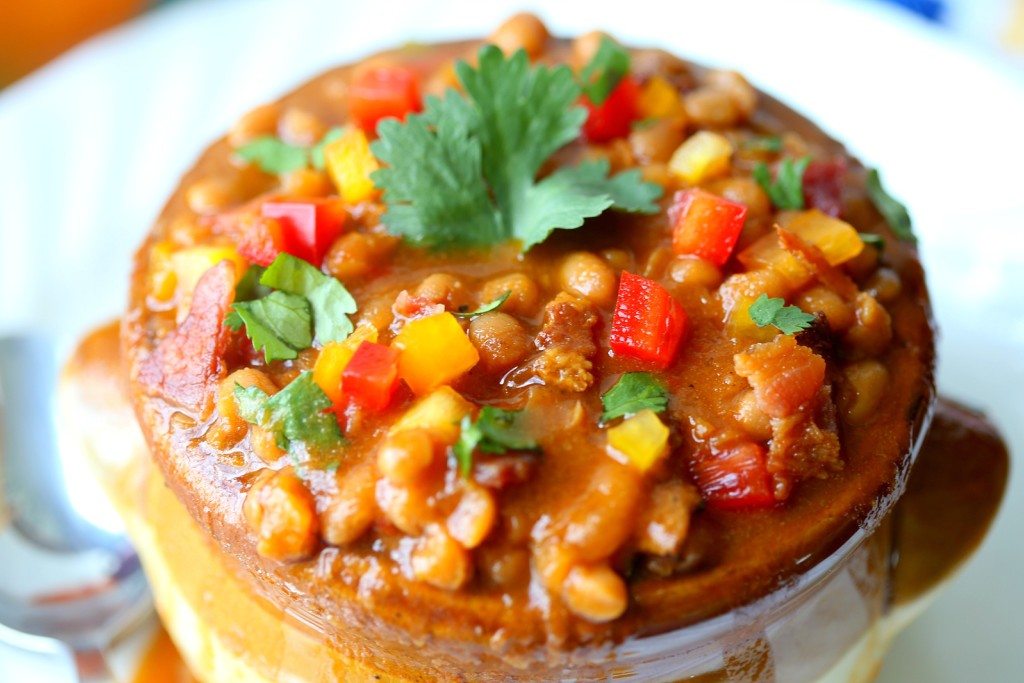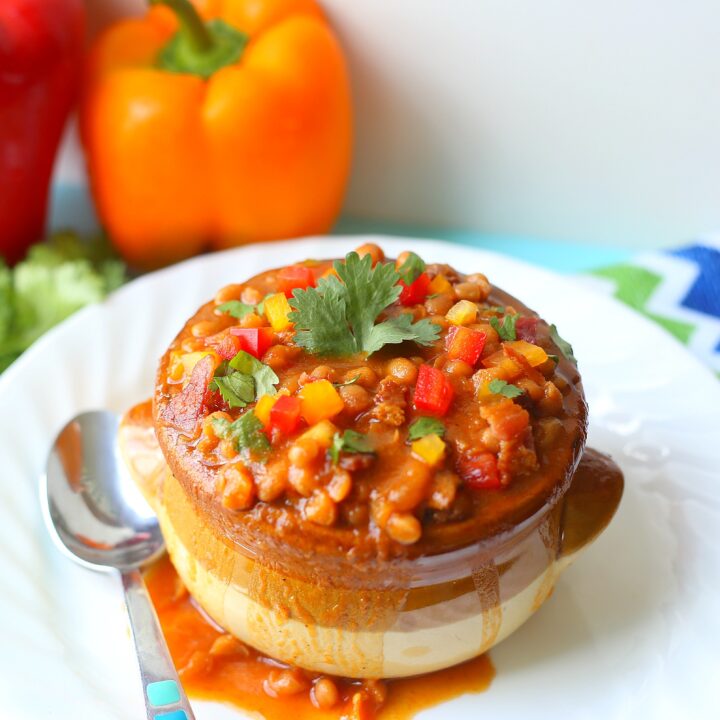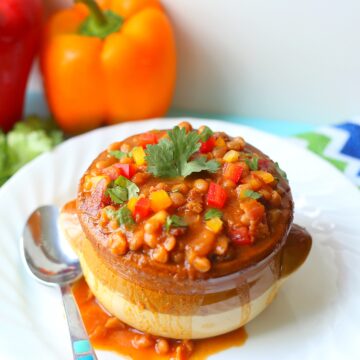 Homemade Baked Beans with Amaretto & Bacon
Ditch the can and make homemade baked beans in the crock-pot instead! Sketch-free and absolutely delicious, this recipe is perfect for backyard picnics, barbecues, Memorial Day or Fourth of July.
Print
Pin
Rate
Instructions
Thoroughly rinse beans and discard any broken pieces or pebbles.

Add beans to

crock pot

, pour in hot water, turn the crock pot to low, then cover while you prepare the rest of the ingredients.

Preheat a skillet over medium-high heat then add

bacon

. Saute until crisp, about 5-7 minutes.

While the bacon is cooking, add maple syrup, tomato sauce, vinegar, cinnamon, and mustard to the beans in the crock pot, stir, and replace lid.

Once bacon is brown and crisp, lower heat under skillet to medium, remove bacon with a slotted spoon, and place on a plate lined with a paper towel to drain.

Add onion, garlic, and bell pepper to the skillet, saute for 4 minutes, then sprinkle in salt and pepper.

Remove pan from heat, pour amaretto onto the vegetables, and return to the heat. Cook for another 3-4 minutes then stir the entire contents of the skillet into the crock pot along with ¾ of the drained bacon, reserving some to garnish once the baked beans are cooked.

Cook the beans on low for 10-12 hours or until the beans are soft and cooked through.

To serve: lower the heat to the warm setting (the beans will thicken as they slightly cool) and garnish with reserved bacon and freshly chopped cilantro.

Enjoy!
PS. These would be KILLER with my pumpkin cornbread w/ whipped gingerbread butter. Hashtag swoon.
Some other side dishes you may love...
Italian Ham Pasta Salad

Cucumber Feta Salad w/ Lemon Greek Vinaigrette

Small Batch Funeral Potatoes

Honey Cilantro Chimichurri Potato Salad