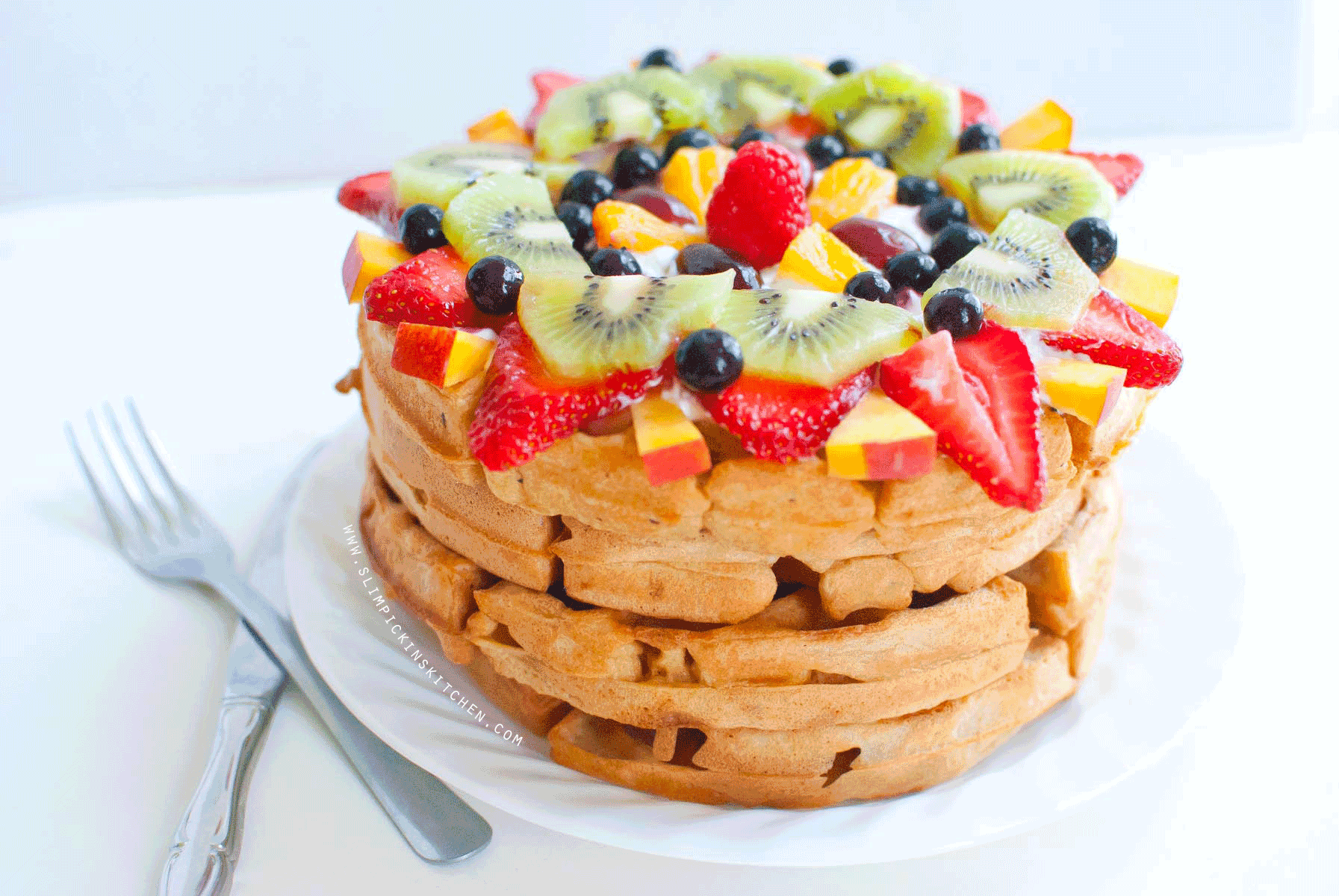 That's right.
Fruit pizza. On a waffle.
Mind=kaboom.
Who doesn't want to start their work week off with a giant, colorful plate of yum?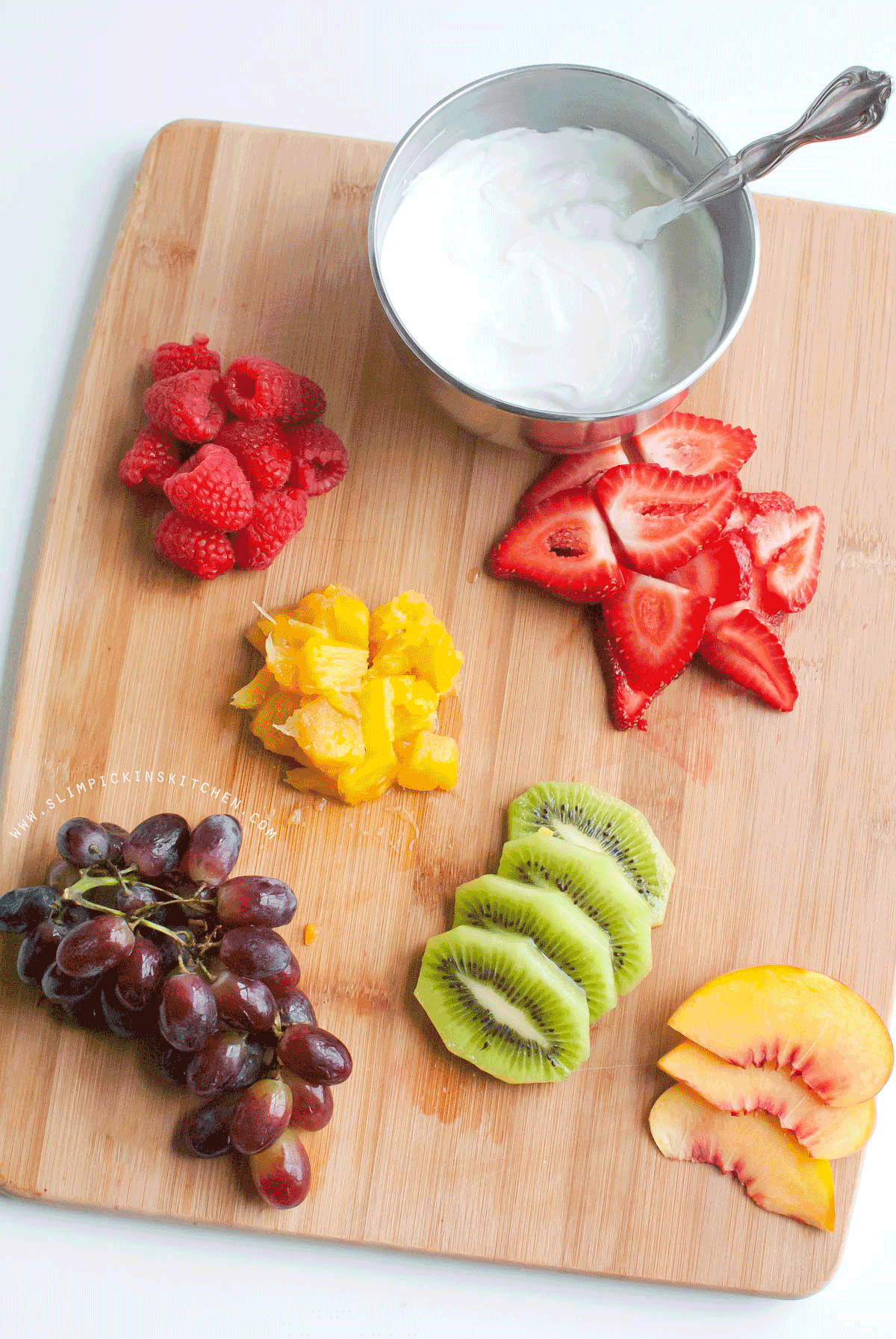 This is one of those recipes where I was all like: Why did it take me so long to think of this? Surely it's been done before.
I just knew that I was going to Google or Pinterest "fruit pizza waffles" and find recipes splattered all over the place, but you wanna know what? I didn't. Wha, wha, whaat?
The only recipe I saw was for a frozen Eggo waffle with cut up fruit on top.
Um...yeah, these are way better than that.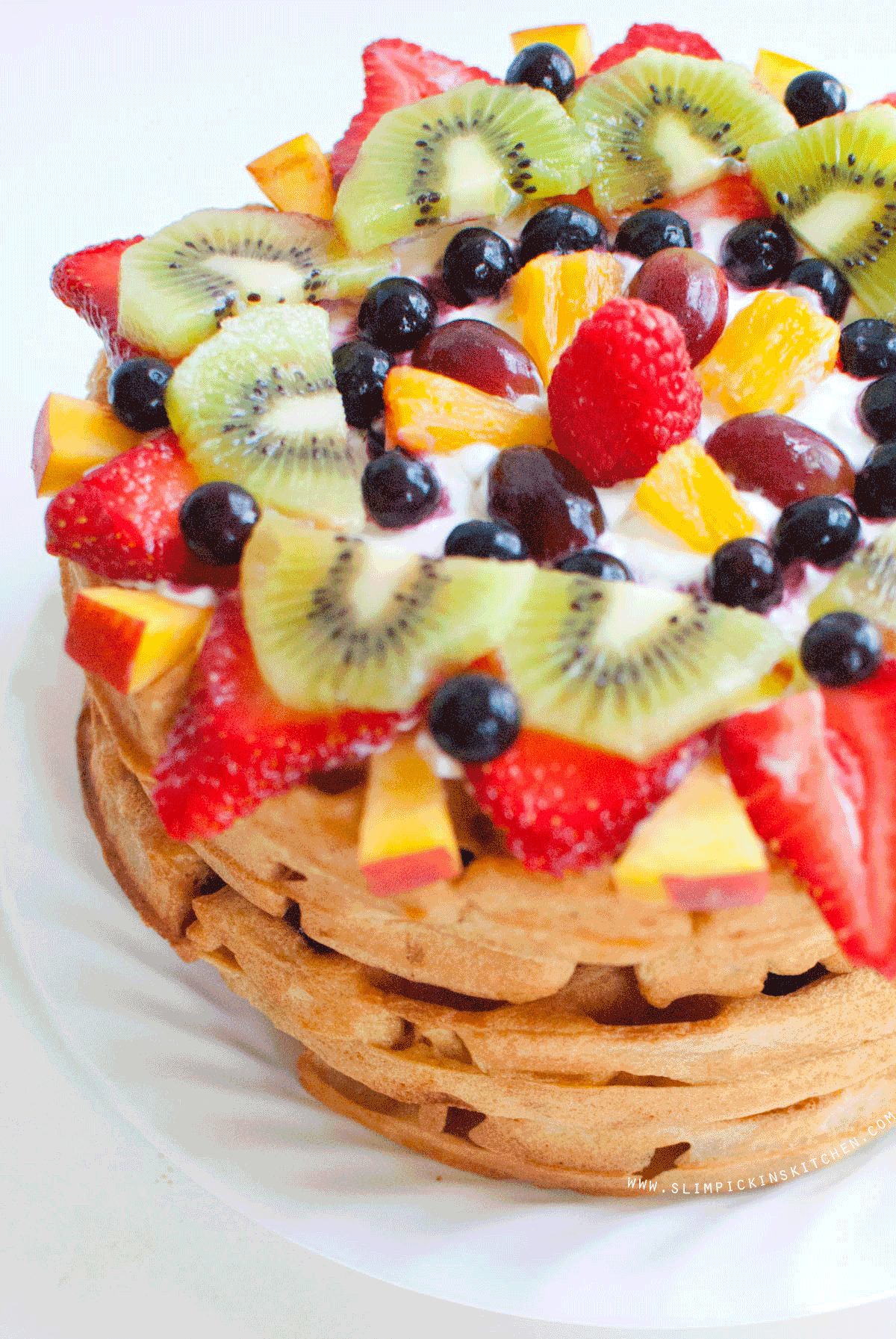 For the past couple of days I've been waking up starving.
I've wanted to make pancakes or waffles or french toast or something else super unhealthy and sloppy and sticky and just plain bad for me. I've craved nothing but just fistfuls of craptastic goodies for breakfast.  Anything I could get my hands on would do.

I haven't actually given in to those cravings because I don't want to start my days badly. I always wake up on the wrong side of the bed so I try to make extra efforts to start the rest of my day off on the right foot. I also try to write sentences with as many clichés as possible.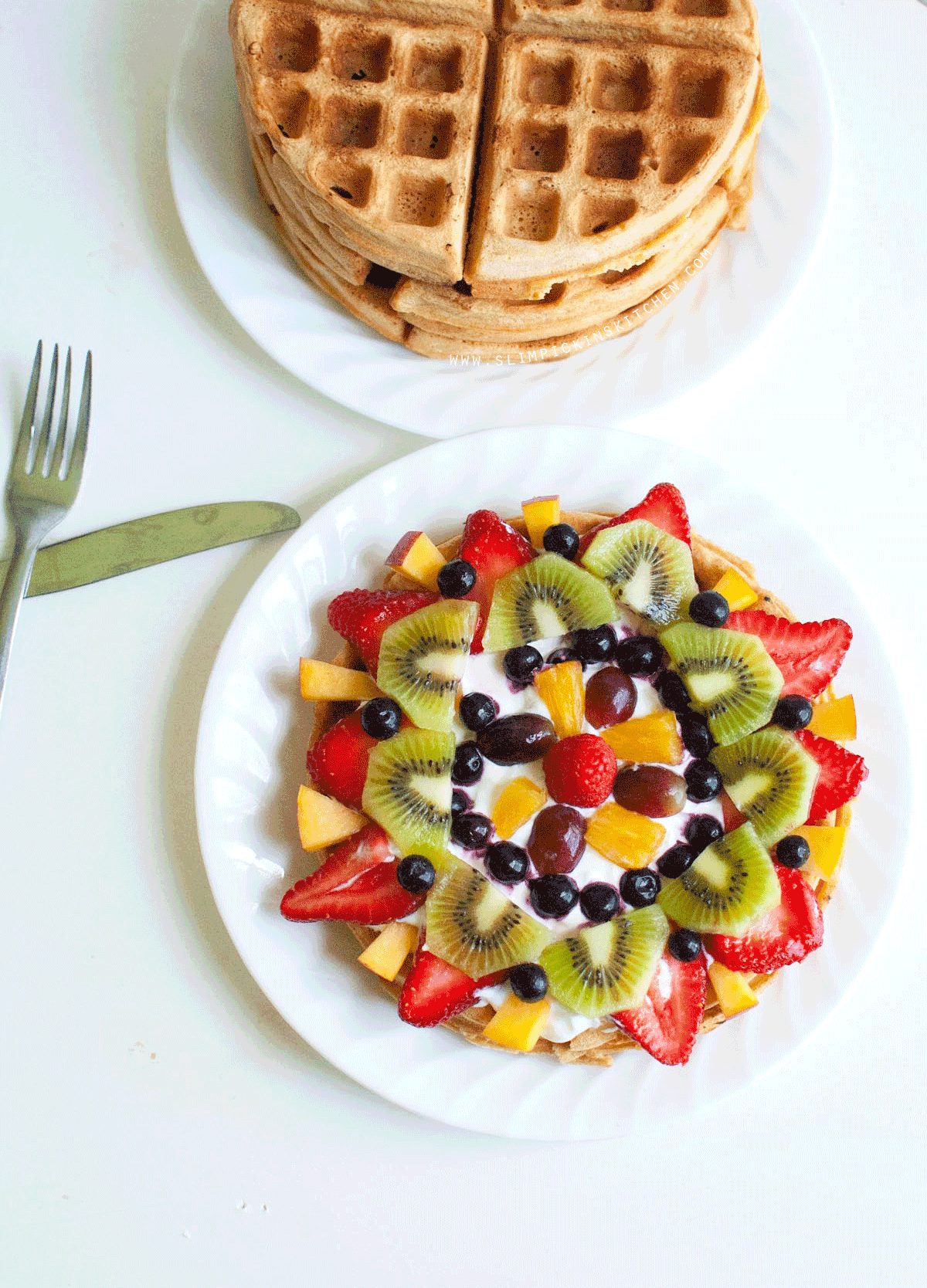 So instead of eating something insanely sugary or carbolicious, I've made myself a double decker cup of coffee w/ stevia and coconut milk, a giant glass of ice water and shoveled in a couple of carrot cake bites or whatever other flavor date bar I'd been experimenting with the day before.
Now for lunch? I haven't been craving anything unhealthy, but Will and I got a double cheeseburger and fries from Dairy Queen yesterday, and I ate it with no reservations because the teething monster was finally asleep in his carseat, we were running errands after church and it was cheap, fast, and easy and wouldn't wake the baby.
Riiiiight. That mindset totally make sense.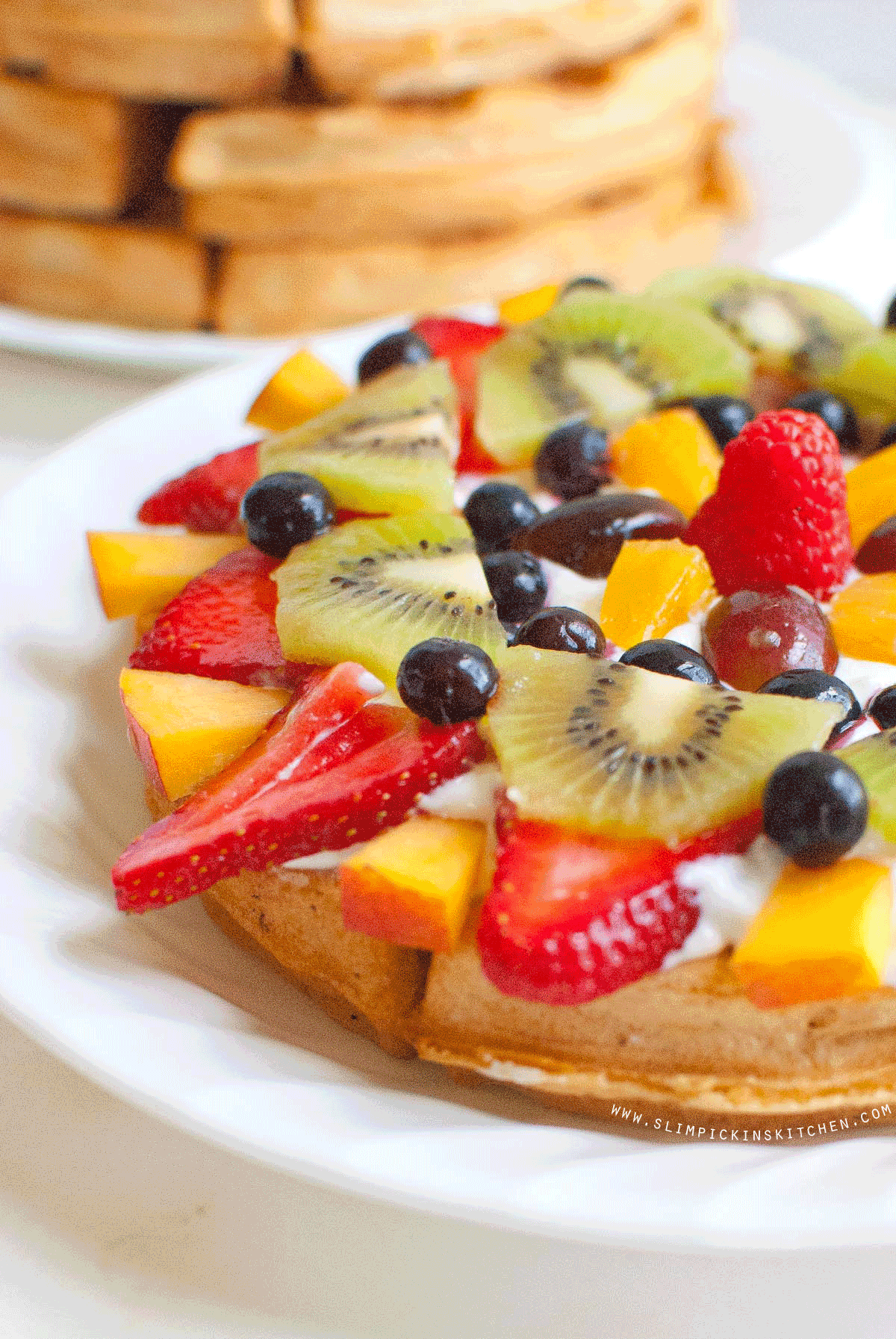 In other news...I have some juicy tidbits to share with you today!
I've been doing some soul searching over the past few months. I've been really unhappy with my blog for sometime now. I've absolutely loathed the design and, quite frankly, the overall concept. The original Slim Pickin's Kitchen was great for when I first started, and I worked really hard on getting all of the little details exactly how I wanted them, but I felt like certain things have been keeping me from being as successful as I'd like to be.
At this point I think is when most bloggers give up. That is most certainly not the case for me. Changes are a coming, yes they are, and they're coming very soon. This site will completely transform over the next couple of days so please bare with me if things are all wonky.
Once the new site goes live, I'll go into more details about what's been going on inside this head of mine.
Until then...dive face first into these waffles, and I'll get back to you soon.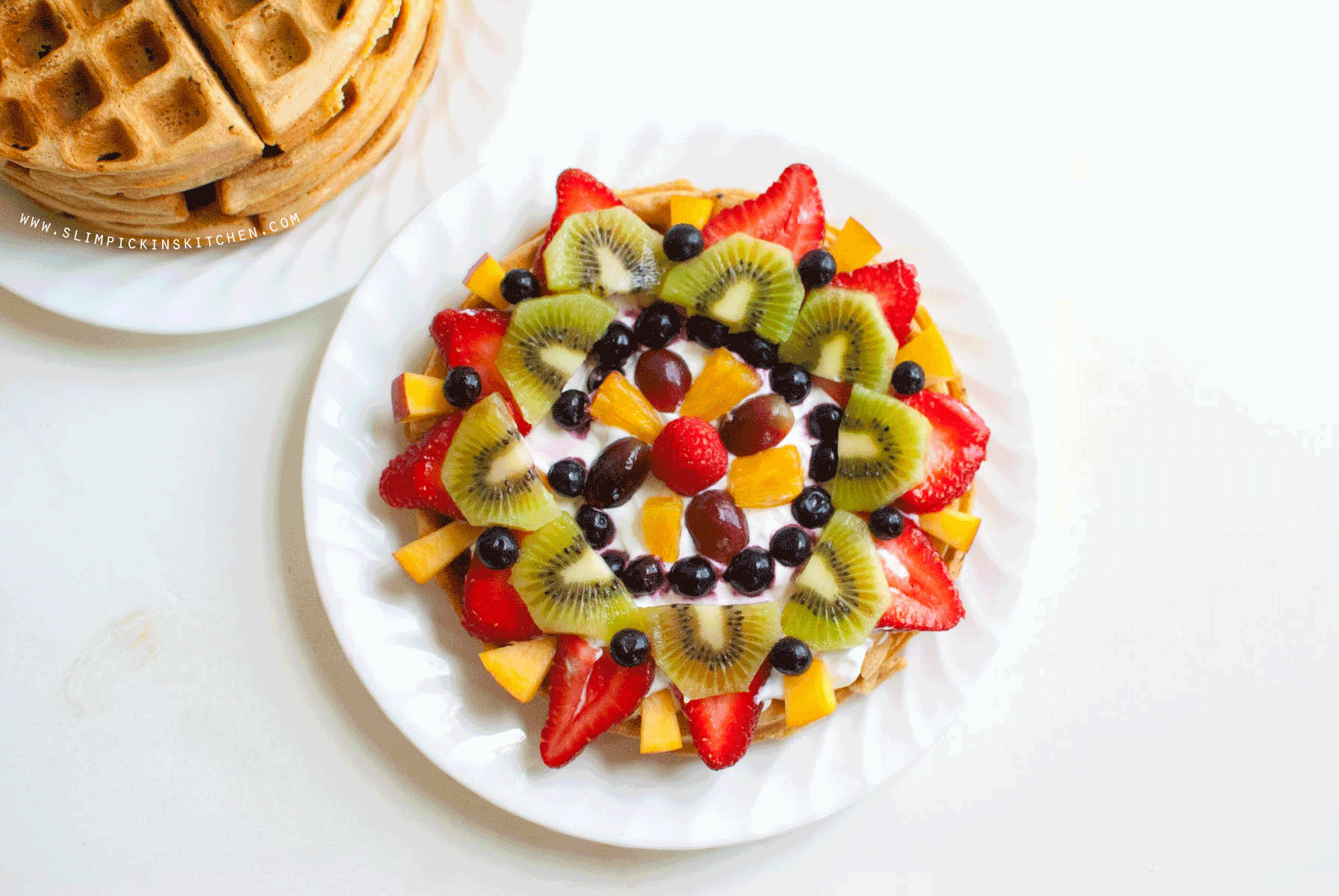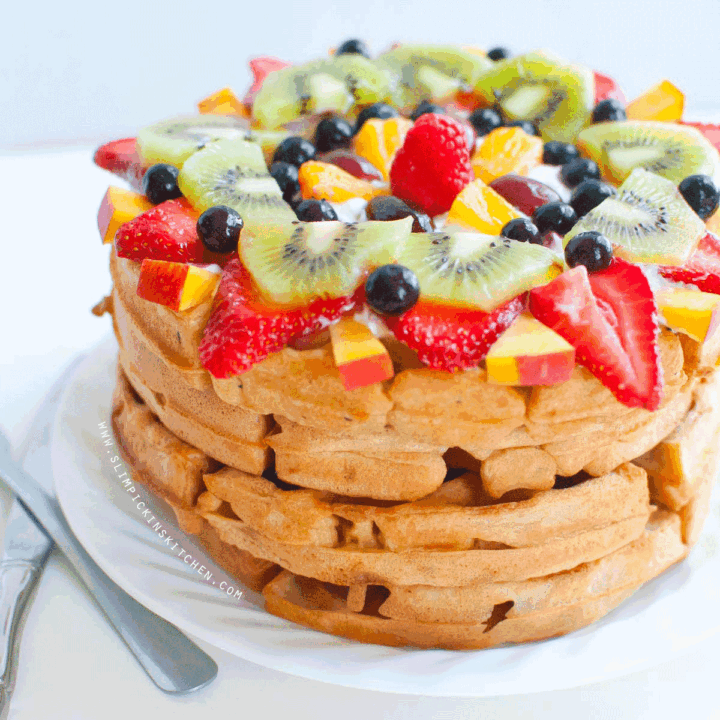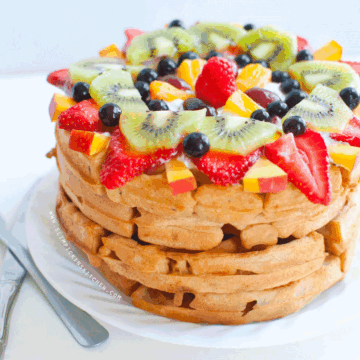 Ingredients
1 ½

cups

unbleached white whole wheat flour

AP flour works too

2

tablespoon

coconut sugar or sweetener of choice

1 ½

teaspoon

baking powder

⅛

teaspoon

sea salt

1 ½

cups

unsweetened vanilla almond coconut milk

2

eggs

3

tablespoon

coconut oil

measured then melted

1

cup

vanilla Greek yogurt or flavored yogurt of choice

raspberries

strawberries, blueberries, grapes, kiwis, peaches or favorite fresh fruits for topping
Instructions
In a large bowl, whisk together flour, coconut sugar, baking powder, and sea salt. Set aside.

In a separate bowl, whisk together milk and eggs.

Stir wet ingredients into dry until just mixed.

Fold in melted coconut oil.

Grease a waffle iron w/ nonstick coconut oil spray or butter.

Spoon on ¼ of the batter and cook according to manufacturers directions.

Spoon ¼ cup of yogurt onto each waffle then arrange fresh fruit on top.

Enjoy!