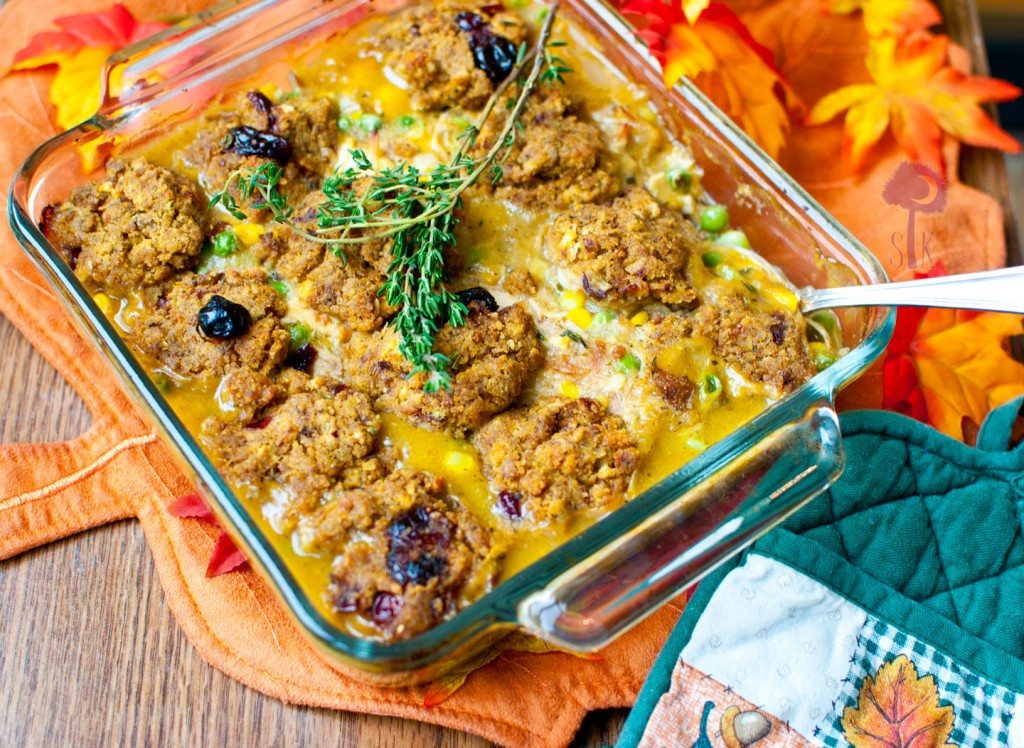 To a Southerner there is nothing quite like a piping hot bowl of chicken and dumplings.
It is just one of those dishes that wraps its warm arms around your soul and comforts you on a cold, chilly night (and by chilly I mean 70 degrees F).
This Thanksgiving version of the classic dish is absolutely no exception.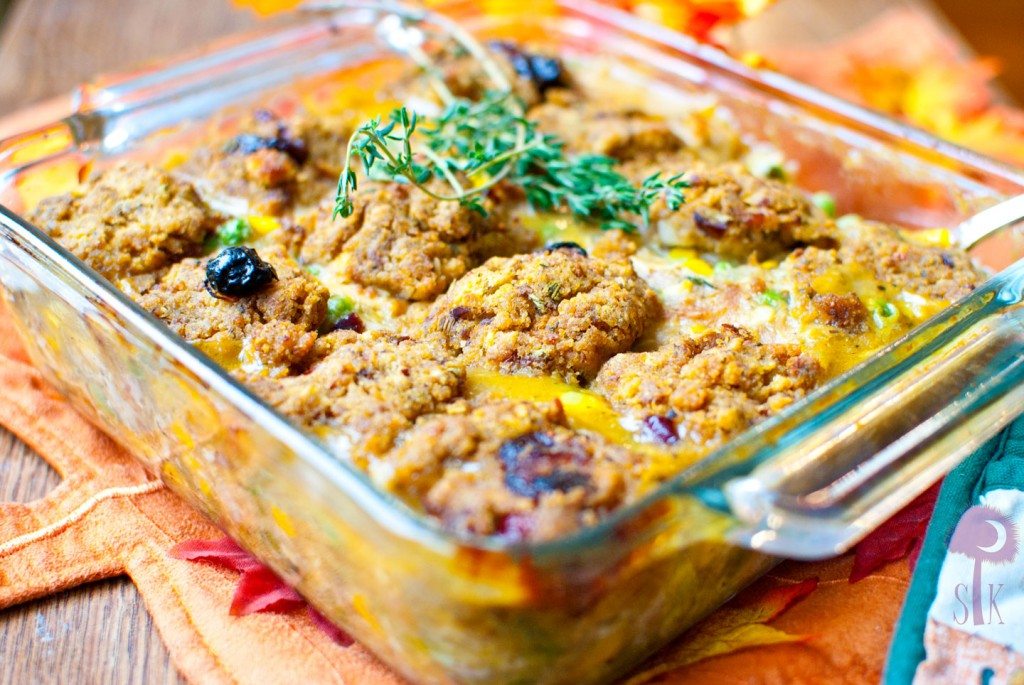 I've had the idea for this recipe written in my note book for several months now, and I've been waiting and waiting for the perfect time to test it out.
When I realized that practically everything I was going to need would be a standard leftover from the Thanksgiving holiday, I danced a little happy dance straight into the kitchen.
This recipe literally takes the separate components of a standard feast and combines them into a one pot shop of comforting yummy goodness. I was absolutely stunned by the complete transformation these ingredients made when baked together, and I promise you you'll feel as if you are eating a fresh new meal.
This dish is reminiscent of chicken and dumplings, shepherd's pie, and chicken pot pie, but the best part about it is it is not overloaded with potatoes, cheese, butter, or cream.
Oh...and are you wondering what on Earth a stufflin' is?
It's a dumplin' made out of stuffin'...duh! 🙂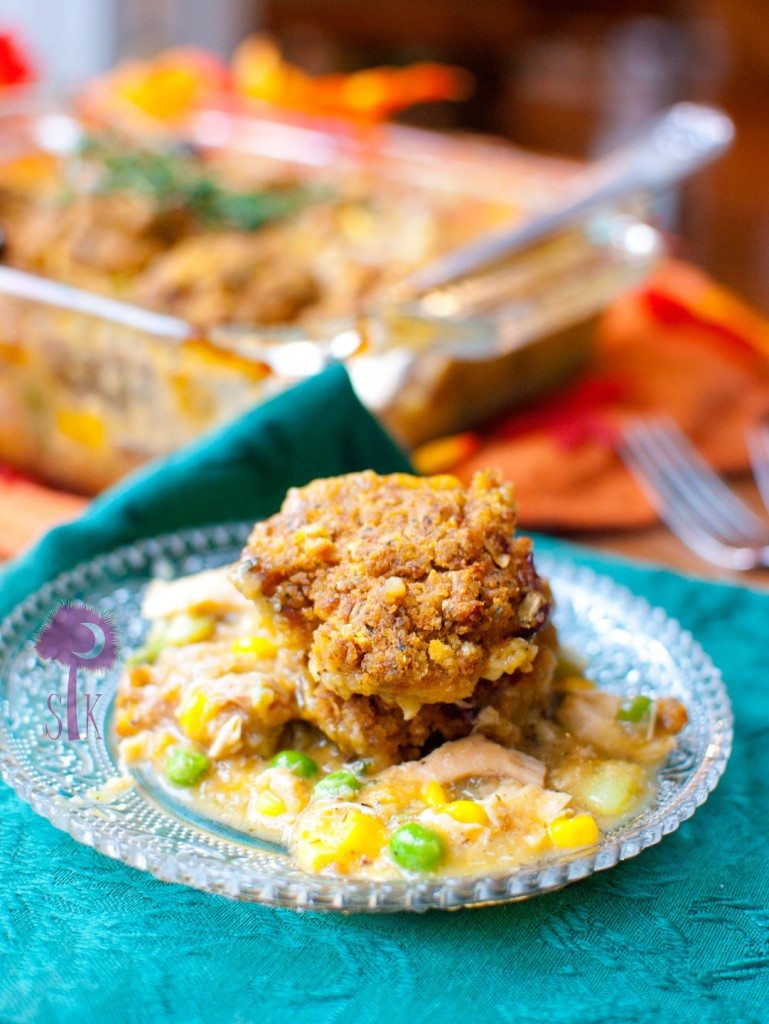 Now down where I'm from, we don't really call stuffing stuffing...confused yet?  I grew up eating dressing not stuffing which, in my family, are two completely different things. In the real world, dressing is essentially the same as stuffing besides one dire wolf fact...
Dressing is baked in a casserole dish...stuffing is stuffed in a bird.
Fair warning: if a new in-law/significant other/family friend comes to my family celebration and accidentally mixes the two up, they better be prepared to be reprimanded by our mother hen.
I can't tell you how many times my husband has been corrected by my Mama Mac for asking which stuffing had onions and which didn't.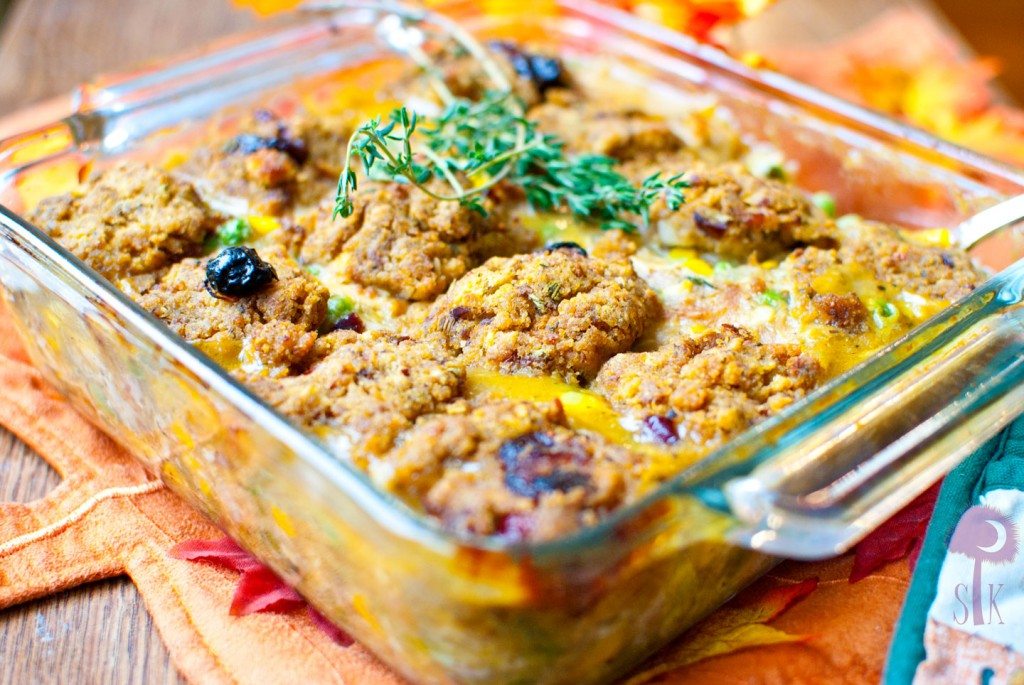 But don't you worry...stuffing, dressing, dumpling or stufflin' it all translates the same in the end.
It's a dish that brings family together and fills a home with warmth, fellowship, love, and laughter which is exactly what Thanksgiving is all about.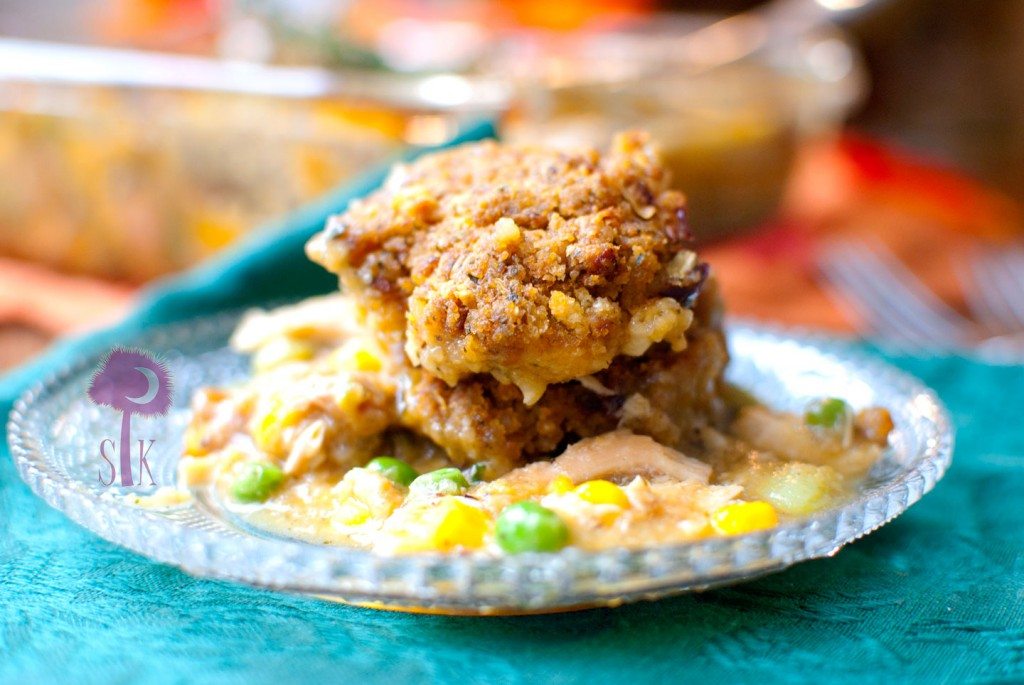 Getting to know you...
Have you ever had chicken and dumplings?
What do you like to make with Thanksgiving leftovers?
Stuffing or Dressing?
Warm & Comforting Turkey and Stufflins'

Print recipe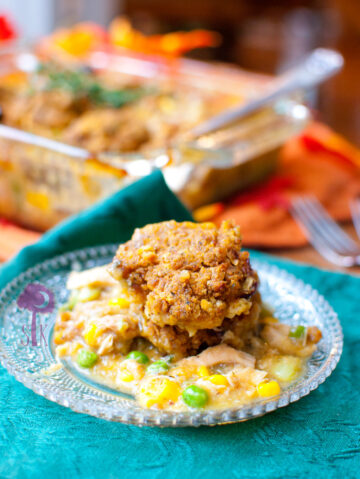 | | |
| --- | --- |
| Serves | 6 |
| Prep time | 15 minutes |
| Cook time | 30 minutes |
| Total time | 45 minutes |
| Meal type | Main Dish |
| Misc | Serve Hot |
| Occasion | Thanksgiving |
Ingredients
2 cups + 1 tablespoon organic chicken stock (separated)
1 tablespoon unsalted organic sweet cream butter
1 tablespoon extra virgin olive oil (or oil of choice)
1 Large sweet onion (chopped or pulverized in a food processor)
1 Medium celery stalk (chopped)
1 Medium carrot (peeled and chopped)
2 cloves garlic (minced)
2 tablespoons organic brown rice flour
5 sprigs fresh thyme (leaves removed from stems)
1 teaspoon herbs de provence (or italian herb seasoning)
1 ½ teaspoon kosher salt
A few cranks of freshly ground black pepper
1 ½ cups leftover mixed veggies of choice (I used lima beans, corn, and sweet peas)
4 cups leftover turkey meat (cubed, with or without skin)
2-2 ½ cups prepared cornbread stuffing
Note
*WWpts= 7 pts per serving*
*WWpts+= 9 pts per serving*
339 cals
10 grms fat
30 carbs
33 proteins
2 fibers
6 sugars
Directions
Step 1
Preheat oven to 400 degrees (F) and heat 2 cups of chicken stock in the microwave for 2 ½-3 minutes.
Step 2
Heat butter and olive oil in a pan over medium-high heat. Once sizzling, drop in onions, carrots, and celery and saute until translucent and tender about 2-3 minutes. Add the garlic and saute for another 2 minutes.
Step 3
Sprinkle in the flour and stir until it blends into the vegetables. Let cook for 1-2 minutes.
Step 4
Slowly pour the chicken stock into the vegetable mixture and whisk vigorously, making sure to break up any flour lumps. Continue whisking until all of the stock is incorporated and a smooth sauce is formed. Bring to a boil to thicken into a gravy, then lower down to a simmer.
Step 5
Stir in the thyme, herbs de provence, and salt and pepper then gently add the leftover turkey and mixed vegetables. Heat the meat and veggies through, about 3-4 minutes.
Step 6
Pour the mixture into an 8" x 8" baking dish spritzed with olive oil or non-stick spray. Set aside.
Step 7
Add the remaining 1 tablespoon of chicken stock to the cornbread stuffing and mix and mush into a large ball. Note: Add more stock one tablespoon at a time if the stuffing is too dry. Roll the stuffing into 12 small dumplings and drop on top of the turkey and veggie mixture.
Step 8
Bake for 30 minutes or until bubbling and browned.
Step 9
Let cool before serving.
Step 10
Enjoy!