🙂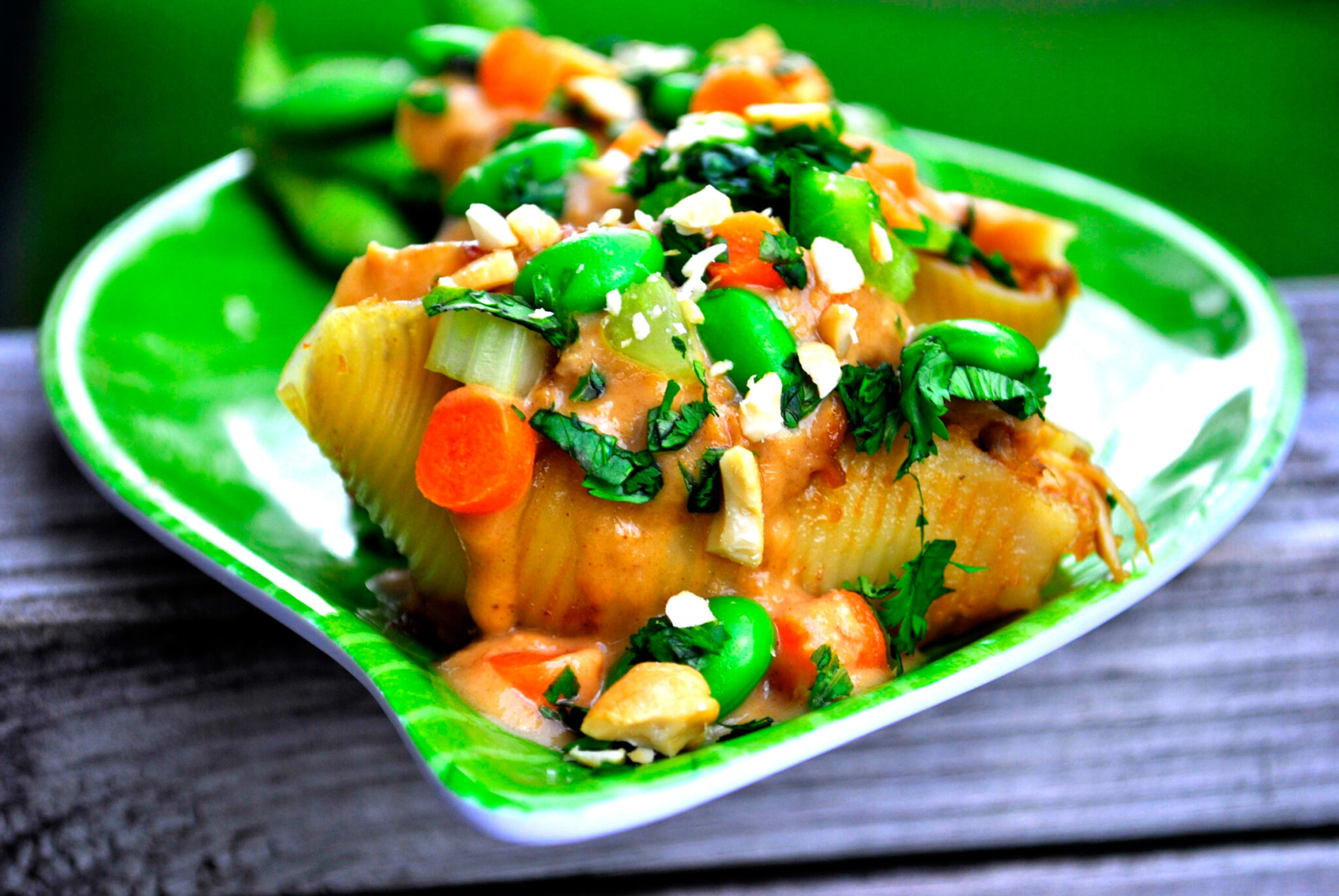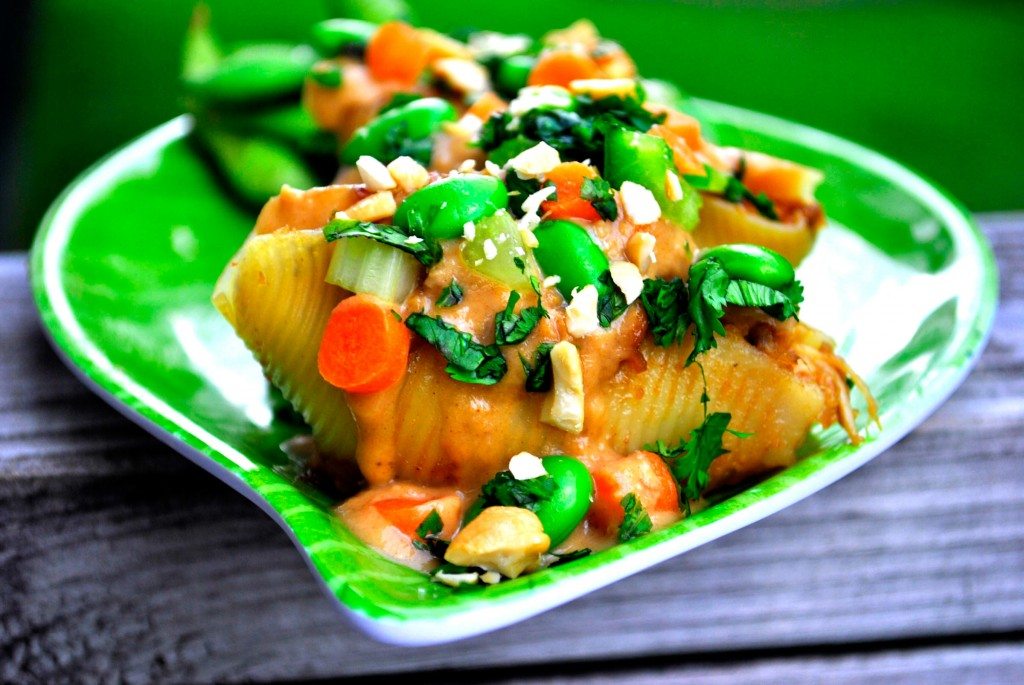 My hubs is brilliant.
This recipe was totally his idea.
I knew I married him for a reason 😉
Thai peanut pasta is one of my specialties, and it is the meal my dad requests most often when I tell him I'm coming over to make them (my parents) supper. My regular version is vegetarian and consists of nothing more than noodles, my homemade peanut sauce, and some fresh veggies. Everyone loves it.
Except for my mom, but only b/c she doesn't like warm peanut butter.
Weirdo.
A lot of times, the hubs and I lie in bed at night throwing out recipe ideas to each other, and this was one he threw my way. I'm not going to lie, I was a wee bit jealous that I didn't think of it myself.
But what's his is mine, right? 🙂
These shells are to die for.  As my brother awesomely put it, this meal has all of the flavors of an authentic Pad Thai. It's just served up in a new and fun way without having to wait for your table at the busiest restaurant in town that, for some reason unbeknownst to me, doesn't take reservations (Why, Basil, why?!?).
I was expecting this meal to take a bit more time than it did, but it actually came together rather quickly. In less than an hour from start to finish, I had an amazing meal bubbling away in the oven. It will probably take you less time to make b/c I have an insanely small kitchen that would make a Keebler elf go crazy, so it is really hard for me to maneuver around it sometimes. Also, a little bit of pre-planning could also help.
I'm not a pre-planner.
Of course, the best part of any pasta supper is the sauce, and when that sauce includes smooth and creamy peanut butter, it makes it a gazillion times better.
I like to lighten mine up with a bit of warm chicken stock which deepens the flavor without adding crazy calories.
Serve these up with some freshly steamed edamame and a scoop of Coconut Curry Chickpea Salad, and you've got yourself an elegant and eclectic meal that the whole family will love!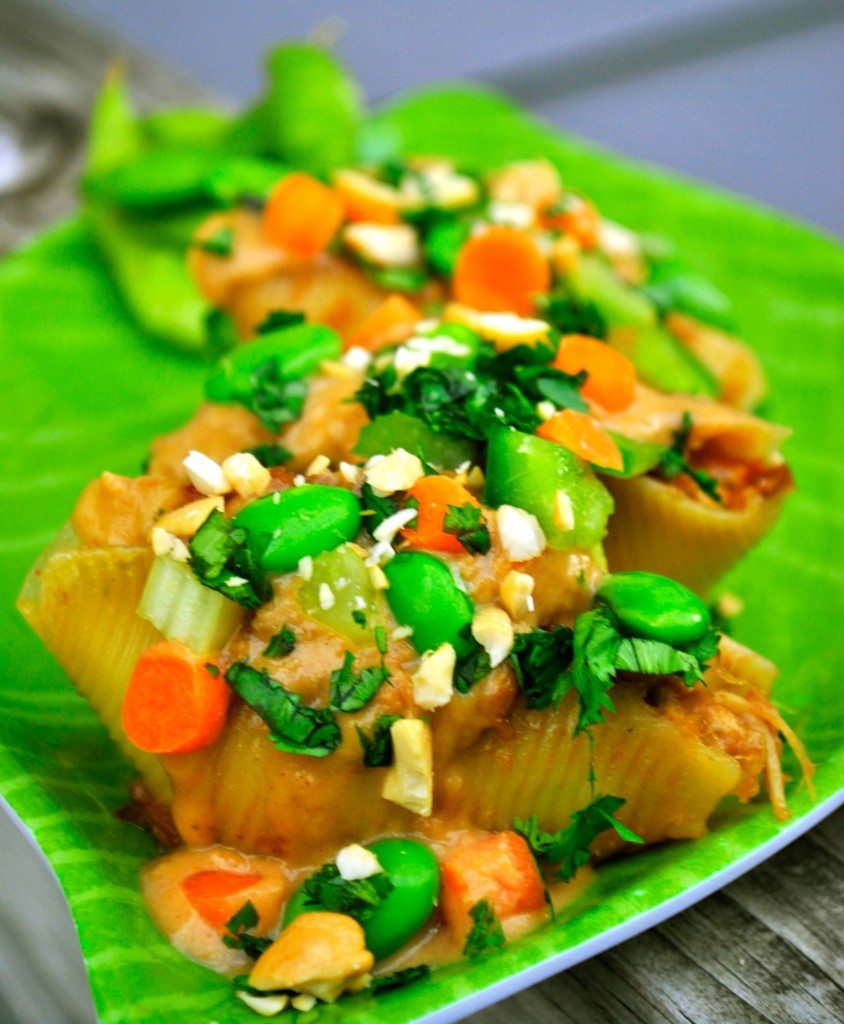 Note: This recipe isn't necessarily weight watchers friendly unless you cut the serving size in half. I ate 4 shells with edamame and was perfectly full, so half a serving size might just be perfect for you! I chose 6 shells per serving b/c I'm pretty sure that's how many everyone else in my family had 🙂
Lastly, my sis-in-law taught me the most amazing way to shred meat!!! I note it in the recipe below. I'm going to try it with pulled pork next time!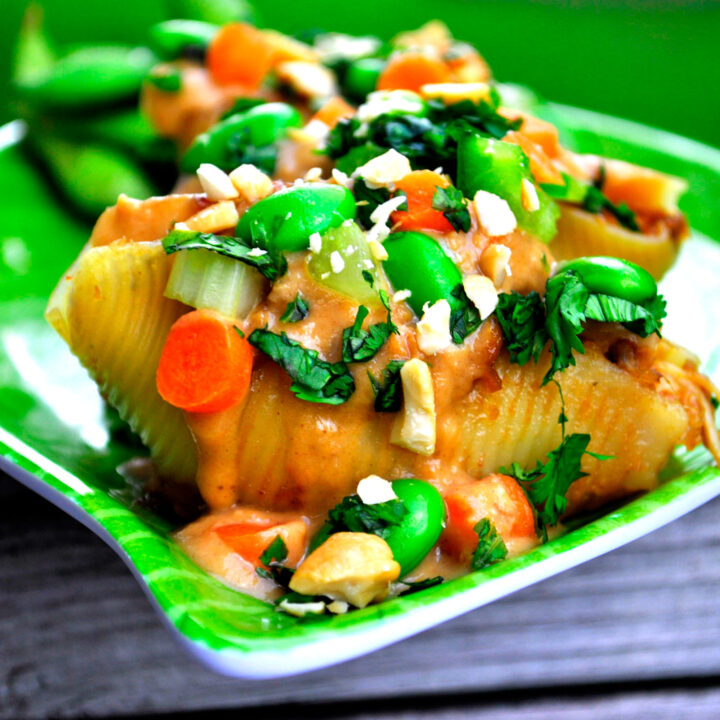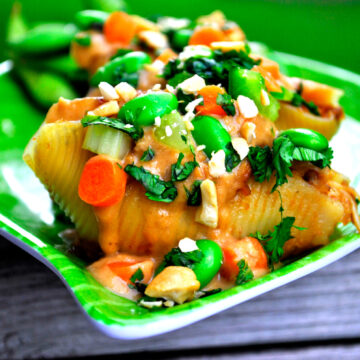 Thai Peanut Stuffed Shells
The exotic flavors of an authentic Pad Thai are served up in a new and inventive way
Print
Rate
Ingredients
For the shells:
30

jumbo pasta shells

2

teaspoon

olive oil

1-2

teaspoon

poultry seasoning or steak seasoning

½

large sweet onion

12

baby carrots

3

large celery stalks

2

garlic cloves

½

large green bell pepper

½

large red bell pepper

2

cups

raw spinach

2

handfuls fresh cilantro

½

cup

frozen edamame

shelled

drizzle of sesame oil

½

cup

peanuts or cashews

chopped
For the sauce:
⅔

cup

creamy peanut butter

juice & zest of one fresh lime

½

teaspoon

siracha

more or less depending on the spice level you like

2

tablespoon

teriyaki sauce

1

tablespoon

low sodium soy sauce

2

inch

cube freshly grated ginger

1 ¼

cups

low sodium chicken stock
Instructions
For the shells, sauce, and filling:
Cook pasta according to package directions. Drain, separate, and place shells on large cookie sheet lined with parchment or wax paper to prevent them from sticking together. Cover with damp paper towels until ready to fill.

While the pasta is cooking, sprinkle the poultry seasoning over both sides of the chicken breast and chop the onion, carrots, celery, garlic, bell peppers, spinach, cilantro, and nuts and grate the ginger. Now make the sauce.

In a separate bowl, add peanut butter, lime juice and zest, siracha, teriyaki, soy, fresh ginger, and half of the chopped garlic.

In a microwave safe bowl or cup, heat chicken stock for 2 minutes then whisk one cup of it into the peanut butter mixture until smooth and silky. Set aside until ready to use.

Once pasta is cooked, veggies are chopped, and sauce is made, pre-heat a sauté pan over medium-high heat until slightly smoking.

Once smoking, add 1 teaspoon olive oil then the chicken breast to the pan. Cook until just cooked through, about 5-6 minutes per side.

Remove chicken from pan, cover with tin foil, and let rest while you continue to make the filling.

Using the same sauté pan, lower the heat to medium add the remaining oil, then sauté the onion, half of the carrots, half of the celery, half of the bell pepper, the remaining garlic, and a sprinkle of salt and pepper until the onions and celery are translucent. About 2-3 minutes. Add the spinach and sauté a few minutes longer. Turn off the heat.

To easily shred the chicken, add to the bowl of a stand mixer with the paddle attached. Mix on medium until the chicken is completely shredded. Add the sautéed veggie mixture, half of the cilantro, ¼ cup of edamame, a drizzle or two of sesame oil, ½ cup of the peanut sauce, and salt & pepper (if needed) to the bowl. Stir with a spoon until incorporated.
Time to stuff the shells!
Preheat oven to 350°.

Spray a casserole dish with cooking spray and add just enough of the sauce to coat the bottom of the dish.

Stuff shells with about a tbsp. or so of the chicken mixture and line in the casserole dish.

Top the stuffed shells with ¾ of the remaining sauce, making sure each shell gets coated, and bake, uncovered, for roughly 20-25 minutes or until heated through.

Remove from oven and let cool for a few minutes.

To serve, heat the remaining chicken stock in the microwave and add to the remaining peanut sauce to thin out. Drizzle the last of the sauce over the shells then sprinkle with remaining carrots, celery, peppers, edamame, cilantro, and cashews.

Enjoy!
Notes
*WWpts= 12 pts per serving* *WWpts+= 14 pts per serving*
Nutrition
Serving:
6
g
|
Calories:
553
kcal
|
Carbohydrates:
58
g
|
Protein:
30
g
|
Fat:
22
g
|
Fiber:
6
g