Bursting with sweet strawberries, sour rhubarb, and a spritz of summery lemon, these Strawberry Rhubarb Upside Down Cakes will satiate your sweet tooth without causing any guilt! Made with gluten and grain free flours, natural sweeteners, and fresh fruits this is one dish you will happily eat for breakfast, lunch, or dinner.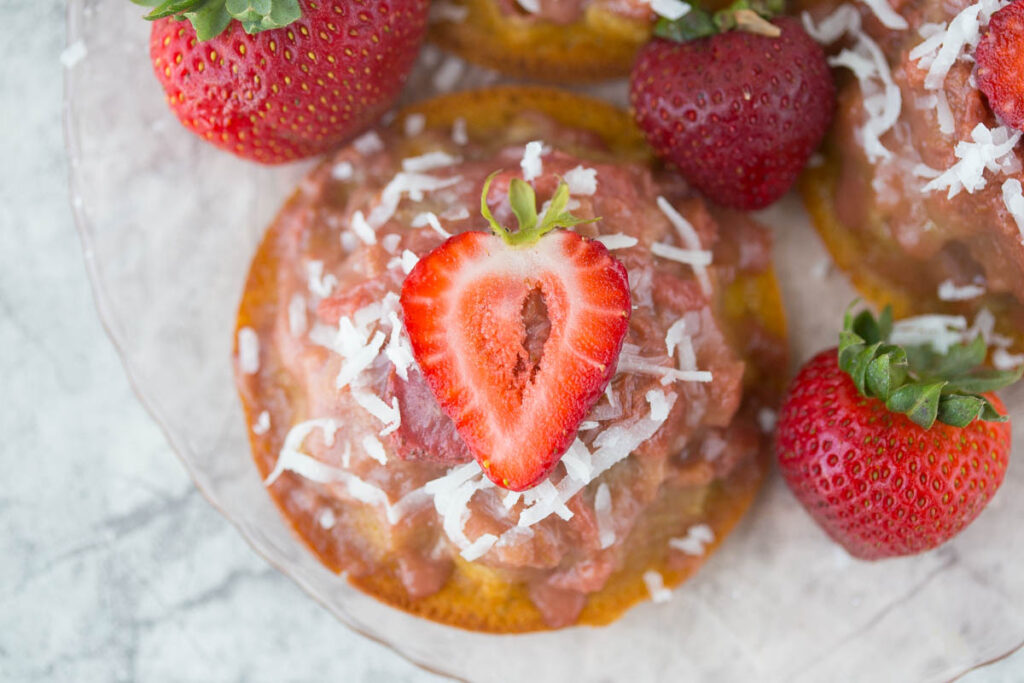 There are times in life when you just need a little dessert.
And by little I literally mean little. Like miniature. Tiny. Teensy.
Baby bundt cakes.
Booont. Booont. Boont. Boont. I can't say bundt without thinking about the movie My Big Fat Greek Wedding. I love that movie. Although, since I'm from the south, I should probably be saying pound cake and not bundt cake, but I'm an absolute admirer of alliteration so baby bundt cakes win.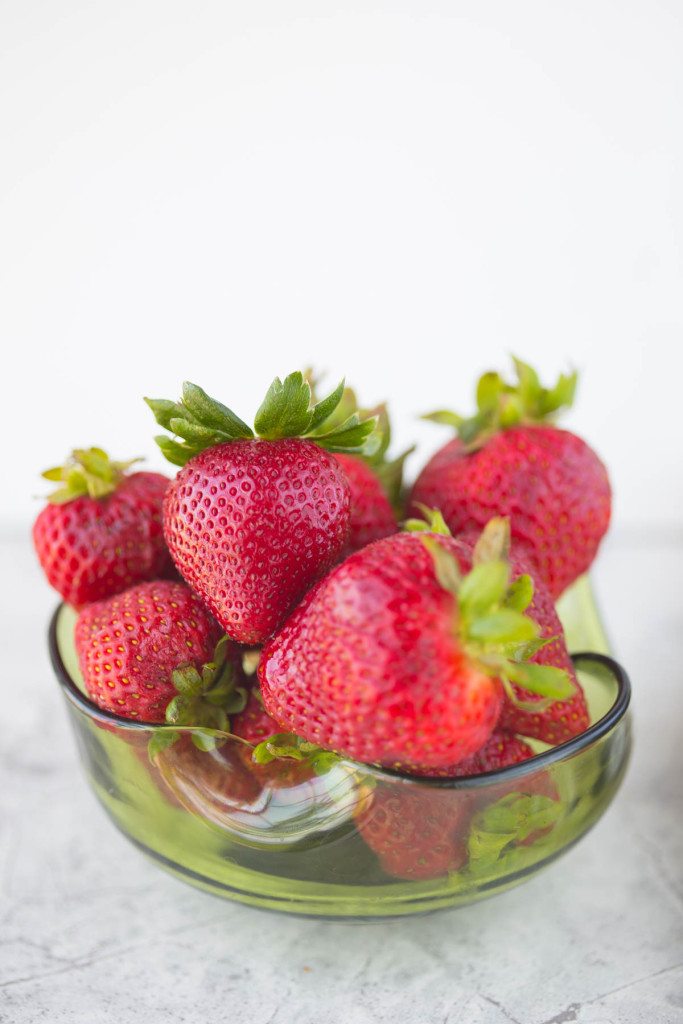 Anywho.
When I was going through my list of recipes to put on the blog this week I was all like, "OMG! I need to share a dessert! It's been forever and a zillion years since I've posted one." Uuum. Except for the mini cupcakes I posted about two weeks ago.
So here I am posting another dessert recipe when I was just telling y'all a few days ago about how I needed to lose weight. BUT! That's ok. Wanna know why? Because these upside down cakes are my variation of one of the desserts from the Tone It Up nutrition plan. That's why I love it so much! It's so easy to follow and they're realistic in their guidelines. Any TIU approved desserts or cocktails are absolutely allowed on this nutrition plan 2-3 times per week! What, what, what?!?
Music to my ears, peeps.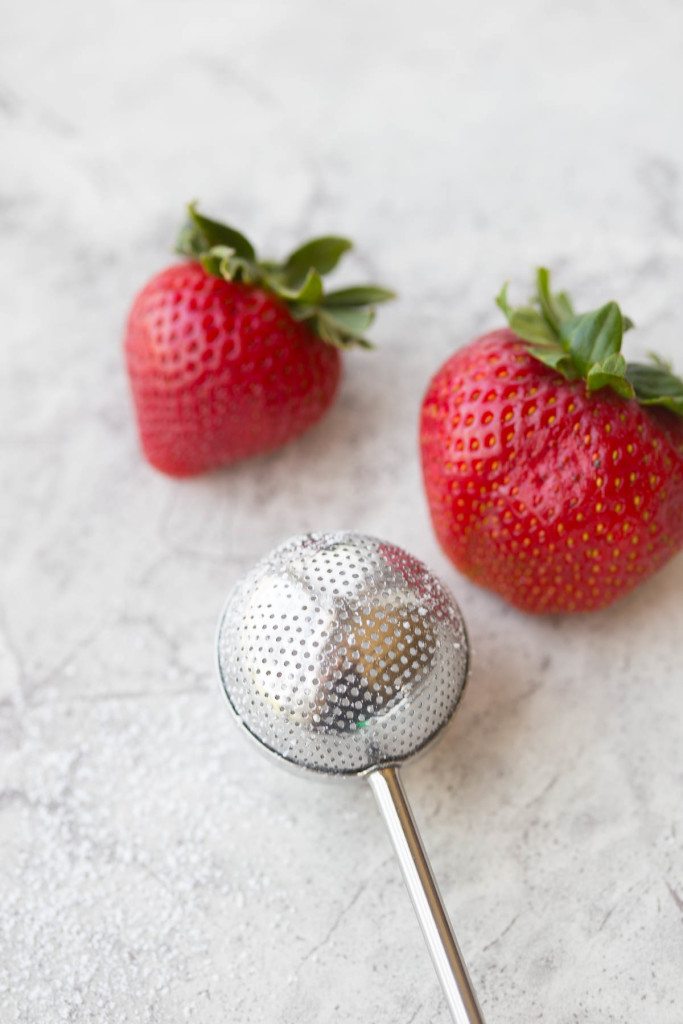 One of my biggest issues is definitely my sweet tooth, in fact, all of my teeth are sweet so I love that I have options to indulge my cravings when they start a callin'.
I've told y'all this before but I have a habit of buying ingredients on a whim, and that's exactly the case with the giant stalk of rhubarb we left the store with on Monday. I didn't have a clue as to what I was going to do with it, but I knew I'd figure out something. Sort of how I threw together the strawberry rhubarb ice cream last year. I ended up finding this awesome recipe for gluten-free, refined sugar-free and guilt-less pineapple upside down cakes that I knew would be the perfect base for my rhubarb!
With a tiny tweak here and a teensy tweak there, I created this incredibly easy and delicious dessert that tastes like a breezy day in the summer Southern sun.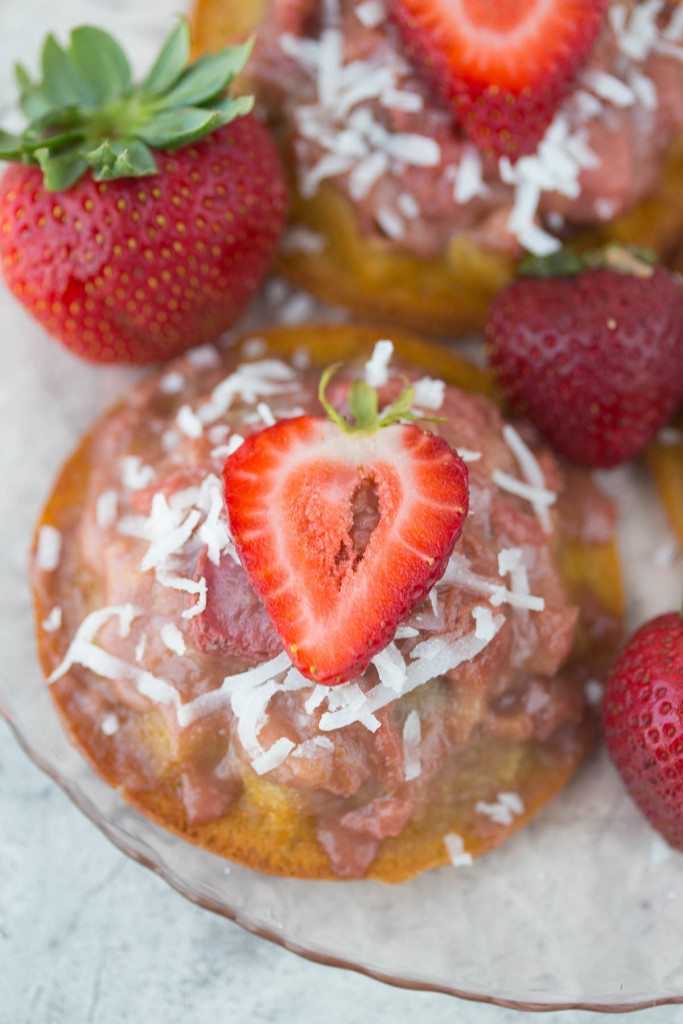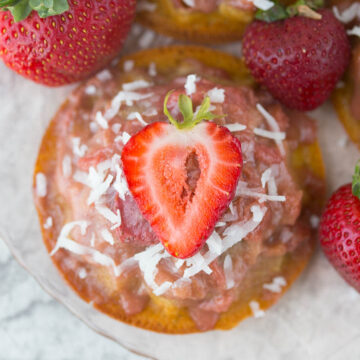 Strawberry Rhubarb Upside Down Cakes
Mini Gluten Free Strawberry Rhubarb Upside Down Cake Recipe: Bursting with sweet strawberries, sour rhubarb, and a spritz of summery lemon, these gluten-free & refined sugar-free w/ vegan option Strawberry Rhubarb Upside Down Cakes taste like a breezy summer day in the Southern sun!
Print
Rate
Instructions
Preheat oven to 350 degrees and spritz 6 mini bundt cake or individual baking dishes with coconut oil non-stick spray.

Add strawberries, rhubarb, sugar, coconut oil, and lemon juice to a small saucepan and bring to a boil. Lower heat to medium-low and cook until caramelized and reduced, about 5 minutes.

Spoon the strawberry rhubarb mixture into the bottom of each dish.

Meanwhile, in a medium mixing bowl, combine flours, baking powder, salt and lemon zest.

In a separate bowl, whisk applesauce, milk, honey, and vanilla.

Stir wet ingredients into dry ingredients, mixing until just combined.

Spoon cake batter over the strawberry rhubarb mixture and bake for 25 minutes or until a toothpick inserted into the middle comes out clean.

Allow the cakes to cool. NOTE: It's ok if they sink a little!
To Serve:
If the cakes are on one large pan, place a cookie sheet over the top of the pan then turn the whole pan over in one swift motion. Gently tap the bottom of each cake tin to ensure the cakes loosen from the pan. Slowly lift the pan and see your beautiful cakes!

Sprinkle w/ coconut and fresh strawberry slices.

Enjoy!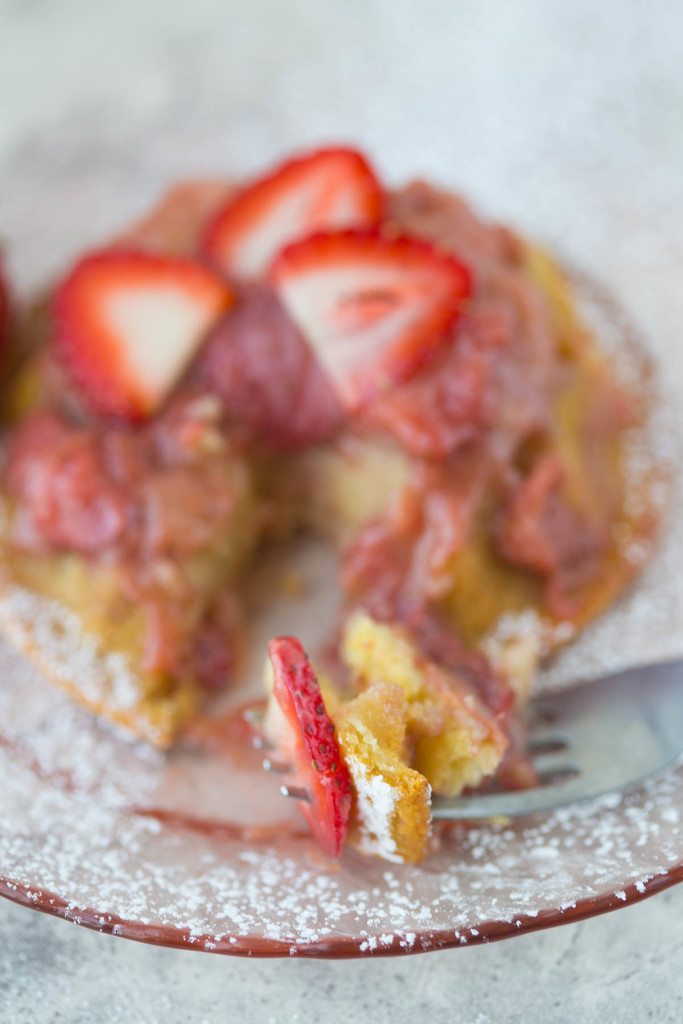 *Recipe adapted from Tone It Up*