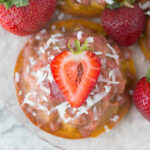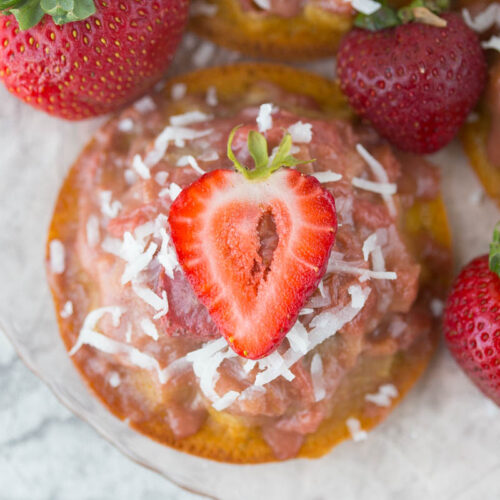 Print
Strawberry Rhubarb Upside Down Cakes
Mini Gluten Free Strawberry Rhubarb Upside Down Cake Recipe: Bursting with sweet strawberries, sour rhubarb, and a spritz of summery lemon, these gluten-free & refined sugar-free w/ vegan option Strawberry Rhubarb Upside Down Cakes taste like a breezy summer day in the Southern sun!
Preheat oven to 350 degrees and spritz 6 mini bundt cake or individual baking dishes with coconut oil non-stick spray.

Add strawberries, rhubarb, sugar, coconut oil, and lemon juice to a small saucepan and bring to a boil. Lower heat to medium-low and cook until caramelized and reduced, about 5 minutes.

Spoon the strawberry rhubarb mixture into the bottom of each dish.

Meanwhile, in a medium mixing bowl, combine flours, baking powder, salt and lemon zest.

In a separate bowl, whisk applesauce, milk, honey, and vanilla.

Stir wet ingredients into dry ingredients, mixing until just combined.

Spoon cake batter over the strawberry rhubarb mixture and bake for 25 minutes or until a toothpick inserted into the middle comes out clean.

Allow the cakes to cool. NOTE: It's ok if they sink a little!
To Serve:
If the cakes are on one large pan, place a cookie sheet over the top of the pan then turn the whole pan over in one swift motion. Gently tap the bottom of each cake tin to ensure the cakes loosen from the pan. Slowly lift the pan and see your beautiful cakes!

Sprinkle w/ coconut and fresh strawberry slices.

Enjoy!