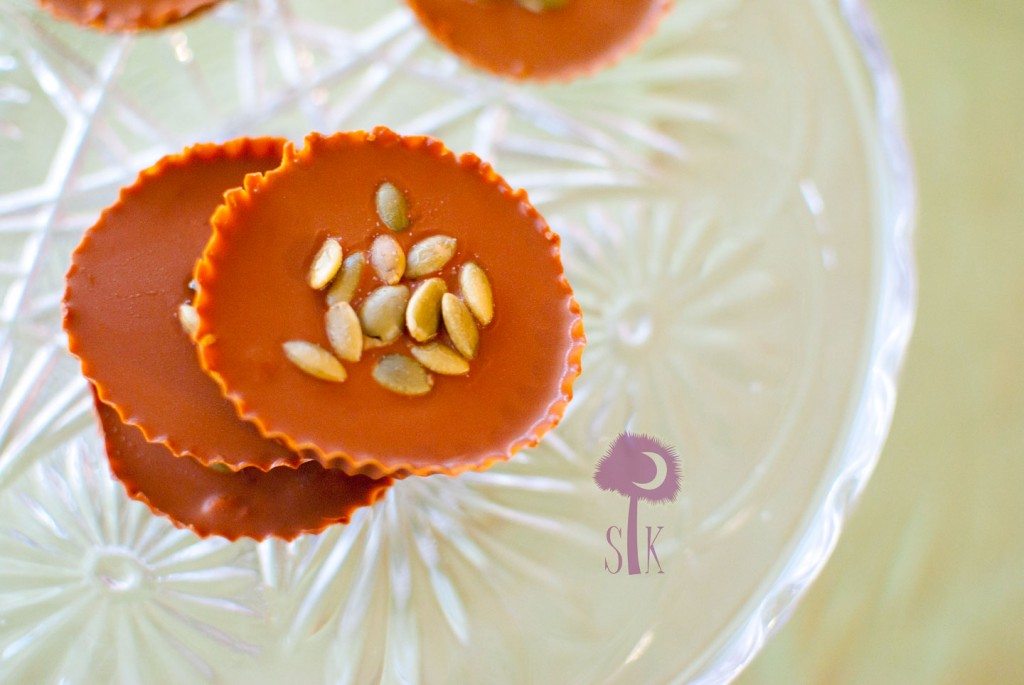 Oh my gaaaaah...another pumpkin recipe!
It would seem that these things are just too good to be true, but they're not!
Cinnamon candy cups stuffed with gooey, peanut buttery, pumpkiny goodness.
These candies are the real deal and are much better for you than any of the other partially hydrogenated oil infested candy cups you can find on the supermarket shelves today.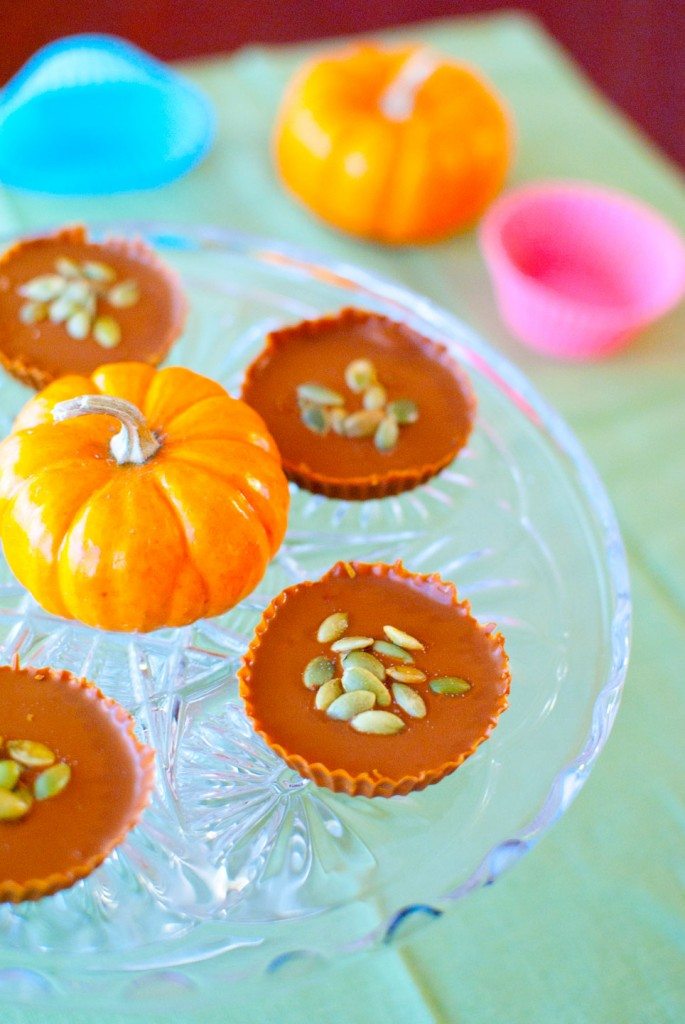 They are the perfect dessert for you to serve at any upcoming holiday gathering, and trust me...your family will never forgive you if you don't bring these to at least one get together this year 😉
I originally saw an idea for these from, who else, but Chocolate Covered Katie.
She made her own version of Reese's Pumpkin Peanut Butter Cups, and I thought the idea was absolutely brilliant!
Then I started to see more homemade candy cups popping up on Pinterest and other sites, and I knew that I just wanted to make my own version. So, I started brainstorming ideas...and nothing really came to me!
Hmmmph.
*crosses arms*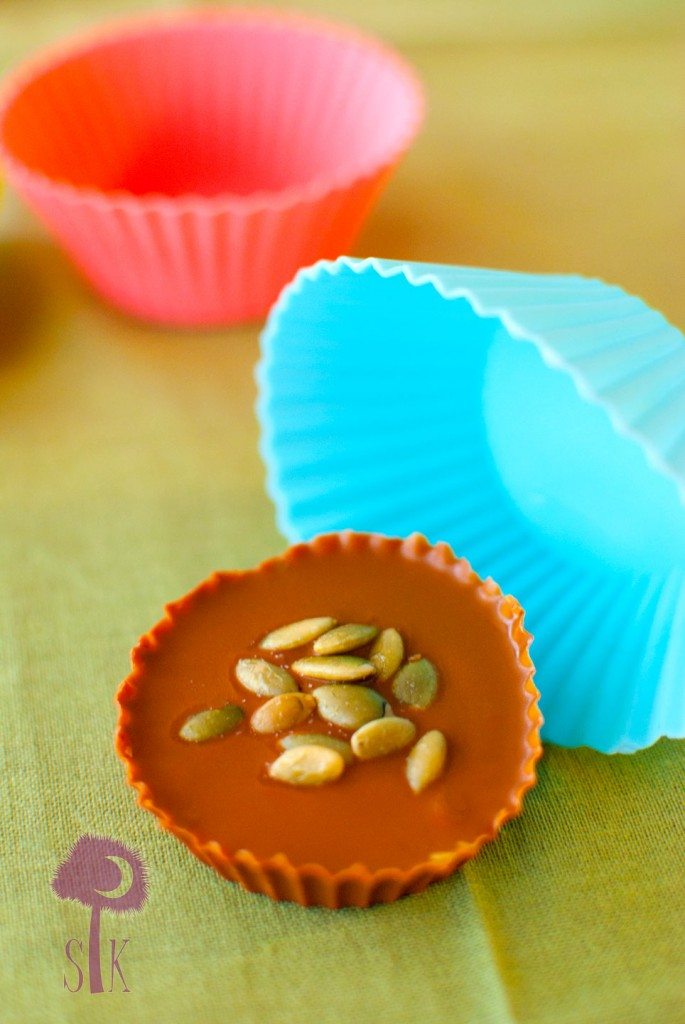 Then a few weeks ago I got my hands on some cinnamon chips and the idea magically manifested...and I immediately knew that I needed to melt those bad boys down and stuff 'em full of pumpkin.
And that's exactly what I did.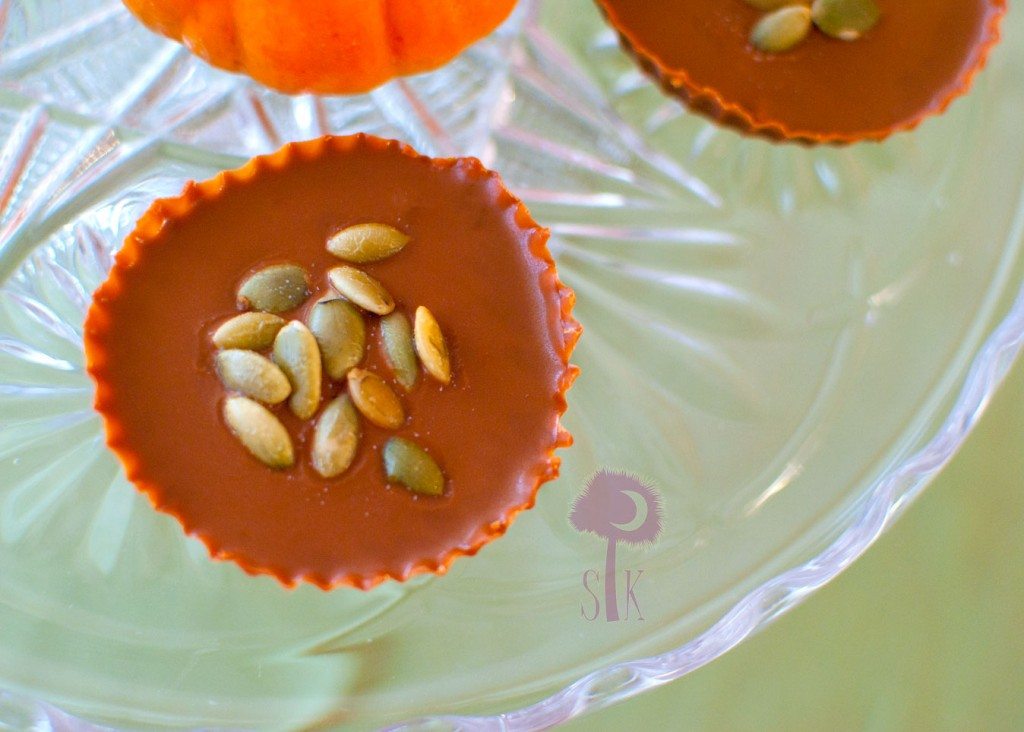 Now, the cinnamon chips that I used for this recipe are Hershey's, but I have since found that King Arthur makes a higher quality brand which I have every intention of buying and using once I'm done with the supply I have now.
And...once you make this recipe or any of the other recipes I plan to post in the future...you will never go without cinnamon chips in your pantry again.
Getting to know you...
Have you ever made your own candy?
What's your favorite candy bar of all time?
Do you have cinnamon chips in your stores? 
Pumpkin Stuffed Cinnamon Candy Cups

Print recipe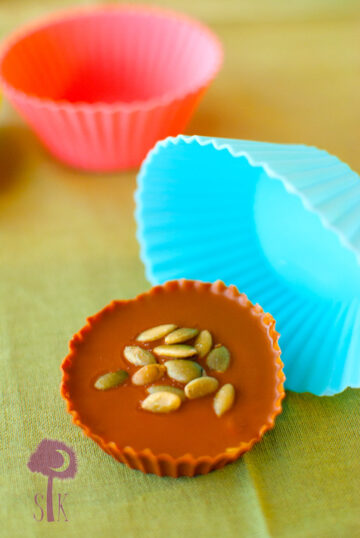 Ingredients
½ cup cinnamon chips
1 tablespoon + 1 teaspoon extra virgin coconut oil (measured solid)
2 tablespoons all-natural peanut butter
¼ cup +1 tablespoon organic pumpkin puree
1 teaspoon pumpkin pie spice
2 pinches sea salt
2 tablespoons roasted & salted pumpkin seeds (a.k.a. pepitas)
Note
*WWpts and WWpts+= 2 pts per serving*
Directions
Step 1
Add the cinnamon chips & coconut oil to a small heat-safe bowl and microwave for 30 seconds. Stir well then continue microwaving and stirring in 15 second increments until the chips are completely melted. NOTE: If this mixture gets overheated and seizes up, just stir in a touch more coconut oil and it should loosen right back up.
Step 2
Add roughly 1 ¼ teaspoon of the chip mixture to the bottom of 12 silicon baking cups and swirl until the entire bottom is covered. Then, using your fingers or a pastry brush (fingers are much faster), gently spread some of the mixture about ¼ of the way up the sides of each cup. NOTE: I have not used paper cups for this, so I'm not sure how well they would work or if they would stick. Please let me know if someone does this!
Step 3
Put the cups in the freezer until ready to fill.
Step 4
In another small bowl, mix the remaining ingredients until well combined.
Step 5
Remove the cups from the freezer then fill each of them with about 1 ½ teaspoon of the pumpkin mixture. Smooth into an even layer so it can easily be covered in the next step.
Step 6
Remelt the remaining cinnamon chip mixture if needed, then spoon about 1-½ teaspoon on top of the pumpkin mixture until the pumpkin layer is completely covered.
Step 7
Sprinkle each cup with a few pumpkin seeds then freeze until ready to serve.
Step 8
Pop the cups out of the silicon cups and serve.
Step 9
Enjoy!