🙂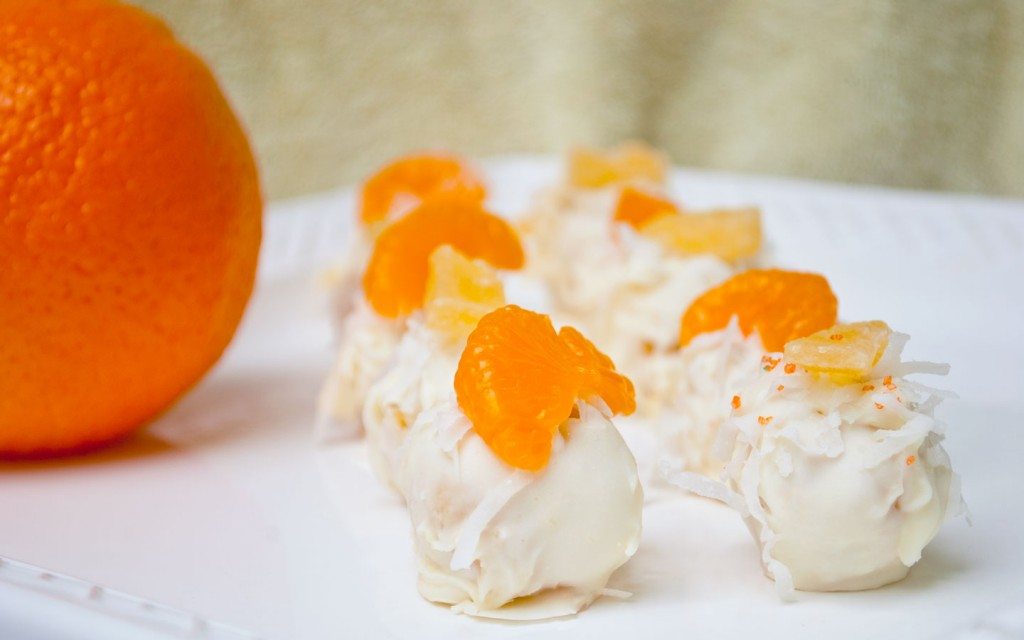 If you aren't from the South, you are probably scratching your head wondering what in the H-E-double hockey-sticks are "Pig Pickin'"cake balls?
They are scrumptious little nuggets of pure southern soul, that's what.
And you'll lurve them.
*pinky swear*
Tropical pineapple, juicy mandarin oranges, and succulent coconut intermingle with sweet and fluffy vanilla cake which is then dunked and rolled into a vat of melted white chocolate.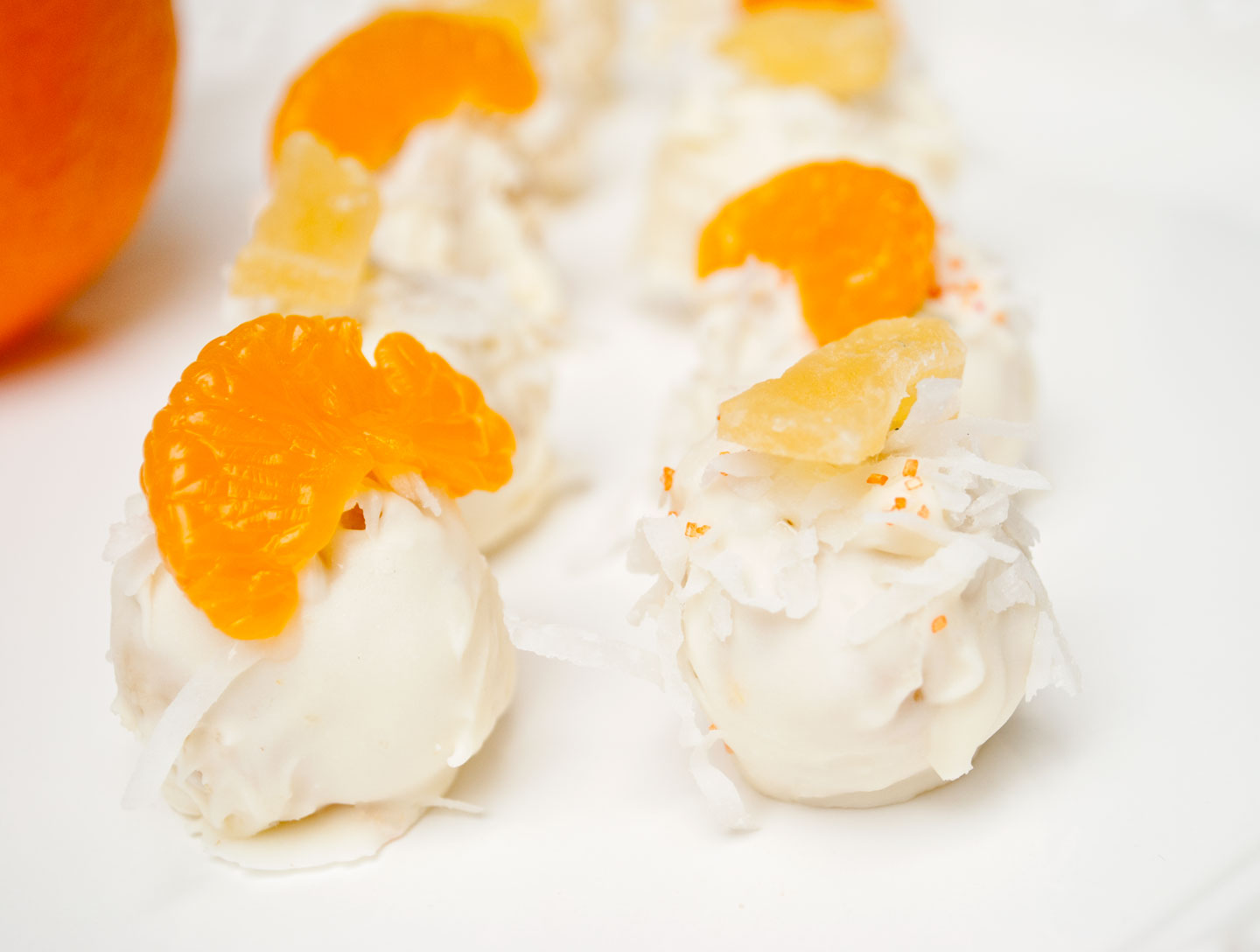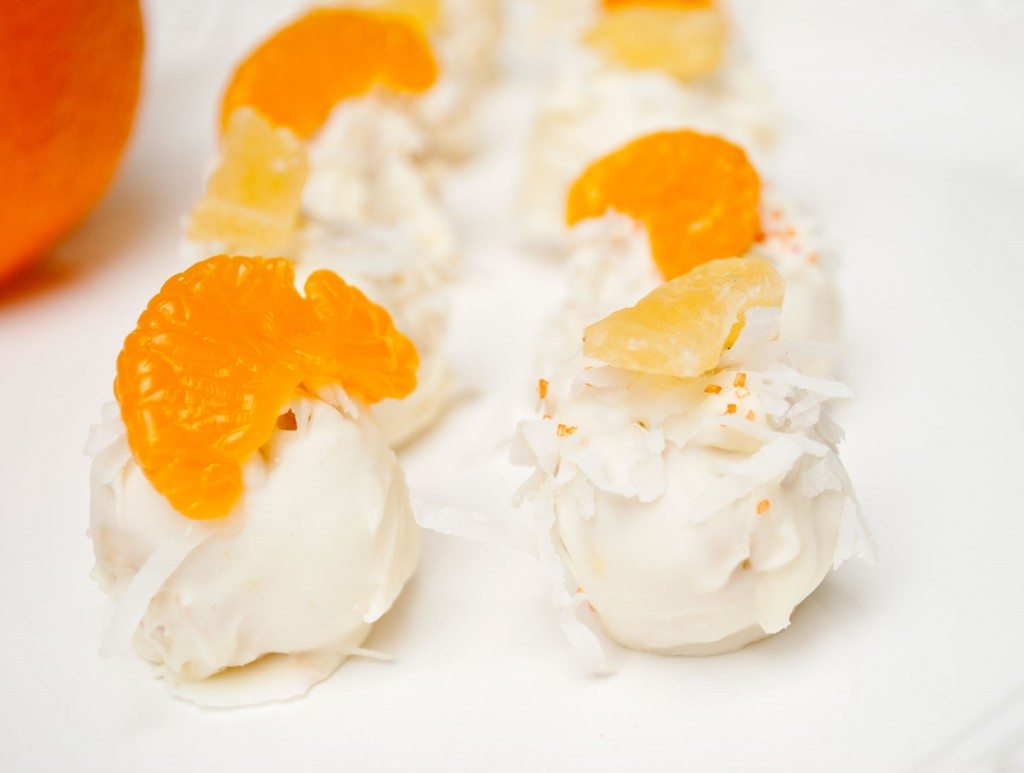 Are you with me yet?
Traditional pig pickin' cakes are brought to most of the "pig pickins" (BBQs/cook-outs/get togethers where pork is roasted over a spit) in each and every tiny town in the south, hence the name: Pig Pickin' Cake. They are made with the same ingredients as mentioned above, but are iced with whipped cream instead of coated in white chocolate. They are also probably 457 zillion calories per slice so, in comparison, these little morsels aren't that bad...kinda...sorta...right?!? :/
Pig Pickin' cakes are a hot commodity in Charleston and, for whatever reason, are hard to come by nowadays.
They are so finger lickin' fabulous, people are willing to spend big bucks on them. Yesterday I told you that my hubs was an auctioneer. There is one auction in particular I love being a part of, and that is the money for missions oyster roast/cake auction hosted by one of our local churches. Several members of the church bake cakes that are then auctioned off to raise money for the church's missionaries. This past year there was a pig pickin' cake...and it sold for nearly $100!!! It was one of the favorites of the night.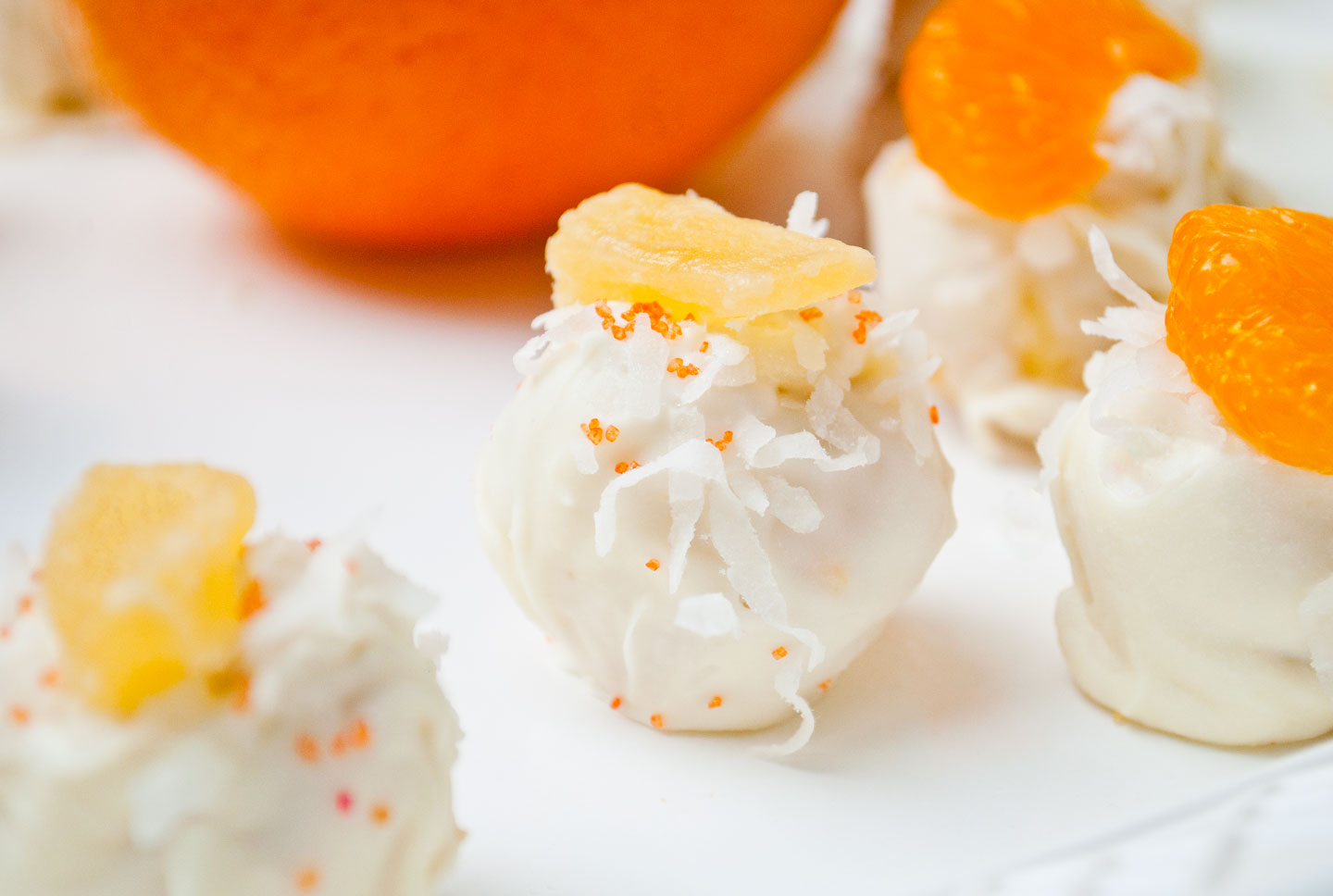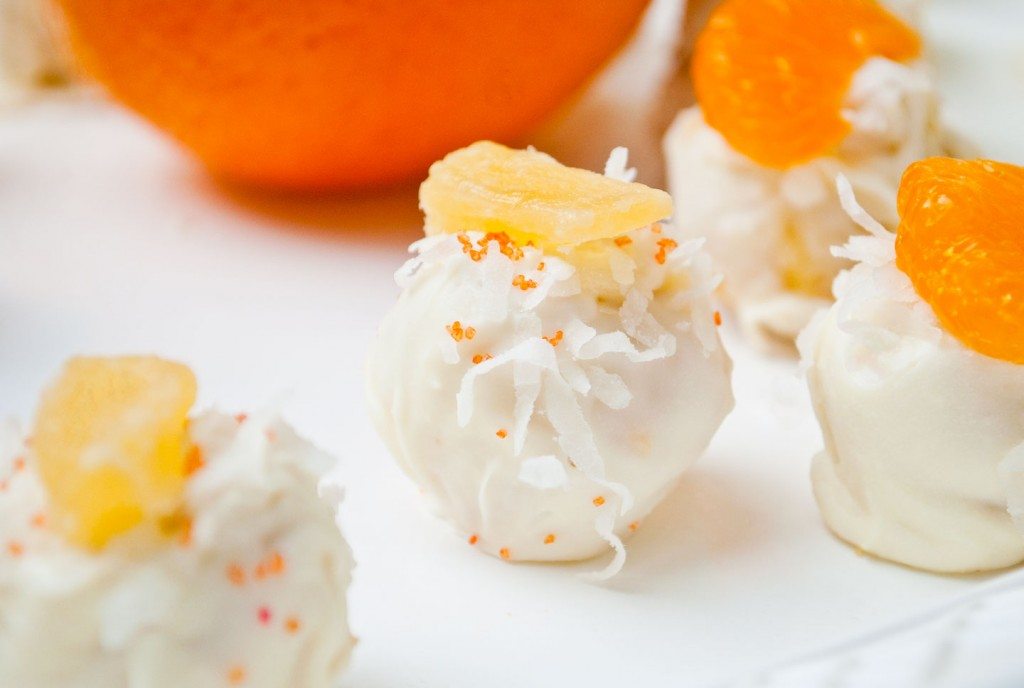 Are you ready to make them now that you know how much they're worth?
Ummm hmmm...that's what I thought 😉
Note: You will find no box cake mixes in my recipe, but if making a cake from scratch ain't your thang then, by all means, use a mix from a box! Also, in some of my pictures I sprinkled some orange sugar on the top too!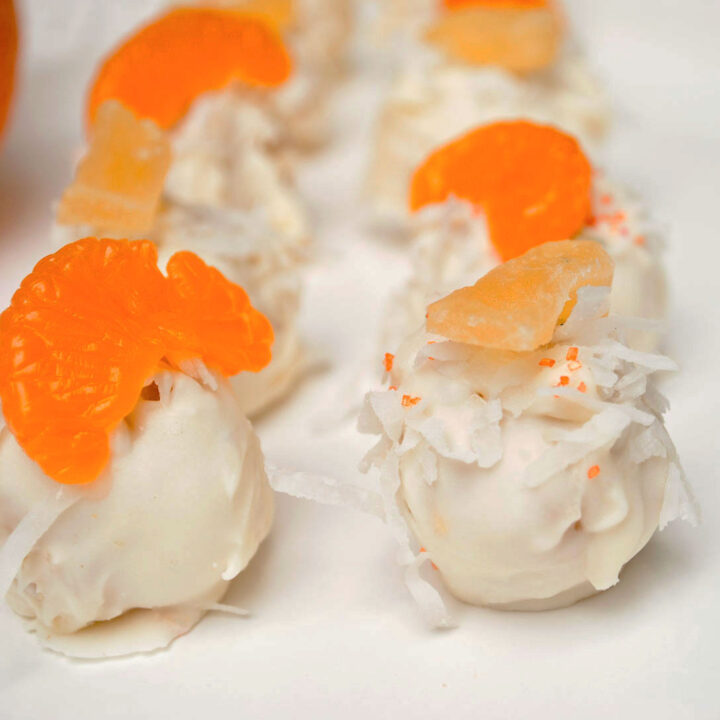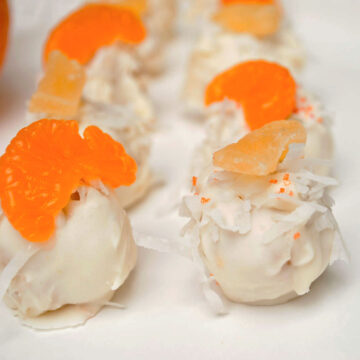 Ingredients
1

cup

raw white sugar

1

stick unsalted sweet cream butter

softened (½ cup)

2

large eggs

1

teaspoon

pure vanilla extract

1

teaspoon

butter extract or non-dairy vanilla caramel coffee creamer

1 ½

cups

all-purpose flour

1 ¾

teaspoons

baking powder

½

cup

unsweetened vanilla almond milk

1 8

oz.

can crushed pineapple packed in juice

1 ½ 4

oz.

containers mandarin oranges

packed in water, no sugar added

1 12

oz

package white chocolate chips

1-2

teaspoon

coconut oil

melted (if needed)

Shredded coconut

mandarin oranges, dehydrated pineapple for garnish
Instructions
For the Cake!
Preheat oven to 350° and spray a 9x9 inch pan with non-stick spray.

Using a stand or hand mixer, cream sugar and butter together, on medium speed, until light and fluffy.

Beat in the eggs, one at a time, and mix until well blended.

Lower speed to slow, and gently add in flour and baking powder, a little at a time, until all the flour is incorporated.

Slowly pour in the milk, vanilla, and butter extracts until batter is smooth.

Pour into the prepared pan.

Bake for 20-25 mins or until toothpick comes out clean.

Let cool completely.
For the Balls!
While cake is cooling, drain and discard the juice from the oranges and drain and RESERVE the juice from the pineapple.

Once cooled, crumble the cake in the pan using clean hands.

Add the pineapple, oranges and coconut and squish and mix together with the crumbled cake. You are trying to get a consistency that resembles play dough.

If mixture is to dry, drizzle in the reserved pineapple juice a little at a time, until desired consistency is reached.

Pinch off a bit of dough, about 1 ½ to 2 tsps worth, and roll into a ball. Place on a cookie sheet lined with parchment or wax paper.

Continue rolling balls until no dough is left.

Refrigerate until ready to coat with chocolate, a minimum of 1 hour.
Time to coat!
Melt the chocolate in a large microwave safe bowl in 30 second increments until melted completely (about 2-3 mins) Be sure to stir after every increment (you could also melt over a double boiler).

If the chocolate seems too thick, add the coconut oil to thin it out.

Roll each ball in the chocolate until it is completely covered. Immediately sprinkle with coconut and an orange or piece of dehydrated pineapple.

Refrigerate until ready to serve.

Enjoy!
Notes
*WWpts and WWpts+= 3 pts per serving* *Nutrition facts DO NOT include coconut oil*
Nutrition
Serving:
1
g
|
Calories:
105
kcal
|
Carbohydrates:
15
g
|
Protein:
1
g
|
Fat:
5
g