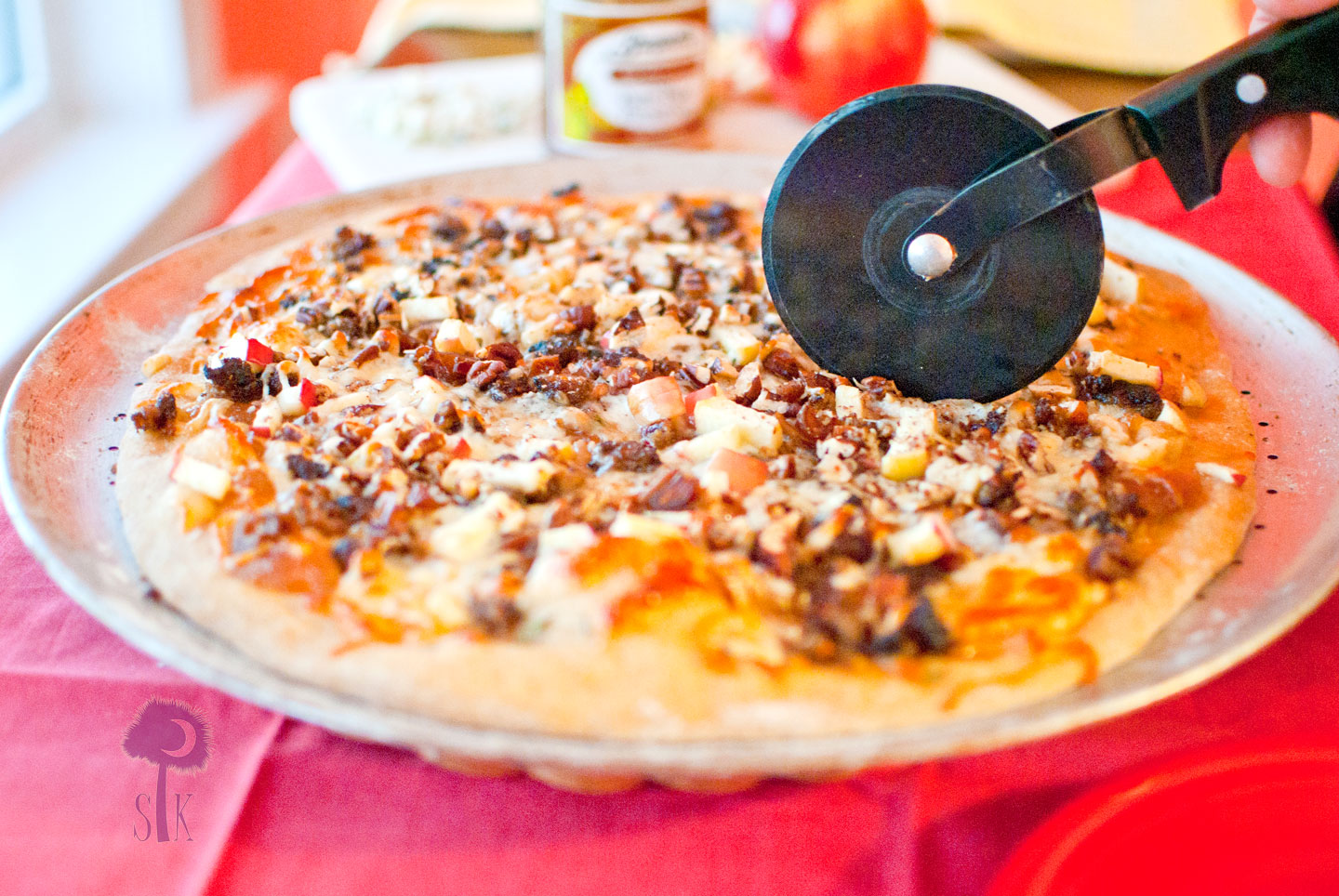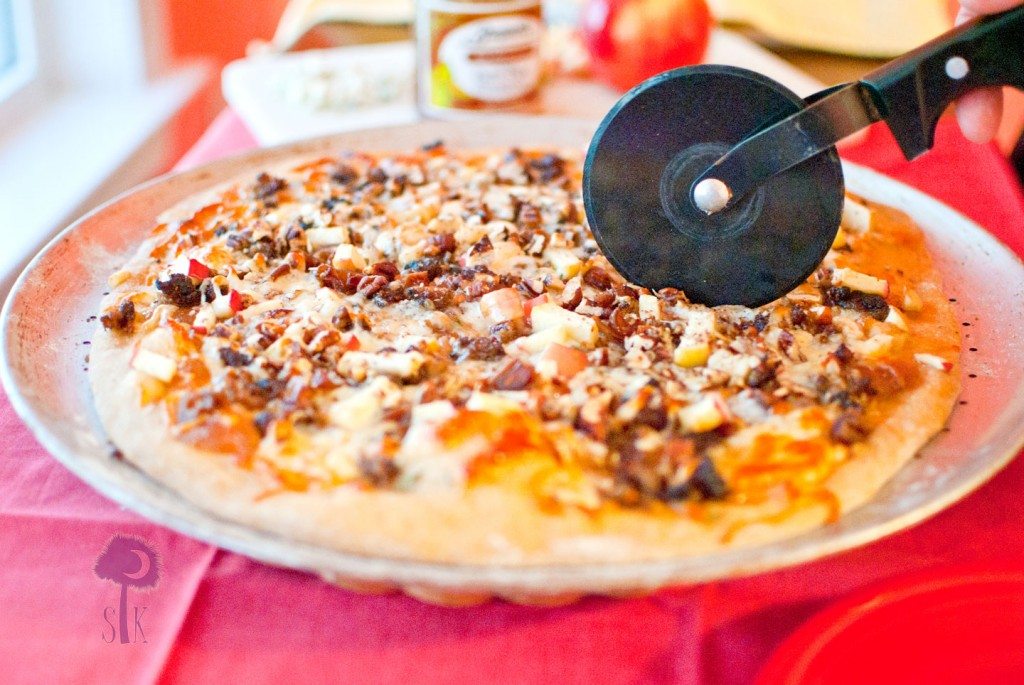 I know what you're thinking...
Pear & pecans on pizza?
Yes.
Trust me.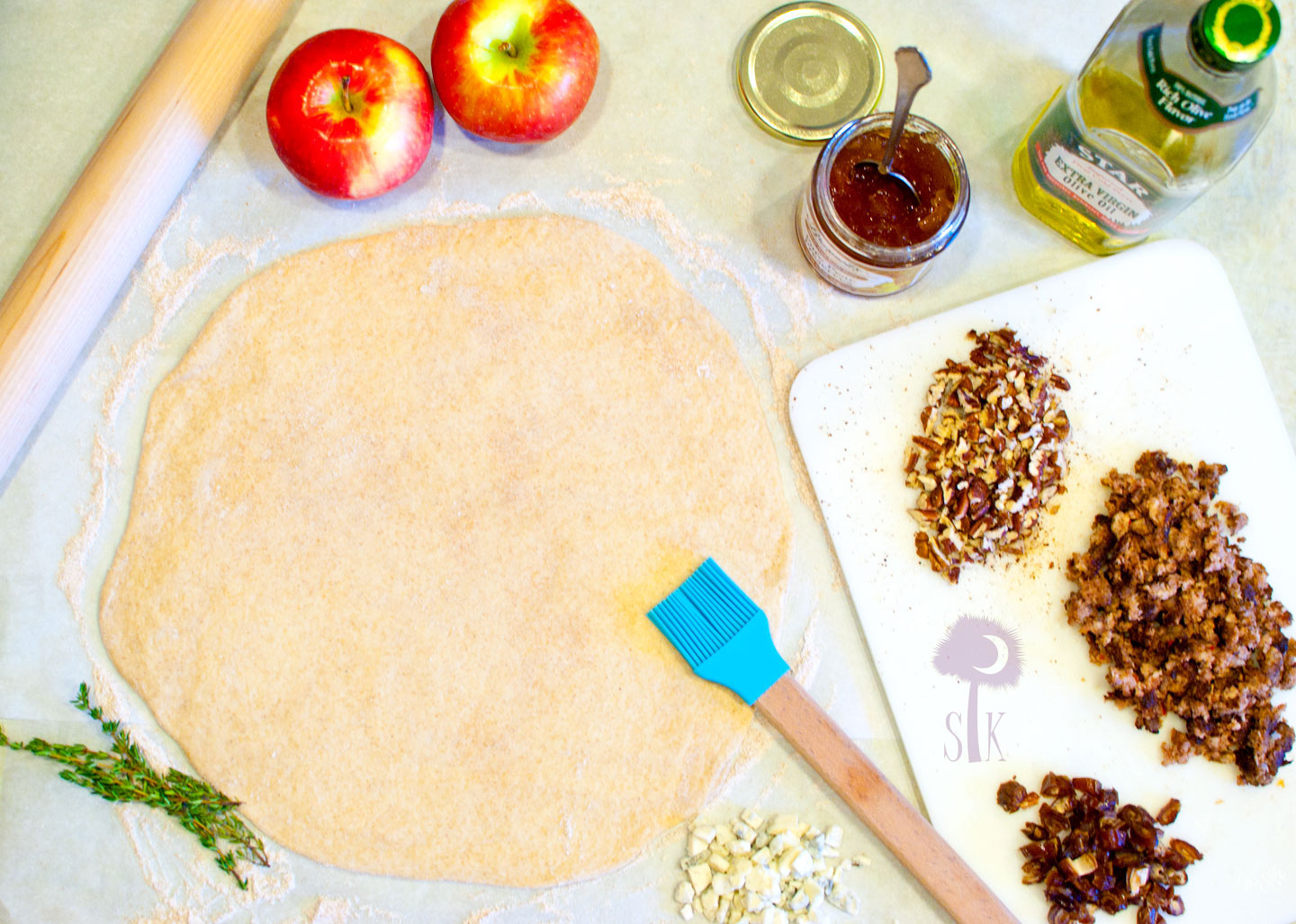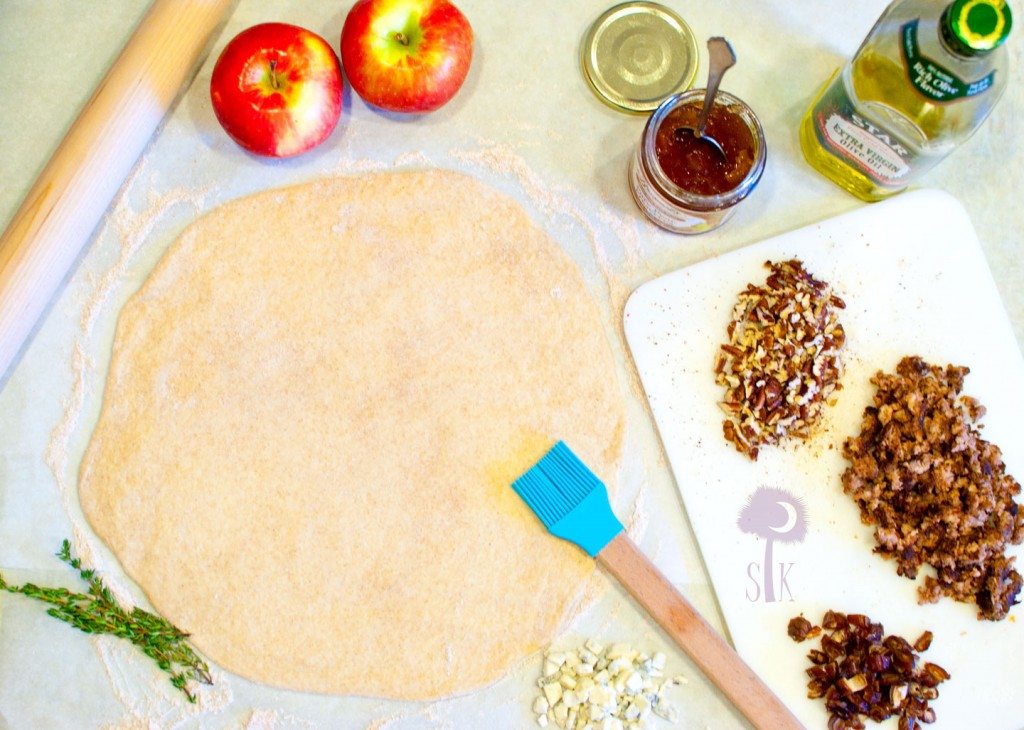 This pizza is a gift from God.
A single slice of this pie gets me so frickin' excited, drool starts dribbling down my chin and splattering my keyboard keys. Like, my cat just came over to me and started batting at the stream escaping from my lips thinking that my mouth had somehow transformed into our bathroom sink and was spouting out fresh cold water just for her.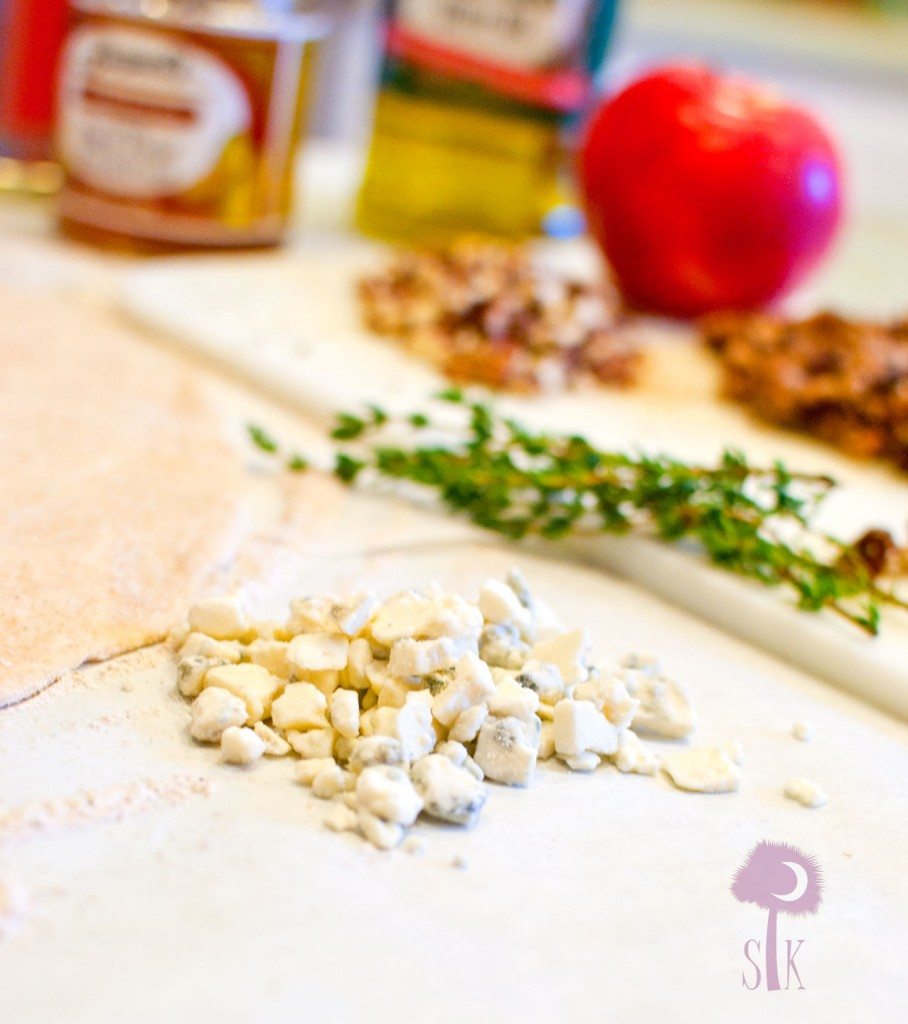 The pizza is utterly swoon worthy...the drool, not so much...but this recipe will make up for that.
It's like Christmas in your mouth.
There is this amazing, locally owned pizza place in Charleston called Park Pizza Company that makes some of the best pizzas I've ever eaten. Their pies are incredibly creative and are topped with crazy awesome combinations that replicate the flavors of grilled cheese sandwiches, loaded nachos, meatball subs, 7 layer dip, chicken cordon bleu and so on and so forth.
Several months before we moved, Will and I would go over to my brother's house every Sunday to order Park Pizza, snuggle with the kiddos, and watch a movie. It was and still is one of my favorite family "traditions", and it's largely in part to the frickin' pizza.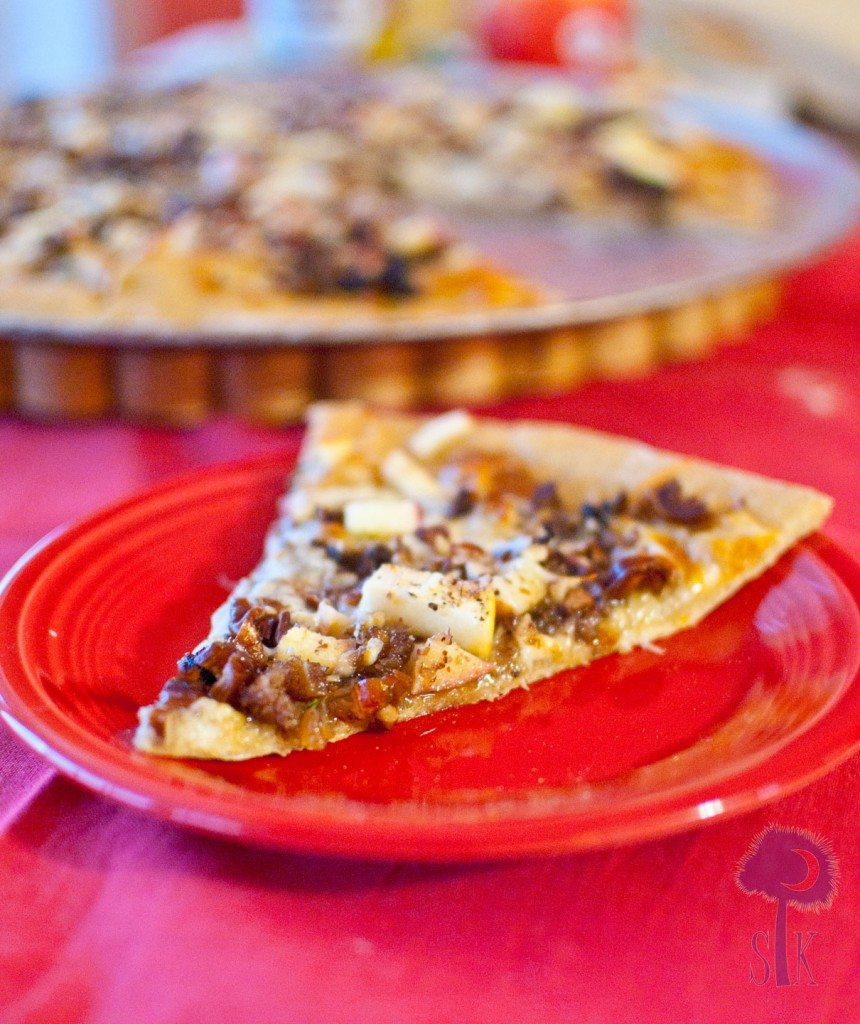 Another cool thing about this pizza joint is their "Pizza of the Month" that honors whatever holiday or happening that may be going on at the time. Last December, their pizza of the month was called a "Partridge in a Pear Tree", and it was loaded with pear preserves, dates, cinnamon cheddar cheese, roasted turkey, caramelized onions, and a few other things I can't quite remember right now.
What I do remember though is that it was flipping phenomenal, and I've been craving it ever since. Luckily, they also have a pizza that is always on the menu called "The Bradwell" that uses a lot of the same ingredients on both the Patridge and my recipe today.
This pizza melds beautifully with the scrumptious flavors of the season, and is the perfect quick and easy meal to kick start the holidays.  It's best served next to a crackling fire surrounded by family and twinkle lights with the light hum of a holiday mixed tape   and the sweet smell of sugar cookies filling the air.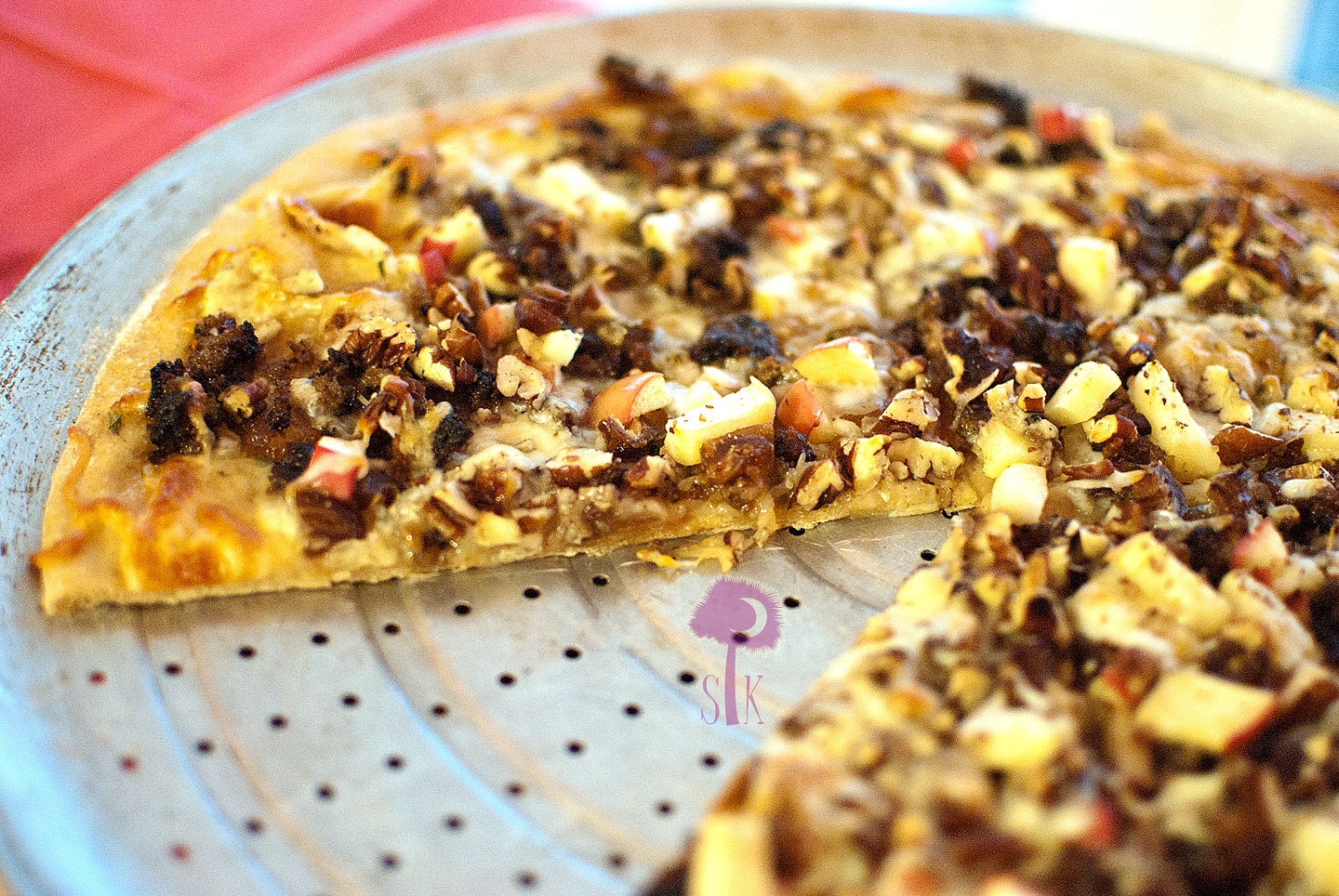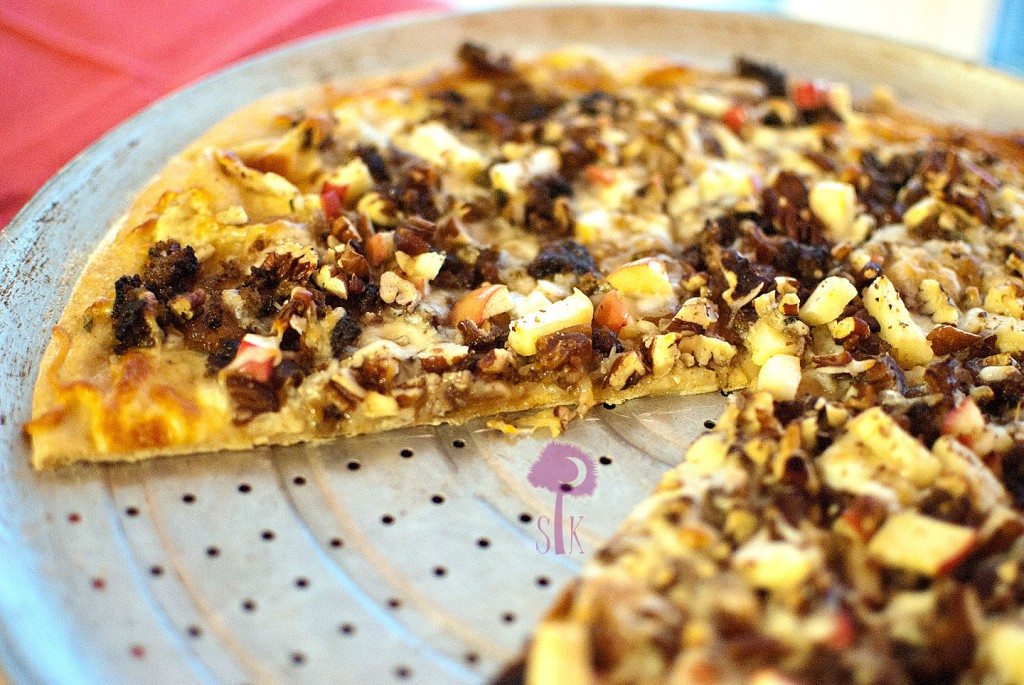 Getting to know you...
What toppings do you like on your pizza?
Do you order pizza from a chain or go local?
Do you celebrate Christmas or another holiday? 
Pear & Pecan Pizza Pie

Print recipe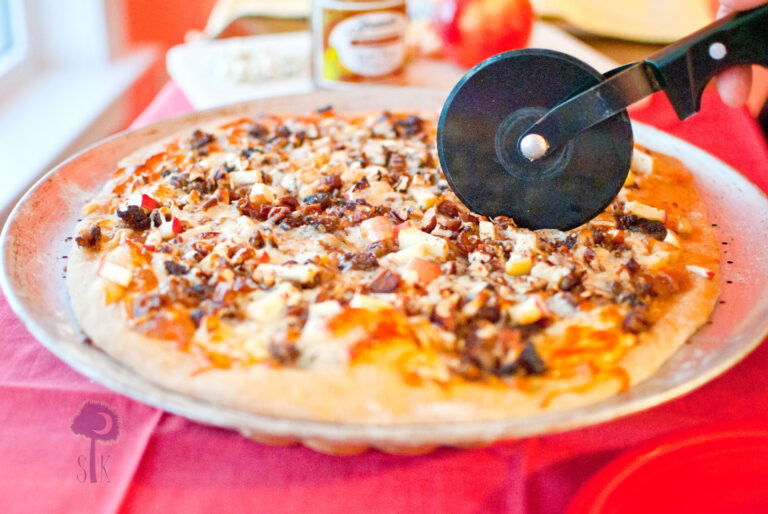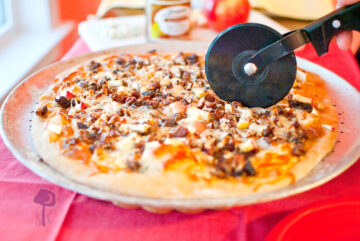 | | |
| --- | --- |
| Serves | 8 |
| Prep time | 10 minutes |
| Cook time | 15 minutes |
| Total time | 25 minutes |
| Allergy | Milk, Tree Nuts, Wheat |
| Meal type | Main Dish |
| Misc | Child Friendly, Pre-preparable, Serve Hot |
| Occasion | Birthday Party, Casual Party, Christmas, Easter, Thanksgiving |
*WWpts= 7 pts per serving* *WWpts+= 8 pts per serving*
Ingredients
+/-⅛ cup whole wheat flour (just for rolling out the dough)
1 16 oz. whole wheat pizza dough, raw and brought to room temperature
¼ cup pure pear preserves
1-2 tablespoon water
5 sprigs fresh thyme (removed from stem)
1 ½ cup 2% organic mozzarella cheese (shredded)
3oz pork, turkey, or veggie sausage patties, cooked & crumbled
½ small/med Honeycrisp or Grannysmith apple, diced (about ½ cup)
¼ cup dates (chopped)
¼ cup Gorgonzola cheese (crumbled)
¼ cup pecan halves (toasted & finely chopped)
A bit of olive oil spray
Note
*WWpts= 7 pts per serving*
*WWpts+= 8 pts per serving*
Directions
Step 1
Preheat oven to 400 degrees (F).
Step 2
Sprinkle a large sheet of parchment or wax paper and the pizza dough with a bit of flour and roll out to fit the size and shape of your baking sheet. Transfer the rolled dough to the baking sheet.
Step 3
In a small bowl, heat the preserves and water in the microwave for 30 seconds, stir, then heat for another 30 seconds. Add another tablespoon of water if the preserves don't seem loose enough to brush onto the dough then stir in the thyme leaves.
Step 4
Brush the preserves onto the pizza dough, sprinkle with half the mozzarella cheese, add the sausage, apples, dates, Gorgonzola, and the remaining mozzarella cheese, then top with the pecans.
Step 5
Spritz the top of the pie with a bit of olive oil and bake for 15 minutes or until bubbly and browned.
Step 6
Let cool for a few minutes then slice and serve.
Step 7
Enjoy!