🙂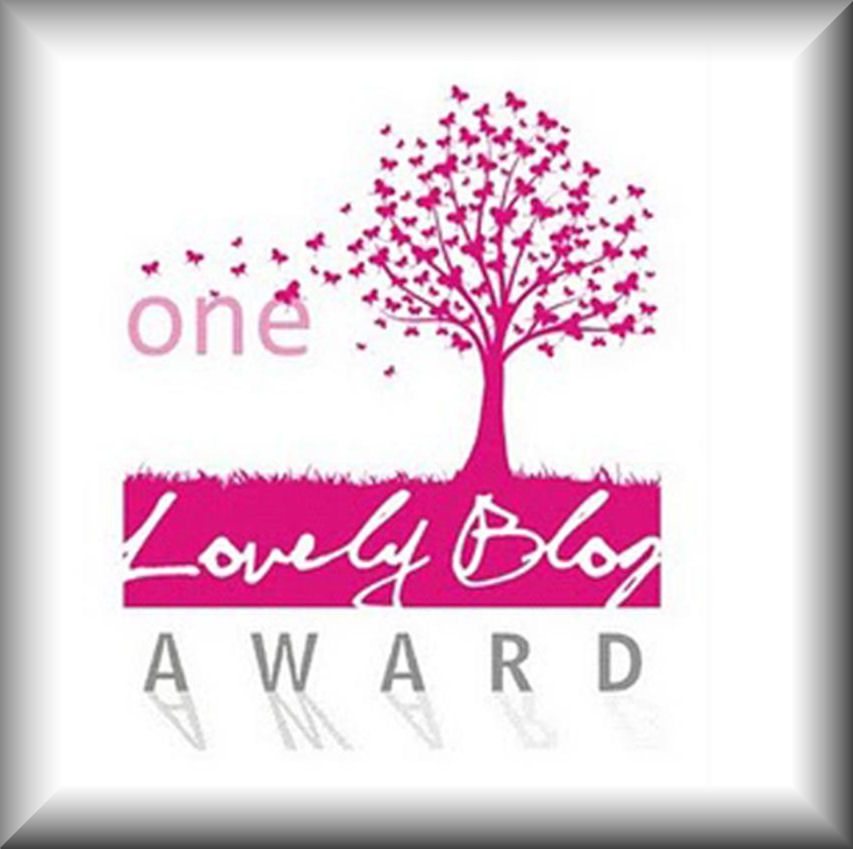 Yesterday started off like most other days...
I was woken up for my sweet morning kisses from both the hubs and our Kittles Cattles.
I got impatient with my Keurig coffee maker for taking too dang long to make my coffee.
I headed to the couch with a giant Hodge Podge Breakfast Cookie stuffed in my mouth and logged my breakfast calories in My Fitness Pal, and (after checking Facebook of course) I started filtering through my e-mails and reading my favorite blogs.
Imagine my surprise when I saw that Anna at The Guiltless Life had honored me with the One Lovely Blog Award.
Eeek!!! So stoked!
The last thing I ever expected was to be recognized by my peers so early on in the game, especially since I've only been blogging for 4 months. Either way, I am incredibly grateful to Anna for her recognition, and I hope my blog continues to entertain her and the rest of my readers.
The One Lovely Blog Award is given to bloggers from bloggers and when received, we are supposed to list 7 random facts about ourselves and then pay it forward by honoring 7 other bloggers with the same award.
Since I am such a weirdo, picking 7 fun, random facts about myself can be a daunting task, but I finally narrowed it down to these:
1. I hold my pen weird.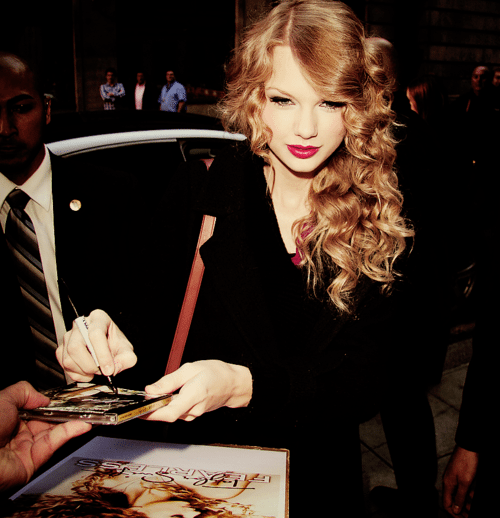 And apparently Taylor Swift does too! I hold it in between my index finger and my middle finger and support it with my thumb. I started doing this in 7th grade, and I'd be lying if I said it was for any reason other than trying to make myself look cool and unique. I totally did it for the attention, but I continued doing it because it is just so dang comfortable. Now, it just feels plain awkward to hold it any other way. Running across other weird pen holders is very rare, but when it does happen we always squeal and say, "I thought I was the only one!" This happened with the girl who did my b-day hair, and it was my exact reaction when I saw that my girlfriend Taylor Swift did it too 🙂
2. I read at warp speed.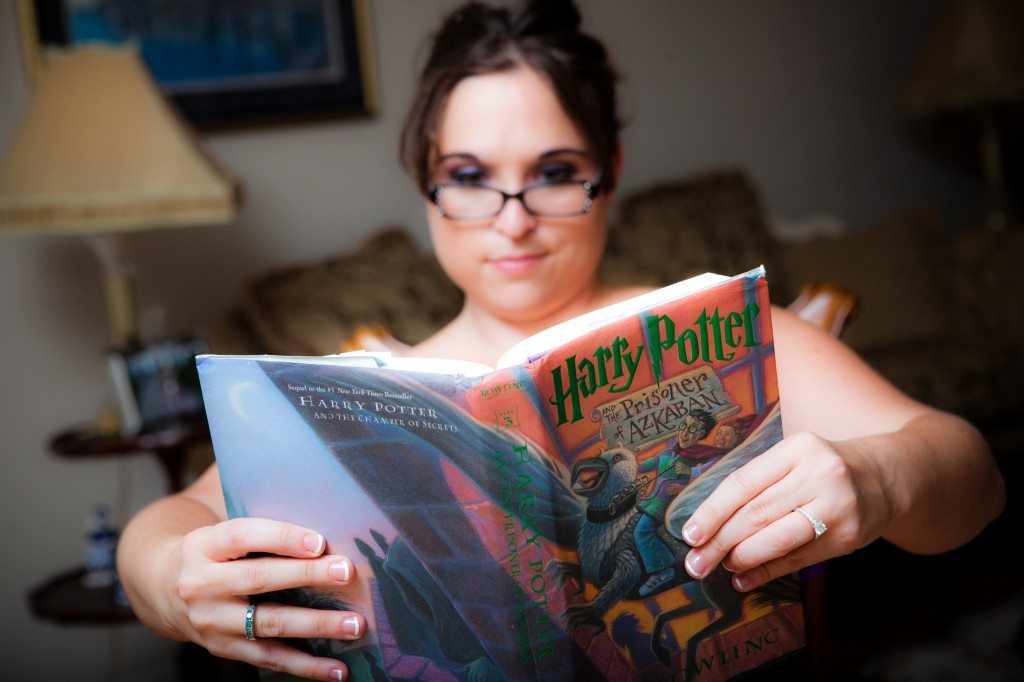 I love to read. It is one of my all time favorite things to do, and I get so involved with the stories that I sometimes forget that I have a life of my own. Because of this, I read insanely fast. As you may have deduced when I made the statement about my coffee maker, I am not a patient person AT ALL and I absolutely can't stand not knowing how a book ends. So, I read and read and read until said book is done. To give you an idea of how quickly I read: I read the first 5 Harry Potter books in less than 2 weeks, I read The Hunger Games trilogy in 3 days , I read the last two Harry Potter books in less than 24 hours each, and I am currently a quarter of the way through A Dance with Dragons (the 5th book in The Game of Thrones series which are each about 1,000+ pages) while my husband is still on the 3rd and we started them at the same time and both took breaks in between books so we could read The Hunger Games before the movie came out.
3. Christmas Vacation Family Food Fest is my favorite night of the year!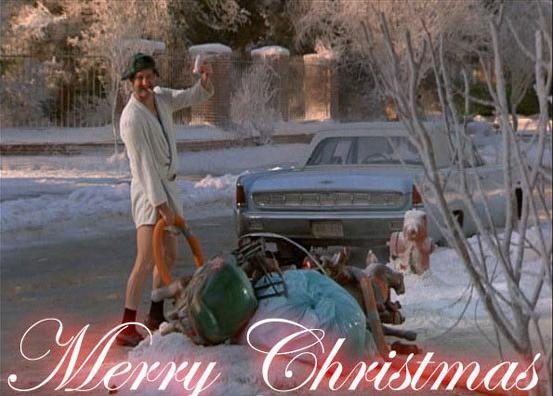 (source) 
It's that time...Christmas time is here...everybody knows there's not a better time of year...Every December I take over my parent's kitchen and prepare an immaculate feast of nibbles and bits for my entire family to enjoy while we sit down and watch National Lampoon's Christmas Vacation together. It is by far the absolute best day of the year for me...in fact, I'm pretty sure it is the best day of the year for all of us. Not only do we get to eat a ton of delicious food, but we also get to spend the evening laughing and cutting up with each other. It is so much friggin' fun, and I swear every single year I end up hearing or seeing something in the movie that I have never noticed before...cough, cough...Uncle Eddie's package in Wal-Mart...cough, cough...
4. I am deathly afraid of spiders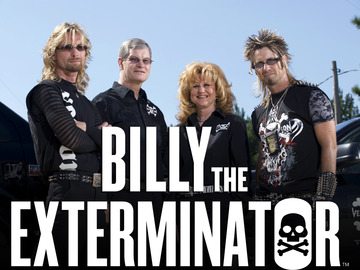 (source) 
Ick. I can barely even think about the nasty buggers, let alone post an actual picture of the disgusting devil's spawn on my blog. So, I posted a spider killer instead. I LOVE YOU BILLY!!!! Ugh. Spiders are the spawn of Satan, and they have been out to get me my entire life.
I am so not kidding.
I remember the first time I was taunted by one. I was about 4 or 5 years old at an air show in Florence, SC, and I was in a port-o-potty. I went to get some toilet paper and when I pulled it down from the roll a gimongous spider was sprawled across the entire length of the TP square and they have tormented me ever since.
Have you ever found a spider in your pocketbook before? I have...twice. Have you ever had a spider fall on your chest when you pulled down the visor in your car and opened your mirror? I have...twice. Have you ever been lying in bed about to go to sleep when your husband swipes something off of your pillow, and when you ask him what it was he says a little too quickly, "A cricket!" and then out of the corner of your eye you see a gangly eight legged bastard lurking in the corner staring at you? Ugh. That was the worst!!!
No...the worst was when I was in college at home alone cleaning my room and a giant spider jumped out at me while I was dusting my chest of drawers. It was so big, I HEARD it hit our CARPETED floor, and I was scared stupid. Now, usually I do not kill spiders b/c I can't get close enough to them without freaking out, but I eventually realized I had to sleep in that room so I booked it to my closet, ripped down the bar that was holding all of my clothes, and pulverized that sucker until he was nothing but mush...and then I went to the bathroom and yacked my brains out.
 *shudders*
5. I'm really good at recognizing the famous voices in animated movies.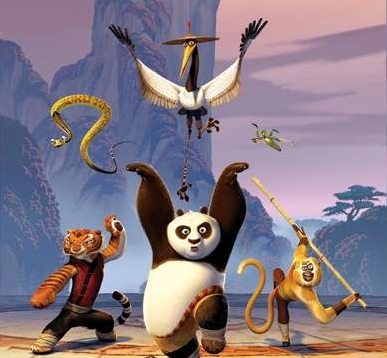 I'm not really sure where this talent came from, but I think it is a pretty cool thing to be able to do. It actually makes watching animated movies/commercials a lot more fun because the hubs and I like to make a game out of it. Any time we see an animated movie trailer I know it is my job to pick out the voices before they tell us who they are, and the majority of the time I do just that. One day my husband tested my skills with an old school Batman cartoon that he found on Netflix. He turned it on and asked me if I recognized the voice and I did...almost instantly. It was Jenson Ackles from Supernatural. After that the hubs was convinced I could make money off it, and I'm pretty sure he's scoured the internet looking for game shows that I could be a contestant on! I have been stumped before, and this happened just the other day. We went and saw Brave with my niece, and I had a really hard time picking out the voices! I knew the lead character's voice, but the others I got totally wrong. Granted, none of the actors were huge names like Angelina Jolie and Jack Black, but at the very least I should've recognized Emma Thompson's voice! Hello, Professor Trelawney!!!
6. I *CAN'T STAND* Mayonnaise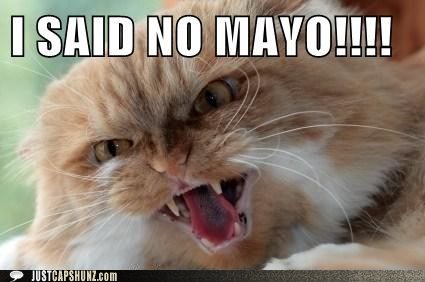 Aioli, special sauce, miracle whip, salad dressing...whatever the crap you call it I can't stand the stuff (or the "M-word" as it is known in my house). It's disgusting and slimy and smells like poo and when I worked in F & B I absolutely *refused* to touch the large gelatinous jars of the gloppy stuff. Ick. If you so much as touch my sandwich with a knife that spread the goop on someone else's sandwich then you best turn right back around and make me another sandwich b/c I will not eat it. Please and thank you.
7. I'm obsessed with owls.
(source)
 I freakin' love owls so much I had a dream the other night that I owned a miniature rainbow colored owl, and I was *so upset* when I woke up and realized that it wasn't true. Like, seriously, I almost cried. I'm pretty sure my obsession with owls started with my love for Hedwig and Harry Potter. Gah! I just loved that snowy white owl so much, and I was so jealous that I couldn't have one of my own (and I still am). Then, all of sudden, owls started popping up everywhere, and my love for the precious pumpkins grew into a full blown obsession. I mean...I am 20 +11 years old and I own like 4 pairs of owl pajamas, owl checks, owl jewelry, owl figurines, an owl lunchbox, owl underwhirls, owl leg warmers (thanx, Twin!!!), owl beer, owl air fresheners...and the list goes on and on!
So, now it is my turn to nominate 7 of my fellow bloggers, and I'm also sure y'all are wondering where the H the Sassy Hour recipe is! It's up next, I promise!
1. Angela at Oh She Glows
2. Emily and Amanda at Fringe With Benefits
3. The Mrs. at Success Along the Weigh
4. Deetz @ Cookies & Kiddos
5. Brittany at Itty Bits of Balance
6. Hank at The Business of Losing Weight
7. Jess at How Sweet It Is
I'm pretty sure that most of these nominations have probably received this award already, but I'm still new to the blogging world and these are who I follow the most!
Ok, ok...and now for the real reason why you read my blog on Friday in the first place!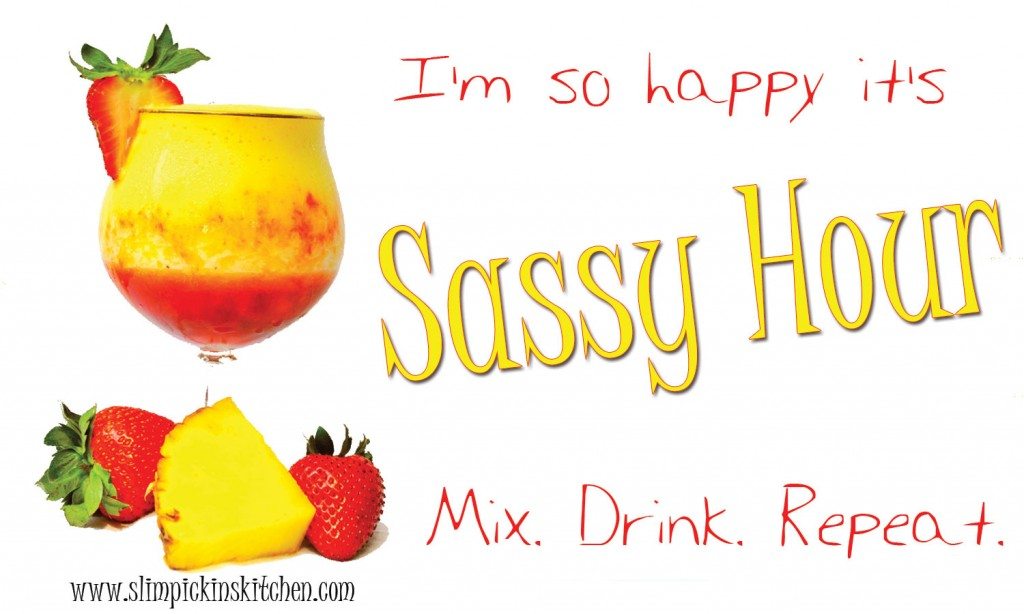 Today's drink is so super simple and was developed for my love of two things...Tazo Passion tea & the best vodka in the world Absolut Pear Vodka! I'm not going into too much detail here b/c this post is already long enough, and I'm so, so sorry for the iphone photos; however, the hubs and I are heading to NC for the weekend and I have a million and one things to do before we leave and I have already put them off long enough! Can you forgive me? 😉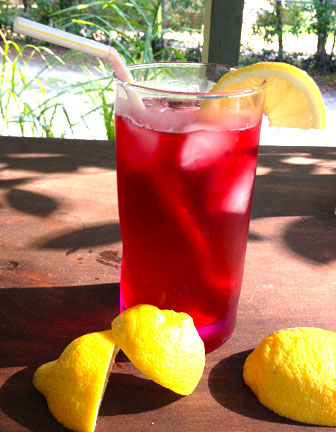 Getting to know you...
What is a random fact about your self?
Mustard, the M-word, or both?
What's your obsession? 
"📖 Recipe"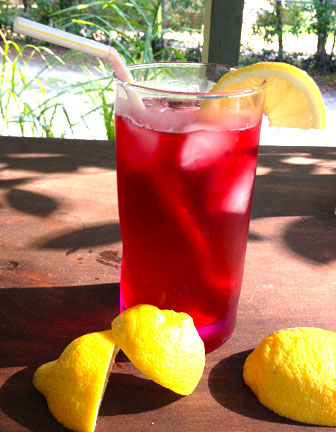 The Passionate Pear
Tazo Passion tea is mixed with Absolut Pear vodka for a refreshingly cool cocktail
Print
Rate
Ingredients
1

Tazo passion tea bag

or a grande from Starbucks

12-15

oz

hot water

1

tablespoon

Stevia in the Raw or sweetener of choice

add more if you like it sweeter

1.5

oz

Absolute Pear Vodka

fresh lemon wedge
Instructions
Steep tea bag in hot water for 3-5 minutes and stir in sweetener to dissolve. Let cool.

Pour vodka over ice, top with cooled tea, squeeze in fresh lemon, and stir.

Enjoy!
Notes
*WWpts= 2 pts per serving*
Nutrition
Serving:
1
g
|
Calories:
104
kcal
|
Carbohydrates:
3
g