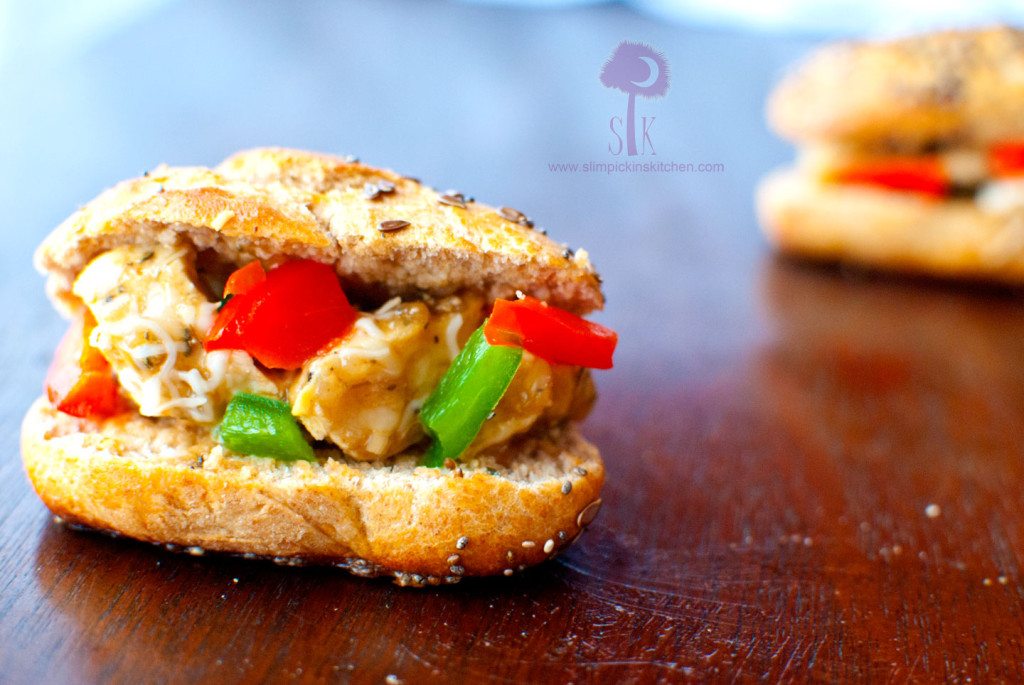 Y'all know that crock pot Bourbon Street chicken recipe that has been swarming Pinterest for the past 57 years?
Yeah, you know the one.
The one that tastes exactly like the sweet chunks of chicken that are speared on tiny toothpicks and handed out in every mall food court across America yet has absolutely zero bourbon in it?
Well, this chicken tastes exactly like that, but completely and totally different.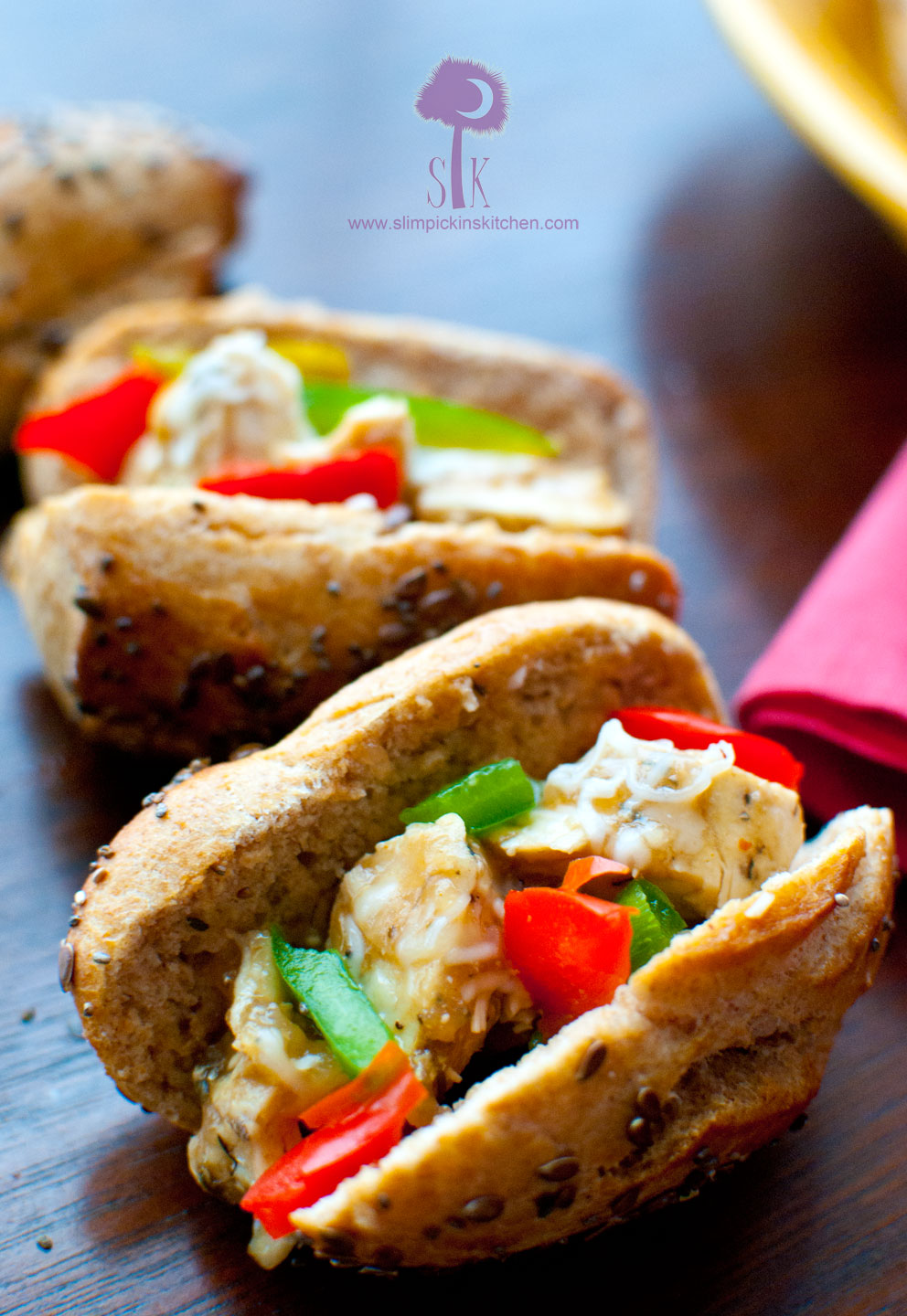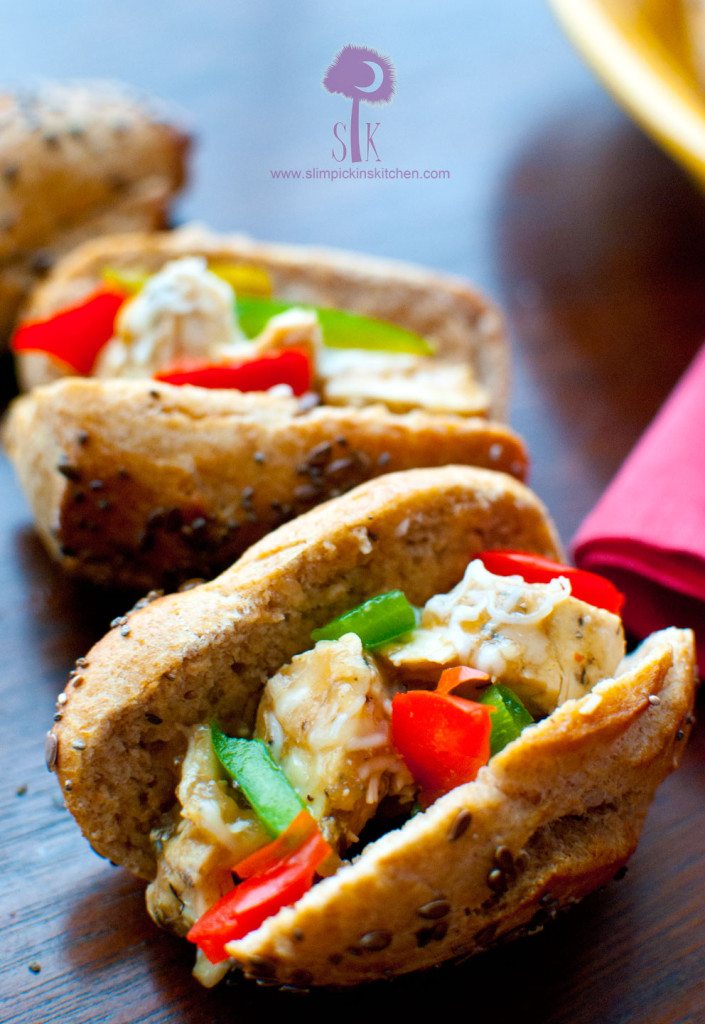 These little sammies are just so darn cute and scrumptious they make me want to stuff five thousand of them in my cheeks and hoard them like a little squirrel getting ready for winter. They are soooo good, and I know this because I scarfed about six of them down before my morning coffee because I smelled them cooking in the crock pot all dang day long, and I couldn't eat them because of the stupid 3 Day Military Diet I decided to torture myself with yesterday.
Ugh.
And do you know that my husband totally cheated on his diet? So not only did he get to come home and eat a plateful of these little phillies, but he then proceeded to finish of an amazingly delicious test recipe I made this weekend for Jackie from The Beeroness' cookbook.
How rude.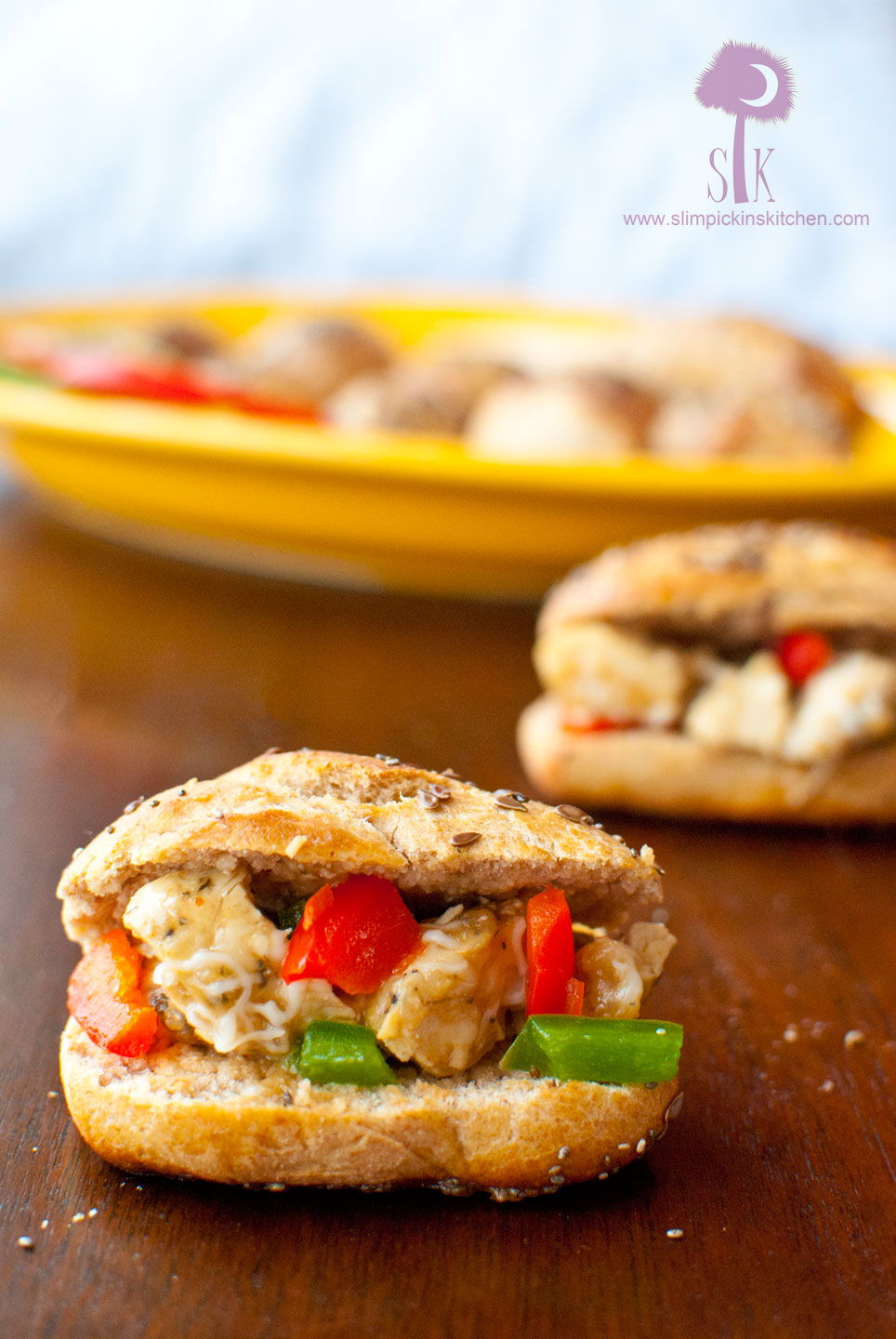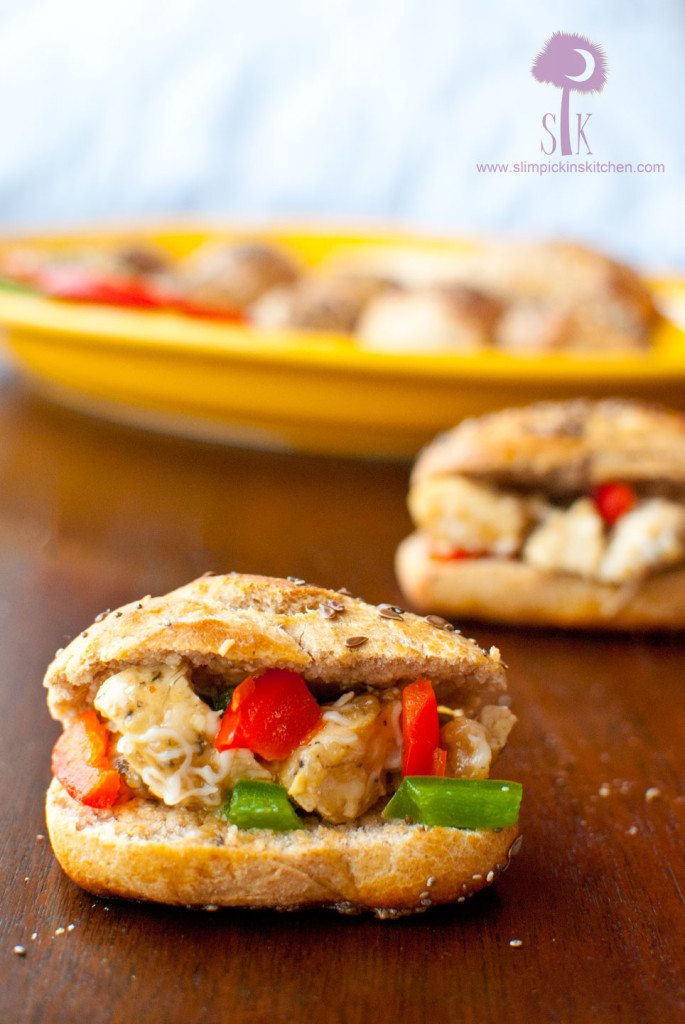 The good thing though is that this recipe will feed a crowd at a party. Like, oh I don't know, a super bowl party maybe? A crowd full of manly men and sporty women who will be stuffing their faces full of chips and salsa, chips and dip, chicken wings, and healthy orange bourbon street mini chicken phillies as they freak out over the umpire's calls while the citrusy sweet sauce dribbles down their chins and fingers.
Yum. Yum.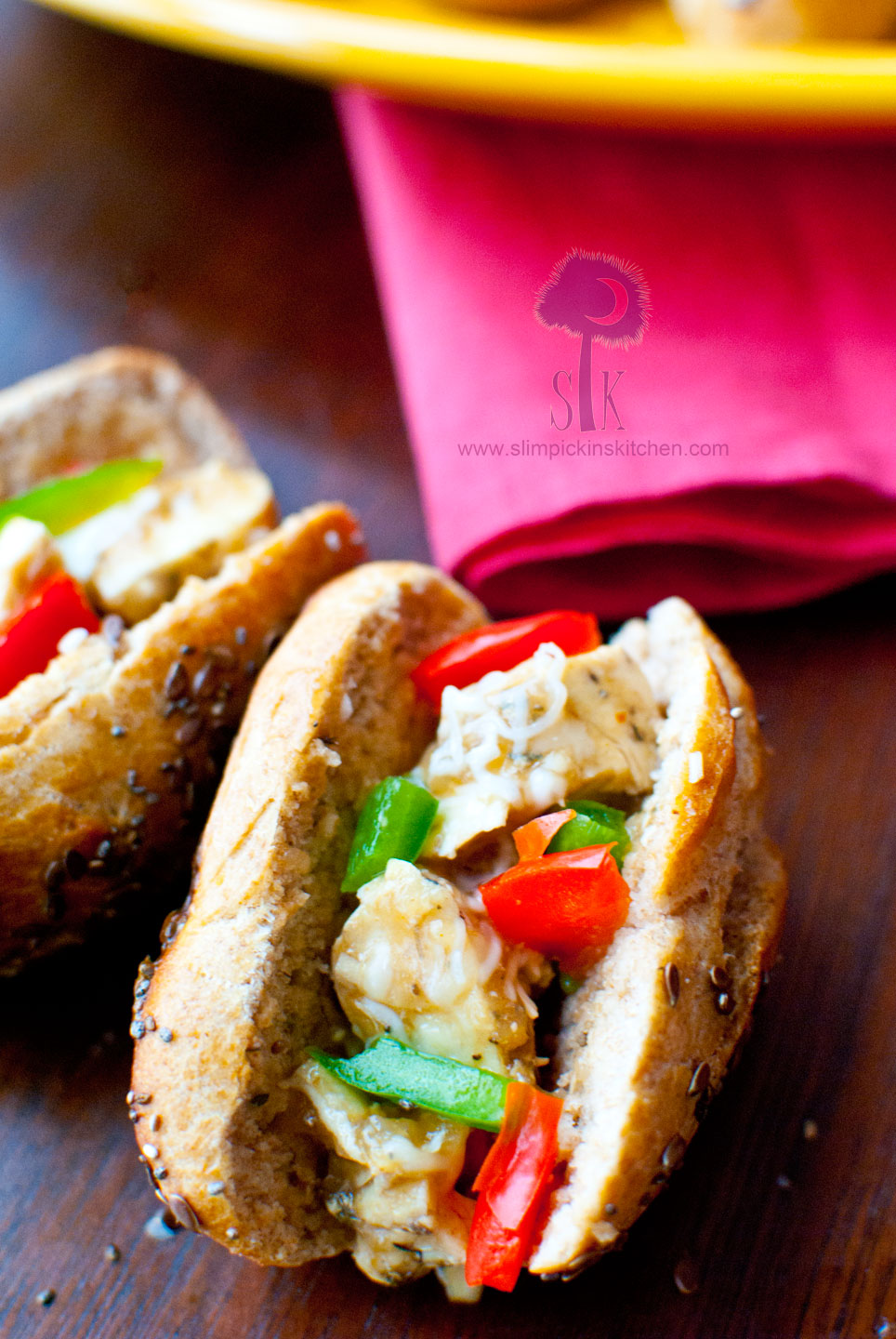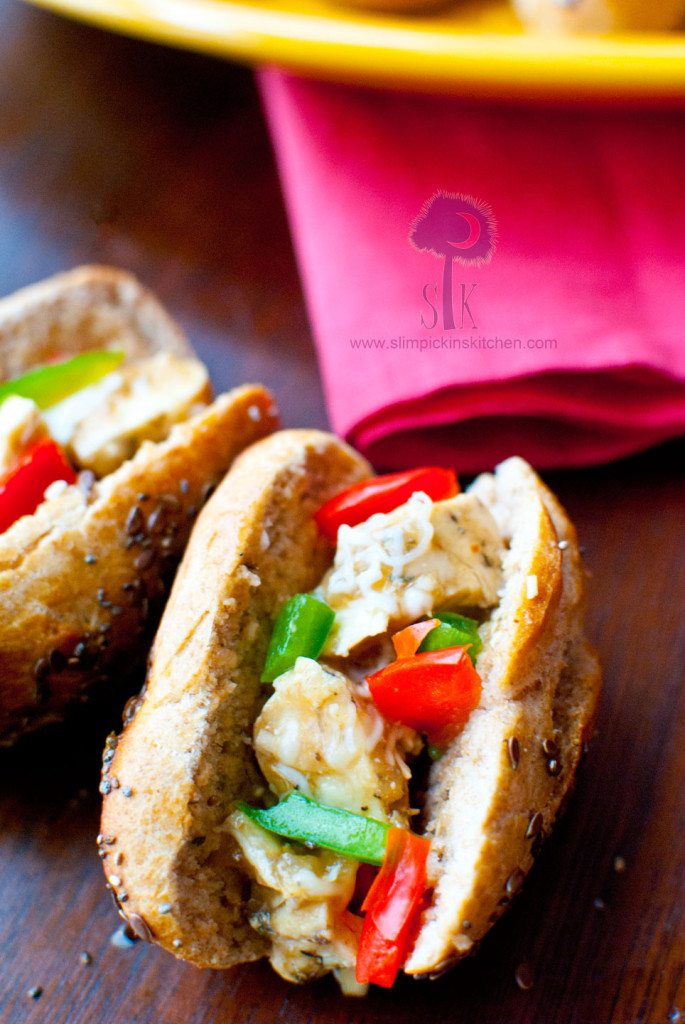 Once the flavors of the sauce starts to tingle on their tongues and your friends recognize the deliciousness they are eating, their faces will light up and giant hearts will start pulsating out of their eye sockets and they will instantly love you as much as they adore the amazeballs Budweiser commercials.
This chicken recipe is incredibly easy to make, is healthier than other bourbon street chicken recipes I've seen, it acts not only as a filling for sandwiches but also as a lower calorie alternative for your standard Chinese orange chicken as well. Plus, the addition of the fresh orange totally transforms this super simple chicken dish into a giant pot of flipping Felix Felicis, and it's sure to make you the luckiest person in the room.
Now buy a couple of high dollar squares, sit down and lie back because this one's a winner.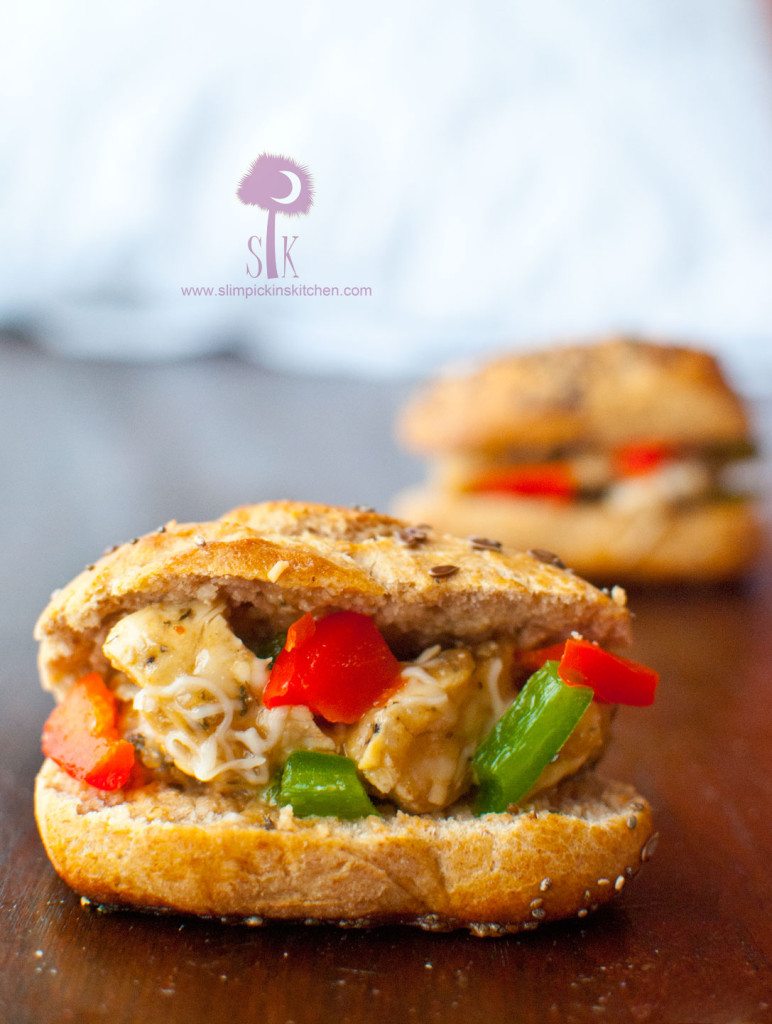 Getting to know you...
Have you ever made the original Bourbon Street Chicken?
Do you like football?
Do you gamble?
Orange Bourbon Mini Chicken Phillies

Print recipe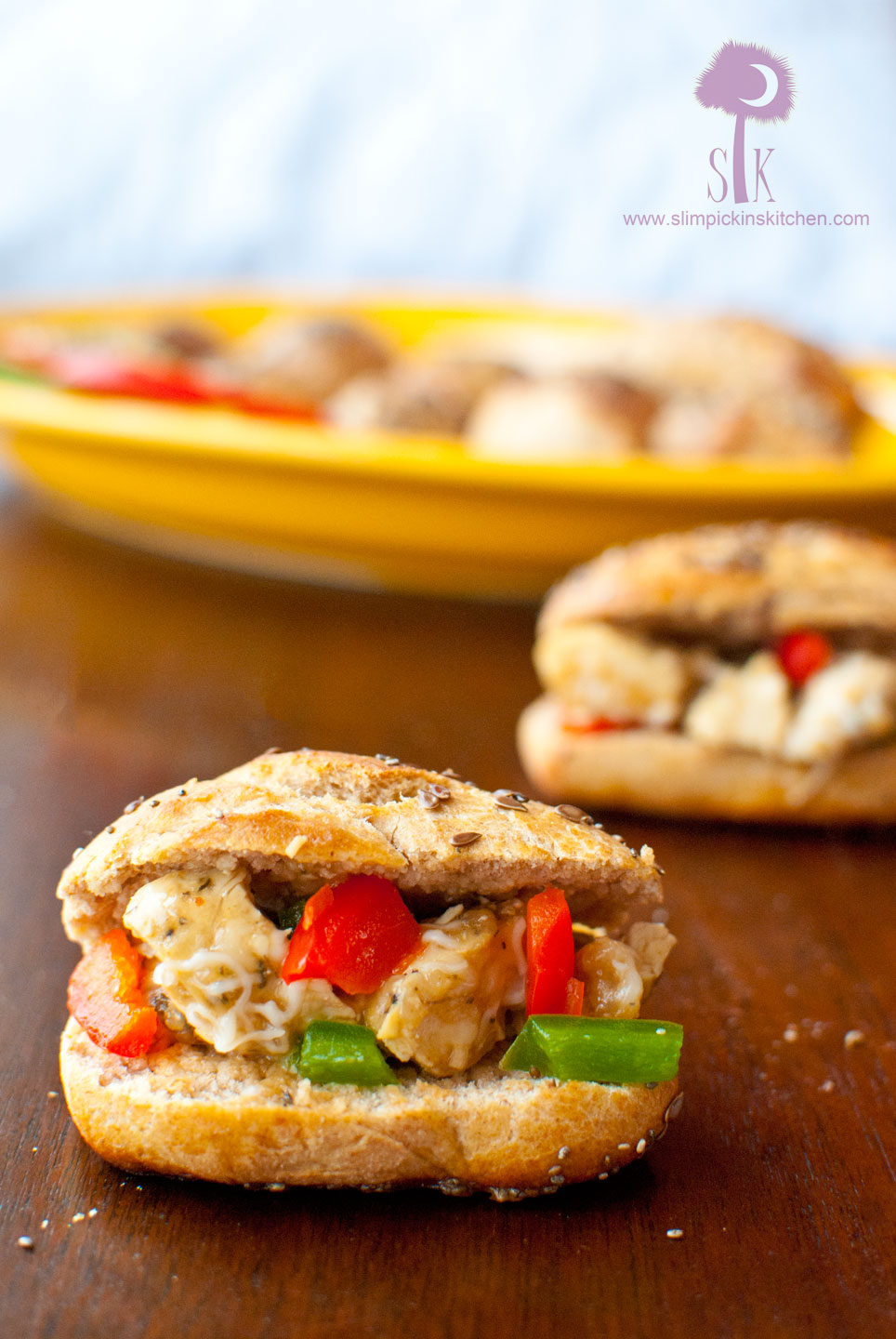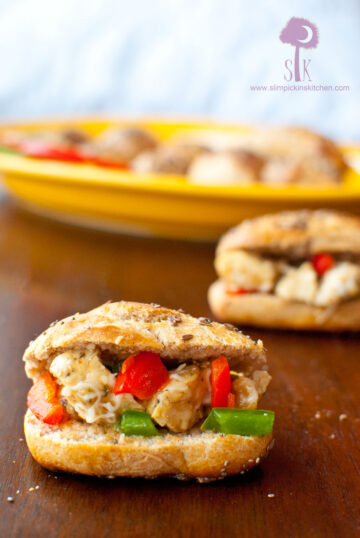 | | |
| --- | --- |
| Serves | 20 |
| Prep time | 15 minutes |
| Cook time | 5 hours |
| Total time | 5 hours, 15 minutes |
| Allergy | Soy, Wheat |
| Meal type | Snack |
| Misc | Child Friendly, Freezable, Pre-preparable, Serve Hot |
| Occasion | Birthday Party, Casual Party, Valentines day |
| Website | Adapted From Just Helen |
Ingredients
½ Large sweet onion (sliced into strips)
1 Large green bell pepper (sliced into strips)
1 Large red bell pepper (sliced into strips)
1lb boneless skinless chicken tenderlions (cubed )
1lb boneless skinless chicken thighs (cubed )
⅔ cups freshly squeezed orange juice (about two medium oranges)
⅓ cup lite or low sodium soy sauce
2 tablespoons apple cider vinegar
¼ cup organic ketchup
⅓ cup stevia powder
1 tablespoon molasses
1 inch cube fresh ginger (grated or minced OR ½ teaspoon ground ginger)
2 fresh garlic cloves (minced)
2 tablespoons orange zest
1 bay leaf
½ teaspoon crushed red pepper flakes
sea salt (to taste)
freshly ground black pepper (to taste)
1 tablespoon extra virgin olive oil
1 tablespoon unsalted sweet cream butter
2 tablespoons whole wheat flour
1 cup low fat/low sodium chicken stock (hot)
24 mini sub rolls or dinner rolls
grated reduced fat cheese of choice (optional. I only used a bit for pictures)
Note
NOTE: Nutrition information reflects filling only! You will need to calculate the calories & the WWpts for the rolls that you use!
*WWpts= 1 pt per serving*
*WWpts+= 2 pts per serving*
Directions
Step 1
Add the onion slices and the bay leaf to the bottom of a large crock pot.
Step 2
Combine orange juice, soy sauce, vinegar, ketchup, stevia, molasses, ginger, garlic, orange zest, and red pepper flakes and stir. Set aside.
Step 3
Heat butter and oil in a large non-stick skillet over medium-high heat until butter bubbles. Sprinkle the chicken pieces with salt and pepper, add to the pan and sear on eat side. About 2 minutes. Scoop chicken out of the pan with a slotted spoon and add to the crock pot. NOTE: Be sure not to overcrowd your pan or the chicken won't brown. I had to do this step in two batches.
Step 4
Add flour to the remaining butter and oil and whisk until smooth and a thick paste forms. Slowly whisk in the stock and bring to a bubble then add to the the flour mixture to the orange marinade.
Step 5
Pour the marinade over the chicken then top with the sliced bell peppers. Cook on low for 4-5 hrs.
Step 6
Stir everything in the pot together and stuff into mini sub or dinner rolls. Sprinkle with cheese, if desired, and serve.
Step 7
Enjoy!