🙂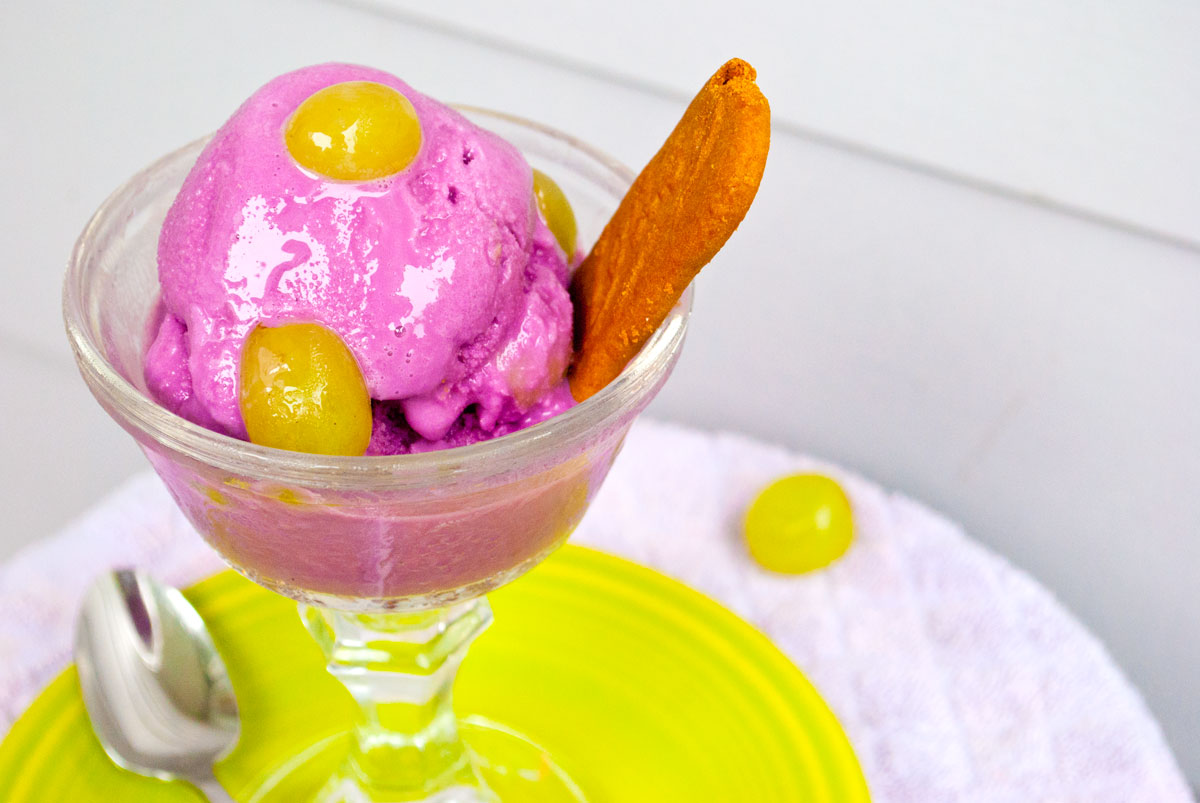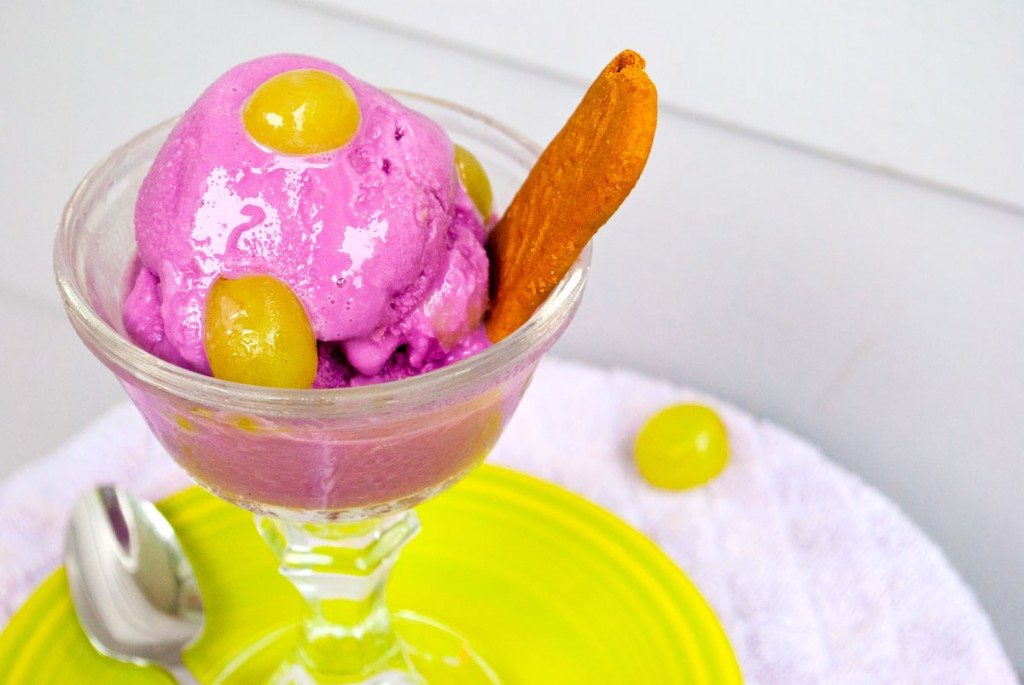 Do you have a favorite childhood treat that you think about all the time, but no longer exists?
You know...like Crystal Pepsi, Purplesaurus Rex and Ectocooloer Koolaid?
Growing up, my dad used to tell me stories about his childhood, and we would always end up talking about this grape ice cream he used to get for like 10 cents at the local burger stand.
He *loved* the stuff and to this day I can still see a tiny twinkling in his eyes every time he thinks about the taste.
The problem is, grape ice cream is hard to find! In fact, it's virtually impossible to find.
A few years back (before Pinterest had such awesome ideas), my family and I decided to stop giving each other bunk Christmas gifts that had no meaning behind them, and instead vowed to give each other gifts that were either homemade or relational i.e. tickets to go see a movie together, spend time at the park, etc.
One year, I came up with the brilliant idea of recreating the childhood treat my dad coveted so much. I enlisted the help of my friend's husband who is a sous chef to try and figure out the recipe for it. He tried and tested a million different recipes until he came up with the perfect one.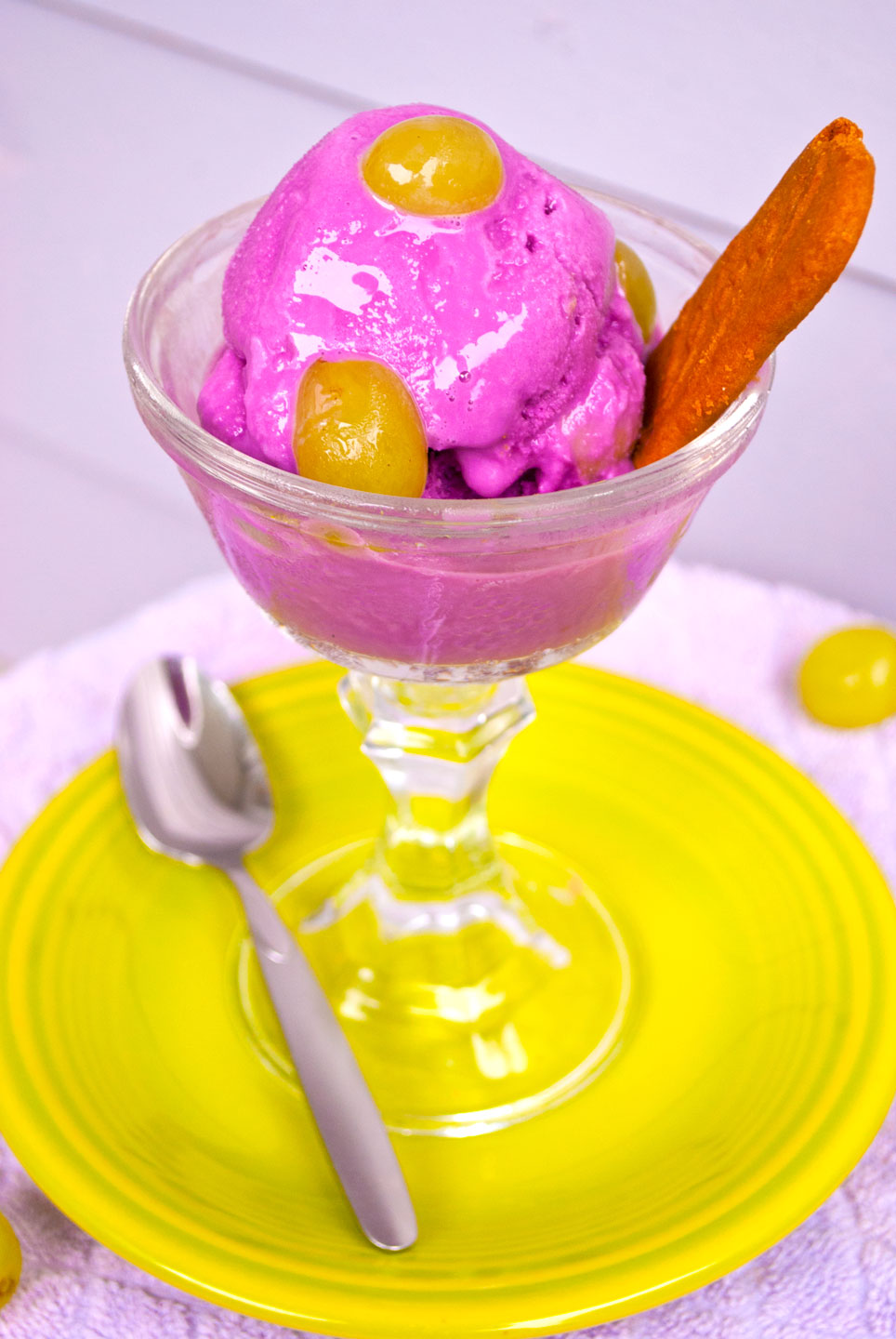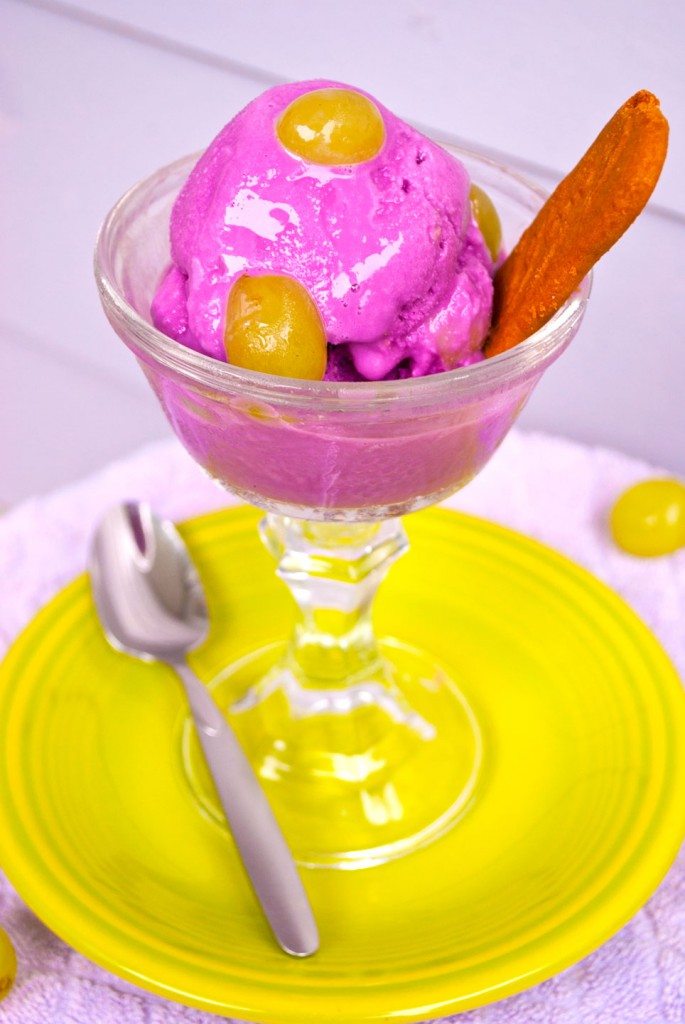 I wish you could've seen my dad's face when he took the first bite. It was such a tender moment, and I don't think my dad has ever loved me more than he did in that instant. He loved it so much, he let us all have ONE spoonful...and that was it.
Along with the recipe, we gave my dad an ice cream maker so he could make it whenever he wanted.
Yeah...wishful thinking...that ice cream maker has been collecting dust ever since 🙁
Fast forward to last week, and the hubs and I go to my most favoritest fro-yo place ever...YOBE. I flipping heart Yobe so much it's a sin.
Like, if I weren't already married I would have 10,000 of Yobe's (and Biscoff spread's) babies.
Not kidding.
IMO, their taro flavor *can't* be beat...but then we happened upon their GRAPE flavor!!!!!
First off I squealed because they even had grape yogurt. Then I sampled it and squealed because it was phenomenal, and then I literally squealed with each bite I took. Every.single.one. Yeah...my husband just loves me and wasn't embarrassed at all.
Sike.
Y'all, it was so good and fruity and purple it almost took taro's place...almost...but not quite.
The next day I drove straight to my parent's house and ganked the ice cream maker that they never use.
I know, I know, I know...I took back a gift that I gave, but seriously they NEVER used it. E-V-E-R.
And I write a food blog, and it's the summertime. I'll put it to good use.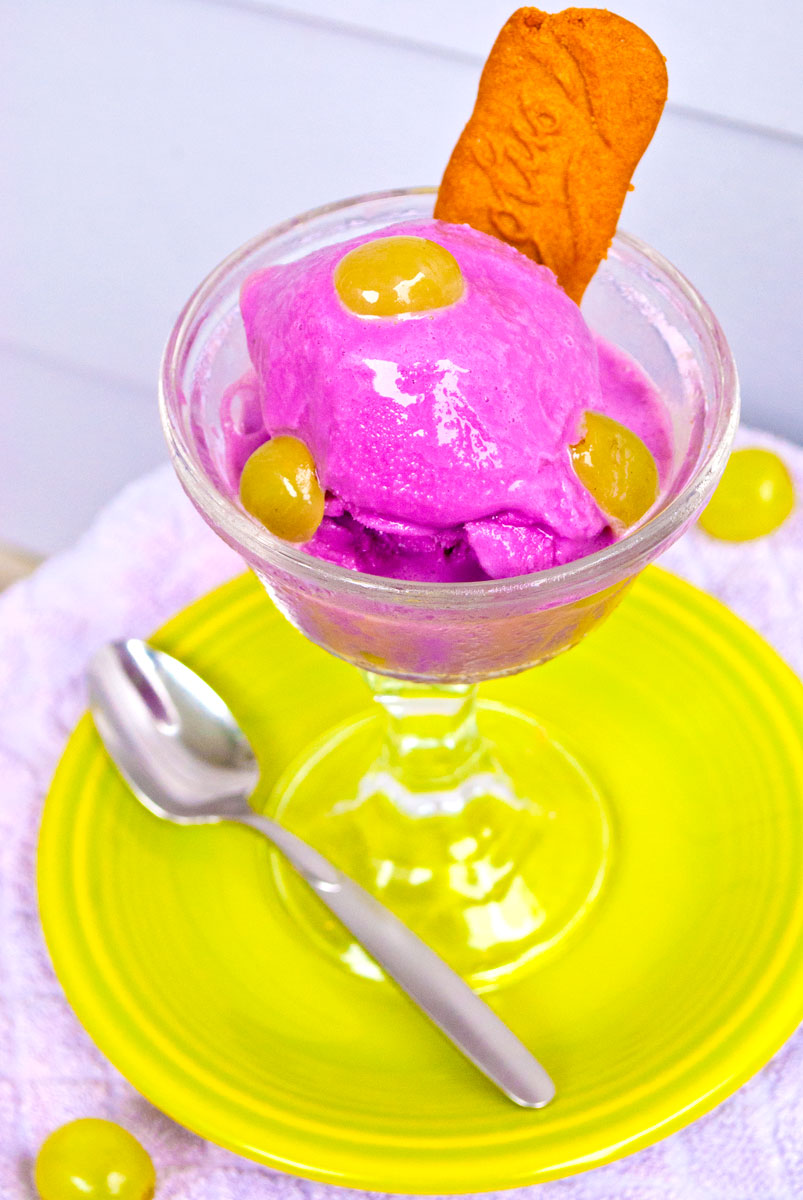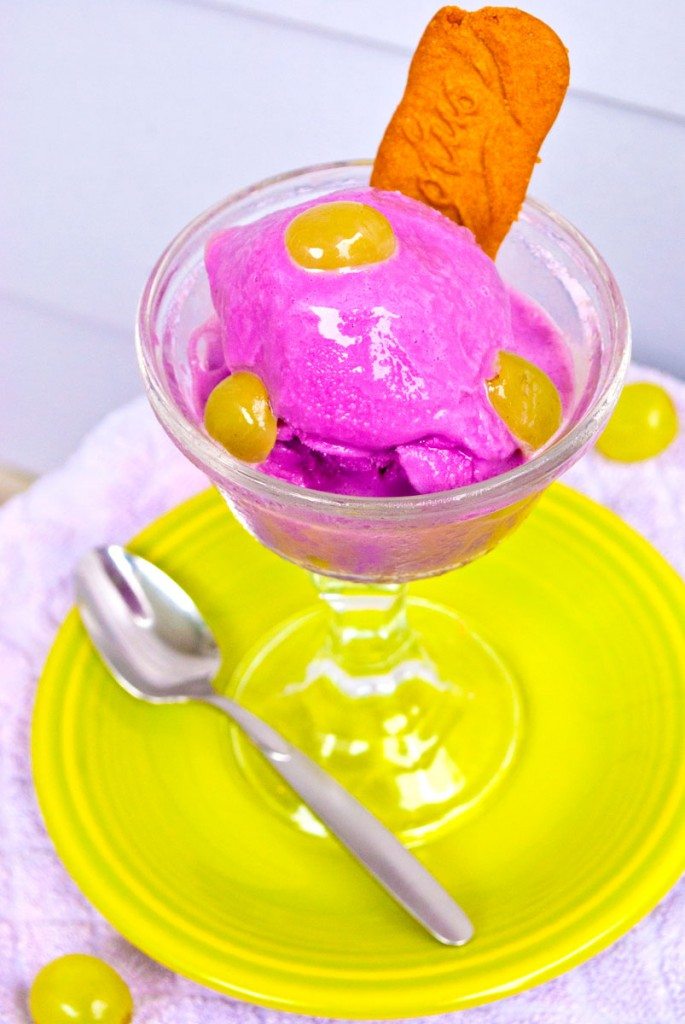 Like I have done here.
Up until Friday night, I had never made frozen yogurt before, and I was a wee bit intimidated. Then I figured it couldn't be that hard. Uuum...it wasn't. It was stupidly simple.
And it's so good! It's insane, but it almost tastes like cheesecake! Weird, but true...and delicious.
Why not make a batch of this along with the standard peach ice cream that is always at a southern 4th of July bash? I promise you won't be sorry. First off, frozen grapes are all the rage nowadays and, you never know, maybe you'll awaken a tiny memory that's been hidden away in your daddy's heart 😉
This stuff is thick and creamy yet light and airy, and it is made with all natural ingredients. Plus, it is way lower in calories than regular ice cream, so you won't feel guilty for it either.
Plus, I mean seriously, it's purple...how could it not be good?!?
Oh, and for good measure I threw a biscoff cookie on the side...pure purple perfection...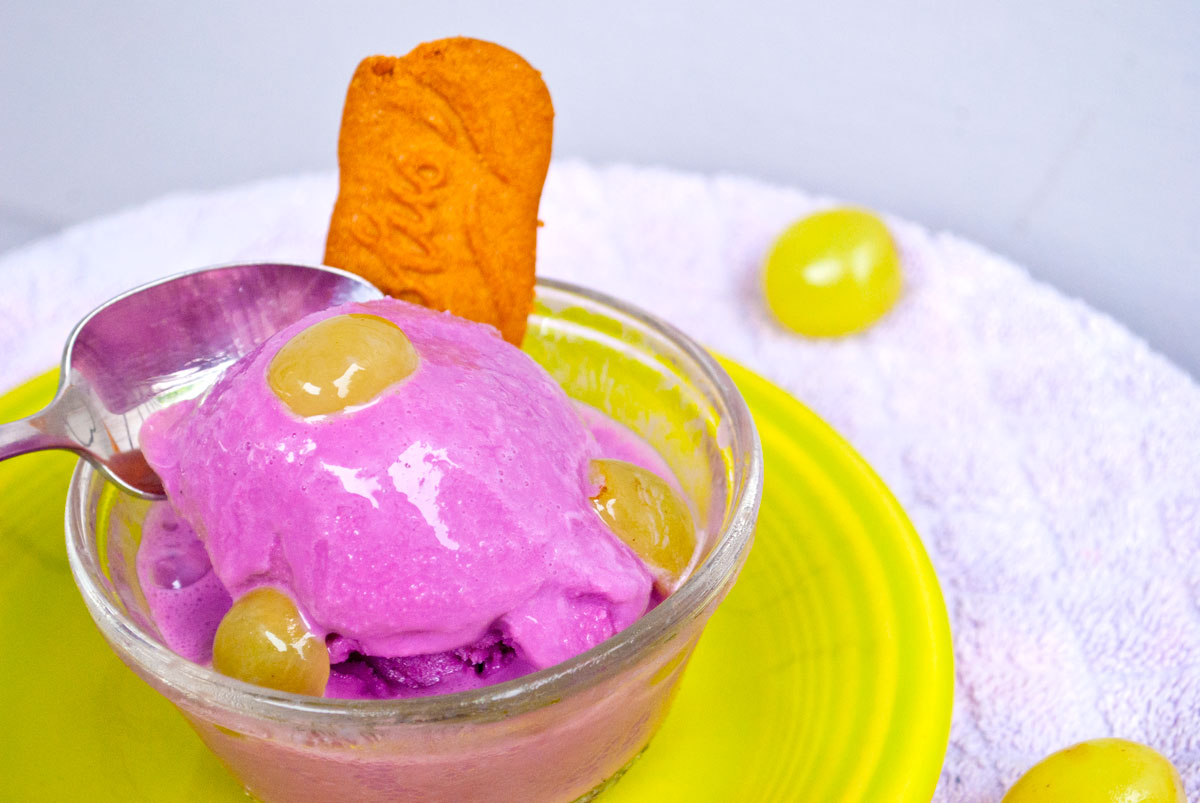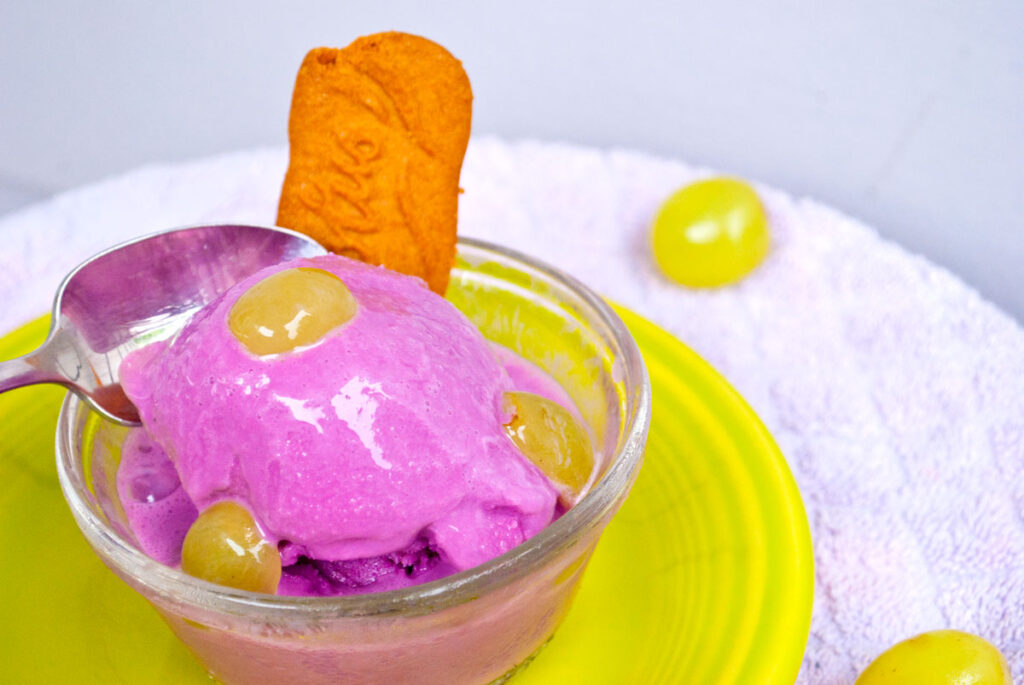 Getting to know you...
What was your favorite childhood treat?
(Buddy the Elf) What's your favorite color?
Do your parent's ever tell you about their childhood?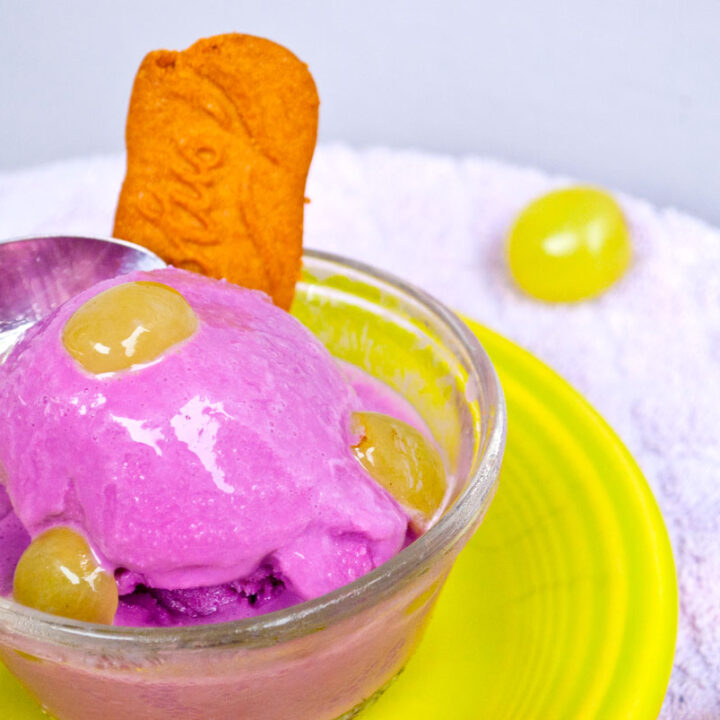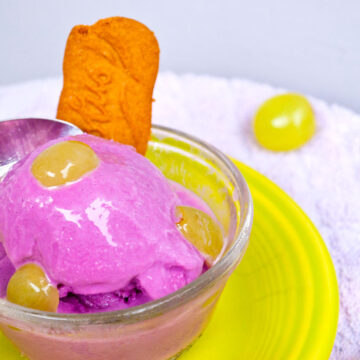 Frozen Grape Fro-Yo
A childhood favorite is reintroduced as a healthy summertime snack!
Print
Rate
Ingredients
3

cups

all natural

low fat vanilla bean yogurt

1 12

oz.

can all natural frozen grape juice

defrosted

1

teaspoon

pure vanilla extract

1

pinch

salt

liquid stevia to taste

optional

juice of ½ a lemon

½

cup

organic grapes

cut in half
Instructions
Whisk together yogurt, grape juice, vanilla extract, salt, stevia, and lemon juice until well combined.

Pour into an ice cream maker and, following the machine's package directions, churn for 35 minutes or until the yogurt resembles soft serve ice cream.

Transfer the yogurt to a freezer proof container, stir in the grapes, and freeze until ready to eat.

Enjoy!
Notes
*WWpts= 3 pts per serving* *WWpts+= 4 pts per serving*
Nutrition
Serving:
1
g
|
Calories:
137
kcal
|
Carbohydrates:
27
g
|
Protein:
5
g
|
Fat:
2
g
|
Fiber:
2
g