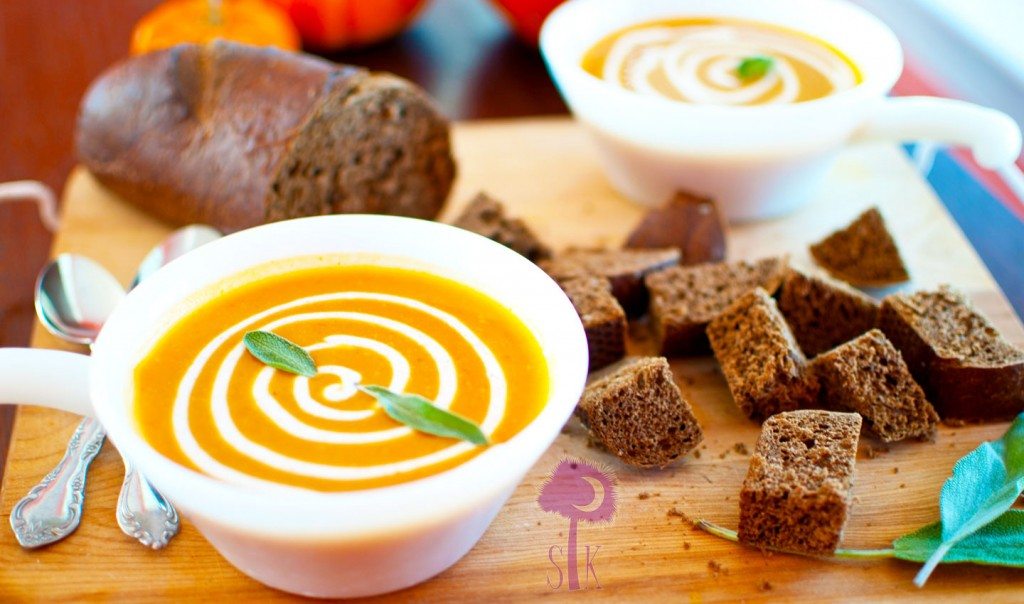 Can I please just tell you...this pumpkin bisque is the absolute best mid-week pick me up a girl could ever ask for!
Not only is it a cinch to make, but it also tastes velvety and rich, which is nutso considering it's made with minimal ingredients and is practically ready and waiting for you when you get home from work slash school slash gym slash fill-in-the-blank-here.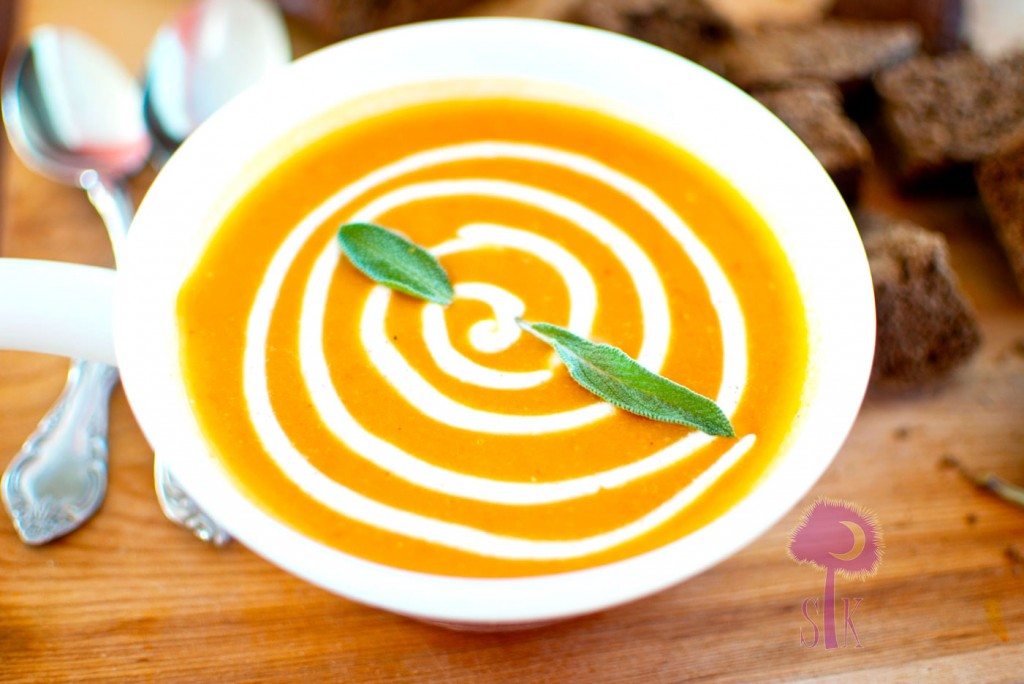 And the gingerbread croutons?!?
They absolutely take this soup from being pretty delicious to being oh-my-gah-I-gotta-have-100-million-more-bowls-of-this-or-I-am-just-gonna-die-from-lack-of-nutrition-because-I-don't-wanna-eat-anything-else.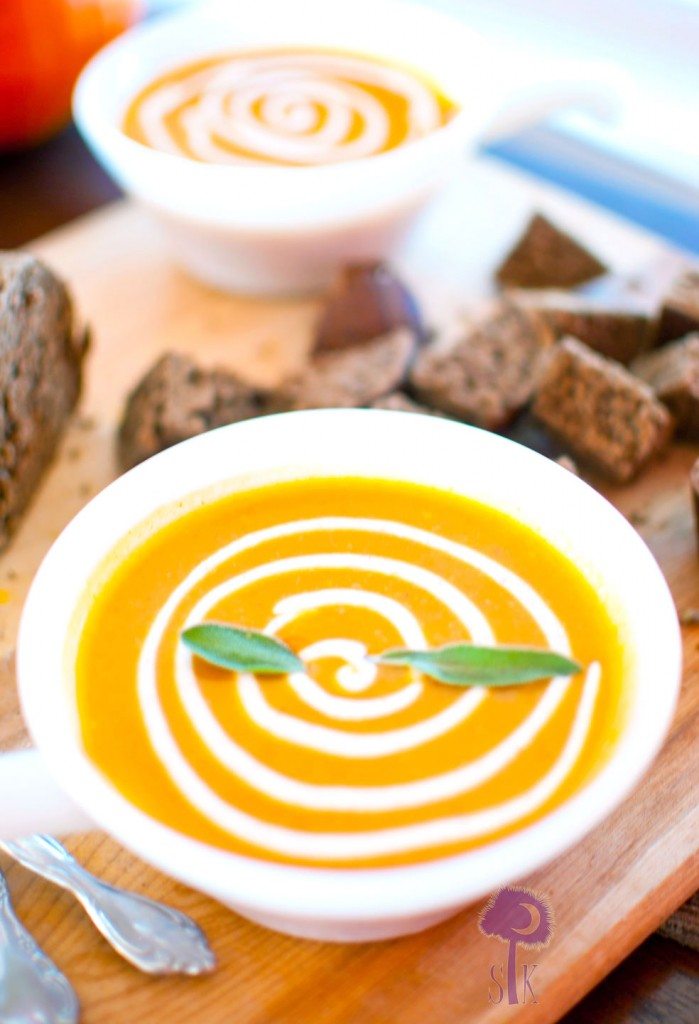 Here's the thing with this soup though...you are going to have to adjust the seasonings to how you and your family like their pumpkin flavored foods.
Now, me? I have a crazy sweet tooth, in fact, ALL of my teeth are sweet so I tend to be a little heavy handed with my natural sweeteners...especially when it comes to pumpkin.
Now, the hubs? He likes things not so sweet, and he said he didn't think it needed anything added to it (smart man).
Plus, since moving to NC I have to be respectful of the dietary restrictions of some of my test subjects, so I made sure to have a way to compromise so we could all enjoy the soup the way we like to have things.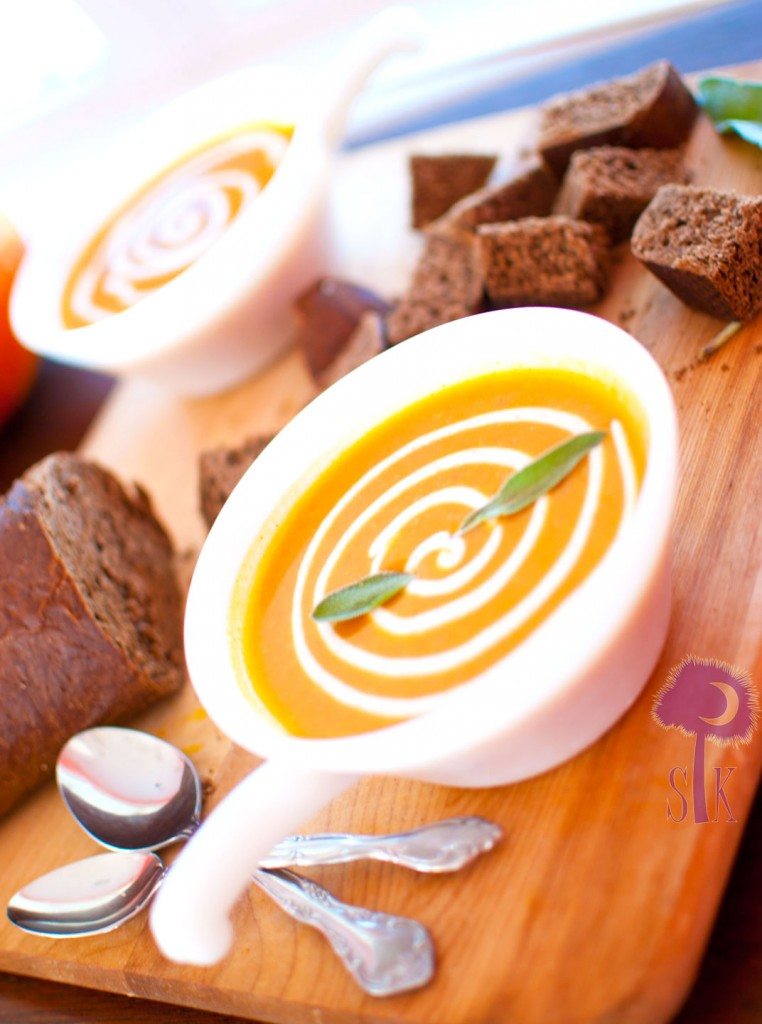 So, after the four hours of cooking (or 6 if you wanna test that out), this soup isn't super, duper sweet...SO.TASTE.IT.
If you like to have things a bit on the sweeter side, add in a touch of a sweetener of your choice (i.e. brown sugar, agave, maple syrup, etc) OR add in a couple of heavy pinches of the left over gingerbread spice mixture OR if you don't want to add any pure sugar, try adding a handful or two of baby carrots to the pot when you are adding all of the other ingredients! If you do add carrots, just be sure to puree the soup with an immersion blender or in your blender &/or food processor before serving up so the soup will remain nice and silky.
Still not sweet enough? Try all three!
Once you've got your sweetness level just right, top it with the cinnamon cream and possibly a bit of fresh basil or sage and VOILA! You've got an incredibly easy and killer supper that your entire family will enjoy.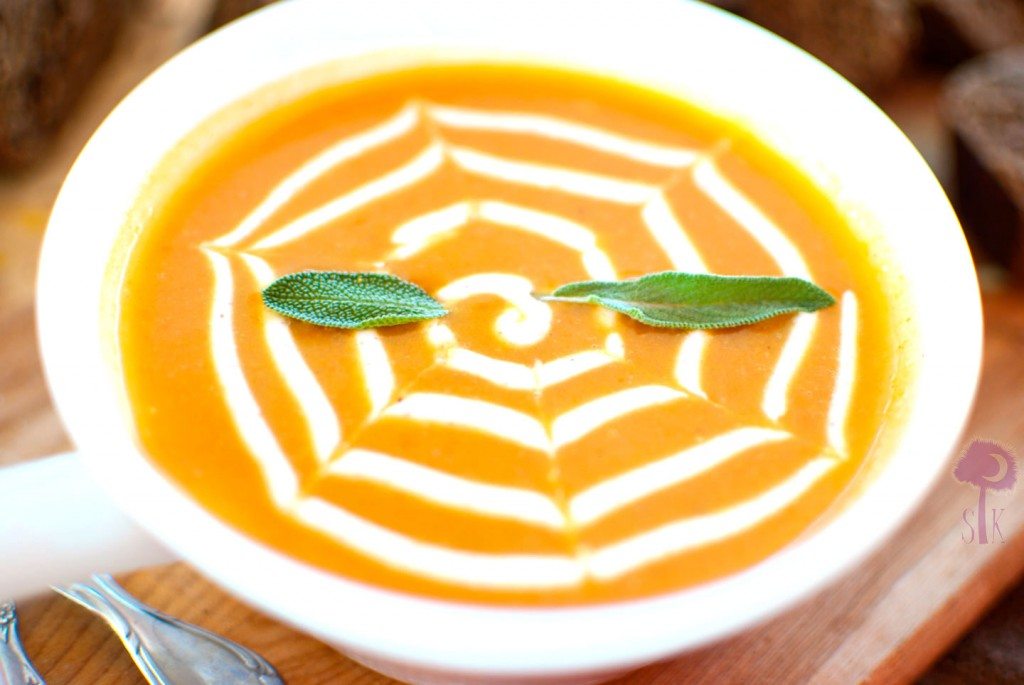 Getting to know you...
Have you ever made bisque before?
What's your favorite soup?
Do you have any dietary restrictions?
Crock Pot Pumpkin Bisque w/ Gingerbread Croutons & Cinnamon Cream

Print recipe
Ingredients
¼ cup plain nonfat greek yogurt (or vanilla!)
2 tablespoons unsweetened vanilla almond milk
tiny pinch salt
¼ teaspoon ground cinnamon
1 ½ 15 oz. can all-natural pumpkin puree
1 can Lite Coconut Milk (13.66 ounces)
⅓ cup chicken or vegetable stock
1 cup all natural, unsweetened applesauce
¼ teaspoon ground ginger powder
¼ teaspoon freshly grated nutmeg
tiny pinch ground cloves
½ teaspoon salt
A couple cranks of freshly ground black pepper
1 whole cinnamon stick
1 Large bay leaf
1 Medium sweet onion (peeled & quartered)
2 Small whole garlic cloves (peeled)
½ cup unsweetened vanilla almond milk
2 tablespoons sweet cream butter
6oz of a small honey brown bread loaf cut into cubes (This is like the bread at Outback! I found this in the bakery section of Food Lion. Sub with Pumpernickel if you can't find it.)
2 tablespoons granulated sugar (or stevia to keep it sugar free)
1 teaspoon ground cinnamon
1 teaspoon ground ginger
½ teaspoon freshly grated nutmeg
tiny pinch ground cloves
2 tablespoons extra virgin olive oil
Chopped fresh sage &/or fresh basil (for garnish)
Note
*WWpts= 6 pts per serving*
*WWpts+= 8 pts per serving*
Directions
Step 1
In a small bowl, stir together yogurt, 2 tablespoon almond milk, tiny pinch of salt, & ¼ teaspoon ground cinnamon until well incorporated. Cover with plastic wrap and refrigerate until the bisque is ready to serve.
Step 2
Add pumpkin, coconut milk, stock, applesauce, ¼ teaspoon ginger, ¼ teaspoon nutmeg, tiny pinch of cloves, and salt and pepper to your crock pot and whisk until well blended. Drop in the cinnamon stick, quartered onion, garlic cloves, and bay leaf and cook on high for 4 hours. Once the soup has cooked for the desired time, scoop out the cinnamon stick, bay leaf, onions, and garlic with a slotted spoon and discard, then stir in the ½ cup of almond milk & the butter until melted. Add more salt & pepper if needed. NOTE: I'M ALSO PRETTY SURE YOU COULD COOK THIS ON LOW FOR 6 HRS AND BE FINE, BUT I DIDN'T TEST THIS WAY SO DON'T HOLD ME TO IT!
Step 3
Right before you're ready to serve the bisque, preheat oven to 400 degrees (F) and combine the 2 tablespoon sugar, 1 teaspoon cinnamon, 1 teaspoon ginger, ½ teaspoon nutmeg, & pinch of cloves in a small bowl and stir.
Step 4
Put the bread cubes onto a baking sheet lined with parchment or tin foil, drizzle on the olive oil, add a few heavy pinches of the spice mixture and toss, making sure each cube is heavily coated in the spices. Bake for 7-10 minutes or until crispy in texture, making sure to stir once during cooking. NOTE: DON'T USE ALL OF THE SPICE MIXTURE FOR THE BREAD CUBES! YOU MAY WANT TO ADD A BIT TO THE BISQUE IF YOU LIKE YOUR SOUP TO BE SWEETER!
Step 5
Ladle soup into bowls, add a few swirls of cinnamon cream, some chopped fresh sage &/or basil, and top with gingerbread croutons. Add a couple pinches of the spice mixture to the soup for a touch of sweetness and an added pop of flavor.
Step 6
Enjoy!