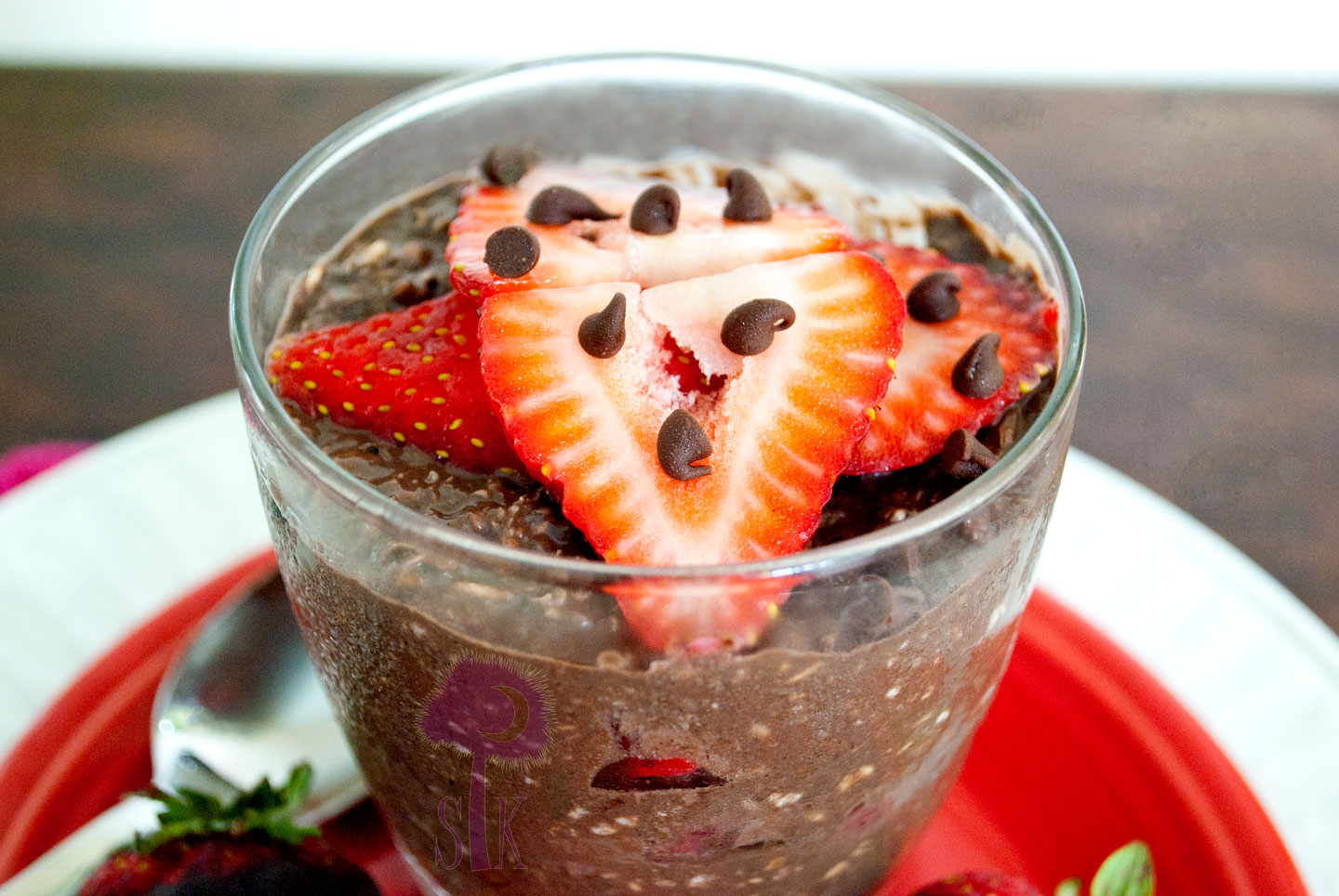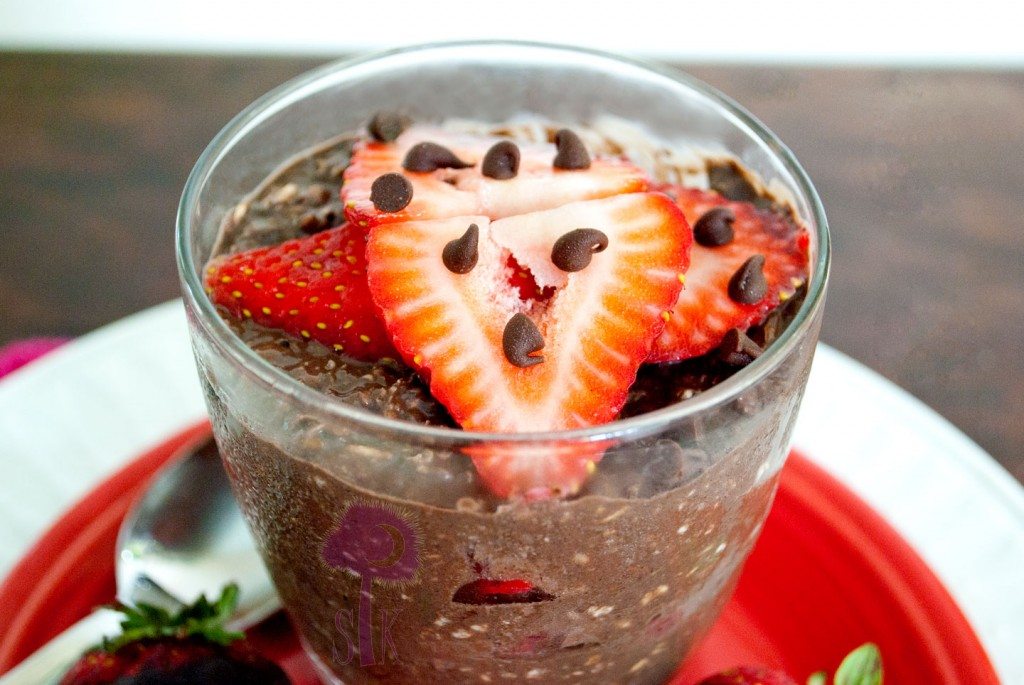 You read that right.
Chocolate covered strawberries...
For breakfast. 
Aaaaaaand you don't have to feel guilty about it either.
No added sugars, 7 grams of fiber, plus it's chock full of healthy stuff like whole grains, protein, and chocolate...which is totally good for you...in moderation.
Once I got on the whole overnight oats band wagon, I knew it would never stop. The possibilities of flavors are endless and these make you so full you really don't get hungry again until lunch.
I've always been an oatmeal lover, but in the south it can easily reach 90 degrees before 9am, so a piping hot bowl of oats in the sweltering heat is the absolute last thing I would want to eat.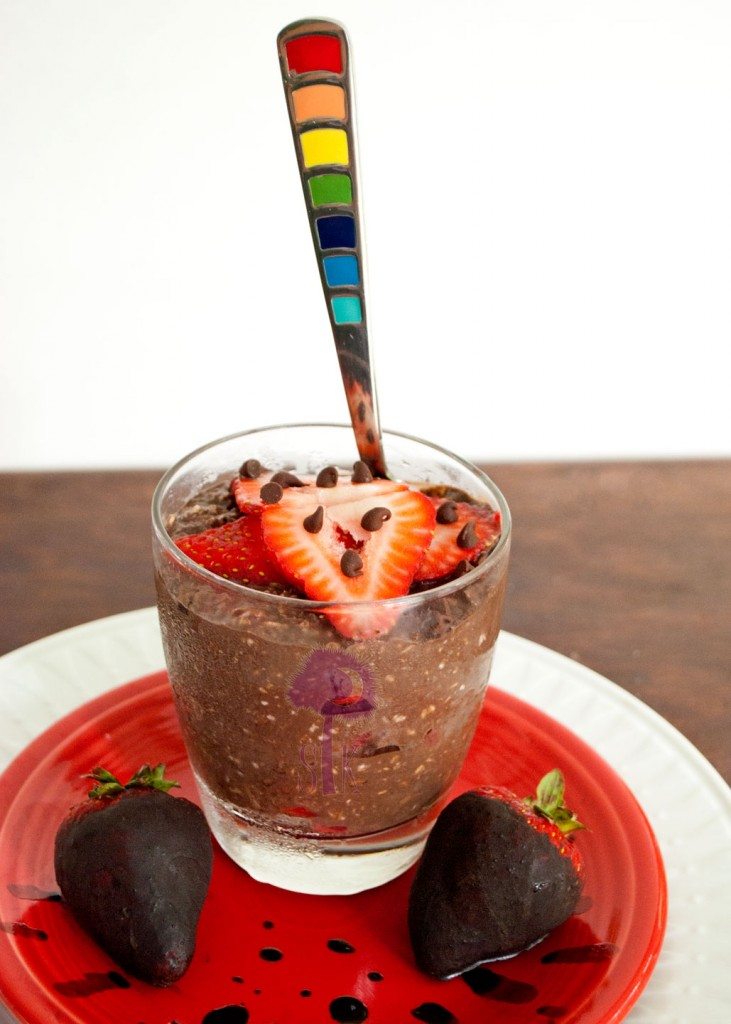 But this?
I could eat all.day.long.
Since I am a creature of habit though, I have tried really hard to revamp my meals at home and not continually eat the same things for breakfast over and over again. So, since the flavors are endless, something like this has become my new go to.
Plus, these are ready for you as soon as you wake up, which means no effort before your morning cup of joe!
Holla.
You do have to be super careful when it comes to making these porridges of pleasure, especially if you are a calorie counter like me. Like I said, the possibilities are endless, but if you aren't restrained, you could end up with a tiny bowl of oats that's well over 350 calories.
Ouch.
I try really hard to keep my breakfast 275 calories or less, and that includes my coffee!
Luckily, with a breakfast like this, I can go light on the cream and heavy on the chocolate.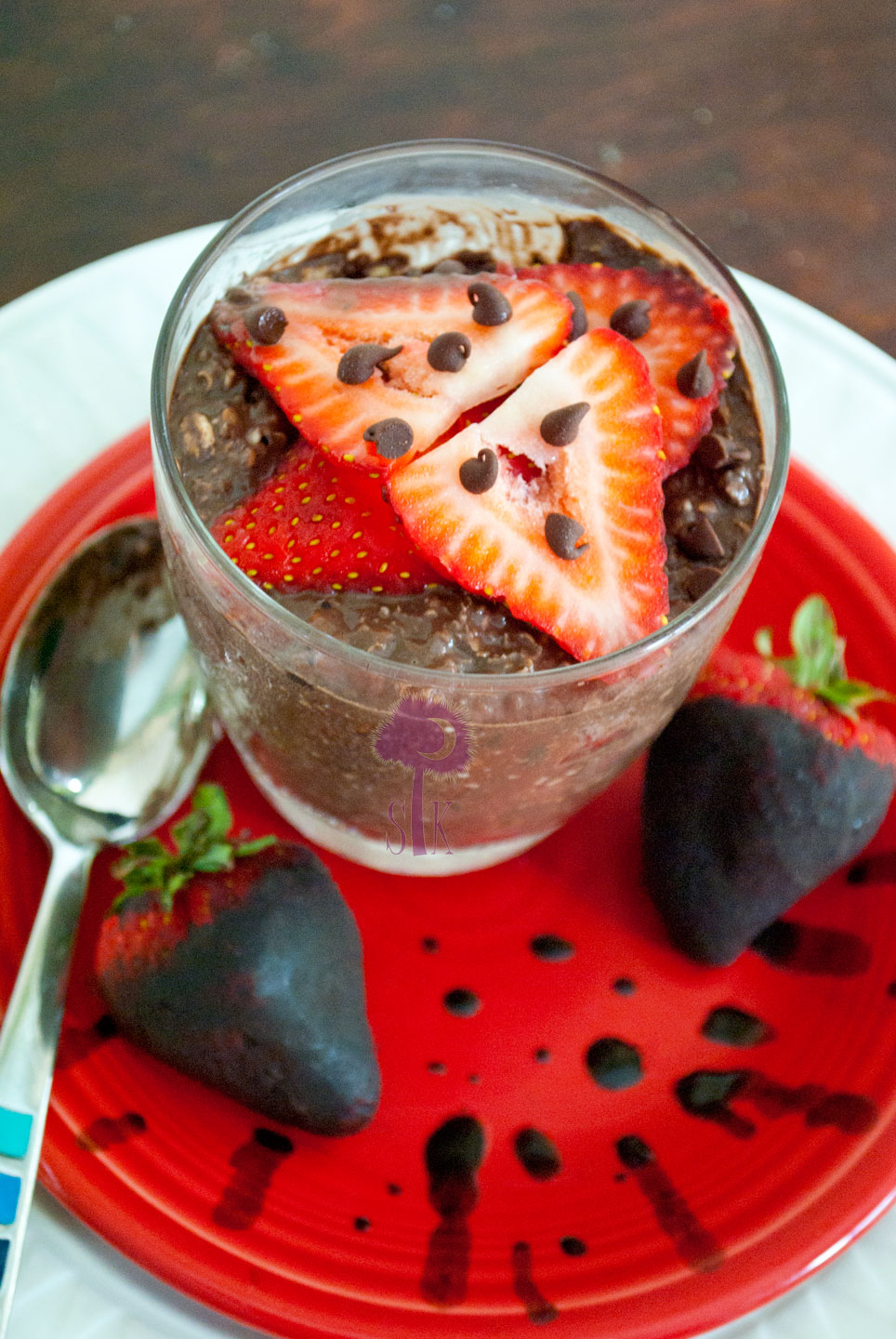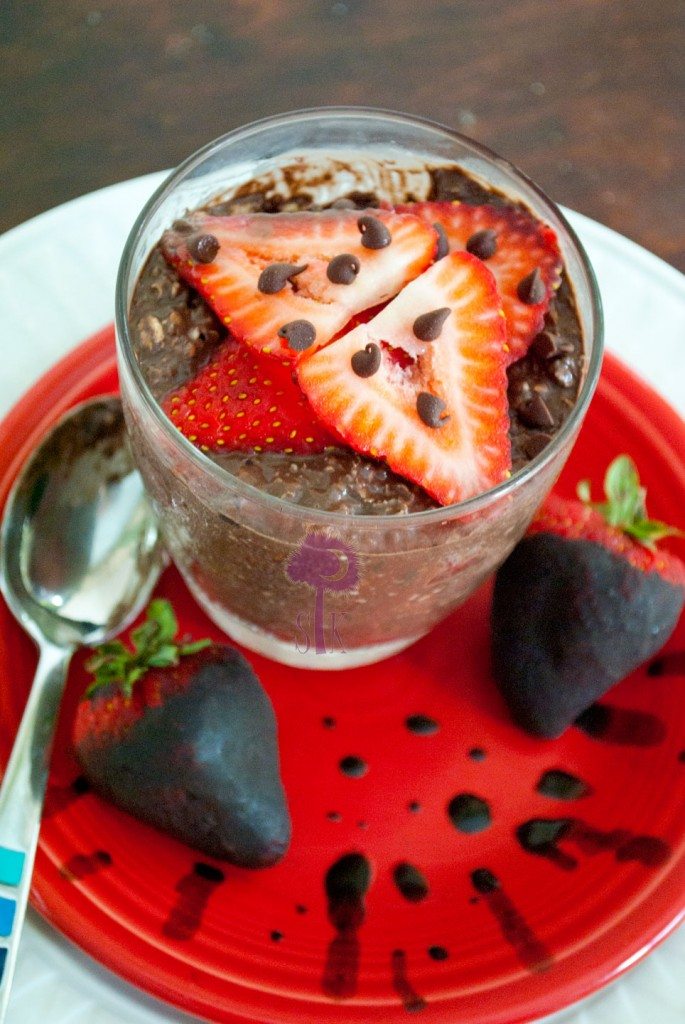 There is also another reason why I love this breakfast.
My husband and I ate chocolate covered strawberries the night he proposed. Ugh, so magical and absolutely perfect...and I'll tell you all about it...some other time 😉
Back to breakfast.
I used to loathe eating it.
Growing up, my mom would make us bacon & eggs before school, and I would always refuse to eat them. I just wasn't a big breakfast kind of girl. I'm kinda still that way, and I usually won't eat a whole lot in the morning unless it's the weekend...or someone else is paying...or it's free...or I'm completely hung over...which never happens. I'm a good girl like that.
Sike.
Now, if my mom made something like this for me in the mornings, I would've wolfed it down every single time.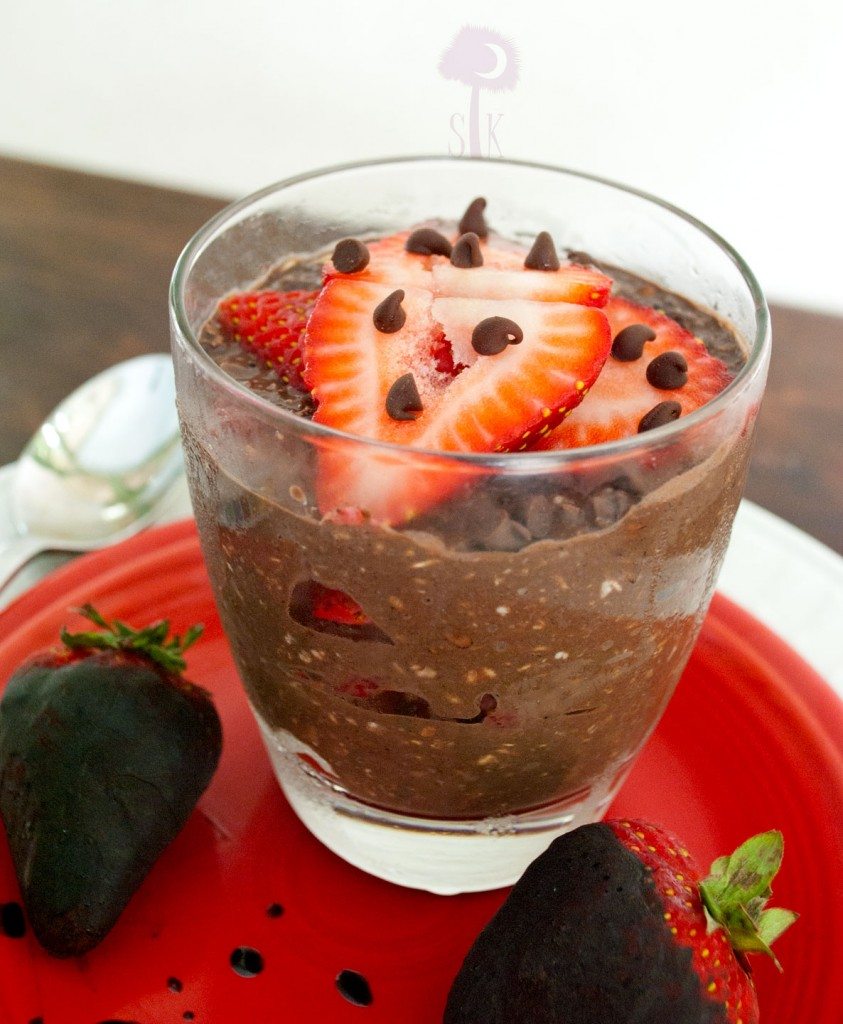 Which means your kids will too!
Throw away the poptarts, 86 the breakfast burritos, hot pockets, lean pockets, pita pockets, or whatever else is on the market these days and make your kids a bowl of this.
Throw all of the ingredients together the night before while you are making their lunches, and you've killed two birds with one stone.
Making something like this for breakfast may actually make your babies want to get up in the morning.
I mean...what kid wouldn't want chocolate covered strawberries for breakfast?!?
My thoughts exactly.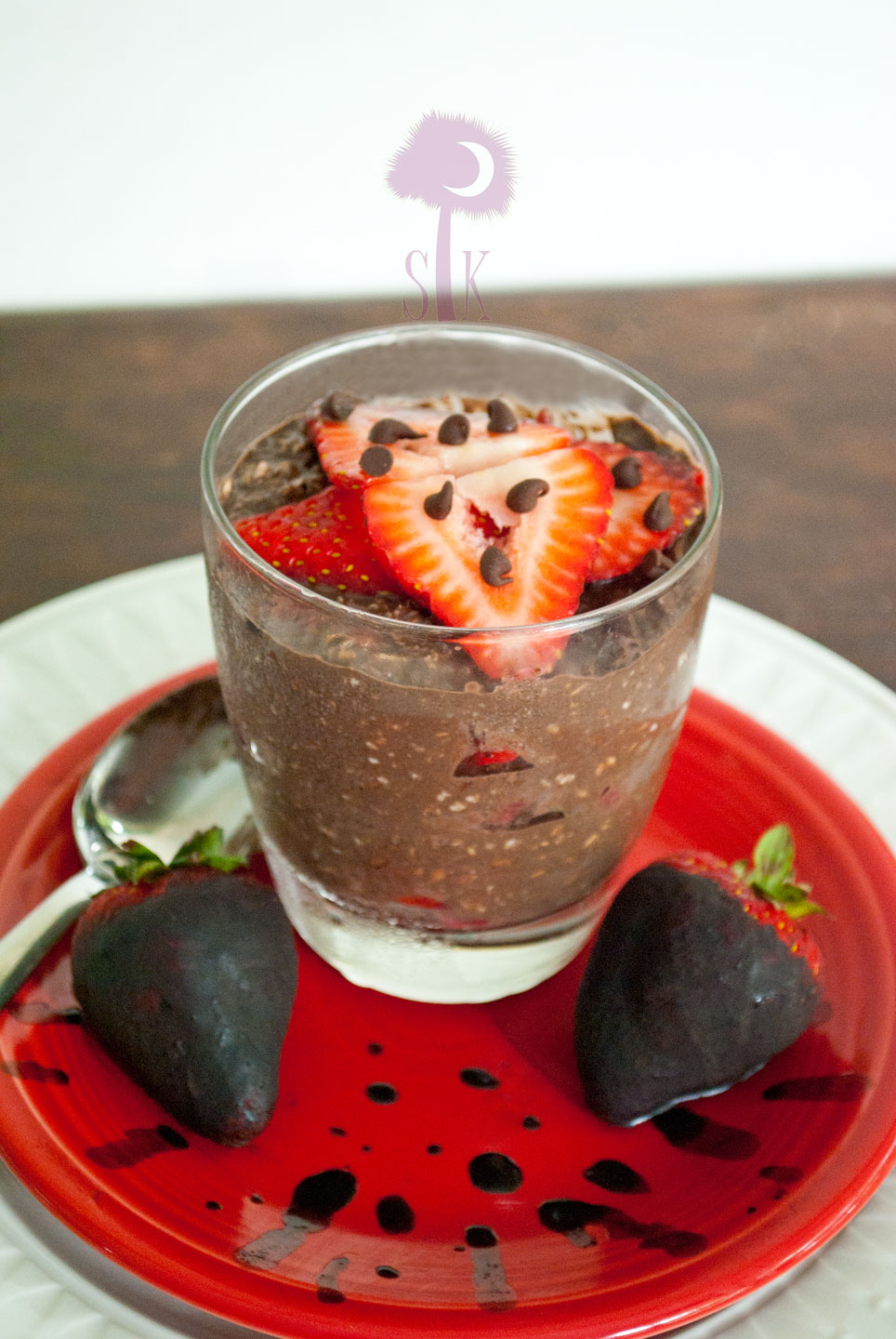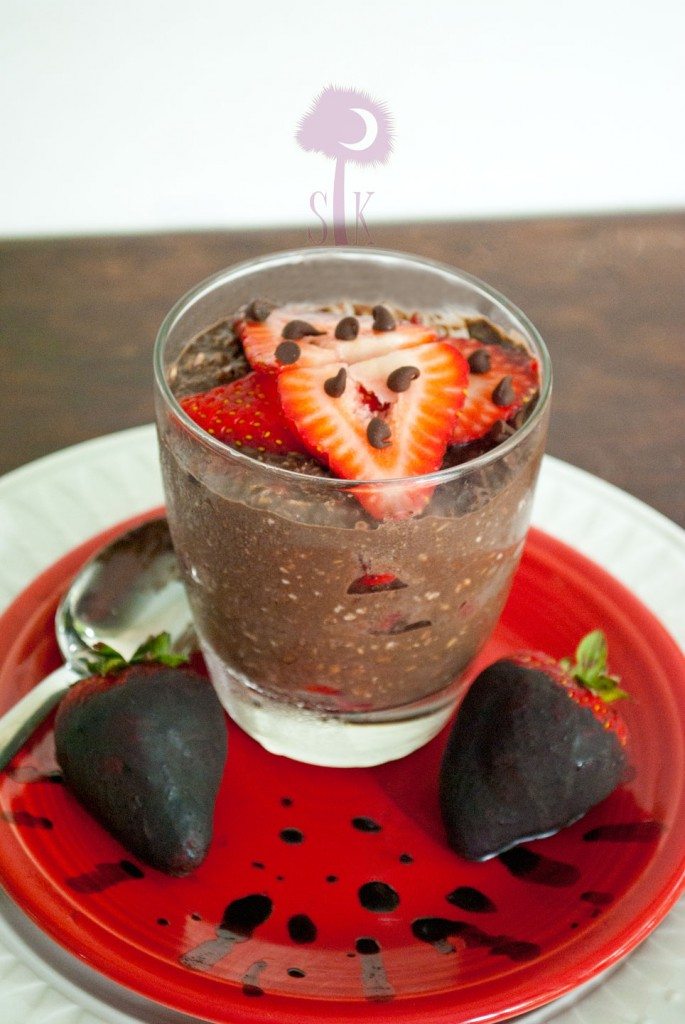 Getting to know you...
Have you ever made overnight oats?
Did you like breakfast as a kid?
What is your favorite breakfast dish?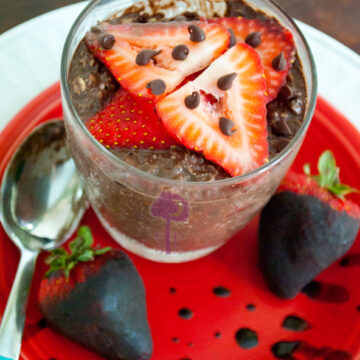 Chocolate Covered Strawberry Overnight Oats
Overnight oats meets chocolate and strawberries
Print
Rate
Ingredients
½

cup

organic

old fashioned oats

½

cup

unsweetened vanilla almond milk

2

tablespoon

Chobani vanilla

or strawberry! Greek yogurt

1

tablespoon

dark chocolate cocoa powder

1

tablespoon

Stevia in the Raw

1

teaspoon

chia seeds

1

teaspoon

flax seeds

¼

teaspoon

instant espresso powder

pinch

of salt

3-4

strawberries

sliced

mini chocolate chips for garnish

optional
Instructions
Add oats, milk, yogurt, cocoa, stevia, chia seeds, flax seeds, expresso, and salt to a bowl and stir until well combined.

Starting and ending with the fruit, layer the strawberries & oat mixture in a small cup until no ingredients remain.

Cover with plastic wrap and refrigerate overnight.

Remove plastic wrap, sprinkle with chocolate chips, and serve.

Enjoy!
Notes
*WWpts= 5 pts per serving*
*WWpts+= 6 pts per serving*
Nutrition
Serving:
1
g
|
Calories:
251
kcal
|
Carbohydrates:
38
g
|
Protein:
13
g
|
Fat:
7
g
|
Fiber:
7
g