Affordable Charleston wedding venues are hard to come by, but they can be found with just a little bit of groundwork and leeway on your calendar.
With Charleston, SC being one of the top wedding destination cities in the United States, it can be exceptionally difficult to find affordable wedding venues in the area that still hold on to that traditional Charleston charm.
Here you'll find a comprehensive list of ten affordable wedding venues in Charleston where you can still have your special day with heavy sprinkles of Southern flair without breaking the bank:
UPDATED 2022 PRICING
*NOTE POLICIES MAY HAVE CHANGED DUE TO COVID-19! PLEASE CONTACT THE VENUES FOR THEIR SPECIFIC PLANS*
White Point Gardens is a lovely location for the couple who is looking to have a small, intimate wedding without all the fustle and bustle. Located on the Battery in the heart of downtown Charleston, this public park is rich with history and enveloped by colorful Southern mansions, breathtaking oak trees, and panoramic waterfront views.
At A Glance
$85 City of Charleston residents, $170 non-residents
Fees are for 1 hour and up to 25 guests (includes the bride & groom and set-up and break down of the event)
Summer weddings must be completed by 8pm
Weddings after October must be completed by 5pm
A permit must be acquired in person (Click here for more info)
No rentals are included
Flower petals, etc can be used, but must be cleaned up after the event
Parking is limited; no public restrooms
This is the only venue on the list where both the ceremony and reception can't be held on the same grounds. The Upstairs at Midtown or a Spiritline Dinner Cruise are two fun and festive entertainment options.
Contact:
City of Charleston Recreation Department
(843) 724-7327
https://www.charleston-sc.gov
Referred to by locals as the "Edge of America", Folly Beach is the quintessential oceanfront town known for its decent waves, friendly beaches, casual window shopping, and tacos and tequila from Taco Boy. The Pelican Watch shelter is a versatile and affordable wedding venue for the couple looking to have their wedding directly on the beach while also having a covered, open-air reception space within walking distance of the ceremony.
At A Glance
Rental Fees
April – October
Monday - Thursday: $600 (9 a.m. - 5 p.m.) or $1,100 (9 a.m. - 11:30 p.m.)
Friday & Sunday: $1,200 (9 a.m. - 11:30 p.m.)
Saturday: $1,500 (9 a.m. - 11:30 p.m.)
200 max capacity
Limited parking
Beach is accessible directly from shelter
Access to water, electricity, and restrooms
1,200 sq feet on 2 levels, 6 picnic tables on each level
Bands, DJs, loudspeakers, etc. must have prior approval by park manager
The City of Folly Beach requires security for night time events (additional fees apply)
Contact:
City of Folly Beach Park Manager
843-762-9516
www.ccprc.com
Located East of the Cooper on the Intracoastal Waterway and a 10-minute drive from the Atlantic Ocean, Goldbug Island is a wonderful and somewhat secluded island of paradise perfect for a beach theme or bohemian bride looking for an effortless seaside escape. With a waterfront ceremony site, an open-air patio and a main clubhouse, Goldbug Island is like finding a flawless, shimmering seashell along the seashore.
At A Glance
You do not have to be a Goldbug member to rent the clubhouse
$1,000 Monday, Tuesday, & Wednesday
$1,500 Thursday & Sunday (11am-12pm)
$2,000 Friday & Saturday (11am-12pm)
125 max capacity
All tables and chairs are included in the rental fee (indoor only)
On-site food prep room w/ sink, refrigerator, warming oven, microwave. NOTE: All cooking must be done off-site or outside.
Onsite parking, restrooms, ice machine, and water views.
DJs & bands are welcome
Check calendar for availability
Contact:
East Cooper Outdoor Motor Club at Goldbug Island
1560 Ben Sawyer Blvd
Mt.Pleasant, SC 29464
Rent@desitnationgoldbug.com
Rich wood work, landscaped lawns, and scenic views make the Pavilion at Pepper Plantation an ideal venue for an equestrian loving couple or a country chic theme. Complete with a dazzling 3,000 square foot main hall, a lakeside gazebo, indoor and outdoor fireplaces, and Lowcountry style porches, booking this elegant space for your special day will make you feel like you won big at the races.
At A Glance
Rental rate depends of the day of the week and the time of the year
Sun-Thurs rents the property "as is" from 10am-9:30pm
Fri-Sat rents the property "as is" from 10am-10:30pm
Various ceremony locations available
Adirondack chairs located throughout
200 max capacity
On-site parking
Bridal cottage is available ($375 additional fees apply)
No rentals are included
Please TEXT or EMAIL, Rachel, at 843.270.9648 or PepperPavilion@gmail.com with any venue related questions.
5
.

*NO LONGER BOOKING EVENTS*

*Due to the sudden, unexpected death of the patriarch of the Boals family, the farm will fulfill their obligations for their 2022 events, but will no longer be booking any further events. Thank you so much for all of your support and understanding! *
Allow me to lift the veil on this enchanting property where a rustic barn wedding dream really can come true. Nestled on a 33-acre working horse farm on the edge of Mt.Pleasant, the Stables at Boals Farm is an eclectic wedding venue established by a family that runs four generations deep. Encircled by oak trees swaying with Spanish moss and dating back to the 1,800s, this beautiful location sets the scene for a classic Southern affair.
At A Glance
CLOSED FOR EVENTS
2,000 sq ft covered, open-air pavilion & a variety of outdoor ceremony space
Handicap accessible restrooms
On-site parking w/ parking assistance & shuttles on the day of
Bridal suite & caterer's prep kitchen
Galvanized tubs for drink station & A-frame chalkboard
1800's buggy for use as backdrop decor & other various props included
Use of property for engagement or bridal session prior to the event as well as a conference room for pre-event meetings w/ caterers, etc.
Day of coordinator is required!
Contact:
The Stables at Boals Farm
843-501-6339
boalsfarm@gmail.com
Tucked away on the outskirts of town in the forests of Berkeley County rests the hidden gem of Cypress Gardens a 170-acre lush landscape where the most romantic cinematic moment of all time was filmed: the rowboat scene from The Notebook. A pebbled path meets the shoreline of a stunning Cypress swamp leading into a secret wedding garden that has a charming white gazebo. The grounds of this venue are so striking very little outside decorations are needed.
At A Glance
Several indoor & outdoor areas to choose from for both the ceremony & reception
Rates include ceremony chairs as well as tables & chairs for an indoor reception
25-200 max capacity depending on ceremony location
Indoor & outdoor restrooms
Located 45 minutes from downtown Charleston
Old Santee Canal State Park is a stone's throw away from downtown Charleston and offers an array of spectacular scenery at affordable prices. The property features an 1840 Southern plantation home furnished with period piece replicas and dramatic details which will make anyone feel as if they've traveled back in time. The outdoor lower level is equipped with elegant lighting perfect for nighttime events, and the remaining grounds boast quaint surroundings for an unforgettable evening of enchantment.
At A Glance
300 max capacity
Waterfront views
1st floor is climate controlled
Bridal dressing room
Indoor restrooms
Tables & chairs available to rent (additional fees apply)
Contact:
Roxy Bishop
843-889-5200
Roxy@oldsanteecanalpark.org
Embraced in the heart of Old Mt. Pleasant awaits the coveted wedding venue of Alhambra Hall. Best known for its sprawling views of the Charleston Harbor, alluring outdoor ceremony space, and vaulted ceilings in the stellar main hall, this former ferry terminal is by far one of the most popular and affordable wedding venues East of the Cooper. Embellished with sparkling hardwood floors, breezy wrap-around porches, double brick fireplaces, lower-level restrooms, and an adjoining kitchen, it's easy to see how this event space books up as quickly as it does.
At A Glance
Act fast! Dates can book up two years in advance.
All-inclusive rental includes main hall, downstairs suites, ice, and grounds until 12am Thurs-Sat and 1 am Fri
Discounts available for Mt.Pleasant residents, businesses, & non-profits
350 max capacity, 200 max capacity for upstairs seated dinner
On-site parking, restrooms, and use of the grounds and porches
Limited indoor tables & chairs included with rental
The massive playground across the street makes for some great photo ops!
Contact:
Alahambra Hall
843-849-2053
alhambrahall@tompsc.org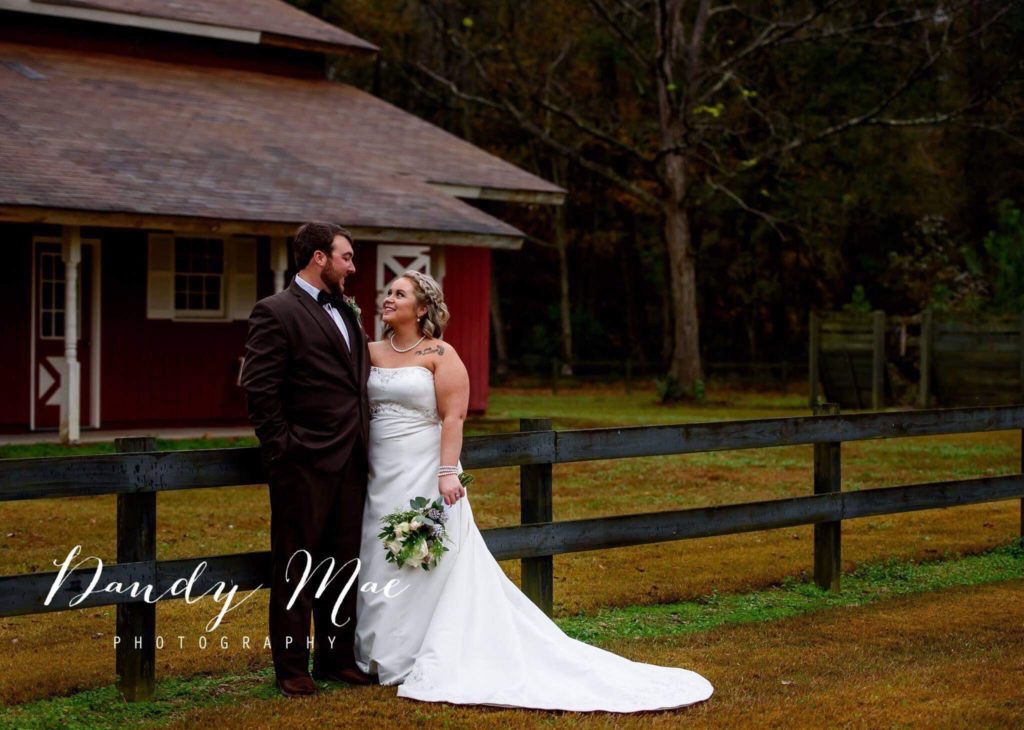 Medicine Wind Farm is where rustic barn wedding dreams are made. Nestled just five miles north of the interstate in Summerville, SC, this 47-acre farm, full-service farm offers a stunning, serene setting embellished with green pastures, billowing trees, and a brilliant bright red barn.
At A Glance
12.5hr rental includes tables, chairs, plantation benches, ceremony arbor, working wagon, and several vintage tubs for the reception.
Multiple ceremony sites including a gazebo by a pond and
170 max capacity
Onsite parking and full service kitchen
Heat, A/C, ceiling fans, and stone fireplace
Extra large bridal suite & groom room
Contact
Jamie Roman
843-801-4100
MedicineWindEventCenter@gmail.com
Not quite within Charleston city limits, Old Vintage Barn has too many perks not to mention in this list of affordable Charleston wedding venues. Just an hour away in the whispering countryside of Walterboro, SC, rests this charming event venue. An old, rustic barn is enveloped by a lush landscape offering brides a blank canvas so they can finally begin designing the wedding of their dreams.
At A Glance
Rental includes tables, chairs, linens, and use of the grounds for the rehersal the evening before the ceremony.
Multiple event spots.
Bespoke design services.
150 max capacity.
Onsite parking.
Private use of entire property day of event.
Bride & Groom changing suites.
Contact
843-990-6089
info@oldvintagebarn.com
4204 Persimmon Woods Dr.
North Charleston 29420

Do you have more affordable Charleston wedding venues to share? Leave a comment below and tell me all about them!
Check out these amazing recipes to serve at your affordable Charleston wedding or wedding reception: