🙂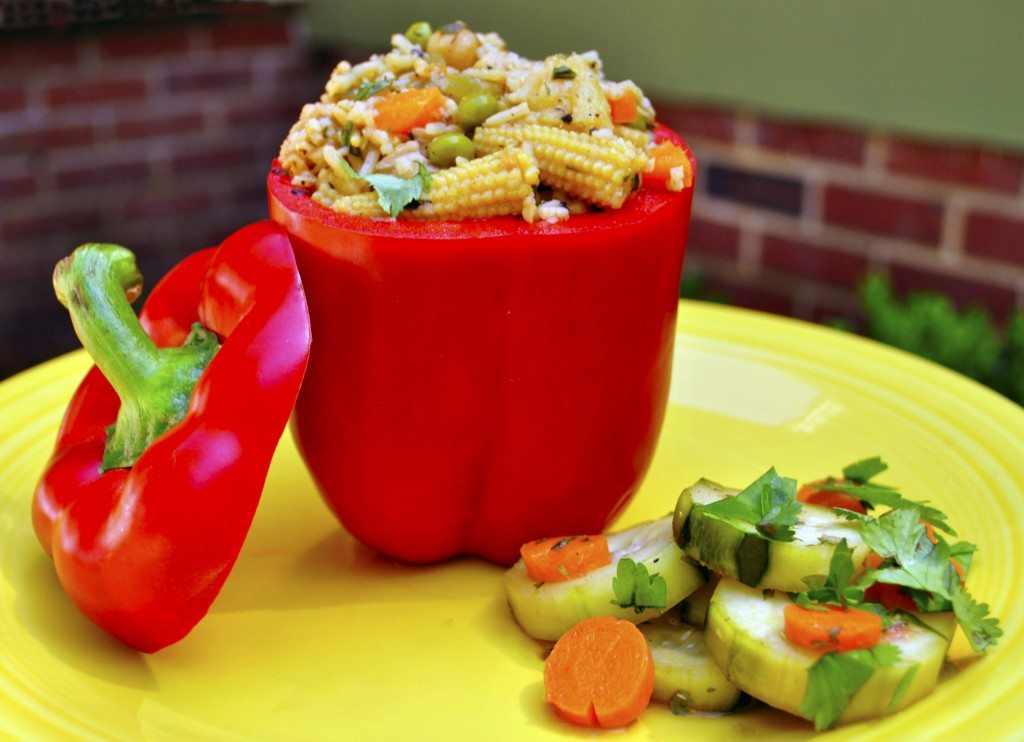 This meal is delectable.
Delicious.
And one of my favorites!
The hubs and I love stir fry. In fact, it's one of the only meals I allow him to make. When he makes it, he does everything the usual way expect he adds one very special ingredient that gives it that extra POP! of flavor and, IMHO, the addition of this ingredient makes the dish!
Pineapple.
Small, sweet morsels of paradise.
We went to Hawaii on our honeymoon, and I can not begin to explain how absolutely INCREDIBLE that vacation was for both of us. It opened our eyes to a plethora of different cultures, foods, wildlife, and ingredients. It was the best vacation of my life, and I cried like a jock in Home-Ec when we had to leave. I did a TON of research before we left, and the majority of the restaurants we chose were recommendations from Guy Fieri from Diners, Drive Ins, & Dives or from Anthony Bourdain's No Reservations.
Hands down, the best meal we had was at The Side Street Inn in Honolulu recommend by Mr. Bourdain. We left there so full, for a second I thought they were going to have to roll us out on a stretcher! Their "Award Winning" Side Style Famous Fried Rice was the most amazing fried rice I have ever eaten in my entire life. I still dream about it.
Not kidding.
Their rice was overflowing with Char Siu (Chinese BBQ pork), Portuguese Sausage, Bacon, Peas & Carrots, and Green Onion. It was so fresh and so flavorful yet so simple. It was absolutely divine. Here is a picture of my main meal of that evening. You can see a teeny, tiny little dark glimpse of their fried rice in the upper right hand corner. Please excuse the quality of the pic. My phone sucks.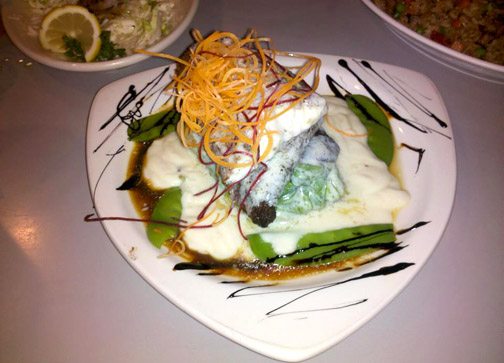 Today's recipe is a play on your standard pork stir fry and the same old, same old stuffed bell pepper recipe that every southern cook has up their sleeves. One day I was trying to figure out what to make for dinner, and this idea just came to me. The best part about this dish is that you can make all sorts of substitutions so please don't be discouraged by the amount of ingredients. Mostly everything on the lists are pantry and fridge standards, so you should have most of it on hand. If not, use whatever veggies you like, don't add the pineapple (even though it totally makes it), use chicken instead of pork, change the spices, etc. I just so happened to have everything I added on hand.
The cucumber salad is also one of my favorites as well. I make this with every Asian inspired recipe that I create. It's light, refreshing, easy to make, and is the perfect compliment to the spiciness from the Siracha.
Note: There are several easy steps to the recipe. If you have any questions or if I don't make anything clear, please message me or post a comment, and I will get back to you as soon as I can. Also, make sure to make your pot of rice the night before you plan to make this recipe! Not only does it save time, but it also just works better when the rice is cold.
PS. The pepper in the picture is raw for photography's sake!
"📖 Recipe"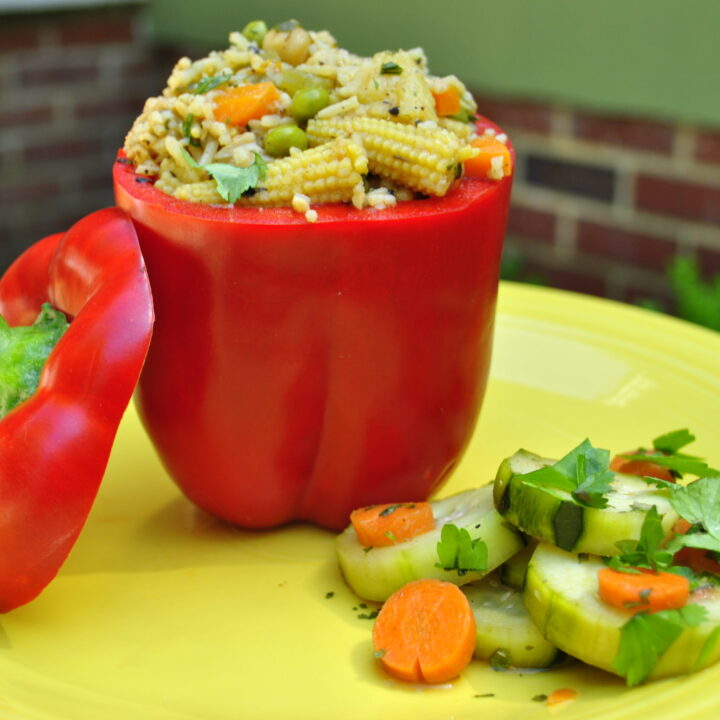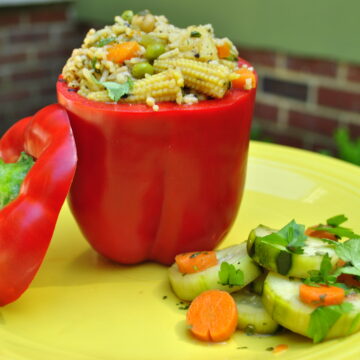 Stir Fry Stuffed Peppers w/ Honey Ginger Cucumber Salad
A tried and true favorite is stuffed with an Asian twist
Print
Rate
Ingredients
Honey Ginger Cucumber Salad
Pepper Stuffing
6

bell peppers

any color

4

celery stalks

6

baby carrots

¼

large sweet onion

2

garlic cloves

Marinated

sliced pork

2

tsp.

olive oil

3

cups

cold basmati rice

cooked

1

cup

canned pineapple tidbits

1

handful frozen peas

½

can baby corn pieces or 1 handful frozen corn

1

tbsp.

freshly grated ginger

2

tbsps.

teriyaki sauce

1

tbsp.

soy sauce

Juice and zest of half a lime

2

tbsps.

freshly chopped parsley

2

tbsps.

freshly chopped cilantro

½

cup

chicken stock
Instructions
Pork Marinade
Slice pork chops into thin strips.

In a large zip-top freezer bag, add steak seasoning, herbs, teriyaki sauce, soy sauce, chile sauce, chicken stock, pineapple juice, and grated ginger.

Zest the whole lime and then cut in half.

Add ½ of the zest and the juice from ½ a lime to the bag.

Add the pork, seal the bag, and swish and move around until all of the pork is coated with the marinade.

Place bag on a plate and refrigerate for 30minutes-2 hrs.

Make Cucumber Salad.
Cucumber Salad
In a glass bowl, whisk together vinegar, honey, ginger, sugar, garlic powder, soy sauce, and coriander until sugars and spices are dissolved.

Wash, peel, and slice cucumbers into discs and add to honey ginger mixture.

Slice carrots into discs and add to cucumbers.

Chop parsley and cilantro, adding half of each to the salad. Reserve the rest for the pepper filling.

Add salt & pepper to taste.

Stir until all veggies are coated with the dressing and herbs.

Cover with plastic wrap and refrigerate until ready to serve.

Move on to the stuffing for the peppers.
Pepper Stuffing
Slice a small sliver off the bottom of each pepper, making sure it is just enough for it to stand upright without creating holes in the bottom. Dice the removed slivers.

Slice off the top of each bell pepper, removing and dicing any useable portion of the pepper around the stem.

Using a paring knife, slowly remove the seeds and white veins from the inside of the pepper.

Dice celery, carrots, onion, and garlic.

Preheat 1 tsp. olive oil in a frying pan or wok over med/high heat until slightly smoking.

Drain pork from marinade and add to the pan.

Fry for 2 minutes and remove. DO NOT OVERCOOK!

Lower heat to medium-medium/high and add onion, carrots, garlic, and chopped peppers. Sauté until veggies are soft and onions are translucent. About 3-5 minutes.

Push veggies to the sides of the pan, creating a well in the middle.

Add remaining olive oil and then cold rice. Letting fry for 2 minutes.

Slowly fold veggies into rice.

Lower heat to med-medium/low.

Add pineapple, peas, corn, and ginger and stir until heated through.

Stir in teriyaki sauce, soy sauce, and the remaining lime juice and zest.

Add parsley and cilantro, stir until incorporated, and remove from heat.

Let cool for 5-10 minutes.

While peppers are cooling, prepare your crock pot, dutch oven, or casserole dish by adding chicken stock and bay leaves to the bottom.

If cooking in the oven, preheat to 400°.
Time to stuff the peppers!
Once filling has slightly cooled, stuff as much of the filling into each pepper as you can without breaking them. Make sure to mound a good bit on the top.

Add peppers to your cooking vessel of choice.

If cooking in the oven, cook until peppers are slightly tender, pork is cooked through, and stuffing is heated. About 35-40 minutes.

In the crock pot, cook on low for 2-4 hrs.

Serve alongside the cucumber salad.

Enjoy!
Notes
*WWpts=6 pts per serving* *WWpts+= 8 pts per perving*
Nutrition
Serving:
1
g
|
Calories:
318
kcal
|
Carbohydrates:
55
g
|
Protein:
17
g
|
Fat:
3
g
|
Fiber:
6
g