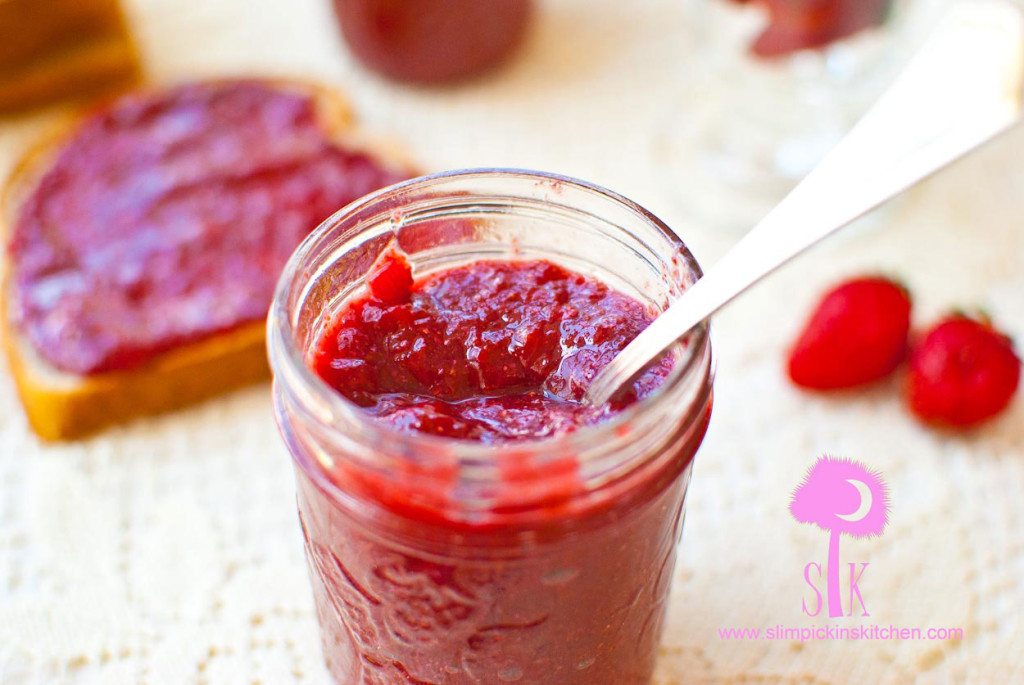 Strawberry jam has always been, well, my jam!
Layer it on toast, drizzle it over a wedge of creamy brie, or slather it on some thick, seedy bread for an out of this world PB & J. In my opinion, there is nothing better than fresh homemade strawberry jam and, when mixed with a hint of sour rhubarb, it just makes the sweet spread absolutely swoon worthy.
When we picked those 37 lbs of strawberries a week or so ago, I knew that I was going to attempt to make strawberry jam from scratch for the first time ever.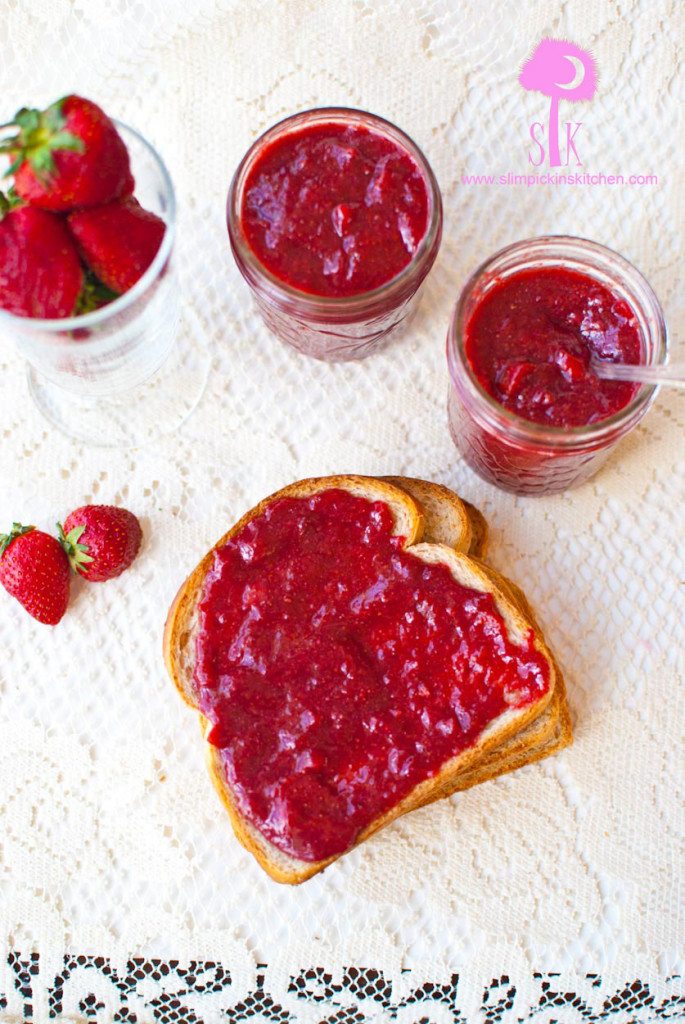 I don't have the patience for such annoying things as stirring fruit and adding pectin and sanitizing and canning and all of that other nonsense, but I figured if I made the yummy goodness in the crock-pot then I could avoid such mundane and tedious tasks.
I'm happy to say that I can now show you how to make strawberry jam in just a few short hours and with as little as five ingredients!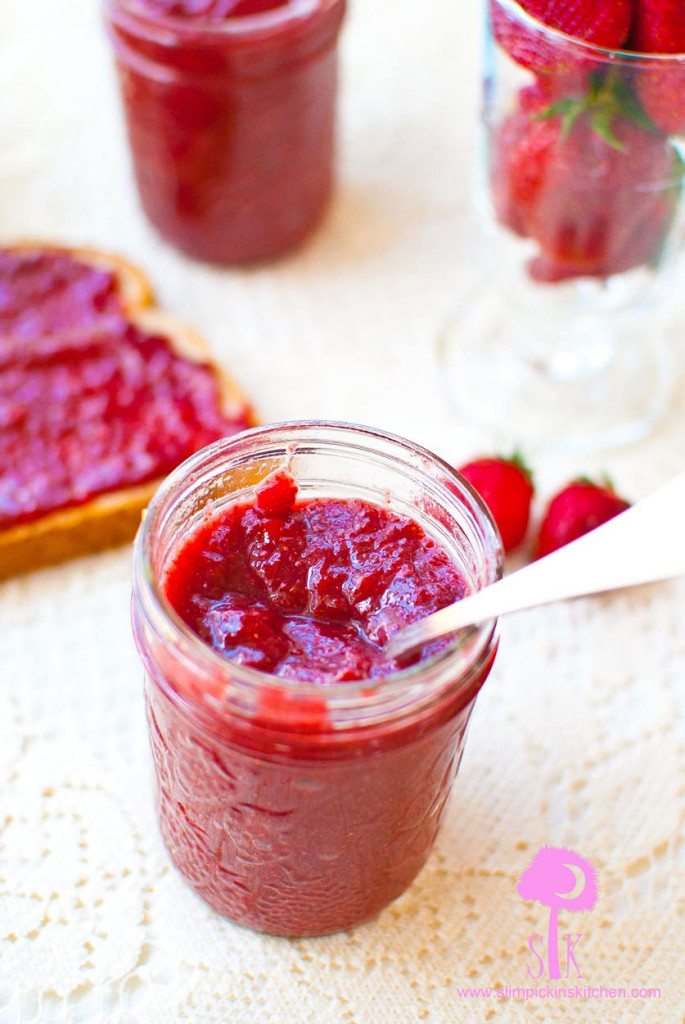 I have to say that going to the strawberry fields and hand picking the fruit ourselves really added to the adventure, but if that's not something you have the time or money to do then please feel free to just pick up a couple of containers of the juicy jewels from your local grocer or farmer's market.
Oh, and if your husband is anything like mine, which is a complete and total strawberry-a-saurus who would rather stick needles in his eyes than go a day or two without eating a strawberry or eighteen, then you may want to make a double batch of this and do some of that crazy canning and sanitizing nonsense I mentioned earlier.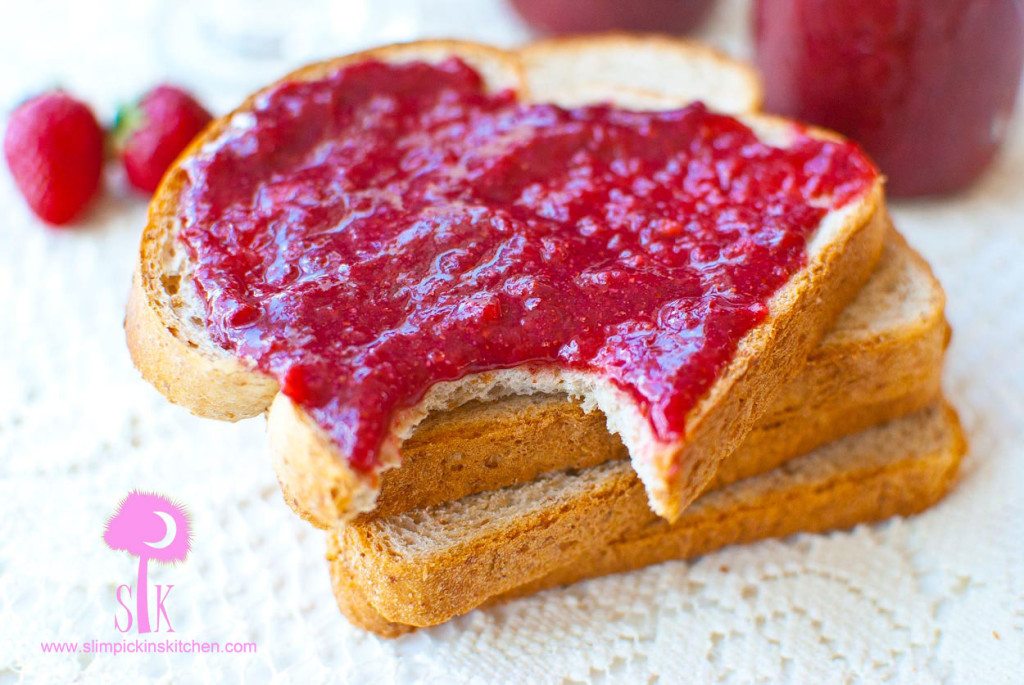 Getting to know you you...
Grape jelly or strawberry jam?
Have you ever canned anything?
Have you ever made jam with chia seeds?
Crock Pot Rhubarb Strawberry Jam

Print recipe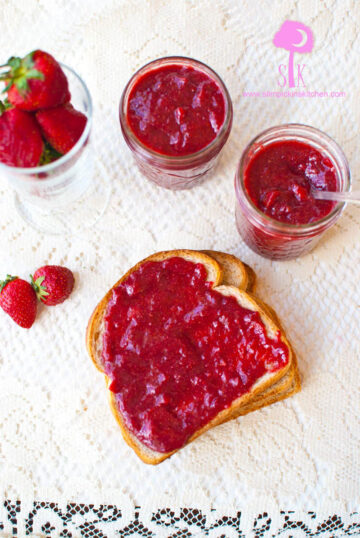 | | |
| --- | --- |
| Serves | 16 |
| Prep time | 5 minutes |
| Cook time | 6 hours |
| Total time | 6 hours, 5 minutes |
| Dietary | Gluten Free, Vegan, Vegetarian |
| Meal type | Breakfast, Condiment, Dessert, Lunch, Snack |
| Misc | Child Friendly, Freezable, Pre-preparable, Serve Cold |
| Occasion | Barbecue, Birthday Party, Casual Party, Christmas, Easter, Valentines day |
| Website | Recipe Adapted from Food In Jars |
Ingredients
1 large stalk fresh rhubarb (about 4.5 oz)
7 cups fresh strawberries (hulled and halved)
1 cinnamon stick
1 ½ cup pure cane sugar or zero calorie sweetener of choice
¼ cup chia seeds
Note
*WWpts= 2 pts per serving*
*WWpts+= 3 pts per serving*
Directions
Step 1
Add rhubarb, strawberries, and cinnamon stick to a slow cooker, cover, and cook on low. The strawberry jam will need about 6 hours total to cook.
Step 2
After the first hour, stir, then crack the lid to allow the steam to escape. Leave the lid cracked and continue cooking for another 4 hours.
Step 3
At the start of the 5th hour, stir in the sugar and chia seeds, turn the heat to high, then stir periodically to prevent the spread from scorching.
Step 4
At this point, you can either puree the mixture for a smoother spread or leave it chunky as shown in the pictures in the post.
Step 5
Allow the jam to slightly cool, then spoon into a pint jar. Keep refrigerated for up to a week.