Oh, look! Another dessert recipe!
Clearly I have a bit of a sweet tooth. In actuality, every last one of my teeth are sweet so obvi I couldn't resist posting a chocolate recipe right before Valentine's Day. VD (tee hee) is one of my favorite Hallmark holidays because it gives me an excuse to buy myself a box of Godiva chocolates because I know my very un-romantic husband isn't going to do it for me.
Bless his heart.
I used to go to the Godiva boutique in Charleston every year and build my own box of truffles. Now that I don't live at home anymore, I have to build my own box when I go home for Christmas and order my Valentine's Day truffles online.
This year I won't be doing either because I'm still trying to lose baby weight (which is UBER HARD after they are weaned BTW) and because we are going to Disney World at the end of the month for Food Blog Forum so we need to save every penny we have for that trip.
These almond joy brownie bites are soo easy to make and totally fulfill my chocolate fix. I didn't feel bad when I devoured the first couple of bites because they have zero refined sugars and are full of healthy ingredients. The problem was that I couldn't stop eating them, and I had to ask Will to take them away from me.
I may or may not have hissed and spit at him then thrown a tantrum like a two year old when he did so even though he was just being an amazing husband and doing what I asked of him.
I guess now I understand why he doesn't like to buy me chocolates!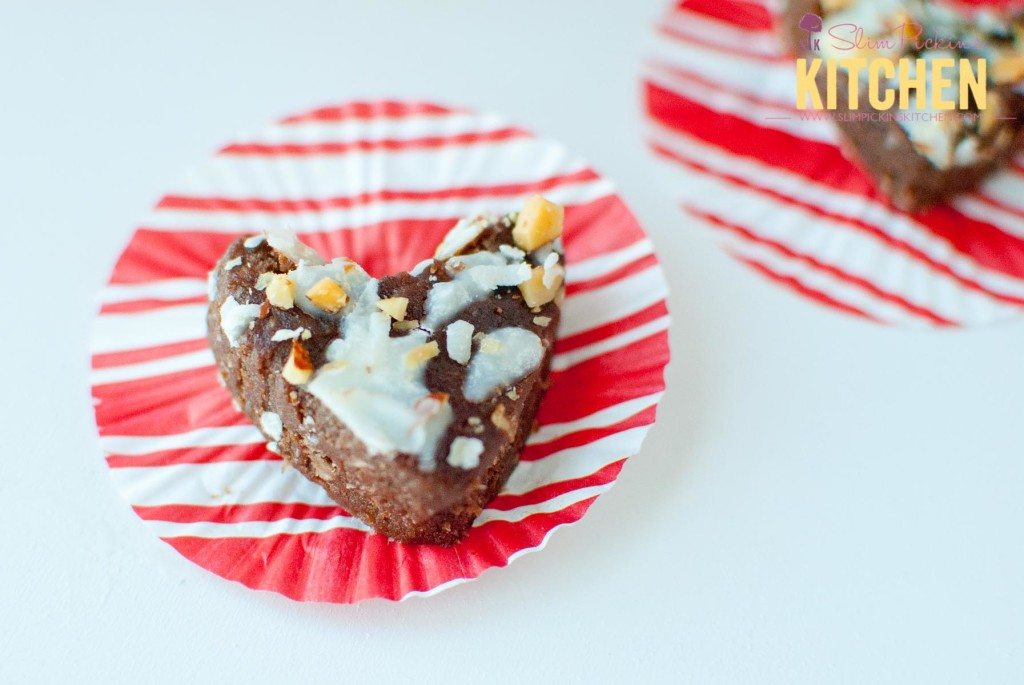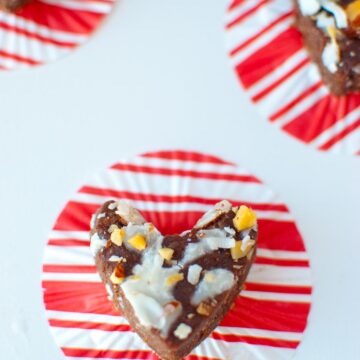 Paleo Almond Joy Brownie Bites
A healthy combination of chocolate and coconut form these amazing Paleo Almond Joy Brownie Bites.
Print
Rate
Servings:
10
-12 servings
Instructions
Line an 8 inch square pan with plastic wrap. Set aside.

Add almond flour, dates, and coconut to a food processor or high speed blender and blend until well chopped.

Add cocoa powder, coconut butter, sea salt, & milk to the almond flour mixture and blend until a smooth paste/dough forms.

Evenly spread the dough into the prepared pan then cover completely with the plastic wrap. NOTE: The dough will be very sticky! I usually wet my hands or lightly grease them with coconut oil to help smooth the dough better.

Freeze until firm. Between 1-3 hours.

Lift the frozen dough completely out of the pan and unwrap.

Drizzle on more melted coconut butter then top with chopped almonds and coconut.

Cut into squares or use a cookie cutter to cut into heart shapes.

Serve immediately and freeze any leftovers.

Enjoy!
Nutrition