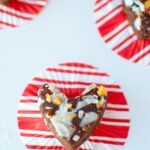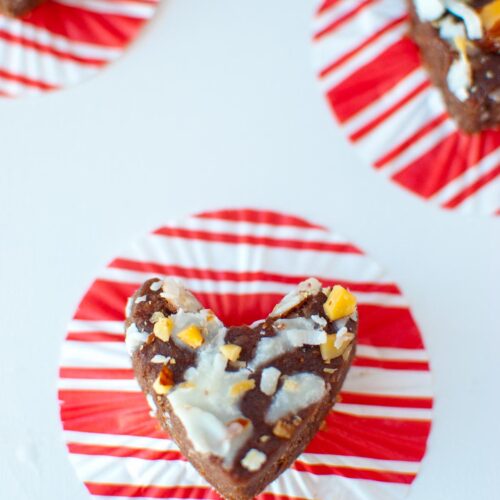 Print
Paleo Almond Joy Brownie Bites
A healthy combination of chocolate and coconut form these amazing Paleo Almond Joy Brownie Bites.
Line an 8 inch square pan with plastic wrap. Set aside.

Add almond flour, dates, and coconut to a food processor or high speed blender and blend until well chopped.

Add cocoa powder, coconut butter, sea salt, & milk to the almond flour mixture and blend until a smooth paste/dough forms.

Evenly spread the dough into the prepared pan then cover completely with the plastic wrap. NOTE: The dough will be very sticky! I usually wet my hands or lightly grease them with coconut oil to help smooth the dough better.

Freeze until firm. Between 1-3 hours.

Lift the frozen dough completely out of the pan and unwrap.

Drizzle on more melted coconut butter then top with chopped almonds and coconut.

Cut into squares or use a cookie cutter to cut into heart shapes.

Serve immediately and freeze any leftovers.

Enjoy!