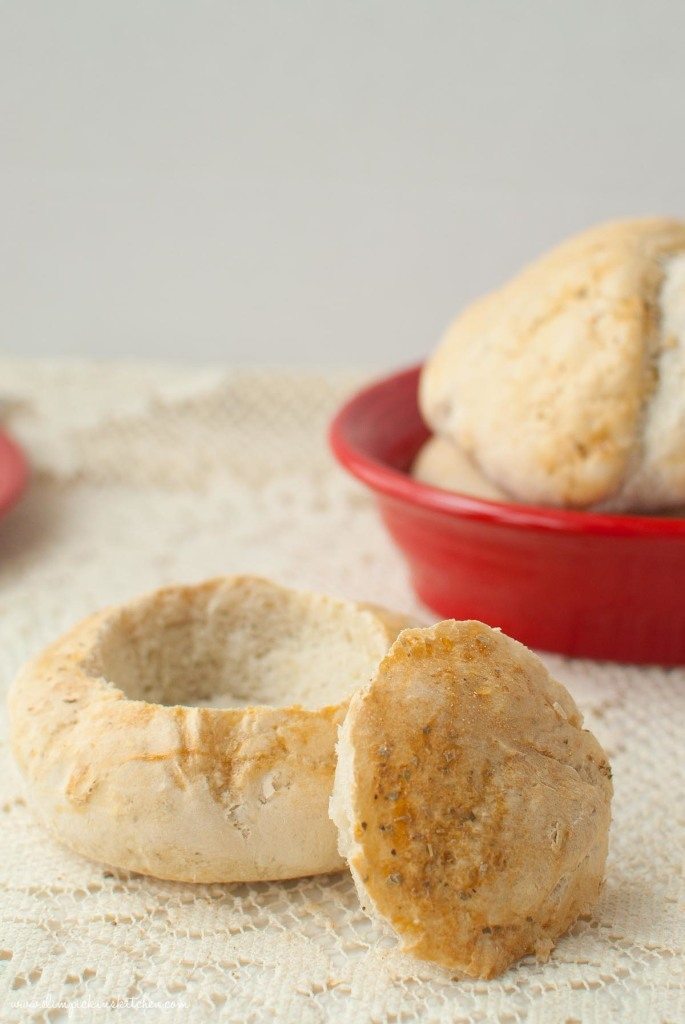 Eating a soft and chewy bread bowl full of piping hot soup is one of my all time favorite holiday traditions.
'Tis the season!
When I was in high school my best friend and I used to work at Belk which, if you don't know, is like the southern version of Macy's. When the weather turned cold and the halls of the shopping center were bedecked with twinkling lights and Christmas music blasted 24/7, we would live for the days when we could go to Atlanta Bread Company on our lunch or supper breaks.
Up until that time, I had never even heard of a bread bowl, and when I discovered they could be filled with soup?!?
It was like pure heaven on a plastic tray.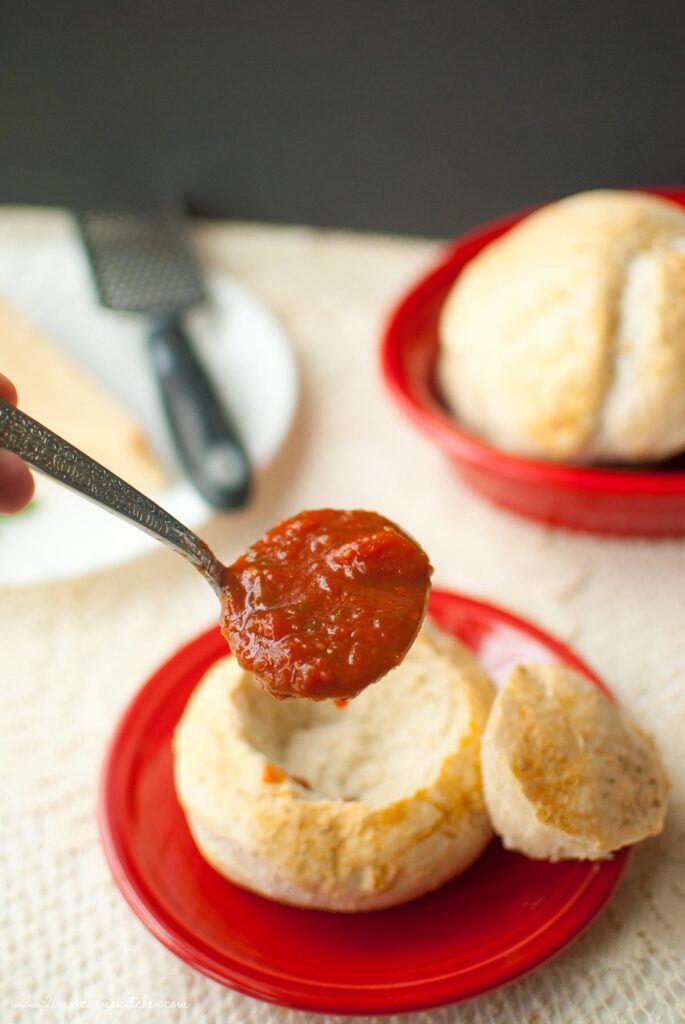 There is just something purely magical about scooping out a doughy bite of marinated bread with a spoonful of soup on a cold winter's day. Now that I don't work in retail anymore and I live in the boonies, finding a killer deli that serves their soup in a bread bowl is very few and far between.
Bah-hum-bug.
It's also super hard to find a quality loaf of bread in the bakery section of our local grocery store that isn't teensy tinsy or the size of my head.
So, naturally, I had to make my own bread bowls to satiate my winter wishes!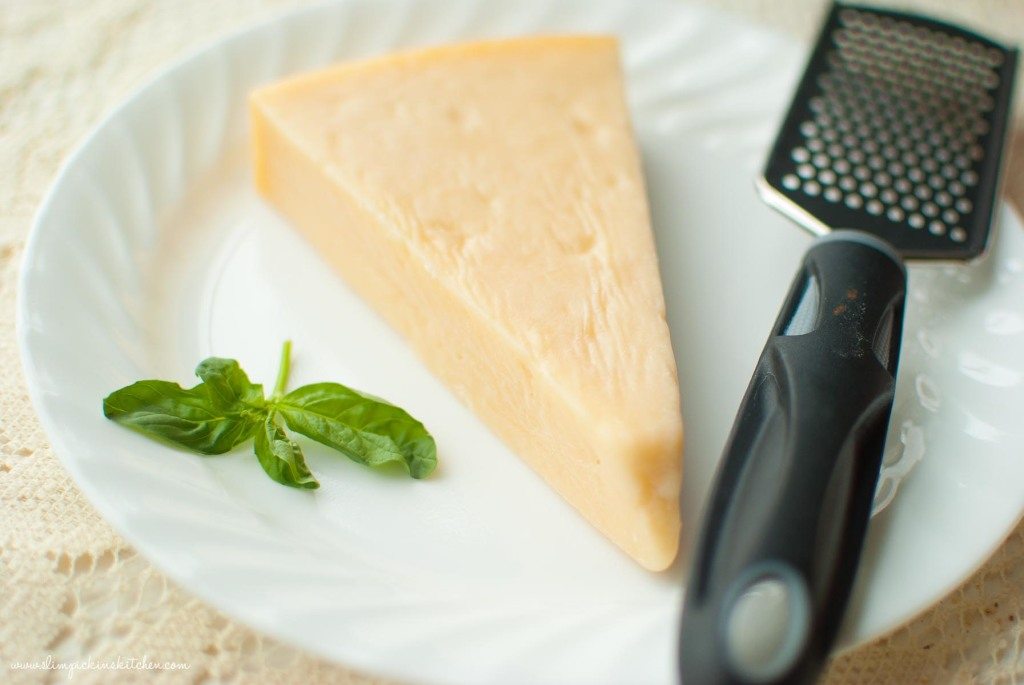 This recipe is quite simple but, as with most homemade bread recipes, it does take a wee bit of patience.
I highly, highly suggest that you make these bread bowls then throw your favorite soup ingredients into your slow cooker before going on a major holiday shopping excursion, hanging holidays lights or playing out in the snow with the kiddos.
That way you'll have an insanely easy and satisfying supper ready and waiting to warm your bones when you get home.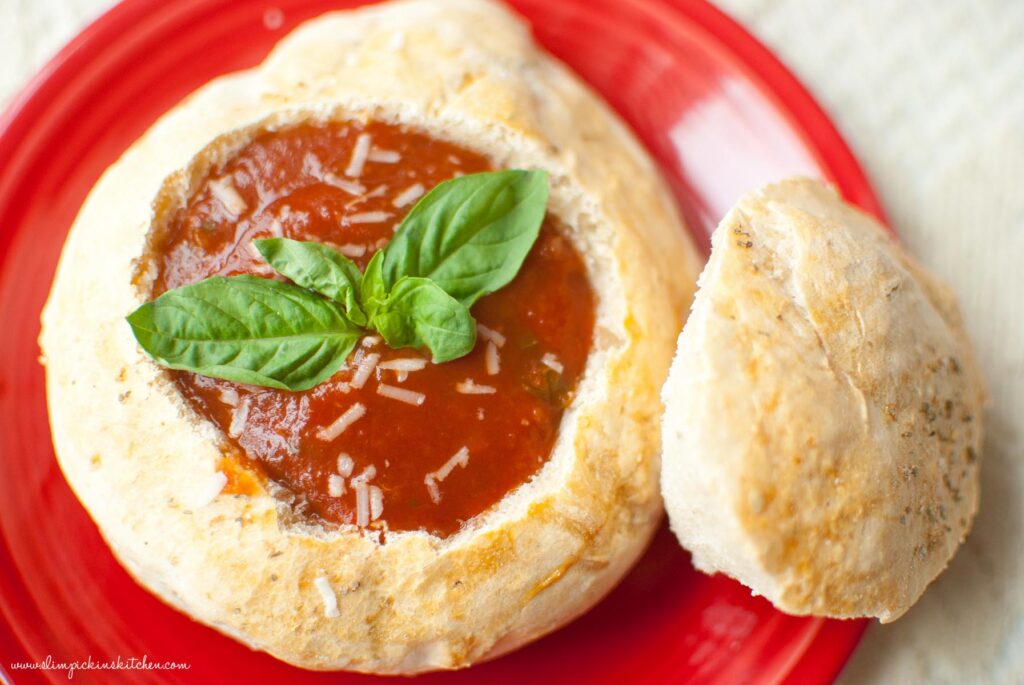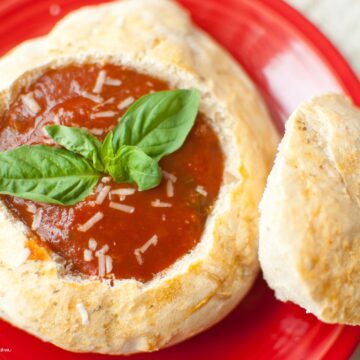 Italian Herb Bread Bowls
An incredibly versatile homemade bread bowl recipe using garlic and Italian herbs.
Print
Rate
Servings:
4
-6 bread bowls
Instructions
Set oven to warm or 200 degrees (F).

In the bowl of a stand mixer (or a large bowl) dissolve the yeast and honey in the warm water until foamy. About 10 minutes.

Attach the dough hook (or using a large wooden spoon) add the salt, oil, garlic powder, dried herbs, and 4 cups of flour to the yeast mixture and stir just until mixed. Stir in the remaining flour, ½ cup at a time, mixing well after each addition.

When the dough has pulled together, continue to knead the dough using the stand mixer OR dump the dough out onto a floured surface and knead by hand, until smooth and elastic. About 5-6 minutes.

Lightly coat a large bowl with additional olive oil, place the dough in the oiled bowl then turn to coat.

Cover with a damp towel and let rise on top of the warmed oven until it has doubled in size. About 30-40 minutes.

Line a baking sheet with parchment paper.Punch dough down and divide into 4-6 equal portions.

Shape each portion into a smooth ball then place on prepared baking sheet.

Cover with the towel and allow to rise again on the warm oven for another 30-40 minutes or until double in size.

Preheat the oven to 400 degrees (F).

In a small bowl beat together egg white and water then lightly brush the bread bowls with half the mixture.

Bake for 15 minutes, brush on the remaining egg mixture, sprinkle bread with a bit of garlic powder and italian seasoning, then bake for 10-15 minutes more or until golden brown.

Cool completely before serving.

To Serve: Cut a large circle out of the top and scoop out. Fill the bread bowls with soup, sprinkle with toppings, and serve immediately.

Enjoy!
Nutrition