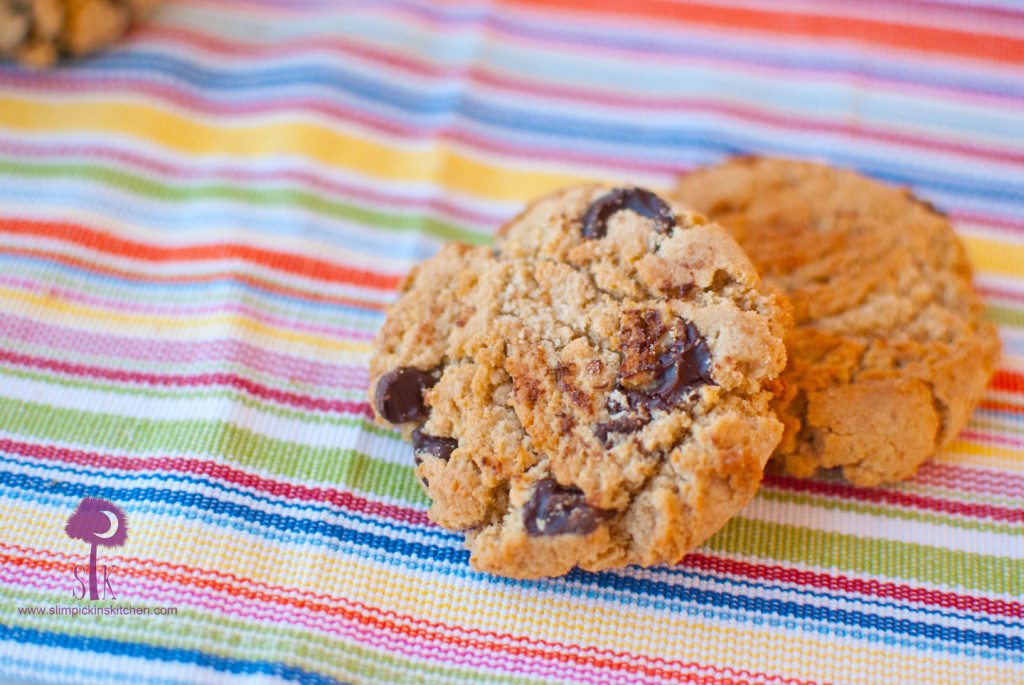 Sometimes a girl has just gotta have a cookie...
A thick and chewy, coconut chocolate chip cookie that practically melts in your mouth and makes you want to squeal with delight.
This, my friends, is that cookie.
And I don't regret making them one bit.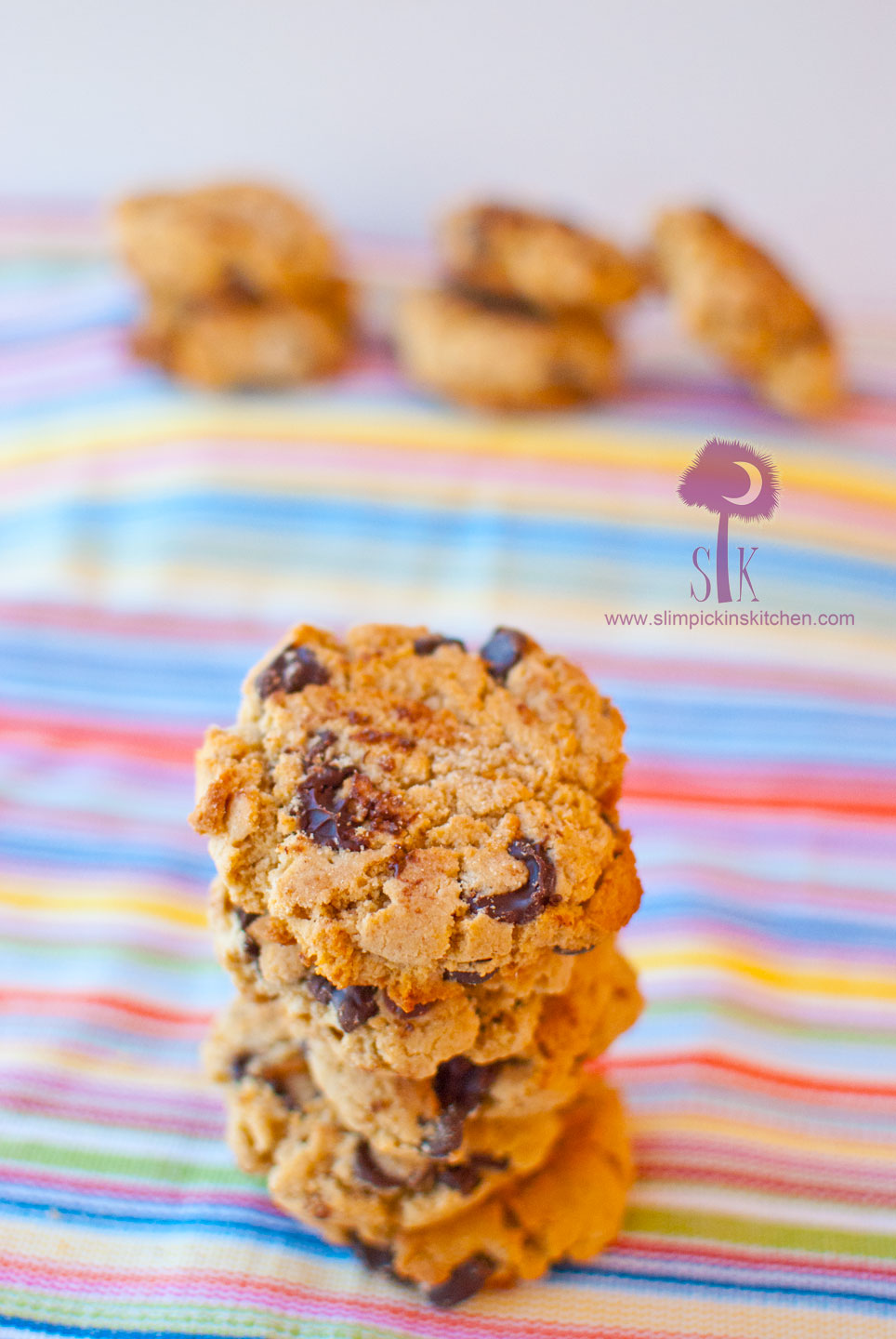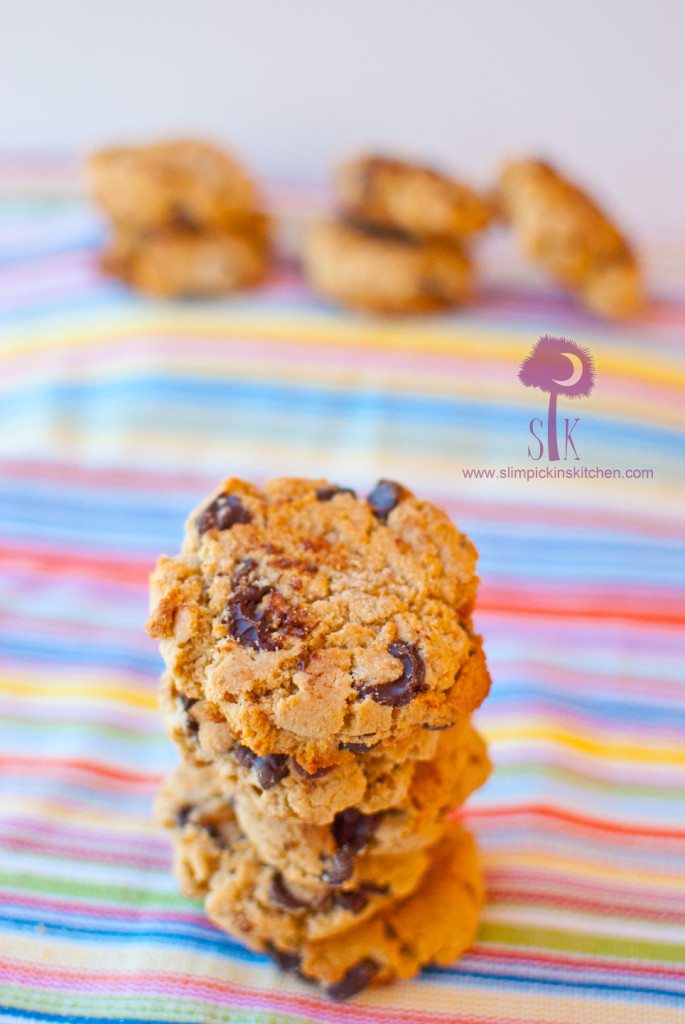 I can't remember if I've told y'all this before, but I am married to a cookie monster.
The man can't stay away from the things, so I very rarely make an entire batch all at once. I tend to freeze half of the dough so he doesn't scarf them down before suppertime. These cookies were a special request by my MIL who was going out of town for a conference earlier in the week, and she specifically asked for chocolate chip cookies and, I mean, I'm not going to turn her down! I ended up making the entire batch thinking she'd take half of them...which she did...but then she brought half of them back! Needless to say, we've been eating cookies for days.
Oh, the horror! 😉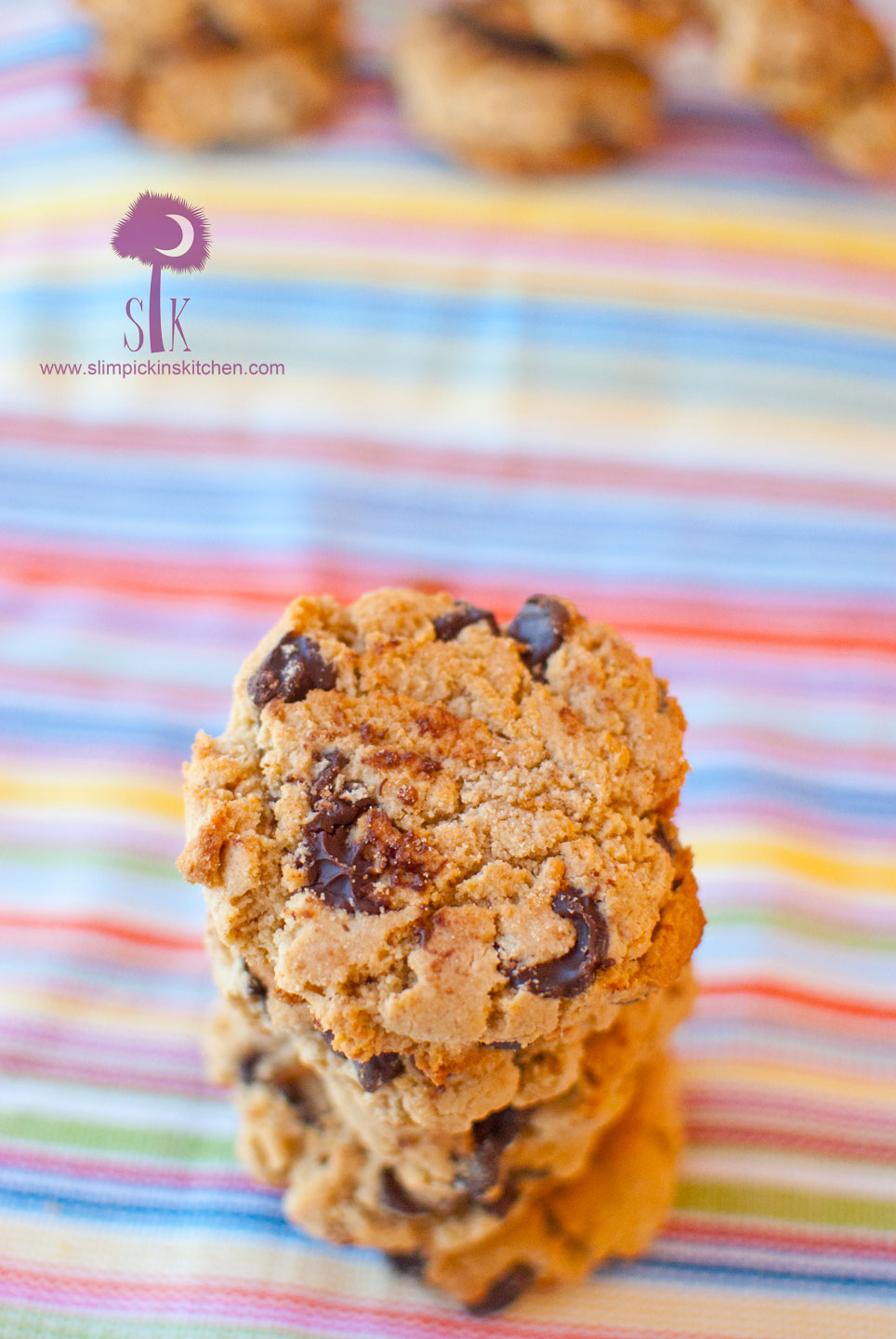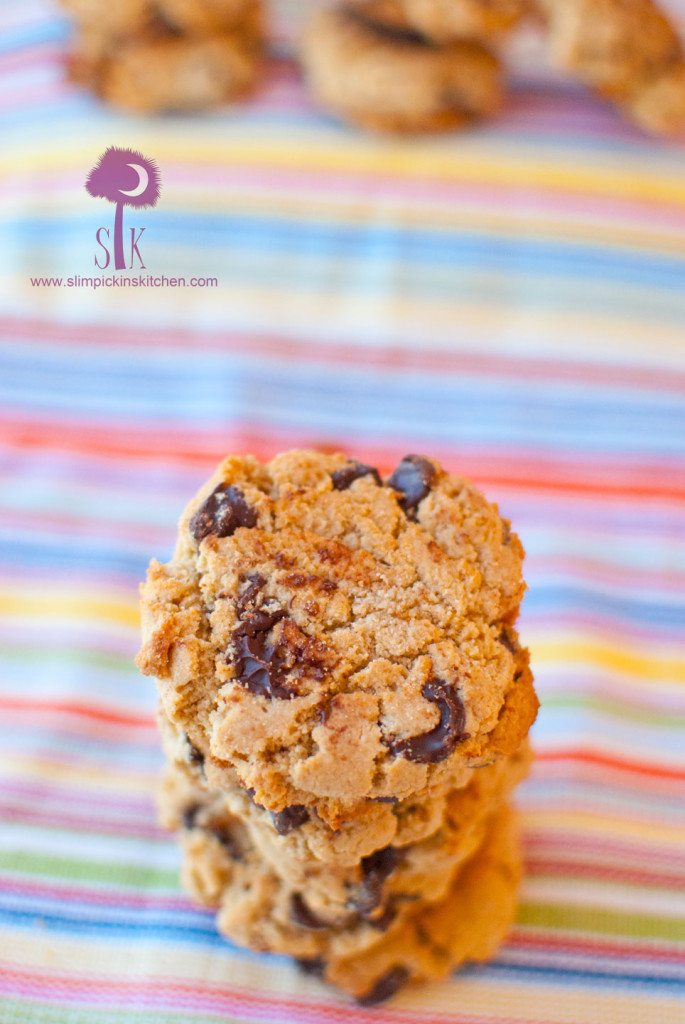 So sometimes? Sometimes I can't always healthify a recipe as much as I would like b/c I don't always have the necessary ingredients on hand, plus I don't want to send someone away with a super healthy batch of cookies who clearly is in need of a true comfort food. But, when requests come in, I feel that it is still my job to make something that is as healthy as I can possibly make it without sacrificing the essence of the recipe itself.
So, I wouldn't necessarily call this recipe healthy, however it is *MUCH* healthier than the original version which calls for ¾ cup of butter flavored vegetable shortening.
*shudders*
A few weeks ago I made a batch of Buttery & Crumbly Toffee Bar Bites which was a revamp of a CRISCO vegetable shortening recipe. Those toffee bars are incredibly rich and decadent and are by far one of my favorite recipes to date. I loved them so much, I decided to see if Crisco had a chocolate chip cookie recipe I could revamp as well.
I'm happy to say they did.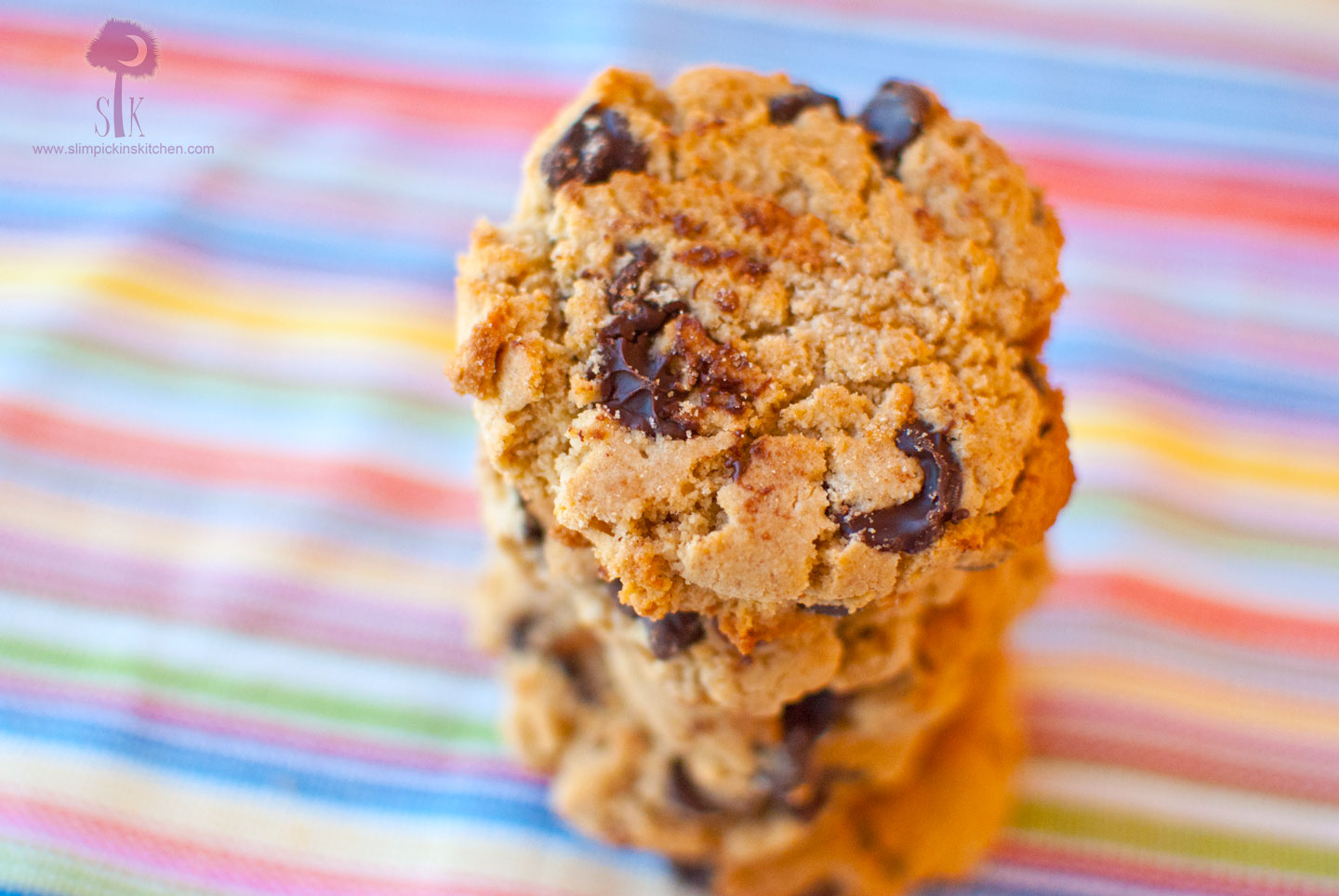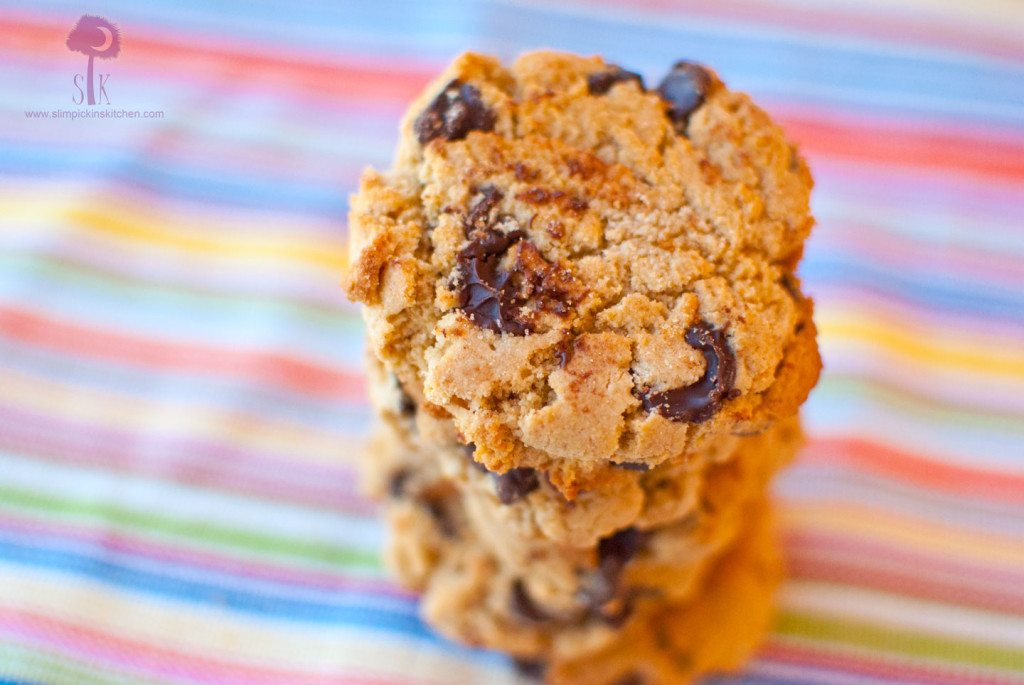 P.S. This post is in no way sponsored by Crisco. I just like revamping their recipes.
P.S.S. I'm going to be making some site changes today, so stay tuned!
Getting to know you...
Are you a cookie monster?
What's your favorite recipe revamp?
Do you have any special requests?
Chewy Coconut Chocolate Chip Cookies

Print recipe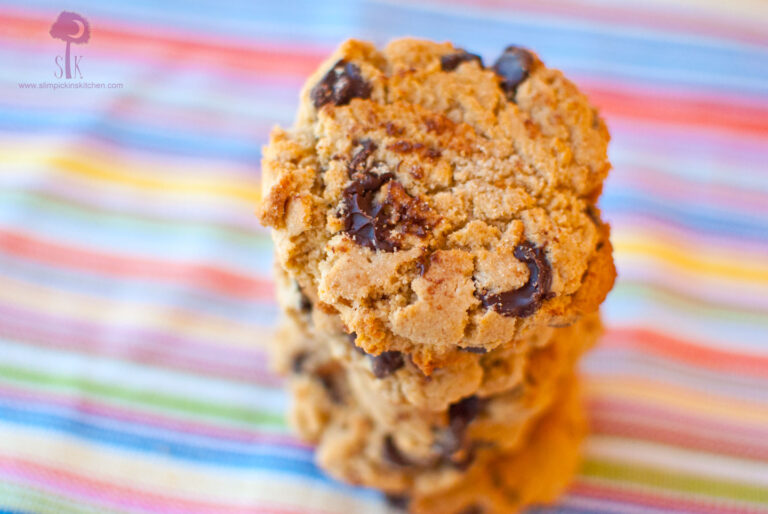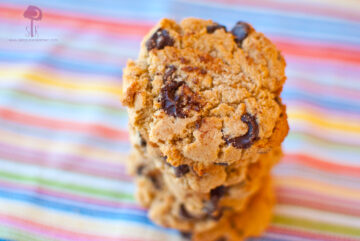 | | |
| --- | --- |
| Serves | 48 |
| Prep time | 5 minutes |
| Cook time | 10 minutes |
| Total time | 15 minutes |
| Allergy | Egg |
| Meal type | Dessert |
| Misc | Freezable, Pre-preparable, Serve Cold, Serve Hot |
| Occasion | Barbecue, Birthday Party, Casual Party, Easter, Valentines day |
| Website | Recipe Adapted from Crisco |
Ingredients
¾ cups organic extra virgin coconut oil
1 ¼ cups packed brown sugar (or sweetener of choice)
2 tablespoons unsweetened vanilla almond milk
1 tablespoon pure vanilla extract
1 Large cage free, vegetarian fed all natural egg
1 cup organic coconut flour
1 cup unbleached all-purpose flour (or GF all-purpose flour or whole wheat flour)
1 teaspoon pink Himalayan sea salt or regualar sea salt
¾ teaspoons baking soda
1 ½ cups Ghirardelli semi-sweet chocolate chips
Note
*WWpts= 2 pts per serving*
*WWpts+= 3 pts per serving*
Directions
Step 1
Preheat oven to 375 degrees F.
Step 2
In a small bowl combine flours, salt, and baking soda. Stir until well blended and set aside.
Step 3
In the bowl of a stand mixer with the paddle attached or using a hand mixer, cream together coconut oil, brown sugar, milk, and vanilla until creamy. NOTE: Don't worry if you can't break up all the chunks of coconut oil. Beat in egg, then slowly add the flour mixture to the coconut oil mixture until just combined. Stir in chocolate chips.
Step 4
Using a small cookie scoop or tablespoon, drop cookies onto a baking sheet lined with parchmentm about 2-3 inches apart, then firmly press down each cookie until it's flat.
Step 5
Bake 8-10 minutes or until slightly golden brown. Allow cookies to cool on sheet for a minute or two then transfer to a cooling rack to cool completely.
Step 6
Enjoy!