This boozy Copycat Starbucks Birthday Cake Frappuccino is made with no artificial coffee syrups, can be made without extracts, has a dairy-free option, is loaded with premium liquor, fresh vanilla bean caviar, and is crowned with a cloud of homemade raspberry whipped cream. If that's not a reason to celebrate, I don't know what is.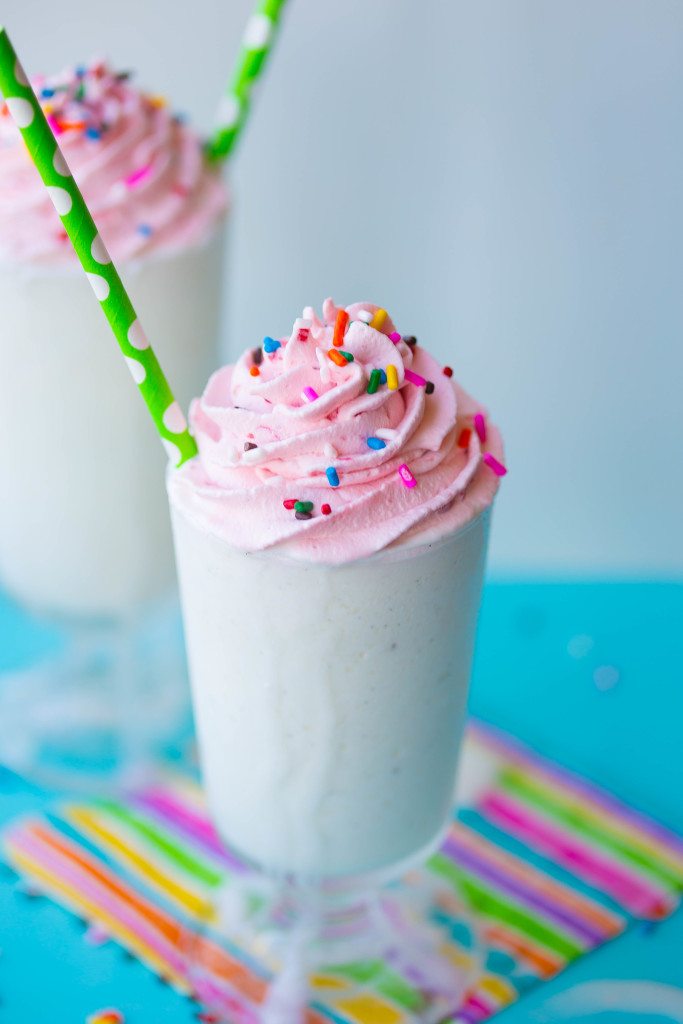 This weekend is very special to me...
It marks the end of my husband's birthday week, the beginning of mine, Thursday was my late grandfather's birthday, and it was also the five year anniversary of when Will proposed to me under a shower of fireworks with the most gorgeous diamond ring I have ever seen.
I'd say that's just cause for celebration.
If y'all didn't get a chance to taste Starbuck's Birthday Cake Frappuccino, I can honestly say that I'm sorry because it was fricking delicious. I'm not usually one to go to the place and order something other than coffee, in fact, it's unheard of. The closest Starbucks (and Walmart!) is about 45 minutes away from where we live so when I stopped in to order one of these babies, I also got a venti of our usual iced skinny caramel macchiato and shared them both with the hubs.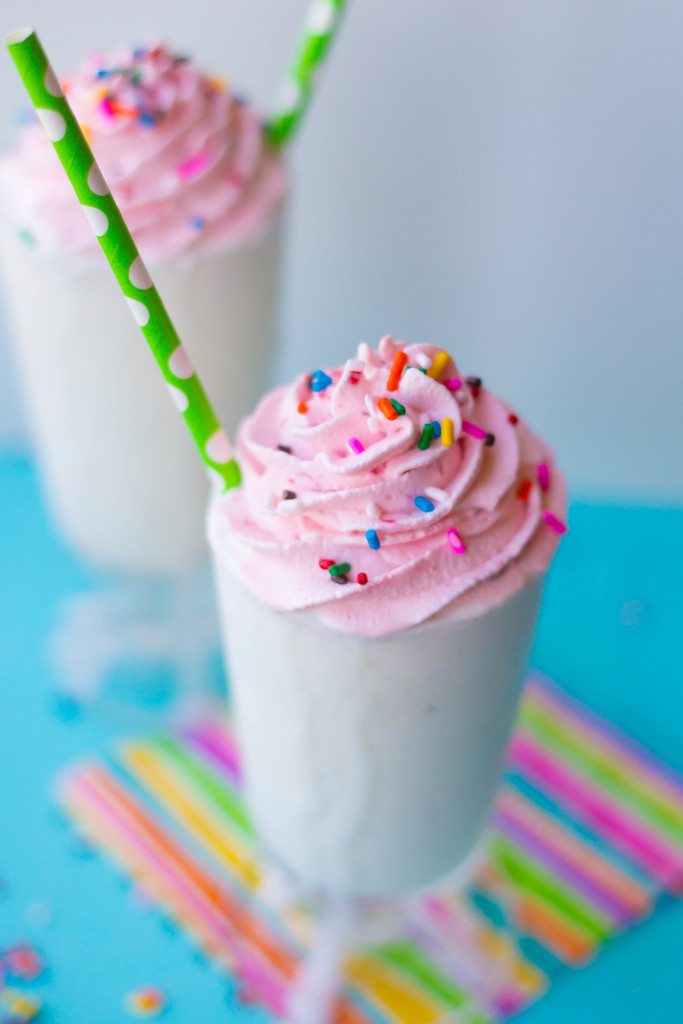 To say this copycat frappuccino actually tastes like birthday cake would be a complete lie because it doesn't, but it does taste nearly identical to Starbuck's version which is loaded with sugary vanilla and hazelnut syrups. They still taste sweet and cakey...just not necessarily like birthday cake. On a side note: Did I do that "s" right? Like...is it supposed to be Starbucks' version or is Starbuck's version correct? You would think with a BFA in Creative Writing I would know these sorts of things, right? Oh, well. Someone tell me which is the right way, and I'll go back in and fix it eventually.
So this birthday cake frappuccino. Do you see how it's topped with sprinkles? The Starbucks version isn't because they can't be bothered with such things, and I probably shouldn't have either because wanna know what happened when I turned my back for a second to clean up these cocktails after my photoshoot?
This. This happened. (Oh, lovely, there's also soy sauce dribbling down his belly *face palm*)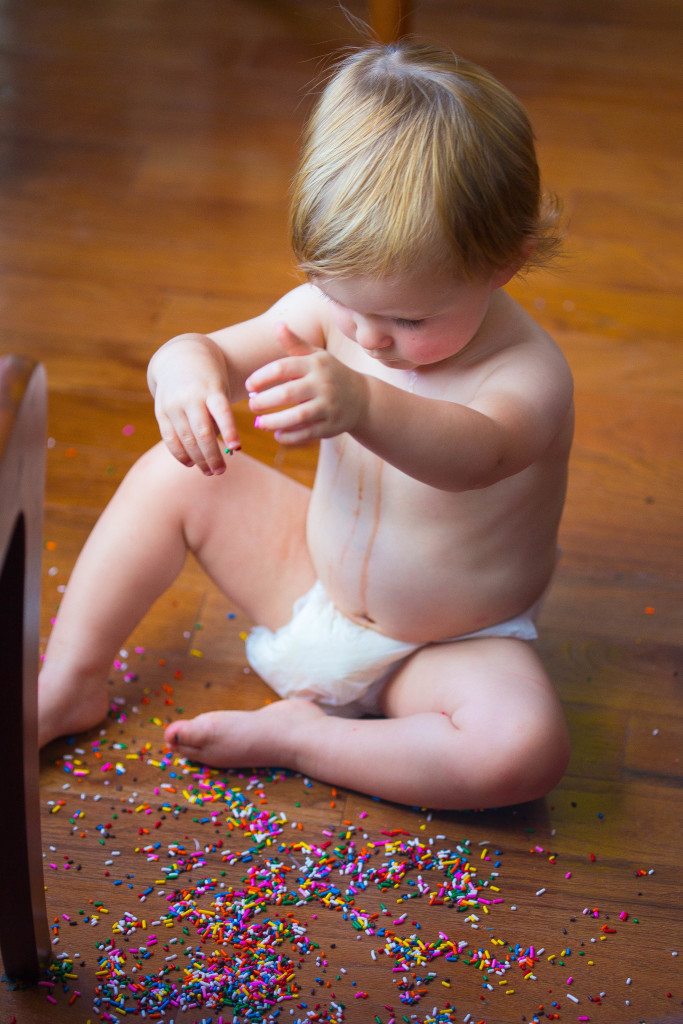 You would think it would be ingrained in my head by now that Owen has gotten huge, and he can reach things on the table and open anything that's put in front of his face especially if whatever it is he finds looks all pretty and colorful and makes noise when he shakes it.
But, no, those sorts of things still don't always cross my mind. My thought process was more like get these tasty looking milkshake concoctions away from tiny toddler fingers ASAP before he grabs a hold of one and takes a big glug and gets all boozed up on vanilla vodka and hazelnut liquor.
Oh, well...ya wine (ha! win. You WIN) some, ya lose some.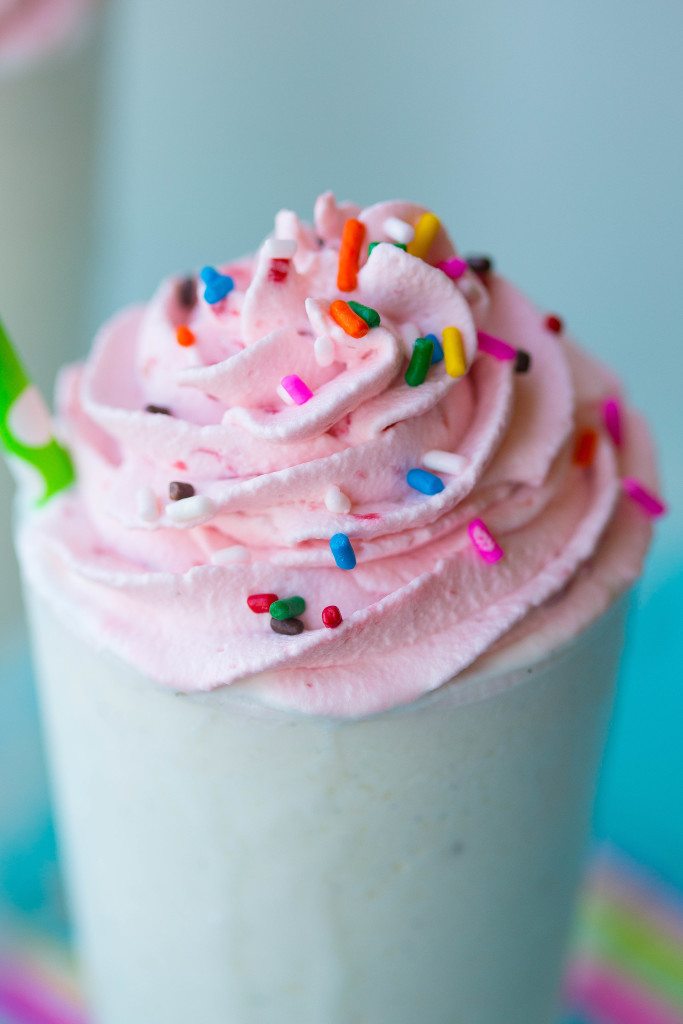 "📖 Recipe"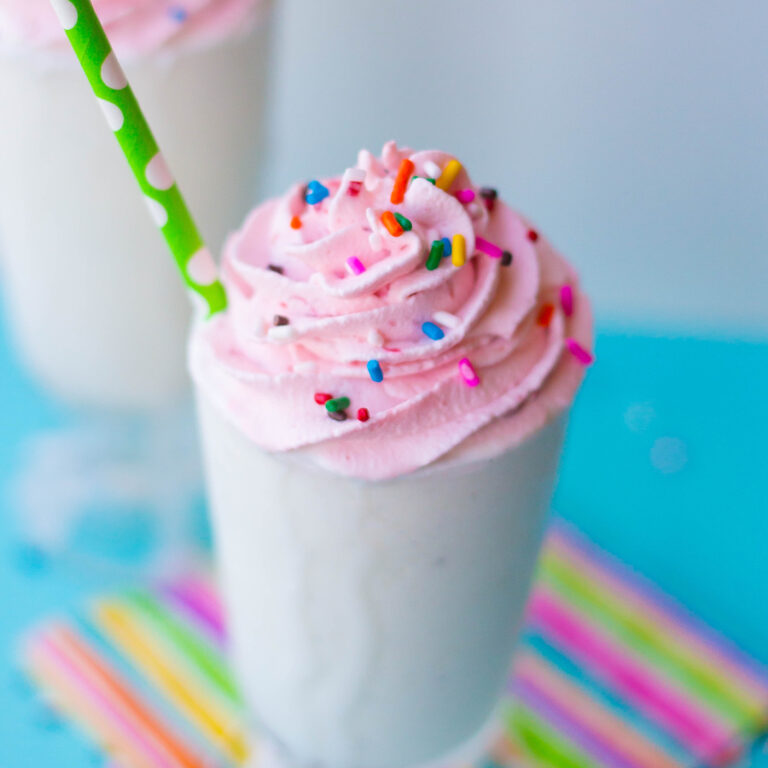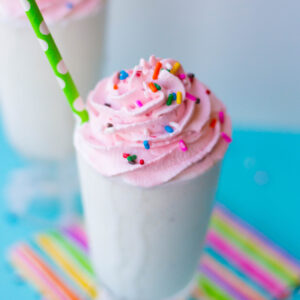 Ingredients
For the Copycat Starbucks Birthday Cake Frappuccino:
1 ½

cups

milk or cream of choice

I recommend whole milk, cream or full-fat coconut milk

3

oz

Stoli vanilla vodka

1.5

oz

Frangelico Hazelnut Liquor

Caviar from half a fresh vanilla bean

or 2 teaspoon vanilla bean paste or vanilla extract

1

Nunaturals Stevia packet or 2 tablespoon sugar of choice

6-8

cups

ice
For the Homemade Raspberry Whipped Cream:
1

cup

heavy whipping cream

cold

½

Nunaturals Stevia packet or 2 teaspoon sugar of choice

10

fresh raspberries

½

teaspoon

raspberry or strawberry extract

optional
Instructions
For the Copycat Starbucks Birthday Cake Frappuccino:
Cut the vanilla bean in half, slit one half down the middle, and scrape out all of the seeds.

Add vanilla bean caviar and the remaining ingredients (start with 6 cups of ice) to a high powered blender and blend until completely smooth and frothy. Add additional ice, if needed, and continue to blend until thick and smooth.

Divide into 2-4 glasses and crown with a dollop of homemade raspberry whipped cream or <a href="http://ohsheglows.com/2012/08/30/coconut-whipped-cream-a-step-by-step-photo-tutorial/">homemade coconut whipped cream</a> (Just follow the instructions and fold in the raspberries and extract at the end).

Enjoy!
For the Homemade Raspberry Whipped Cream:
Using a fork, mash raspberries in a small bowl. Set aside.

Add cream to the bowl of a stand mixer (or use a hand mixer) and beat on medium speed until soft peaks form. Sprinkle in the sugar, then continue to beat until stiff peaks form.

Gently fold the mashed raspberries and extract into the whipped cream, and refrigerate until ready to use.