Slim Pickin's Kitchen is reader supporter, and this post may contain affiliate links. I may earn a small commission when you click on the links at no additional cost to you. As an Amazon Affiliate, I earn from qualifying purchases. You can read my full disclaimer here.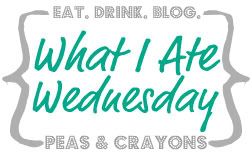 I'm really starting to love this whole What I Ate Wednesday thing.
Not only has it introduced me to some super cute new blogs, but it also helps keep me accountable with the choices I make during the day. I mean…no one wants to see pictures of me stuffing myself with snickers ice cream bars and Cheetos, right?
No…you want to see beautiful photos of gorgeous fruits and vegetables!
So, let's go ahead and get started, shall we?
Thanks, of course, to the precious Jenn at Peas & Crayons for holding us all accountable and helping us realize that stuffing handfuls of veggies in our faces really is fun!
And balls….balls are super fun too.
Breakfast: A freshly squeezed juice made with
green apple, grapes, celery, spinach, & lemon.
This was served alongside a giant mug of pumpkin spice coffee
with one packet of Nunaturals stevia, and tons of ice water.
Snack 1: a couple of slices of homemade
roast beast that I forgot to take a photo of. Whoopsie!
 Lunch: A bowl of fluffy brown rice with freshly
steamed broccoli, peas, tri-colored peppers,
and fresh ginger with a bit of herbs and spices.
Oh, and tons more ice water and a banana for dessert!
Supper: Another piping hot bowl of brown rice topped
with the best roasted veggies on the planet (recipe below)
and a drizzle of sesame oil, lite soy, and teriyaki sauces
with tons and tons of ice water.
Snack 2: A mug of green candy cane tea w/ one Nunaturals stevia packet…
and, of course, tons more ice water.
Ok, now for the recipe.
This is a recipe I have seen tons of times on Pinterest, so I really have no idea who to give credit to. I do, however, think this recipe is absolutely out of this world, and I am going to have a really, really, REALLY hard time making my veggies any other way ever again. The original idea swirling around also calls for finishing the veggies with freshly grated paremesan cheese which I completely omit b/c it is absolutely perfect without it.
Seriously, minions, if y'all haven't made this yet make it tonight…I promise you won't regret it.
Getting to know you…
Do you make fresh juices?
What's your favorite quick lunch?
What's your favorite veggie recipe?
The Best Veggies On the Face of the Planet
Print recipe
*Nutrition facts will vary depending on which veggies you use*
Ingredients
1 baking sheet full of your favorite chopped fresh veggies (broccoli, squash, zucchini, onions, carrots, garlic, brussels, bell peppers, etc.)
1 tablespoon pure virgin coconut oil (melted)
1/2 teaspoon herbs de provence or italian seasoning
salt & pepper to taste
1 fresh lemon
Directions
Step 1
Preheat oven to 400 degrees.
Step 2
Add chopped veggies to a baking sheet, drizzle with oil, sprinkle with herbs, salt and pepper, and toss until all of the veggies are well coated with the seasoning. Spread the veggies into an even layer and pop in the oven. Roast for 20-25 minutes or until slightly golden in color.
Step 3
While the veggies are roasting zest your lemon and cut it in half. As soon as the veggies are done, sprinkle them with the zest, squeeze on the juice of half a lemon, and toss. Serve immediately.
Step 4
Enjoy!
Love y'all!