Crock Pot Italian Beef with Homemade Giardiniera is a super easy dinner recipe made with easy ingredients, and makes enough to serve a crowd!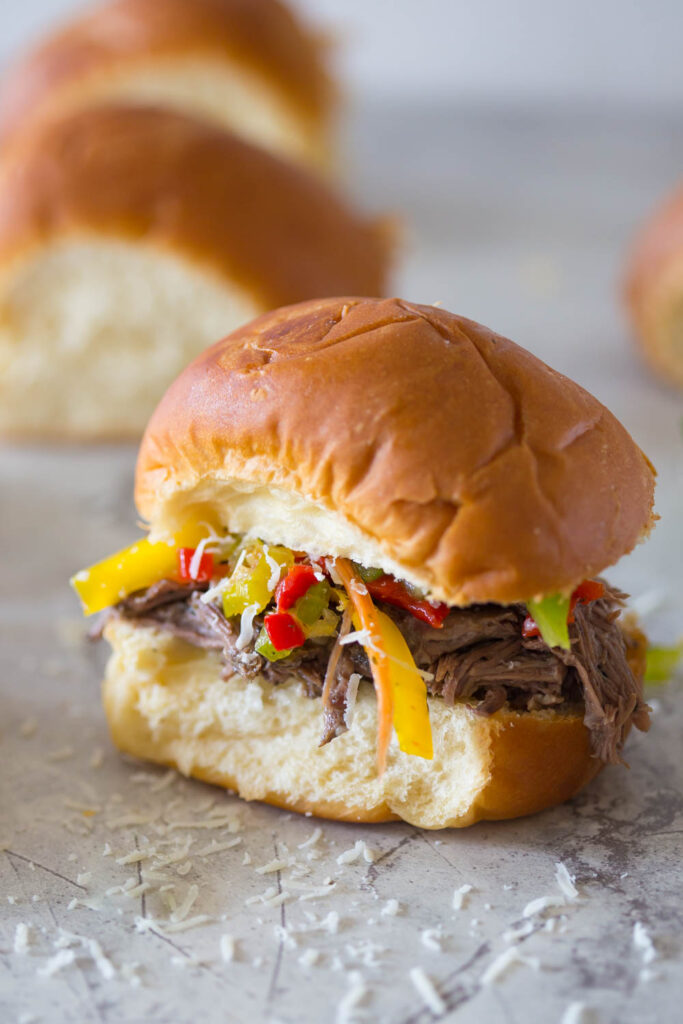 Crockpot Italian beef with homemade giardiniera is life.
It's easy to make, made with simple ingredients, and it feeds a crowd.
Don't believe me? Just ask Bear and every other Chicagoan for that matter.
This recipe is as simple as they come:
Beef chuck roast
Italian dressing mix (homemade or storebought)
Low-sodium beef broth
Pepperoncini
Sandwich stackers: warm and crusty Amoroso rolls, homemade giardiniera, freshly grated parmesan or provolone cheese,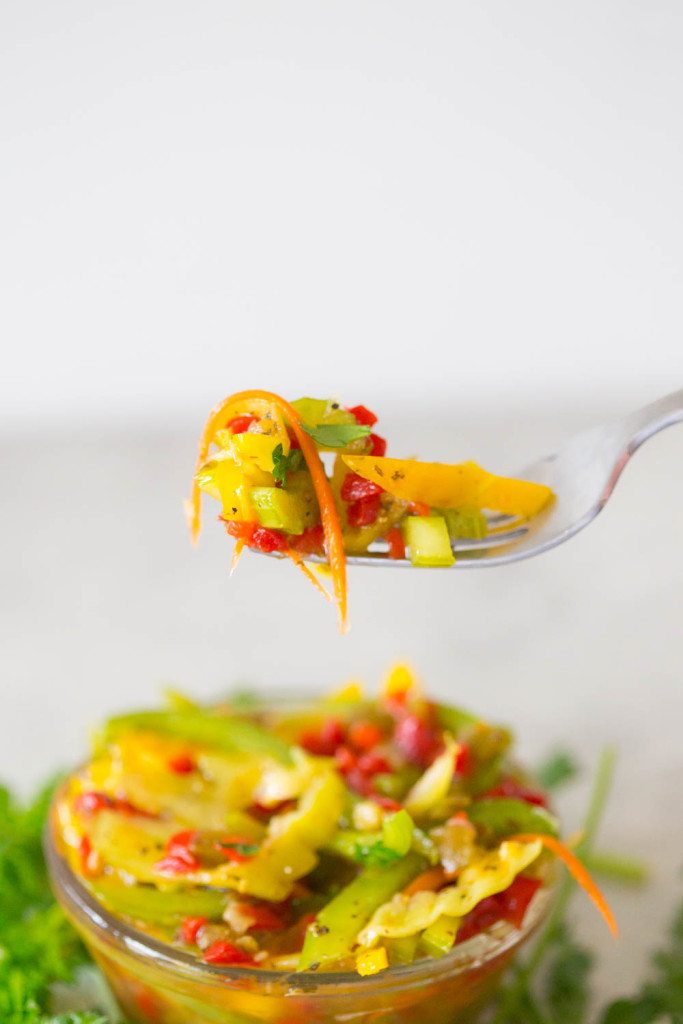 Homemade Giardiniera
Giardiniera (pronounced gar-deen-ee-uh) sounds complicated, but it's super easy to make because it's nothing but a jar of pickled vegetables. Best known as a topper for muffulettas, Chicago-style giardiniera is chopped fine and served on sandwiches and with things like this crock pot Italian beef. Italian giardiniera is large pickled vegetables served appetizer style with charcuterie, etc.
What vegetables are in homemade giardiniera?
Typical vegetables include cauliflower, celery, bell peppers, and you can add additional goodies for heat, crunch, & flavor: jalapenos, habenero, serranos, gherkins, olives, radishes...whatever floats your boat

Is giardiniera a Chicago thing?
Since the Netflix show The Bear came out, Italian beef w/ giardiniera has become a thing, but it wasn't invented in Chicago! Giardiniera means "mixed pickles" in Italian and originated in Italy.
How long does homemade giardiniera last?
Homemade giardiniera will last several weeks in the refrigerator as long as the vegetables stay covered by the oil mixture.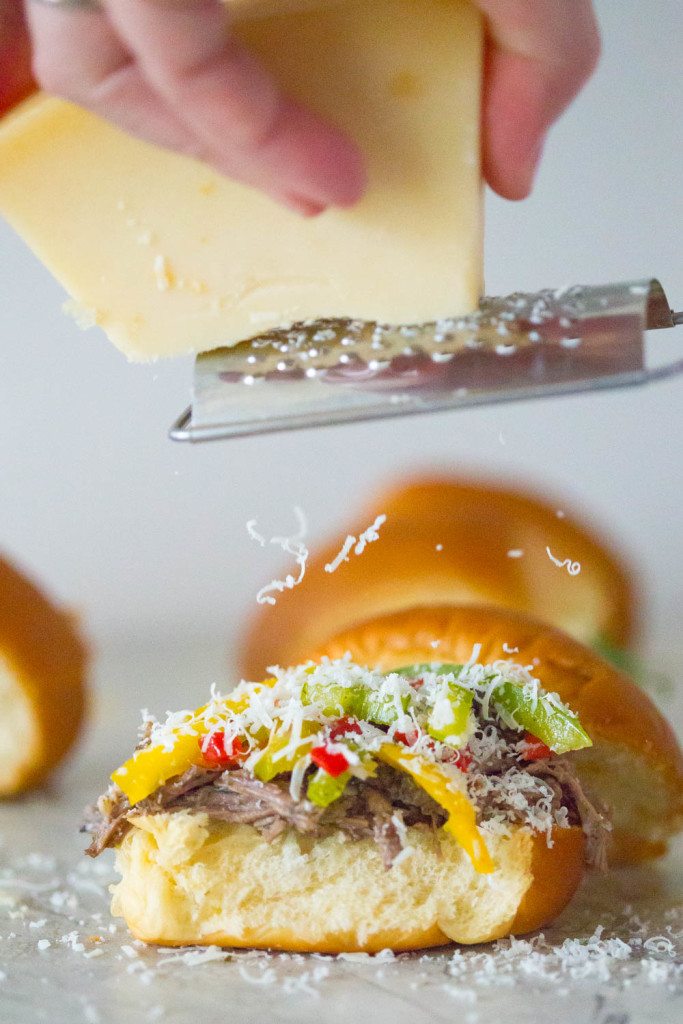 Crock Pot Italian Beef Sandwiches
My husband and I love a good sandwich every now and again and we love to serve this Italian beef on Hawaiian slider rolls. You do you boo! Whatever sandwich bread you like will do.
This is also a great super bowl recipe or party food for a get-together. Everyone loves a hearty little sandwich served with a healthy crunch, and crock pot Italian beef is definitely a winner.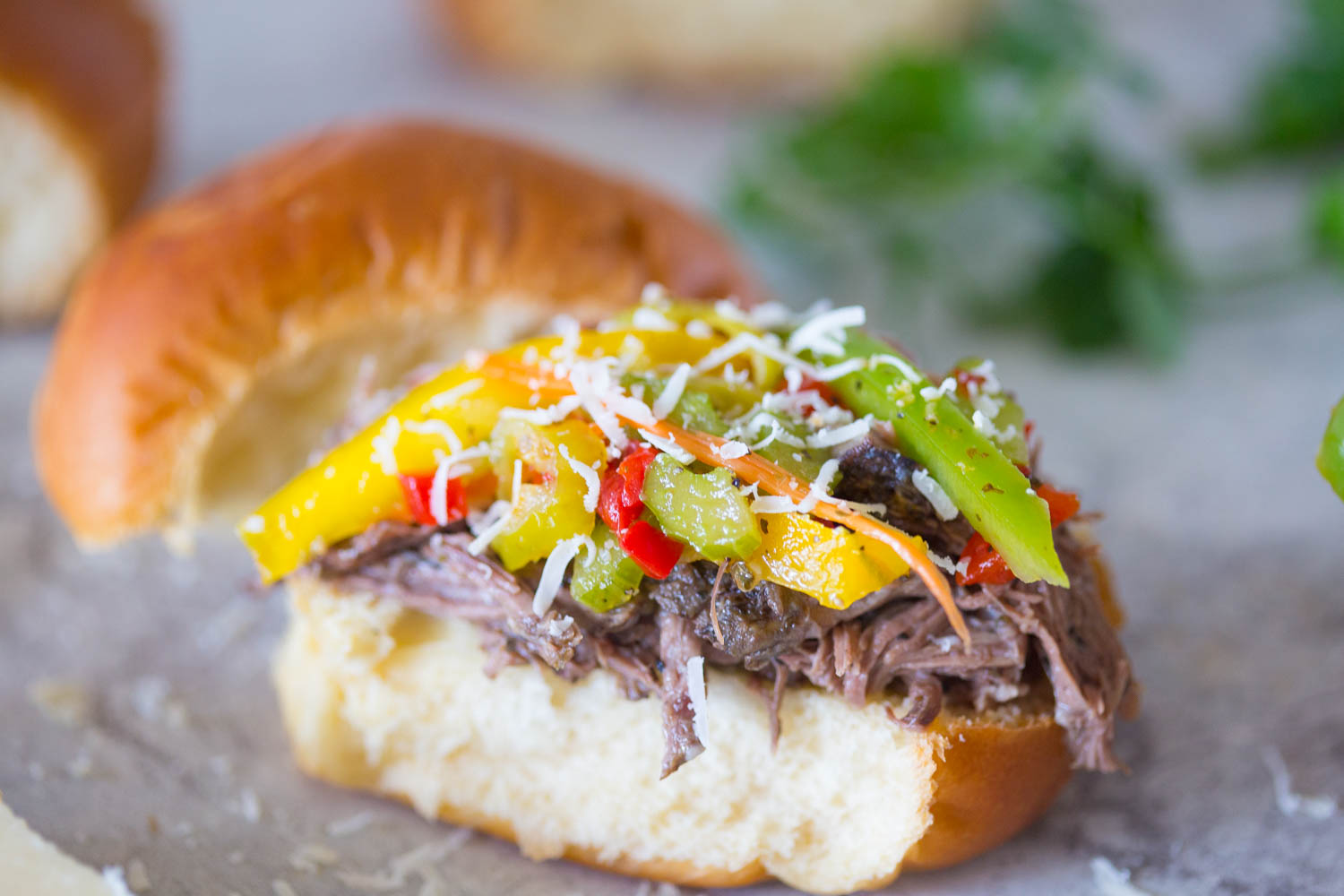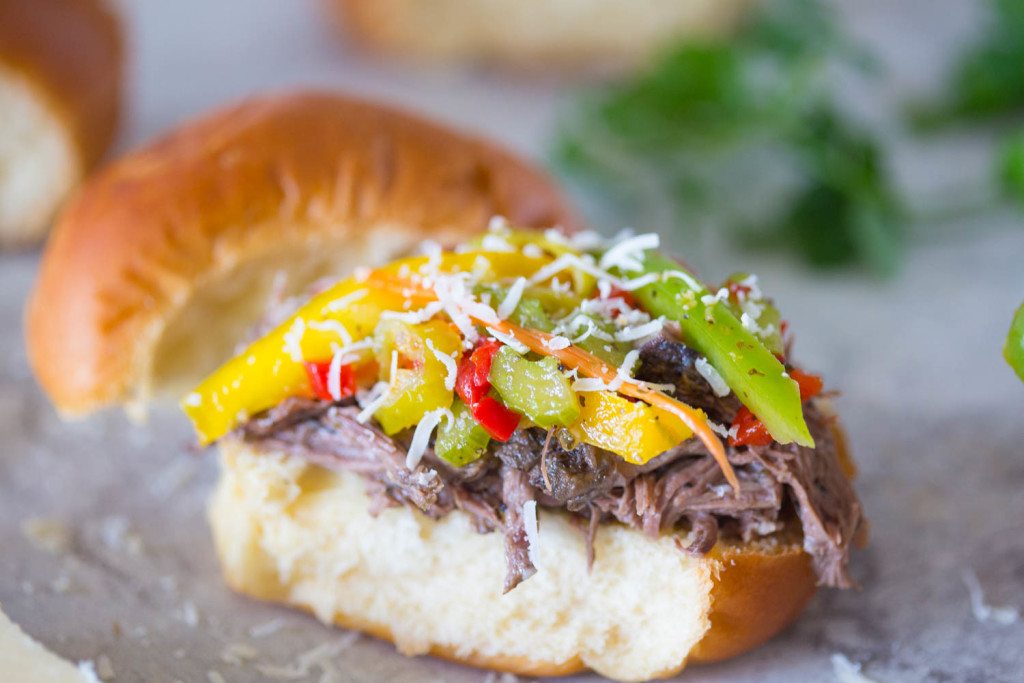 Crock pot Italian Beef with homemade giardiniera is a killer recipe to serve during March Madness mingles, St. Patrick's Day parties (replace the wine w/ Guinness!), or even for Easter Brunch.
The dish is hearty enough to satisfy all appetites, tender enough for your toddlers to shovel it in by the handful, and simple enough to throw together so you can polish off the bottle of wine while enjoying the meal with your family.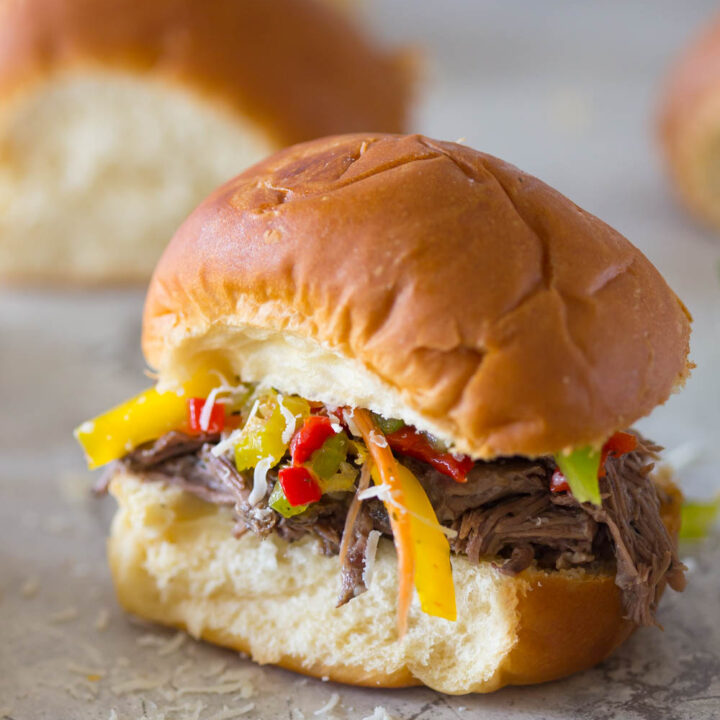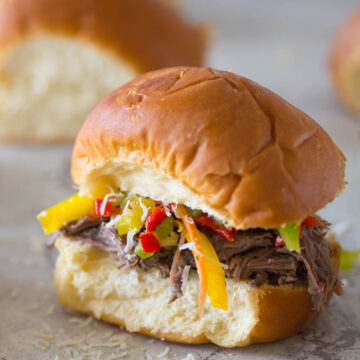 Ingredients
For the Homemade Italian Dressing Mix:
For the Crock Pot Italian Beef:
1

3-5lb boneless chuck roast

1

tablespoon

olive oil

1

cup

beef stock

1

cup

dry red wine

optional, just use another cup of broth if not using wine

3

tablespoon

chopped pepperocinis

¼

cup

pepperocini juice

from jar of pepperocinis

For serving: hoagie or slider rolls & freshly grated Parmesan cheese
For the Homemade Giardiniera:
2

tablespoon

red wine vinegar

2

tablespoon

pepperocini juice

from jar

1

teaspoon

Italian seasoning

1

clove

garlic

minced or grated

1

teaspoon

sugar

optional

½

teaspoon

salt

¼

teaspoon

black pepper

3

tablespoon

olive oil

2

cups

finely chopped veggies

any combo of carrots, celery, sweet onion, cauliflower, bell pepper

2-3

tablespoon

pickled jalapenos

finely chopped

2-3

heaping tablespoon pepperocini rings

2

tablespoon

freshly chopped parsley

optional
Instructions
For the Slow Cooker Italian Beef:
In a small bowl, stir together the homemade Italian dressing mix (or an Italian dressing mix packet) and olive oil.

Rub the mixture all over the beef and place beef in crock pot. Add beef stock, red wine, pepperocinis and juice, cover, and cook on LOW for 8-10 hrs or HIGH for 5-6 hrs, until tender.

Remove beef from juice, shred with two forks, remove and discard any fat or grissle, and place the shredded beef back in the juice in the slow cooker.

Serve Italian beef warm on Amoroso or slider rolls (or mashed cauliflower) and top w/ Homemade Giardiniera and freshly grated Parmesan cheese.
For the Homemade Giardiniera:
In a large bowl, stir together vinegar, pepperocini juice, Italian seasoning, garlic, sugar, salt & pepper then slowly whisk in the olive oil until well blended.

Add chopped veggies, jalapenos, pepperocinis, and parsley to the dressing and toss to coat.

Allow veggies to marinate until ready to serve. Serve cold on top of warm Italian Beef.
Nutrition
Serving:
0
g
|
Carbohydrates:
0
g
|
Protein:
0
g
|
Fat:
0
g
|
Saturated Fat:
0
g
|
Polyunsaturated Fat:
0
g
|
Monounsaturated Fat:
0
g
|
Trans Fat:
0
g
|
Cholesterol:
0
mg
|
Sodium:
0
mg
|
Potassium:
0
mg
|
Fiber:
0
g
|
Sugar:
0
g
|
Vitamin A:
0
IU
|
Vitamin C:
0
mg
|
Calcium:
0
mg
|
Iron:
0
mg