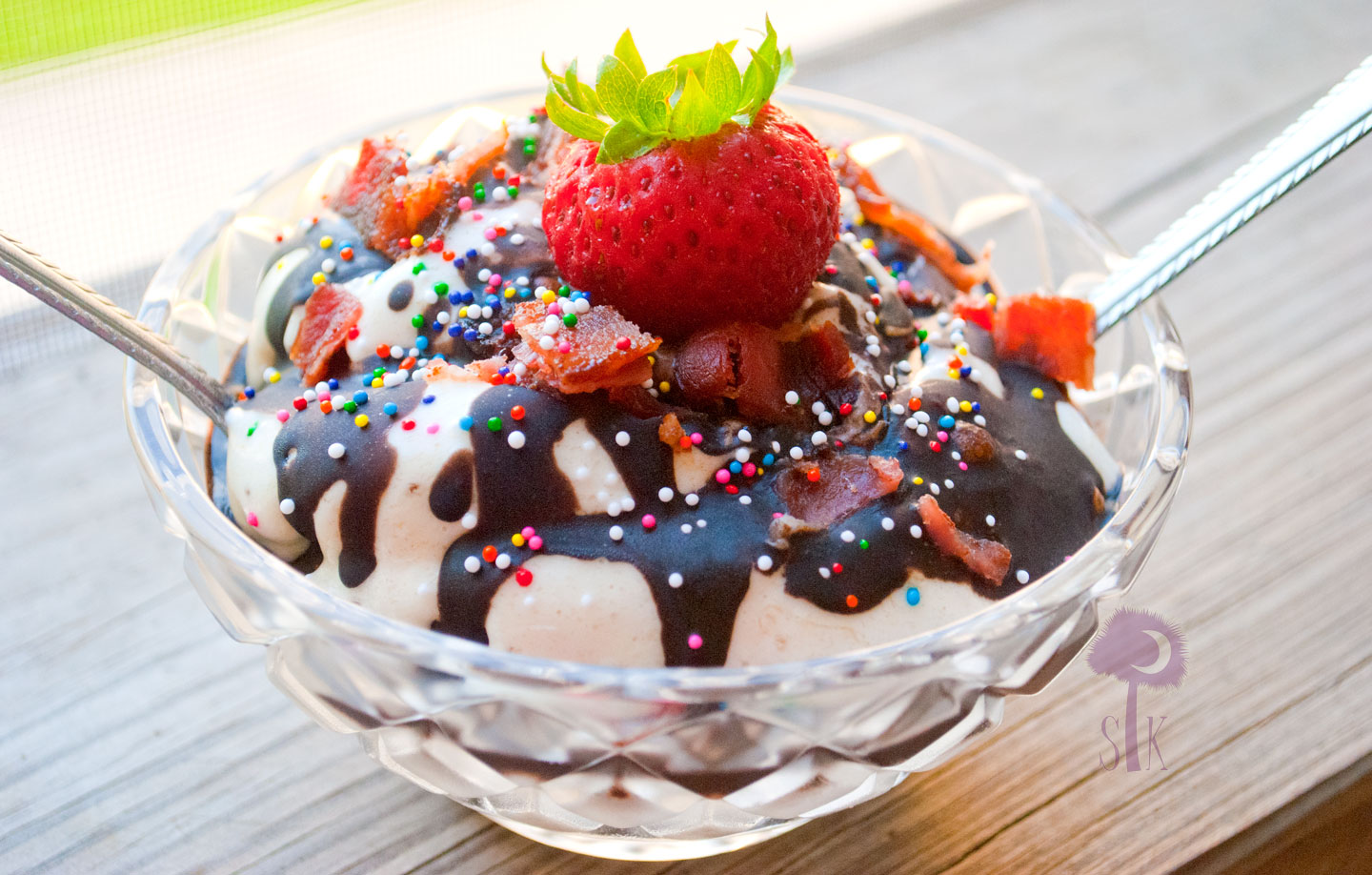 Yep...you read that right.
Peanut butter, banana, cinnamon, bacon, magic shell, & sundae...on a website dedicated to "skinny" recipes.
Yes, siree buddy bob boo...this bad boy is sinfully decadent and screams HEART ATTACK IN A BOWL yet it will do no such thing.
Not on my watch, transparent online minions, not on my watch.
I would never post something that I thought went against my promise to you, and I would never post a recipe that I wouldn't face plant in on a regular basis myself.
This charming bowl of scrumptious yumminess is actually healthy and incredibly good for you! With a few small tweaks, this dessert can fit any dietary restrictions out there.
Vegan? Nix the bacon & honey
Paleo? Nix the honey & stevia and sub with almond butter
Clean eater? Use organic ingredients & nitrate free bacon
Weight Watchers & Weight Watchers Pts+? You're good to go!
Hate bananas? Use a coconut milk based ice cream instead
Hate coconut & banana? Pretend I'm staring at you blinking my eyes wondering how in the world you could possibly hate both banana & coconut :/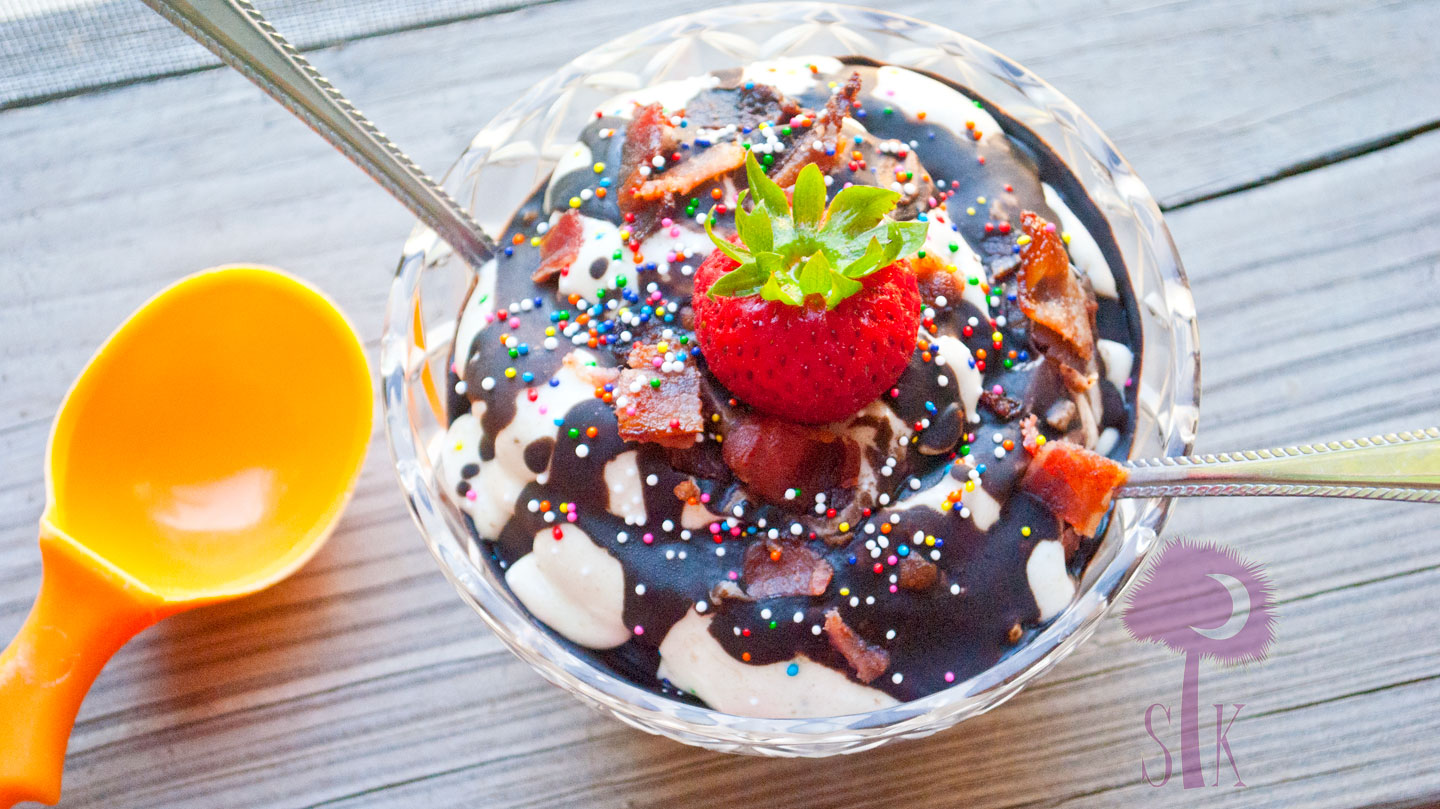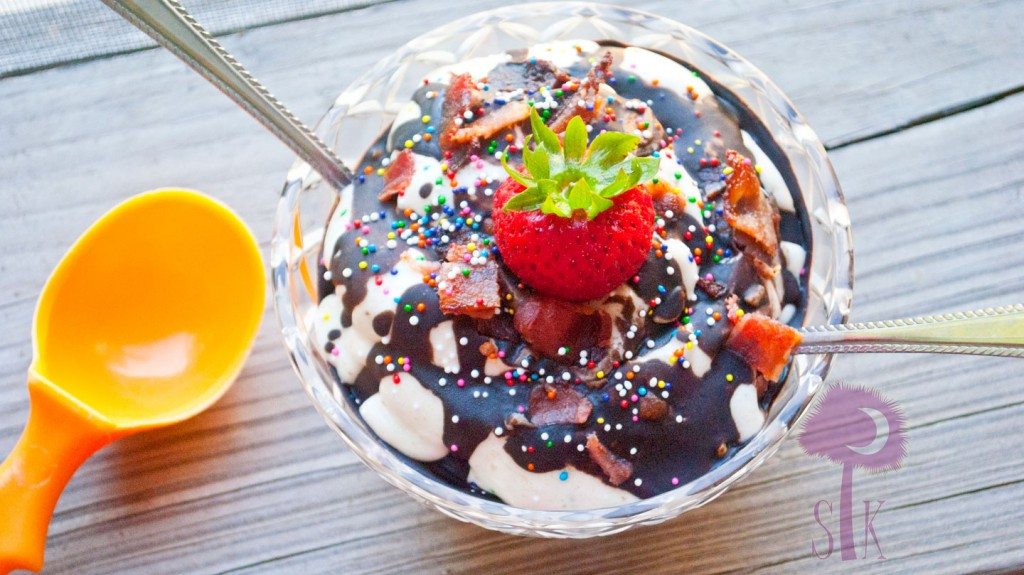 It's hard to believe this is healthy, I know.
But, if you've hitched a ride on the magical bus known as the banana soft serve phenomenon, then you know that desserts like this do exist.
Never heard of banana soft serve?
Please allow me to introduce you to my little friend...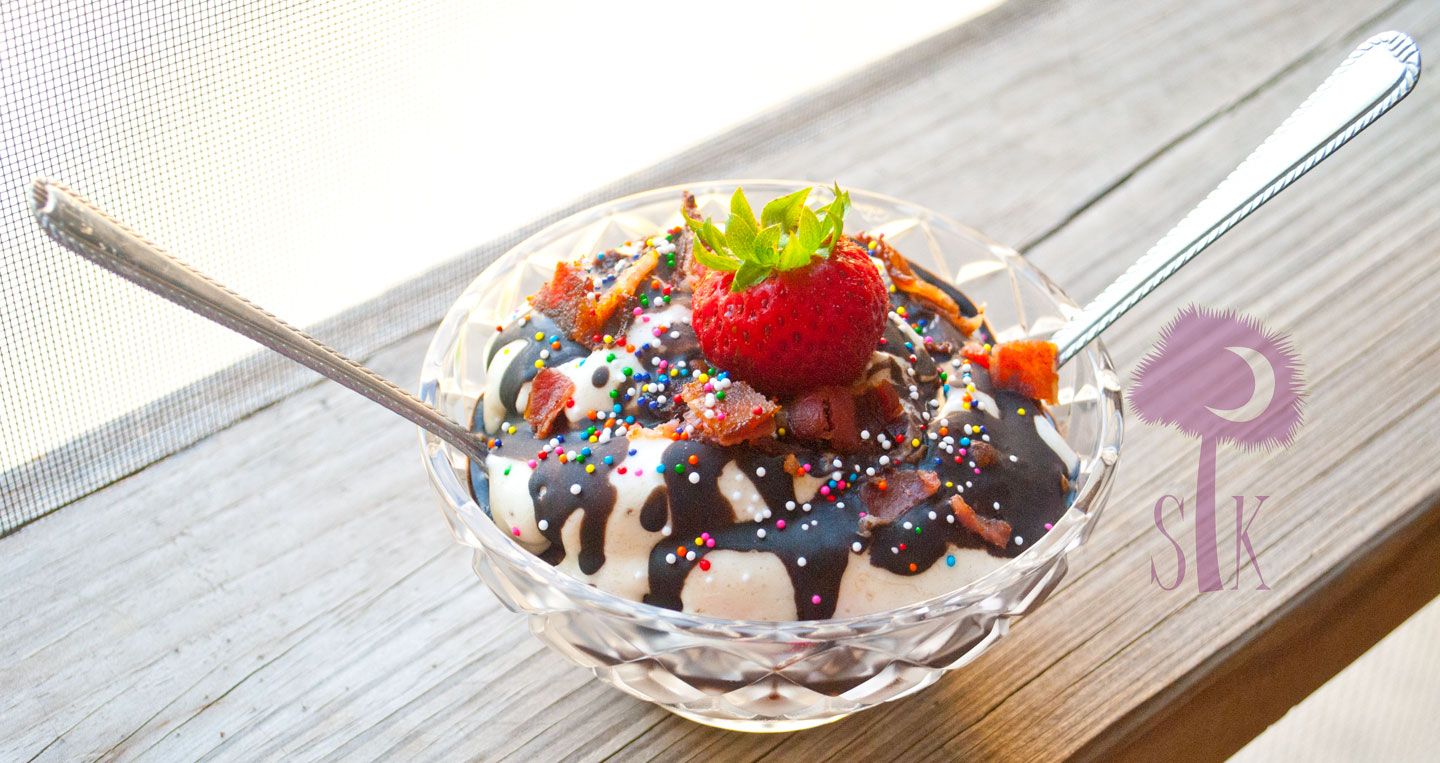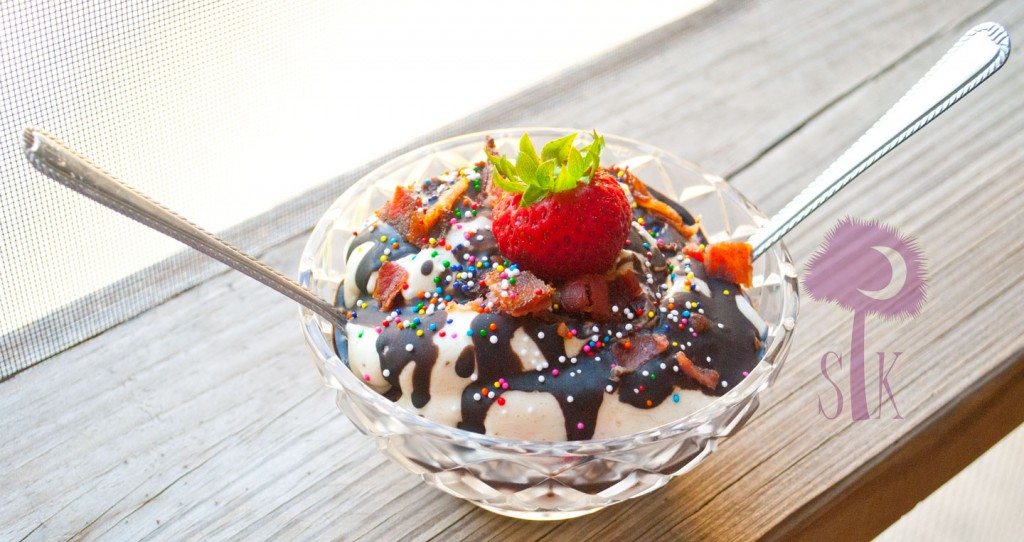 Frozen bananas + a food processor, Vitamix, or powerful blender= the silkiest, smoothest, sweetest, healthiest, and sinless homemade soft serve ice cream that you will ever eat.
Seriously. It's that easy.
And you will never want to buy ice cream again.
Not even kidding you.
When I first saw the idea on Pinterest (are you following me yet?!?), I wasn't sure about it either. Trust me, it just seemed too good to be true, and since I was always taught if it seemed too good to be true it probably was, then I kind of put the idea on the back burner. After I got pregnant, I really wanted to start incorporating more organic, non-processed foods into my diet, and the first things to go were anything that satiated my insatiable sweet tooth.
Boo. Hiss.
But then I discovered that banana soft serve really worked, and I haven't looked back since!
Like, for realz, we eat something like this nearly every single night for dessert.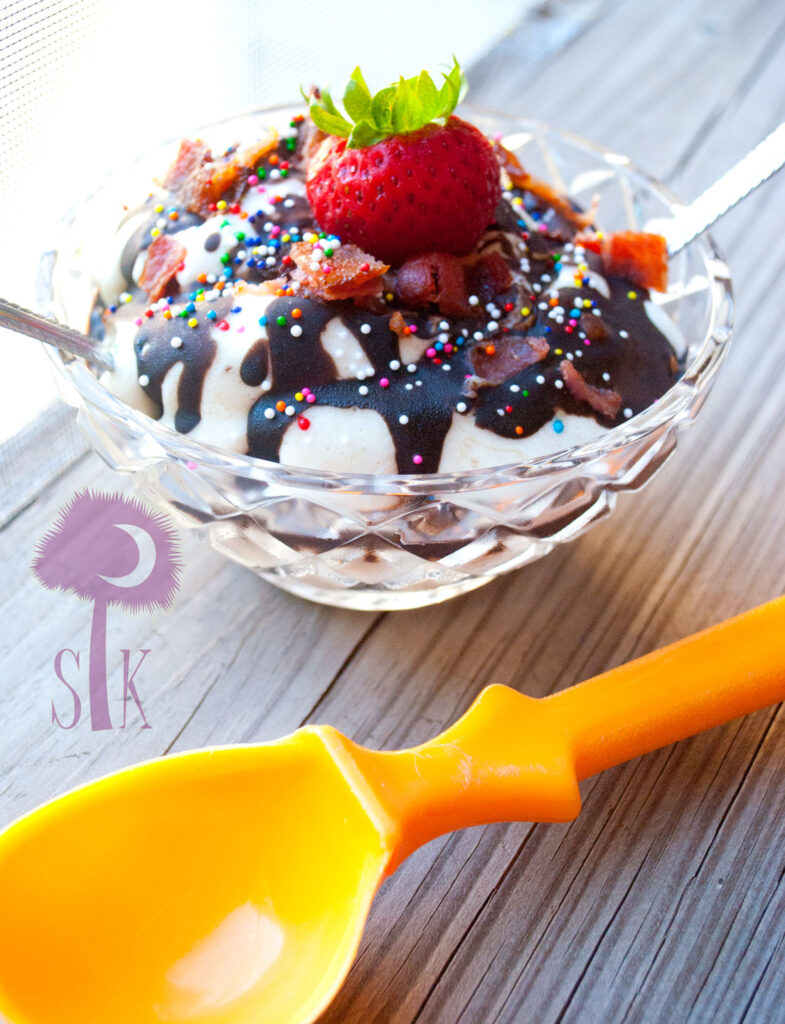 Ok, so maaaaaaaaaaaaaaybe the bacon is just a little over the top.
But come on, peanut butter and banana alone is just dull and boring, and bacon just gives this dish that extra dash of sass that it begged for.
Bacon slathered in cinnamon & honey and crumbled over fresh banana soft serve and home made chocolate peanut butter magic shell and it's only 184 calories a bowl?!?
Uuum, yeah...how could you possibly resist?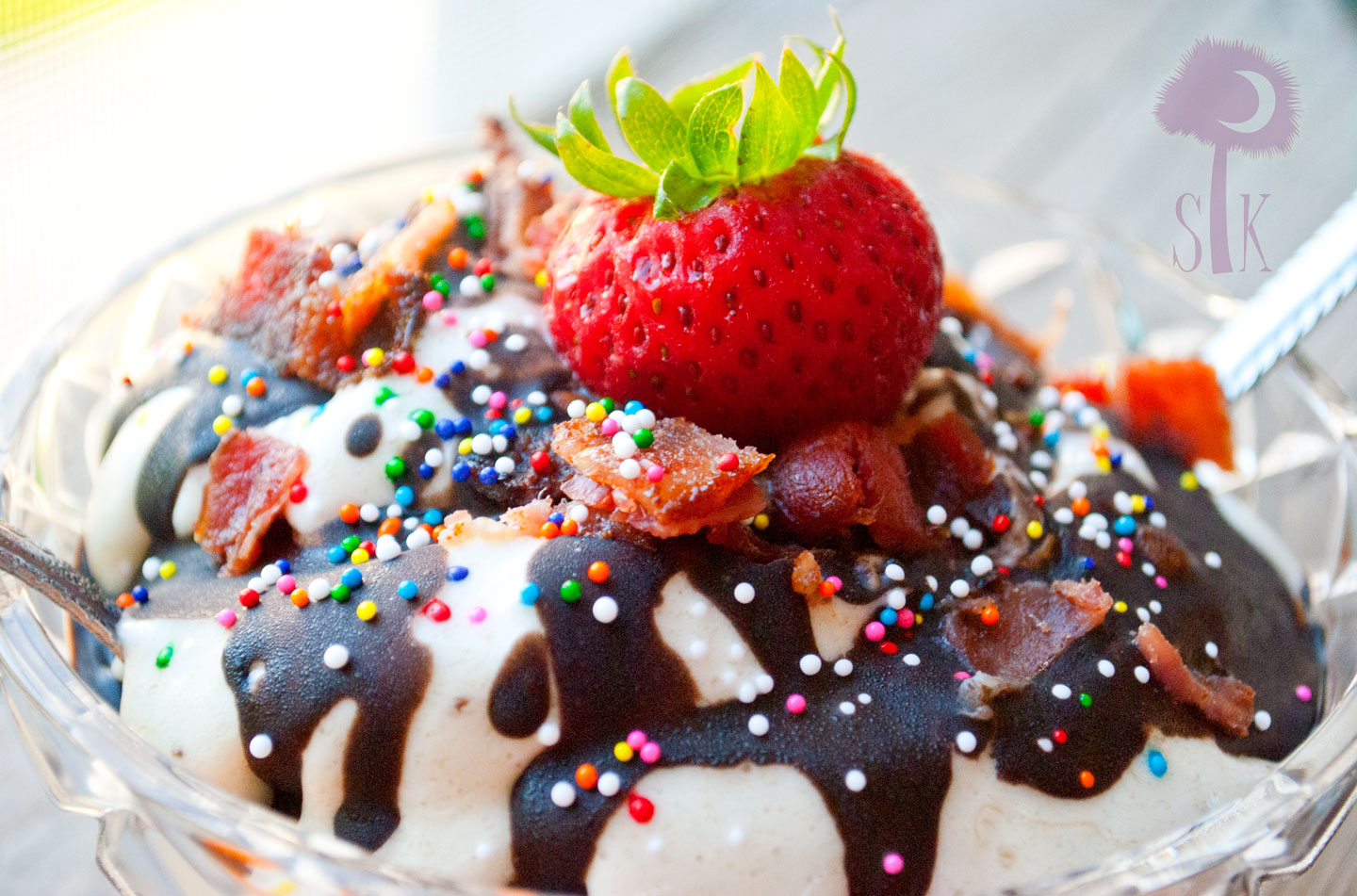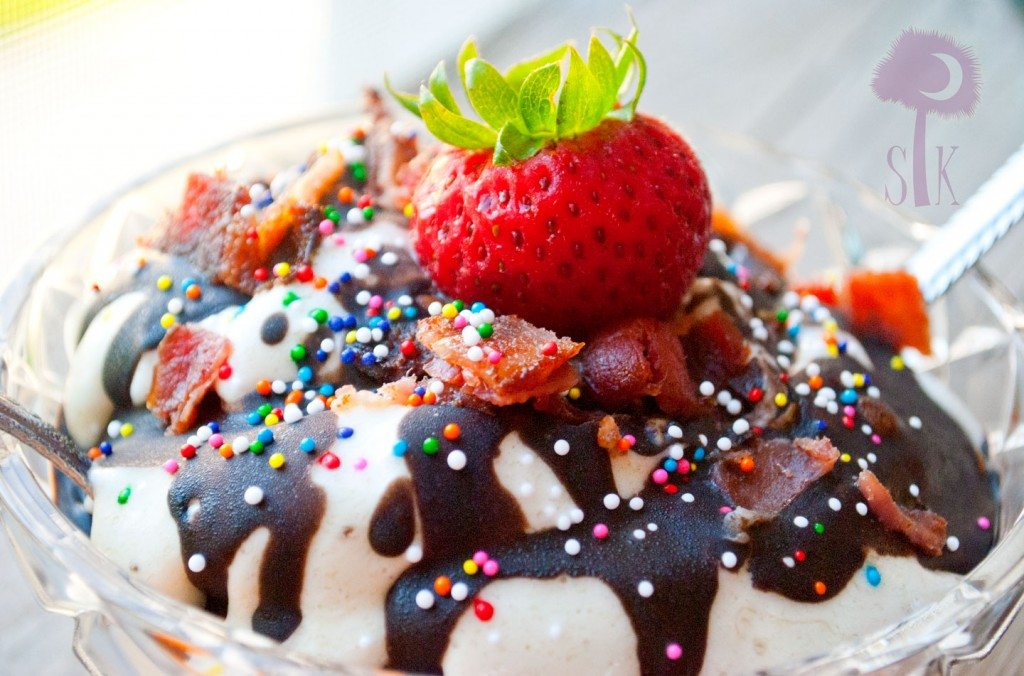 Getting to know you...
Have you ever had bacon in your dessert?
Have you made banana soft serve yet?
What's the coolest thing you've seen on Pinterest?
"📖 Recipe"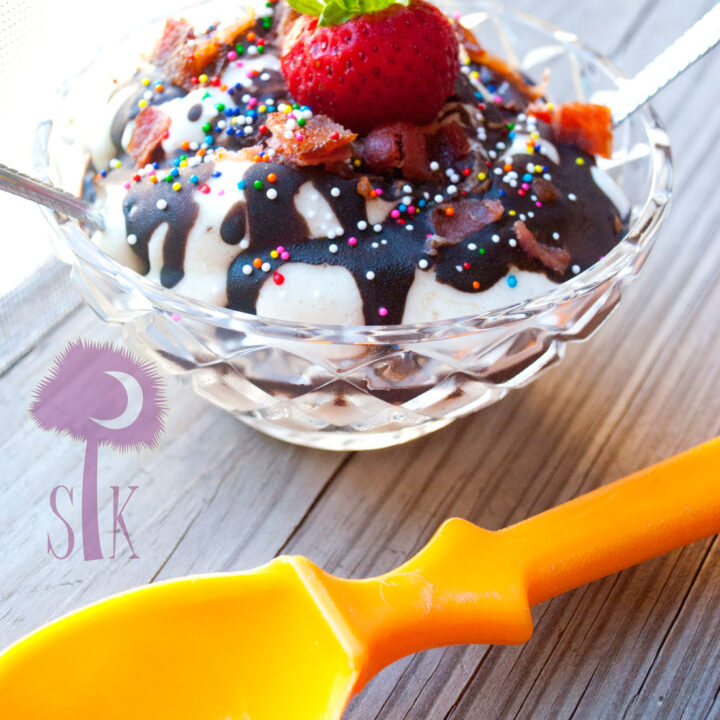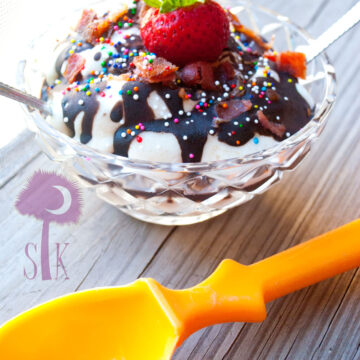 Sinless & Delicious Peanut Butter, Banana, & Cinnamon Bacon Magic Shell Sundae
A sinless & delicious combination of fresh banana soft serve, homemade chocolate peanut butter magic shell, and crumbled cinnamon bacon
Print
Rate
Ingredients
2

ripe bananas

1

slice

all natural

center cut applewood smoked bacon

½

teaspoon

honey

¼

teaspoon

ground cinnamon

1 ½

teaspoon

pure coconut oil

measured solid

1

teaspoon

all natural crunchy peanut butter

or other nut butter

1

teaspoon

dark chocolate cocoa powder

10-20

liquid stevia drops

to taste

sprinkles

optional
Instructions
Peel bananas and place on a freezer safe plate. Freeze until solid about 2-3 hours.

Preheat oven to 400°F.

Mix honey and cinnamon in a small ramekin and slather on both sides of the bacon.

Place bacon on a cookie sheet lined with tin foil and roast until crispy. About 20 minutes. NOTE= You can make more than one piece here and save some for breakfast!

Remove from oven and drain on a paper towel.

In a small bowl, add coconut oil and peanut butter and microwave for 30 seconds. Add cocoa powder and stir, stir, stir until lumps dissolve. Taste for sweetness and add stevia drops to your liking. Note: The coconut oil will harden once it hits the cold bananas turning it into natural magic shell!

Pop the bananas in the microwave and defrost for 15 seconds. If they still seem too hard, defrost for another 15 seconds.

Cut the bananas into four pieces and add them to the food processor.

Pulse until the large chunks are broken up and then blend until smooth.

Spoon the banana soft serve into two bowls, drizzle with the magic shell, and sprinkle each with half a slice of crumbled bacon.

Enjoy!
Notes
*WWpts= 3 pts per serving* *WWpts= 4 pts per serving*
Nutrition
Serving:
1
g
|
Calories:
184
kcal
|
Carbohydrates:
25
g
|
Protein:
2
g
|
Fat:
5
g
|
Fiber:
3
g