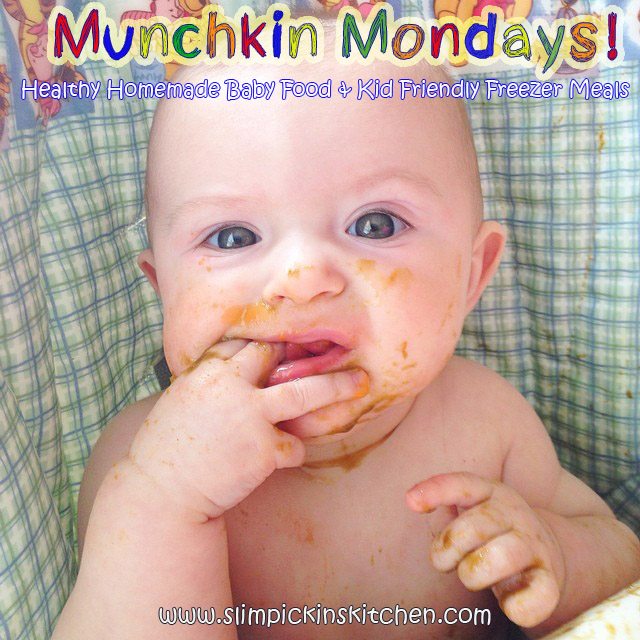 Once upon a time there was an 8 month old baby named Owen who went to a family reunion with his mommy, daddy, and grandma.
Grandma, being the amazing woman that she is, offered to hold Owen while mommy and daddy fixed their lunches from the smorgasbord of food that is always expected at any southern potluck.
Daddy had loaded his plate with a heap of fresh fixins and walked over to join grandma and Owen in a shaded patch of grass on the historic church lawn. All of a sudden, in a move so swift it was impossible to stop, Owen snatched a handful of squash casserole off of his Daddy's plate and shoved his entire fist in his mouth savoring the sweet squash in one fell swoop.
Within seconds the child lunged for more, practically crawling out of his grandma's arms to get to his daddy's plate that was just outside his reach. When his daddy didn't respond by giving him his plate, Owen squealed and squawked and babbled and screamed, demanding his own portion of squash casserole to eat.
With a few baby kicks to the gut and a backwards head but to her nose, Mommy wrangled a bib around Owen's neck and sat him down safely to eat. When his own plate of food was finally placed within his grasp, he dived in with double fists not stopping until his plate was licked clean.
And that, ladies and gentlemen, was when we finally started incorporating full meals into Owen's daily routine.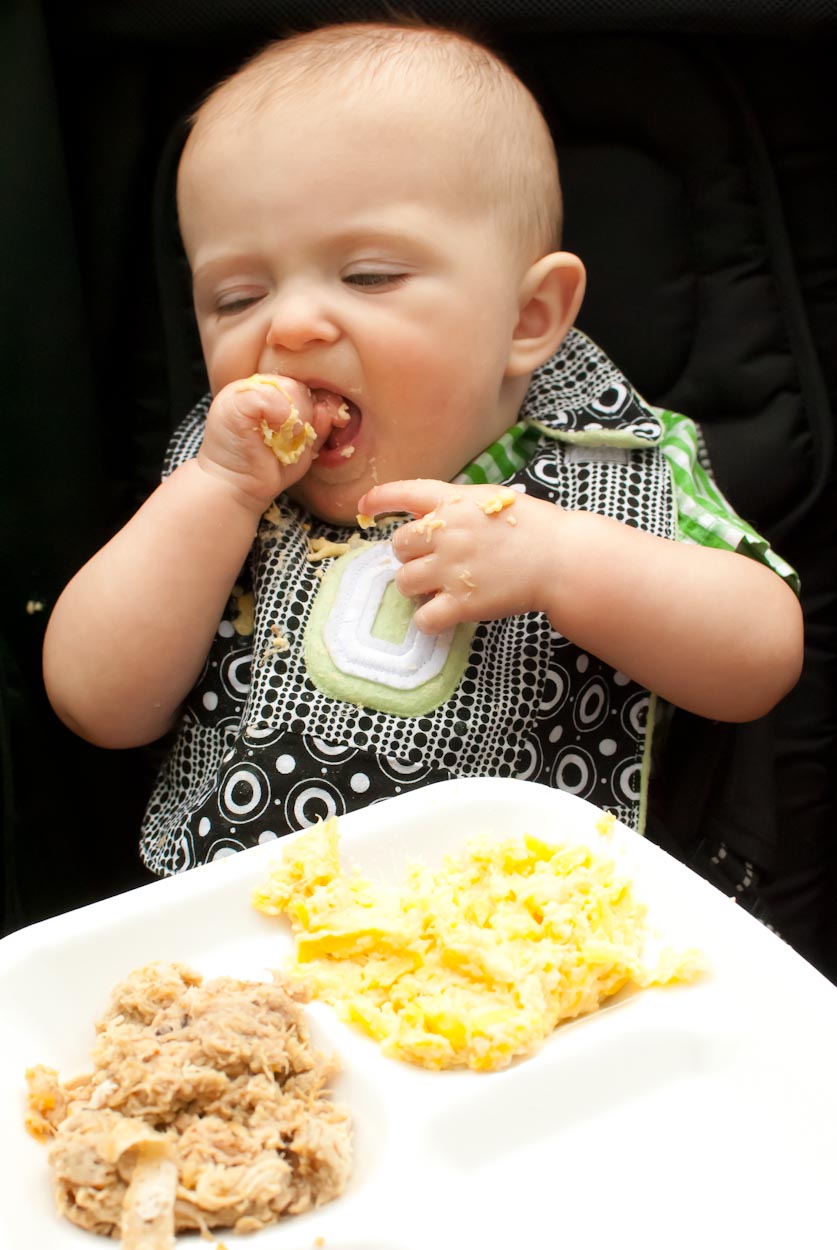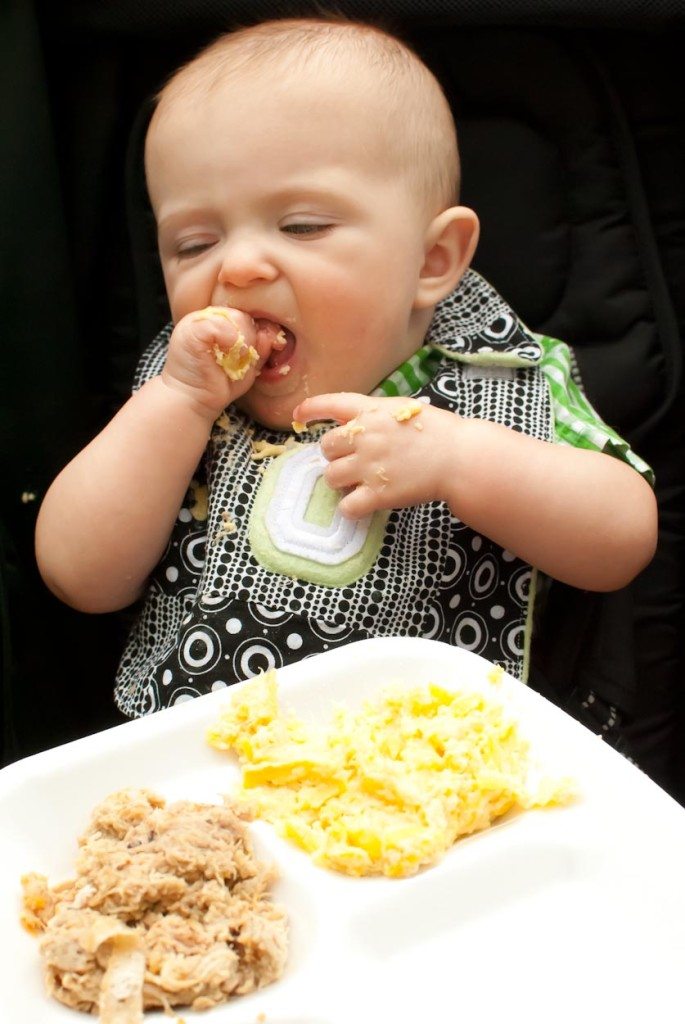 Up until that point we had been giving Owen tastes of food here and there, and he occasionally joined us at the table for meals. For the most part though until he was about 8.5 months old, he was solely breastfed. Owen was started on solids late for one main reason: he was a preemie and was physically not ready at 6 months old.
After much discussion between the two of us and when Owen finally showed all the signs of readiness, my husband and I decided that we were going to try the Baby Led Weaning (BLW) approach to the introduction of solids, and we haven't looked back since.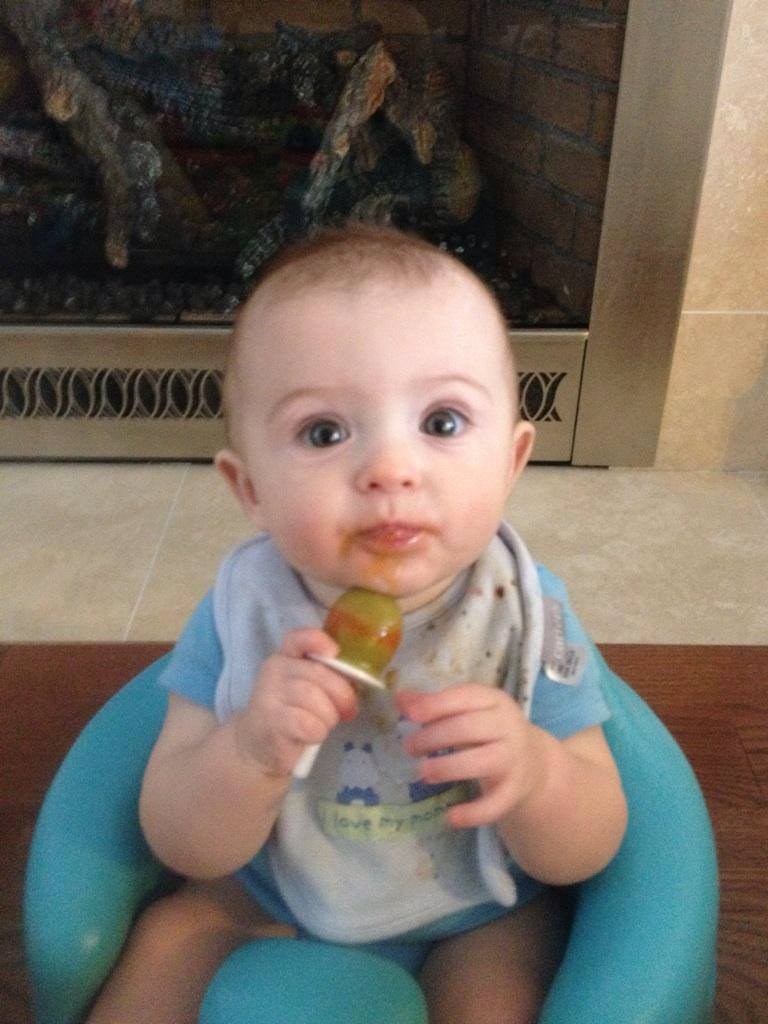 Owen is 10 months old now, and the only foods he doesn't like are avocado and broccoli, but I have successfully gotten away with hiding both in his meals without him figuring it out.
Mommy= 1 Owen=0
For those of you that don't know, BLW skips purees as well as rice and oatmeal cereals, and goes straight for the good stuff: having baby eat appropriately cut portions of whatever mom and dad eat as long as it is healthy and nutritious. It's actually the lazy way of introducing solids, and we loved it!  The approach gave Owen the basic understanding of how to chew and consume his food without teeth, and he now eats like a pro.
The concept of eating whatever mom and dad ate and not having to prepare special meals for our son was super awesome at first, but as the summer came along, the days got longer, and we all started getting busier, keeping up with that approach just wasn't practical for us anymore.
For starters, we eat late...usually not until somewhere between 7:30-8:30pm which is right around or after Owen's bedtime. Plus, we were gifted an over abundance of baby purees and oatmeal cereals that I refuse to let go to waste.
So, what does a baby led weaner (ha! I said weaner) food blogging mommy do when she's faced with the challenge of using up a bunch of purees and powders? She creates incredible baby friendly recipes to share with all of her minions on Mondays!
Hooray!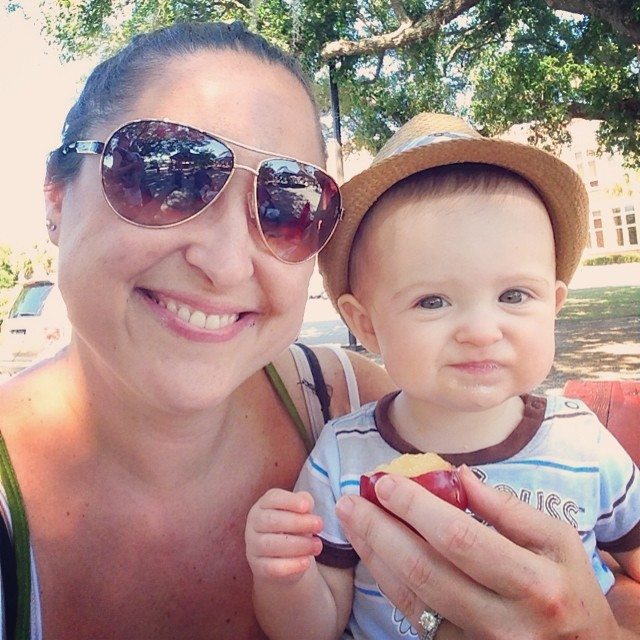 Ok, so Owen only gets purees in popsicle form or when I'm in a super, duper hurry, and I only have time to squirt a packet into his mouth.
Most of the time he is given fresh veggies w/ organic ghee and spices or one of my homemade sauces, healthy leftovers of whatever we've eaten the night before, or I give him one of the pre-made food packets I batch cook and freeze. One of those meals I am sharing today, and it is his absolute fav.
Preparing these meal packets is a great way to save yourself time on busy days and to ensure that your baby is getting a variety of nutrients, textures, and tastes. I have made it a point to always heavily season Owen's food with spices and herbs (minus salt & cayenne) so his food is flavorful and fun rather than slimy and bland. I've sprinkled curry powder on sweet potatoes, garam masala in yogurt, dried italian herbs or fresh parsley on corn cobs, nutmeg on spinach, cumin on stir fried peppers and onions, and fresh basil in meatballs.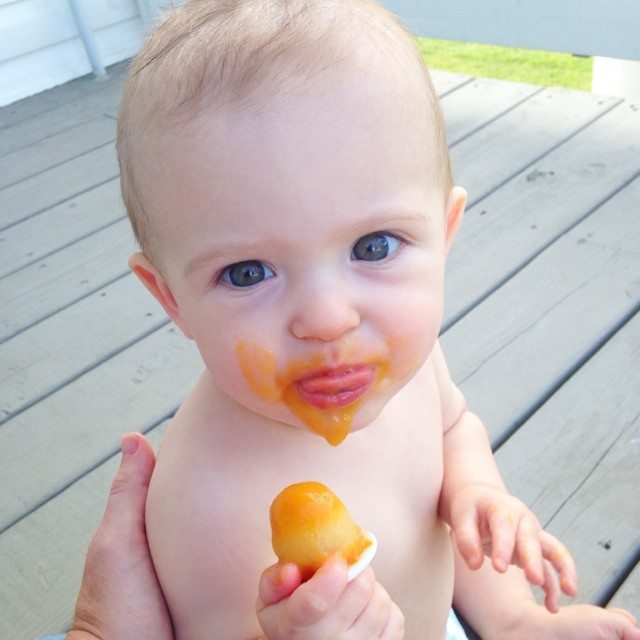 Today I am posting the recipe for my Italian Wedding Meatballs w/ Creamy Basil Spinach Pesto which I serve over gluten-free garden vegetable rotini noodles. Owen *adores* the meatballs so much that he'll sometimes get mad and screech like a hoodlum when he's eaten all he has on his plate. Last night he refused to eat his veggies and I had to scramble to defrost a couple more meatballs before we had a full blown melt down.
Baby led weaning, indeed.
Anywho, here's the gist to most of the recipes I'll be posting for Munchkin Mondays: The recipes make big batches that you prepare and portion into packets so you can just pull them out of the freezer when needed. It looks like a lot of work, but it actually pulls together quicker than it seems, and it has saved me on many a night when I opened the fridge door to find nothing other than a few wrinkly cucumbers and a fuzzy block of cheddar cheese.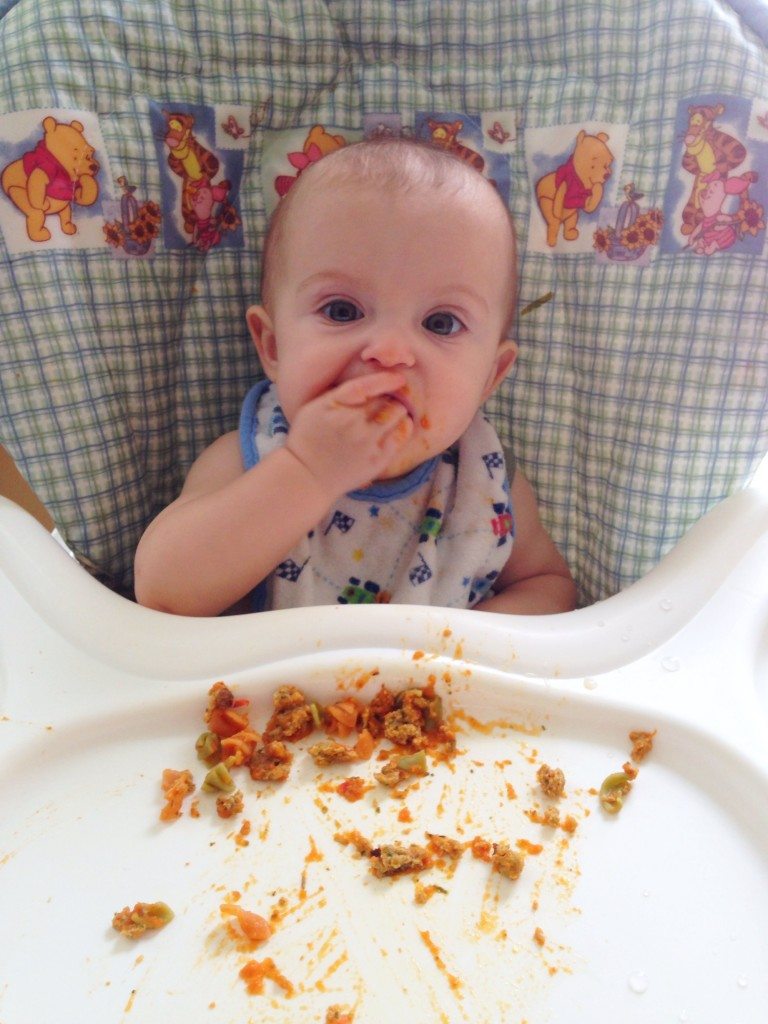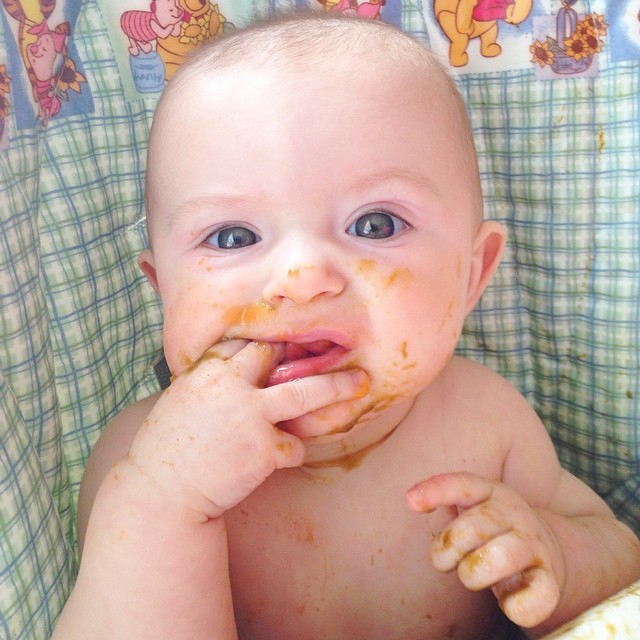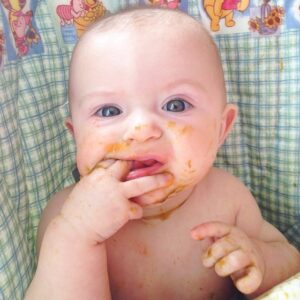 Munchkin Monday #1: Veggie Packed Italian Wedding Meatballs w/ Creamy Basil Spinach Pesto and Garden Vegetable Rotini
Print
Rate
Ingredients
For the Italian Wedding Meatballs:
1

lb

ground meat of choice

I used turkey

½

cup

sliced or baby carrots

½

red bell pepper

chopped

1

clove

garlic

½

small sweet onion

½

cup

fresh spinach

¼

cup

whole milk cottage cheese

¼

cup

pear puree

1

egg

beaten

¾

cup

multi-grain infant oatmeal or finely ground breadcrumbs

1

handful fresh basil
For the Creamy Basil Spinach Pesto:
1

cup

fresh basil

1

cup

fresh spinach

½

avocado

⅔

cup

whole milk cottage cheese

1

small garlic clove

½

teaspoon

freshly squeezed lemon juice

2

tablespoon

water or milk of choice
For the Garden Veggie Rotini:
1

box of your favorite gluten-free or standard box of garden vegetable rotini

1-2

tablespoon

extra virgin olive oil
Instructions
For the Italian Wedding Meatballs:
Preheat oven to 450 degrees.

Place ground meat in a medium sized bowl and set aside.

Add carrots, bell pepper, garlic, onion and spinach to a food processor and pulse until very finely chopped.

Dump veggie mixture on top of the meat then add in pear puree, egg, cottage cheese, infant oatmeal, fresh basil and cracked black pepper.

Using clean hands, mix the meat mixture until well combined. NOTE: The mixture will be very sticky.

Roll into 32 meatballs, place on a baking sheet lined with a Silpat or spritzed with olive oil, and bake for 20 minutes, turning halfway through. Let cool completely.

Once cooled, place the entire baking sheet in the freezer until meatballs are frozen, about 2 hours.
For the Basil Spinach Pesto:
Combine all ingredients except water to a food processor and blend until smooth. If sauce is too thick, add in water one tablespoon at a time until desired consistency is reached.

Spoon 1 tablespoon of the pesto into 16 slots of an ice cube tray and freeze until solid (about 2-4 hours).
For the Garden Vegetable Rotini:
Cook according to package directions and drain.

Coat the cooked pasta with the olive oil and lay in a single layer on two baking sheets.

Freeze until solid (about 2 hours)
To Assemble the meal packets:
Divide the frozen pasta into 16 sandwich sized freezer bags.

Add two frozen meatballs and 1 pesto cube to each package.

Roll up each bag and store them in one large gallon sized freezer bag.

When ready to eat, grab one meal package out of the freezer and microwave for 45 seconds.

Stir together, add whatever seasonings you wish, cut into appropriate sized pieces and serve.

Hope your little one enjoys it as much as mine!