Slim Pickin's Kitchen is reader supporter, and this post may contain affiliate links. I may earn a small commission when you click on the links at no additional cost to you. As an Amazon Affiliate, I earn from qualifying purchases. You can read my full disclaimer here. 
This easy cut-out sugar cookie recipe is the last sugar cookie cutout recipe you'll ever need. Made with just 3 ingredients with zero resting time, these buttery shortbread cookies melt in your mouth and is a no-fail cookie recipe that will go down in your family's history.
This is the last cut-out sugar cookie recipe you're ever going to need.
I would bet money you have the 3 ingredients (optional 4th) in your pantry right this very minute, and you can pull the dough together in 10 minutes flat.
Butter, sugar, and flour are all you need to make the easiest cut-out Christmas Cookies ever!
Shoot! You can make these cut-out sugar cookies for any celebration you have all year!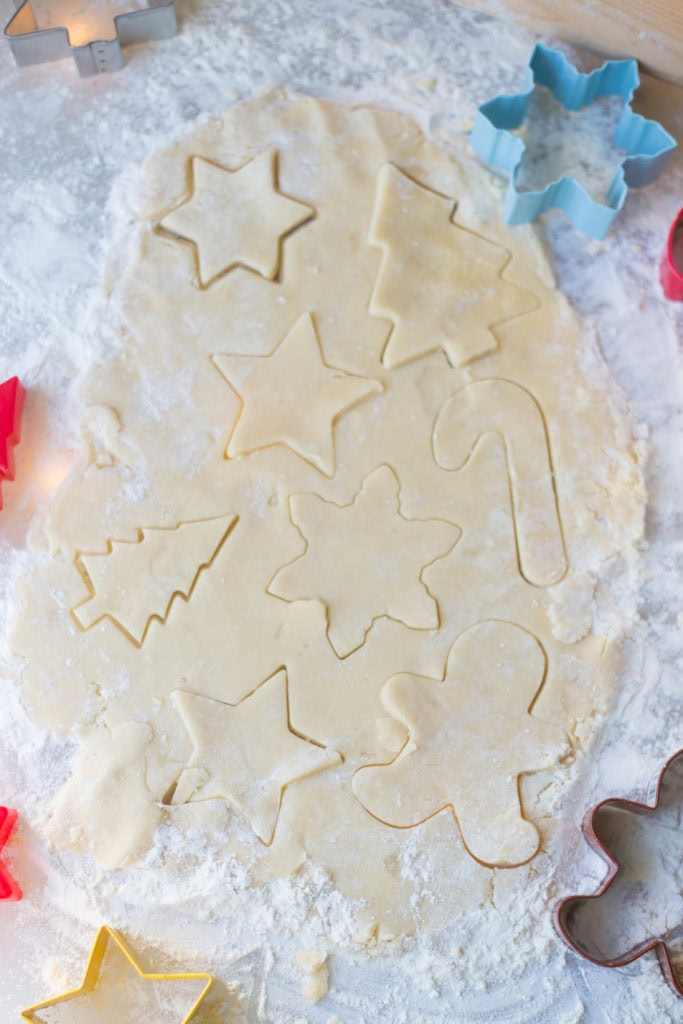 I bake and decorate Christmas cookies with my niece and nephews every year, and this is the cut-out cookie recipe I always use. I've made them at least 10 times over the past few years, and they have never once lost their shape or given me any issues.
These cut-out sugar cookies will go straight from cutting to the baking sheet with no resting time needed which is a huge winner for Mrs. Lazypants over here.
I also love this recipe because it calls for cutting the dough in half and rolling out one section at a time. I like to roll out one half for icing and then I add sprinkles to the second half because that's all the decorating they really need! Again…Hi! Lazy pants. I also use metal cookie cutters because they just seem to work so much better for me.
EASY CUT-OUT SUGAR COOKIE ICING
I usually make a traditional buttercream for frosting the cut-out cookies, but over the years it has just gotten to be too sweet.
I was on the hunt for a super simple sugar cookie icing that didn't require egg whites or meringue powder or any other ridiculousness. That stuff is just too high maintenance for me. I mean, seriously, who has time to go hunting for meringue powder?!? Luckily, this sugar cookie icing is everything it needs to be: simple to make, easy to pipe, and tasty without being to sweet.
It is made with just 5 simple ingredients (again, stuff you already have in your pantry), and it's crazy easy to work with. It flows beautifully while piping, adds a beautiful sheen to the shortbread cookies, and hardens perfectly so they can be stacked into containers and given as gifts!
Instructions
To Make the Easy Shortbread Cookies
Preheat oven to 325 degrees. 

In a large bowl or stand mixer, cream together butter and sugar. Gradually add in flour, about 1/4 cup at a time, until dough pulls together. Divide dough in half. Leave one half of shortbread dough in the bowl and place the other half on a lightly floured surface.

Roll out first portion of dough to 1/4 inch in thickness. Dip cookie cutters in flour, and cut out shortbread cookies into desired shapes. Place 1 inch apart on a non-greased baking sheet.

Stir in 1/4 cup nonpareil sprinkles to the remaining dough and stir until evenly distributed. Repeat step 3 with the second portion of dough.

Bake for 20-25 minutes or until slightly browned. Remove to wire racks and allow to cool completely before icing. 
To Make the Easy Sugar Cookie Icing:
In a large bowl, whisk together powdered sugar, corn syrup, 2 tbsp milk, and vanilla until well combined and no lumps remain.

Lift up the whisk and see if the icing ribbons down and disappears back into the bowl. Stir in milk 1/2 tbsp at a time if icing appears too thick. If icing seems too thin, add in more powdered sugar, 1 tbsp at a time, until desired consistency is reached.

Evenly separate icing into small bowls and add in 1-2 drops gel food coloring until desired color is reached.
Love y'all!