This is the best, super easy, most delicious London Broil recipe! It's great to serve as an inexpensive date night option, an impress your guest dinner party, or a quick weeknight meal to feed the fam.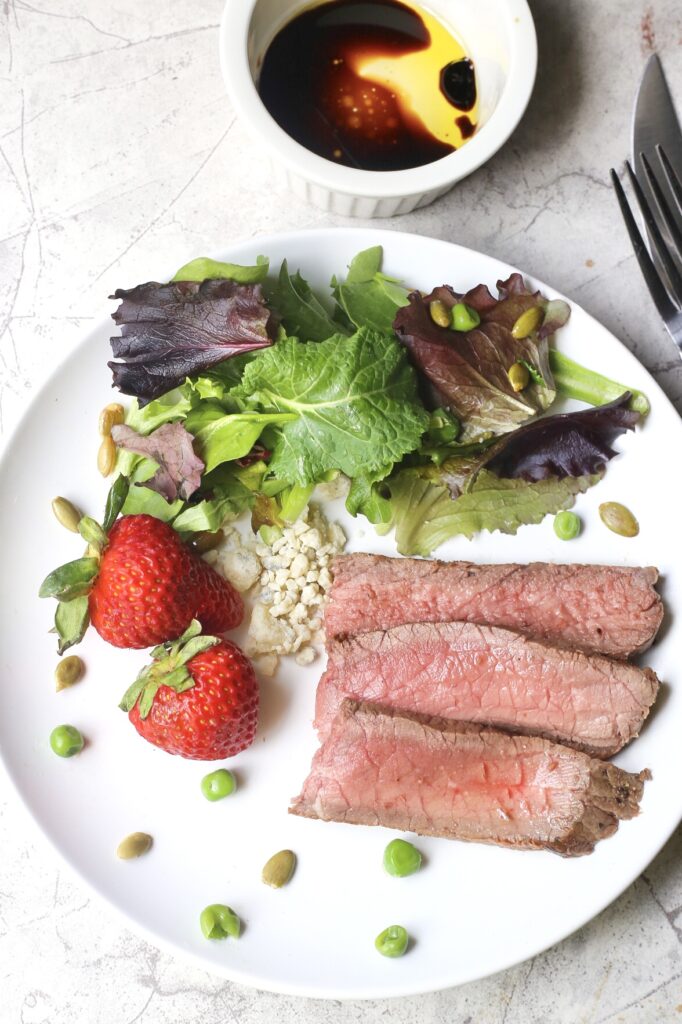 If you like to eat steak for supper or want to serve up a fancy Valentine's Day dinner at home, London Broil is an excellent meal to make.
Not only is it much more affordable than ribeye or New York strip, but London Broil can be just as enjoyable as the more expensive cuts when marinated and cooked correctly.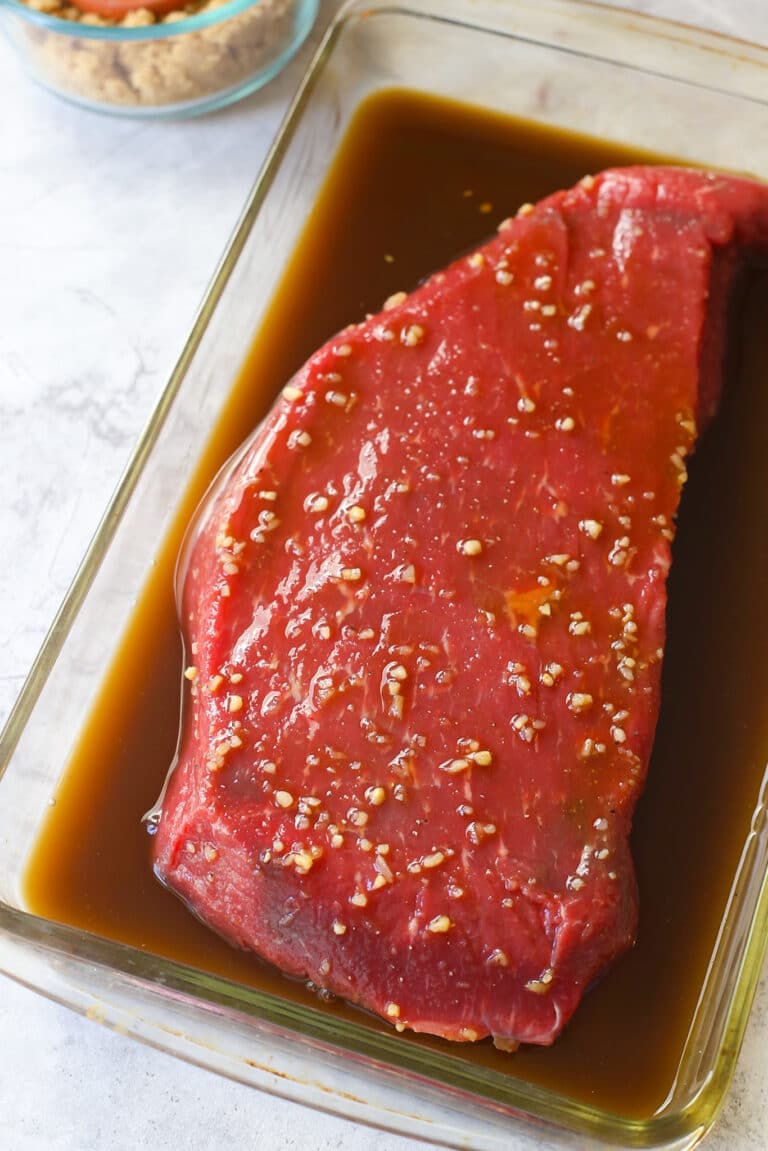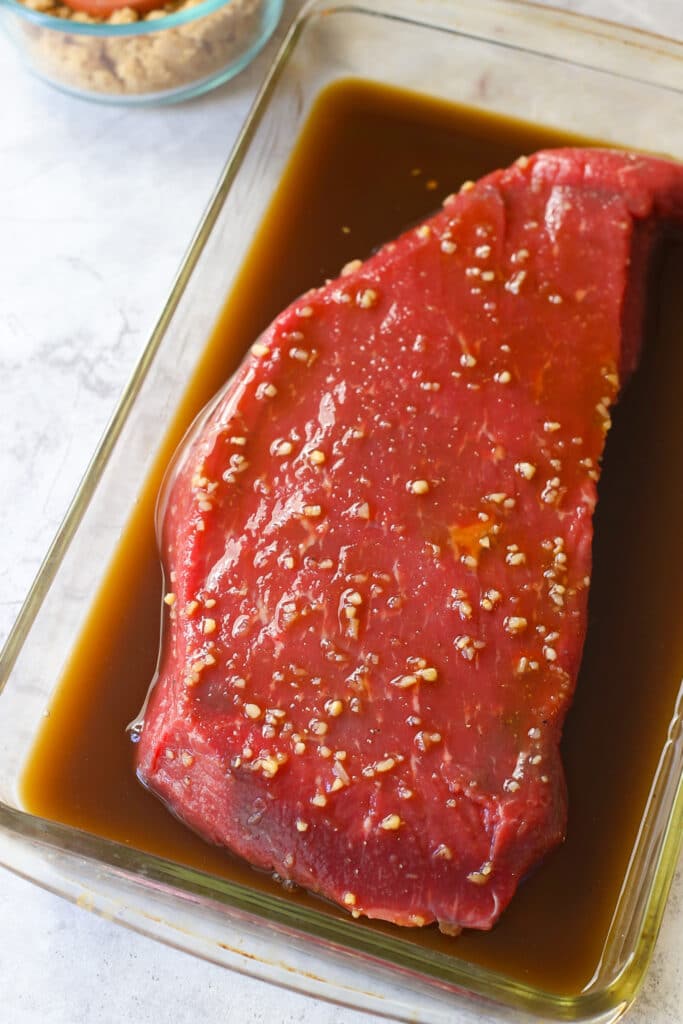 Here's a crazy piece of knowledge: London Broil is not the actual name of the cut of meat, but instead the name of the preparation style. Whodathunkit?!?
Top round or flank steak is the traditional cut of beef that is used for a "London Broil" because the cut soaks up and tenderizes so well in a marinade.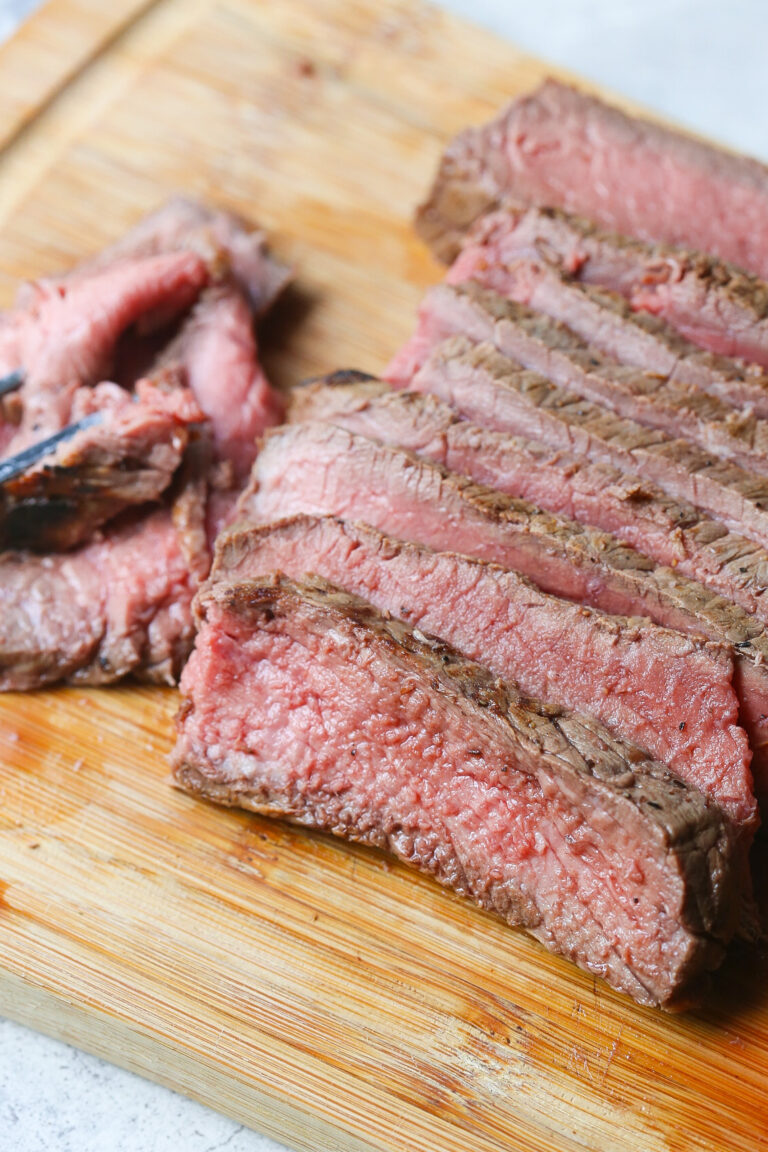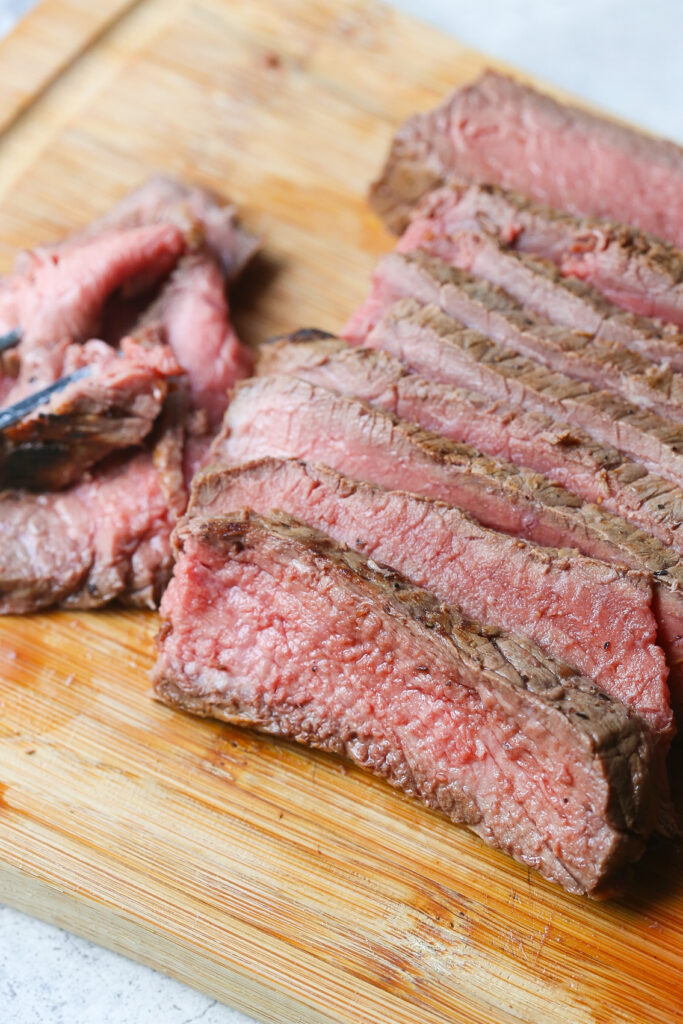 London Broil Marinade
There is a restaurant here in Charleston that serves a sirloin steak I just adore. The California Dreaming marinated sirloin is submerged in a delicious melody of fruit juices, garlic, soy sauce, and spices and is then grilled to perfection.
My London Broil marinade mirrors the California Dreaming marinated sirloin and gives the steak a deep, gourmet-style richness without the restaurant prices.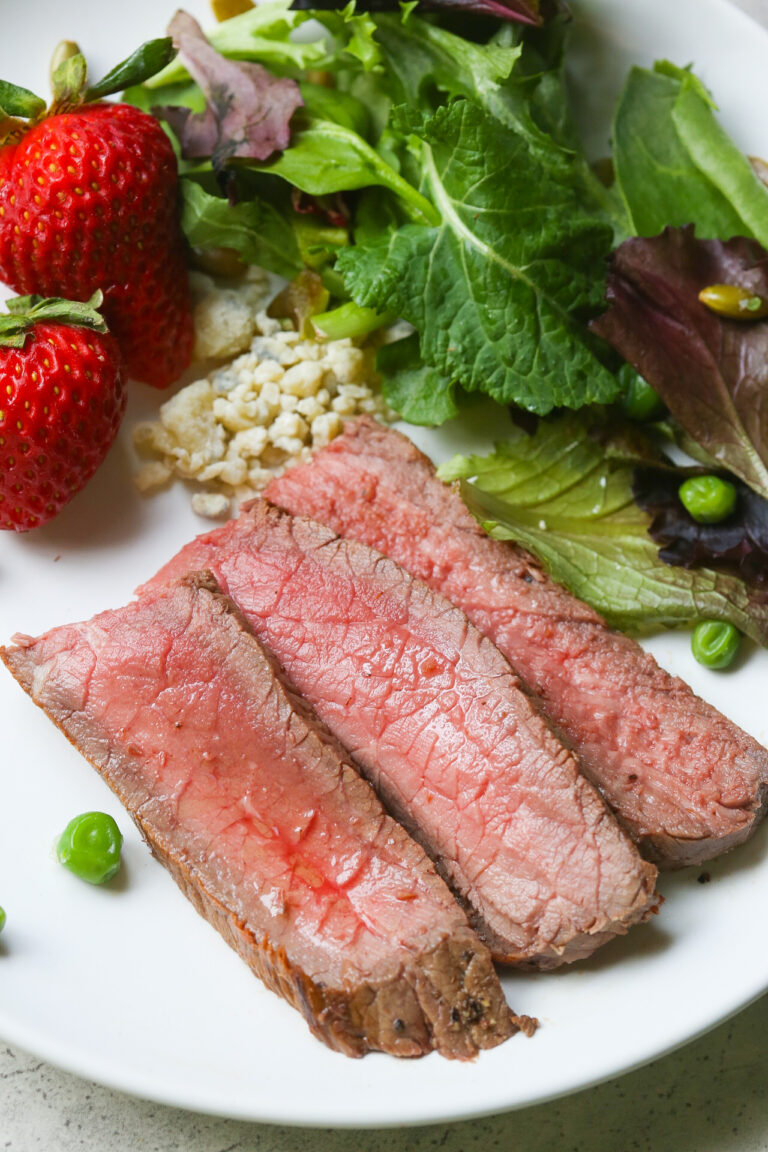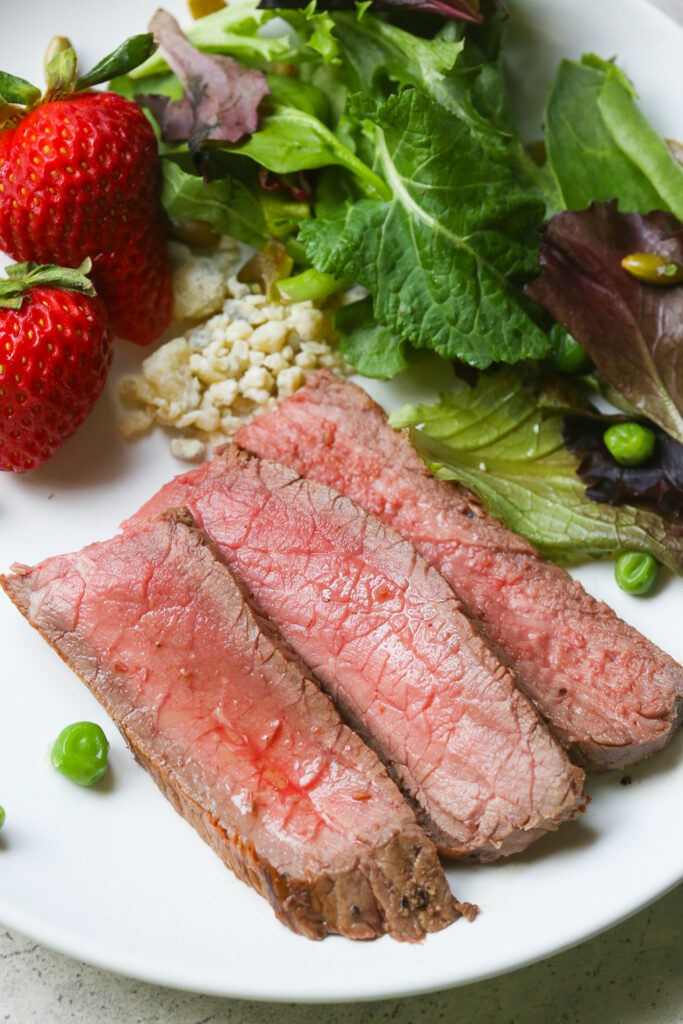 How to Cook London Broil
This London Broil recipe is excellent for quick weeknight dinners, a gorgeous Valentine's Day meal, or even a fancy-schmancy dinner party with a few friends.
Here's how to cook London Broil:
Marinate the London Broil: Place the beef in a large plastic zip-top bag or shallow dish, whisk together pineapple and orange juices, freshly squeezed lime juice, honey, garlic, ginger, and Worcestershire, and pour over the meat. Marinate for 8-12 hours for the best flavor, or as little as 1 hour if you're in a time crunch!
Seal in the Flavor: Preheat the oven to 425 degrees (F) and preheat a cast-iron skillet over medium-high heat. Pat the meat dry with paper towels, and scrape off any garlic bits and pieces. Sear the beef for 2 minutes on both sides, creating a gorgeous, golden-brown crust that will seal in all those flava-flavs!
Finish Off In Oven: Put London Broil in oven to finish off the cooking process and cook for exactly 6 minutes for medium-rare or until your desired doneness. Note the APPROXIMATE cooking times below:
4 mins RARE: 120 – 125 degrees F
6 mins MEDIUM RARE: 130 – 135 degrees F 
8 mins MEDIUM: 140 – 145 degrees F 
10 mins MEDIUM WELL: 150 – 155 degrees F
12 mins WELL DONE: 160 degrees F and above 
Allow the meat to rest: Remove the pan from the oven, place on a back burner or wooden trivet, loosely cover with tin foil (or "tent"), and allow the London Broil to rest for 10 minutes so the juices can redistribute back into the meat which will help it stay nice and tender and juicy.
Slice against the grain: To identify which direction the grain of the meat is going, look for the parallel lines of muscle fibers running up and down the meat, and then cut perpendicular to them. With a London Broil, the meat grain runs up and down lengthwise from the top of the meat to the bottom so, to cut it against the grain, thinly slice the meat across the shortest sides.
Serve! London Broil is so versatile, it can be served in so many different ways! Serve it alongside Lemon Parmesan Roasted Veggies and Parker House Rolls or atop a Mixed Berry Cobb Salad!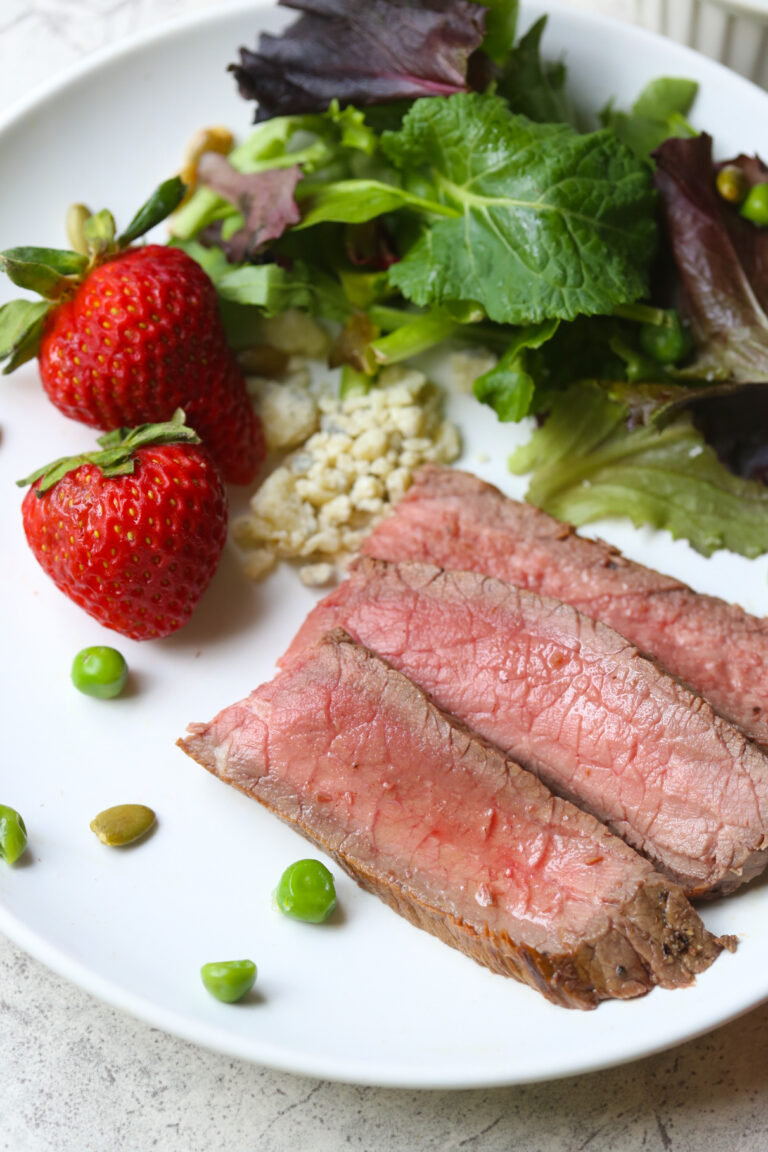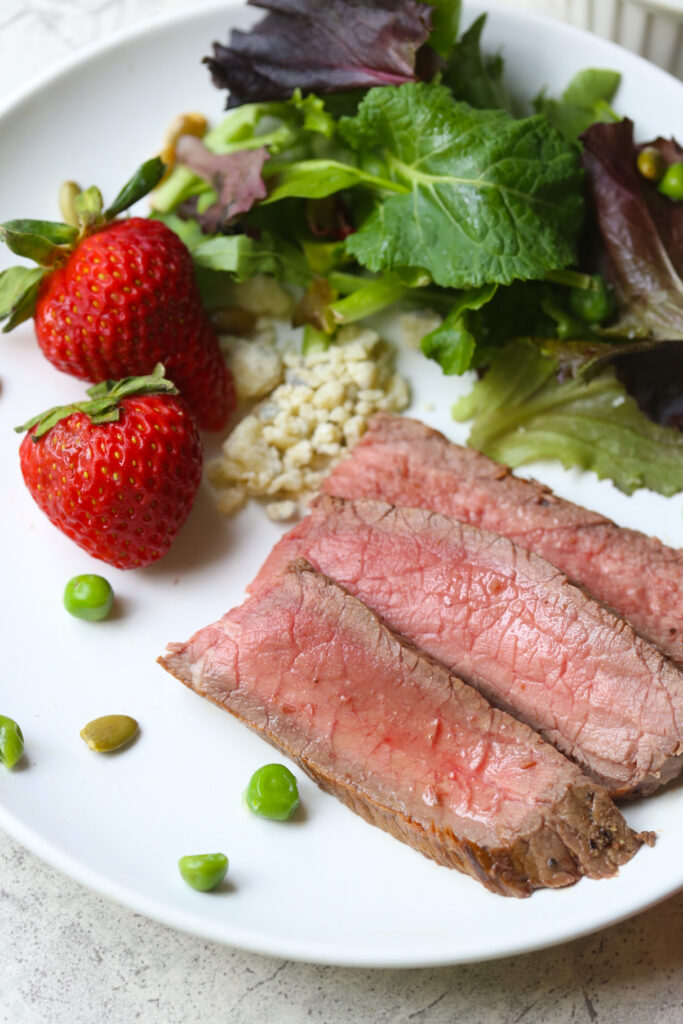 Tips on How to Make London Broil
When looking for London Broil in the grocery store, the package may be marked "Flank Steak", "Top Round" or even "London Broil".
You can marinate the London Broil for as little as one hour and up to 12 hours, but don't marinate the meat longer than 12 hours. The acidity in the fruit juice helps tenderize the meat, but if the meat marinates for too long, the acidity will break it down too much and cause the meat to become mushy.
Remove the meat from the fridge at least 30 minutes before cooking to take the chill off and allow it to come to room temp. This allows for more even cooking.
London Broil is plump, juicy, and delicious when cooked and served medium-rare, but it gets drier and tougher the longer it's cooked so keep that in mind!
You must, must, must allow the meat to rest before cutting into it! If you skip this crucial step, your London Broil will end up tasting like shoe leather.
Make sure you slice the meat thinly and against the grain. These are also crucial steps to ensure your meat isn't too tough to eat.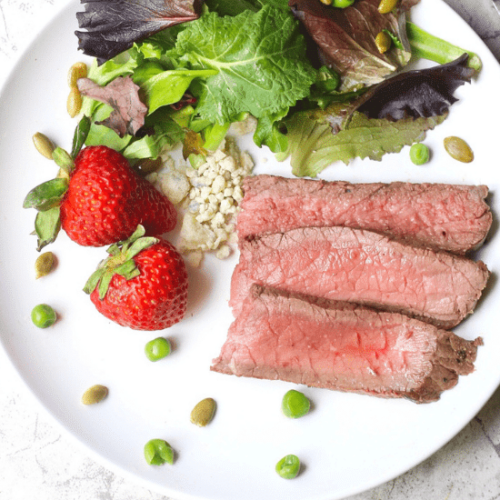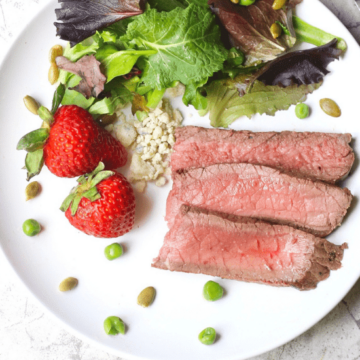 Easy London Broil Recipe
This is the best, super easy, most delicious London Broil recipe! It's great to serve as an inexpensive date night option, an impress your guest dinner party, or a quick weeknight meal to feed the fam.
Print
Rate
Equipment
Large Zip Top Bags

Shallow Baking Dish

Cast Iron Pan
Instructions
For the London Broil Marinade:
In a small bowl, whisk all of the ingredients together until well combined.

Place the beef in a large zip top back or shallow baking dish.

Add the beef to the marinade, remove as much air as possible, or cover with plastic wrap, and marinate in the fridge for a minimum of 1 hour and a maximum of 12 hours.
How to Cook London Broil:
Preheat the oven to 425 degrees F and heat the remaining 2 tablespoon of olive oil in a cast iron pan over medium-high heat.

Remove the London Broil from the marinade, scrape off the garlic, and thoroughly pat the meat dry with paper towels. Sprinkle both sides with a pinch of salt and pepper. Discard marinade.

Place the steak in the skillet and sear for 2 minutes per side until a gorgeous golden brown crust forms.

Remove the skillet from the stove and transfer to the oven, cooking the London Broil for 5-6 minutes further for medium-rare, or until it's cooked to your desired level of doneness (see notes below).
Notes
Note the APPROXIMATE cooking times below:
4 mins RARE: 120 – 125 degrees F
6 mins MEDIUM RARE: 130 – 135 degrees F
8 mins MEDIUM: 140 – 145 degrees F
10 mins MEDIUM WELL: 150 – 155 degrees F
12 mins WELL DONE: 160 degrees F and above