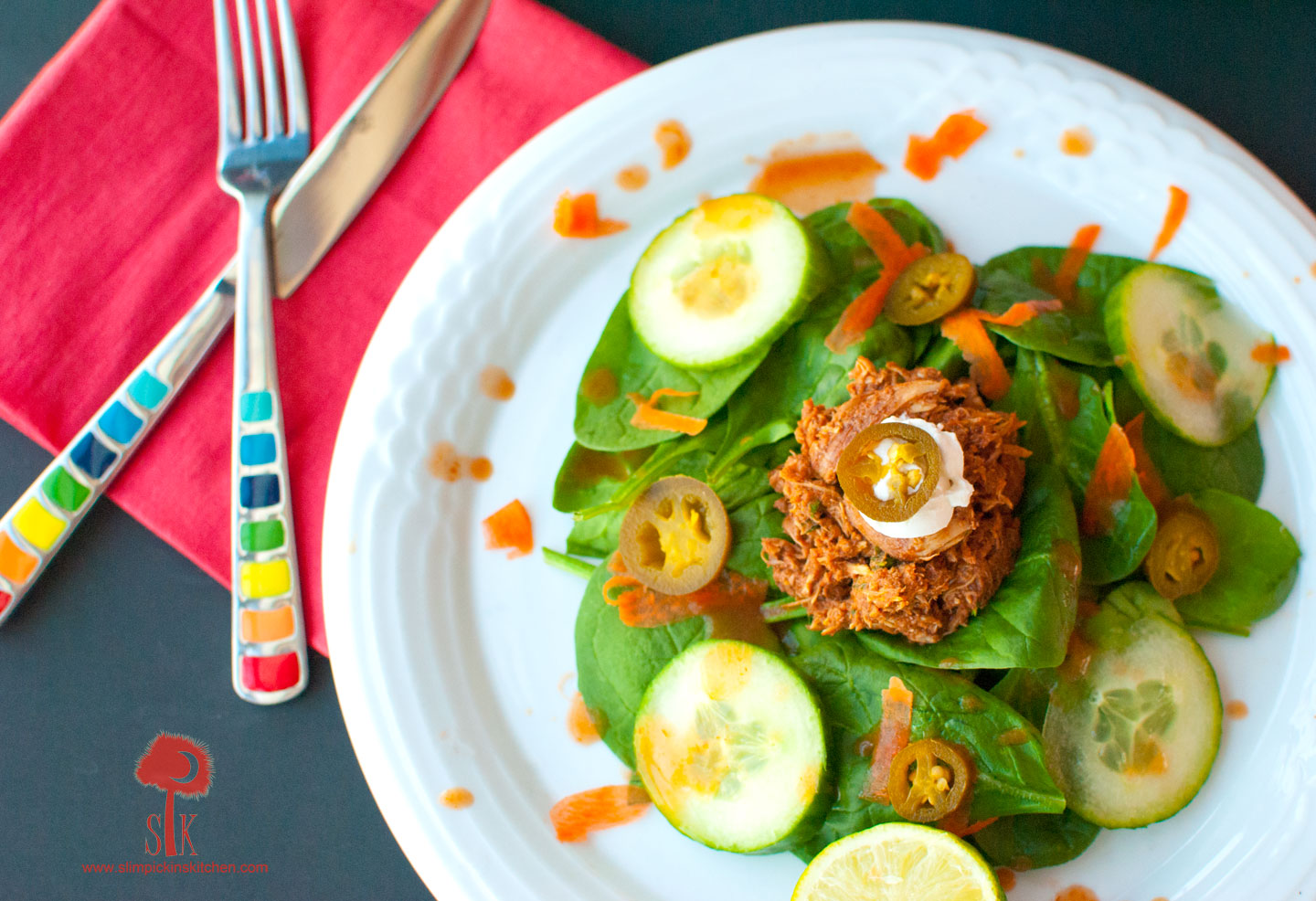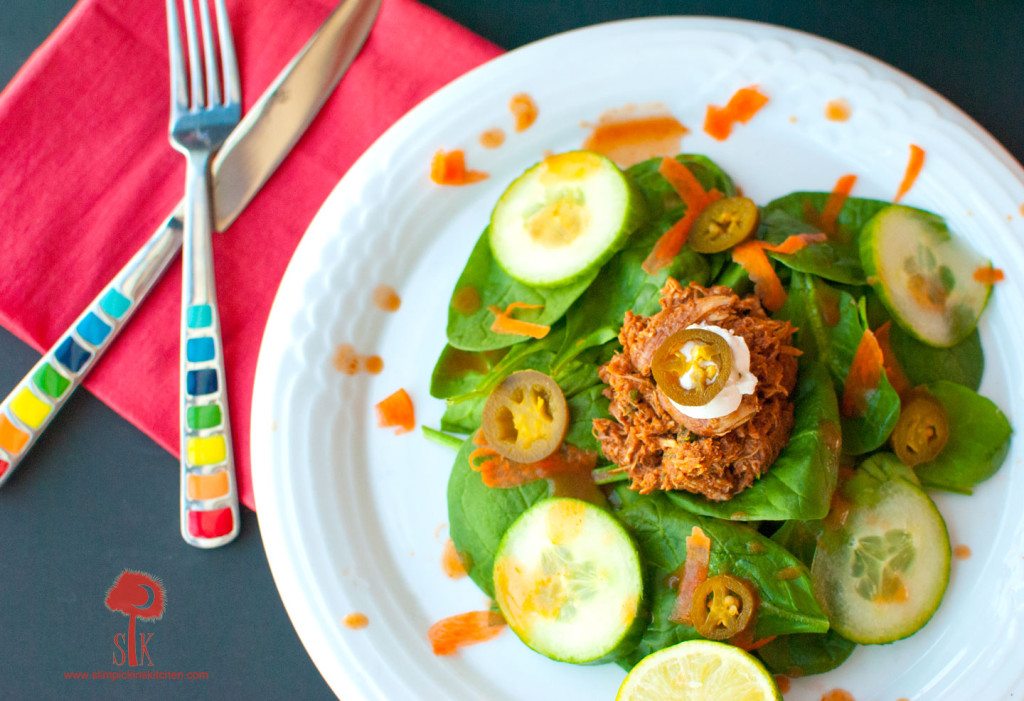 Mole, mole, mole, mole...
Ha!
That's the best part of Austin Power's Goldmember, isn't it? Cracks me up every time. Every.single.time.
Wanna know what else is my favorite?
Super healthy, super easy, very clean, Crock Pot recipes that take barely any effort to make!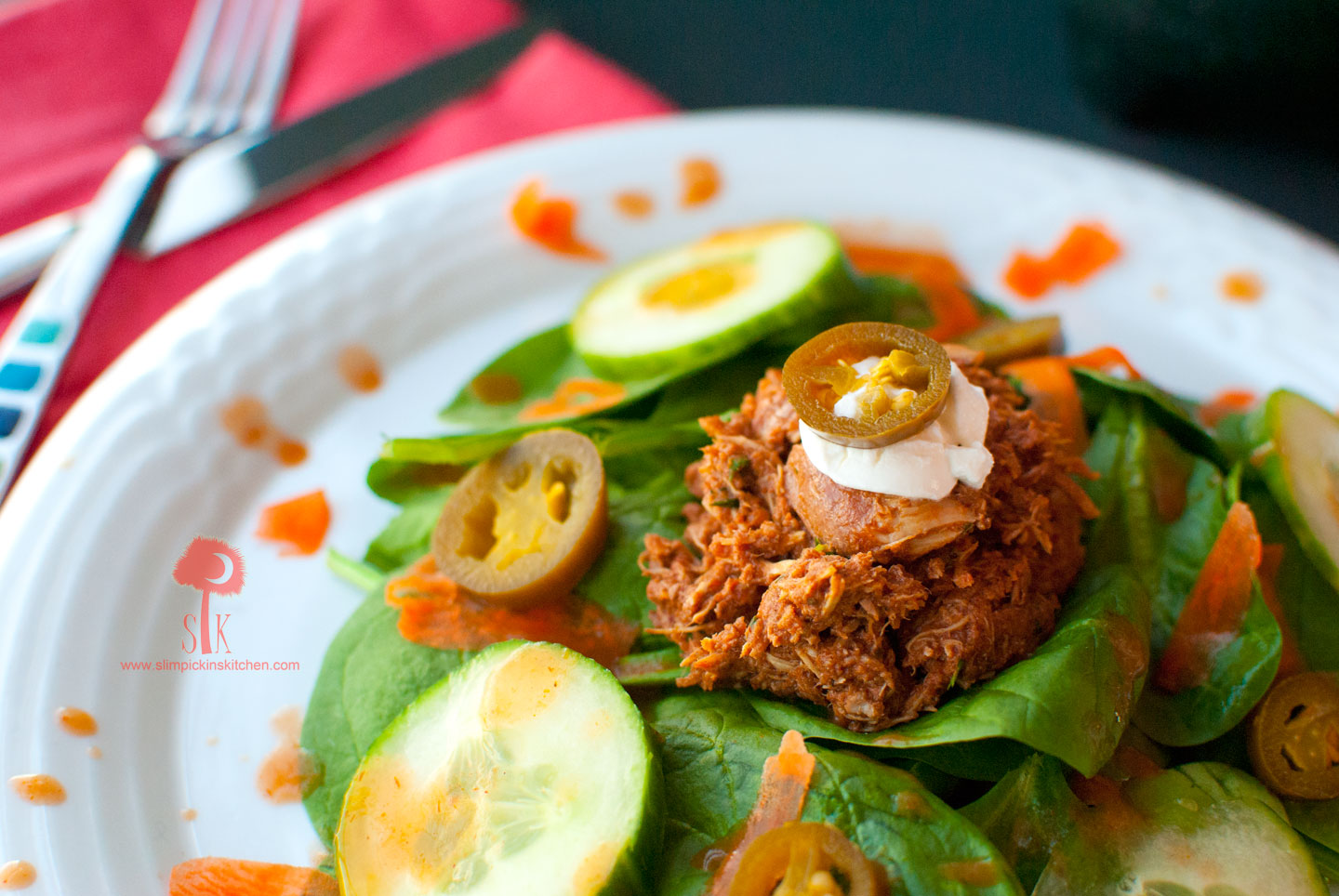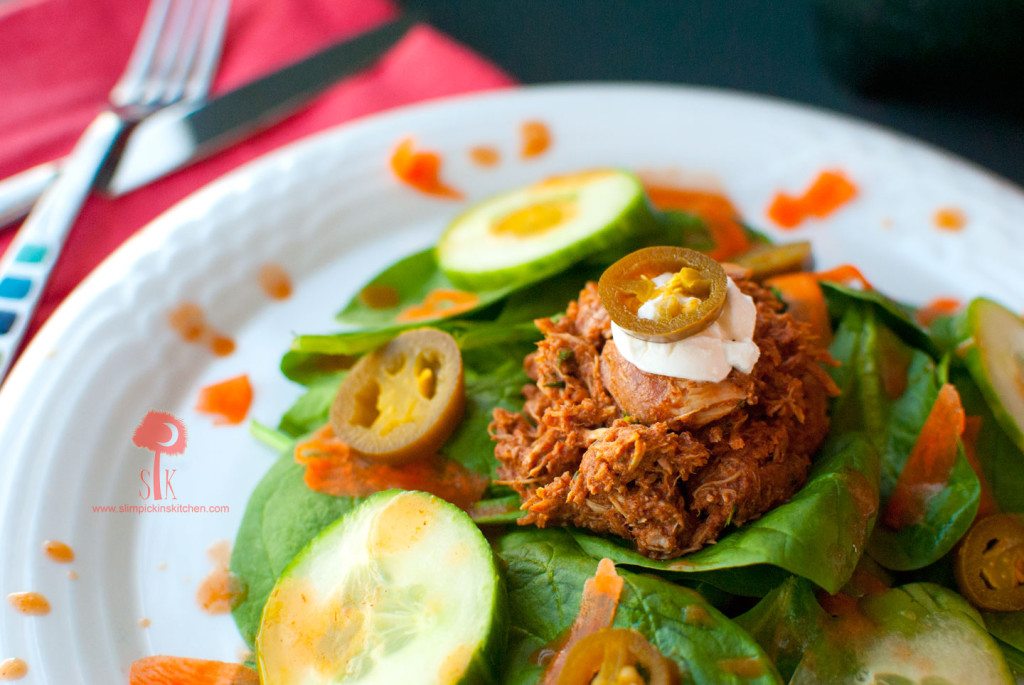 This is has got to be one of the simplest chicken mole recipes on the face of Earth, and it is *definitely* being added to our weekly rotation. Now, there are a lot of ingredients in this recipe, BUT you should have practically everything you need in your pantry already! Easy peasy. The past couple of days I haven't been feeling so hot again, so I wanted to make something that could heighten my senses and possibly knock out whatever was dragging me down.
This meal definitely did the trick!
It's spicy but not to the point that it opens the floodgates in your sinuses and makes steam spout out your ears, and it is just so full of flavor you'll want to eat it on everything you can get your hands on.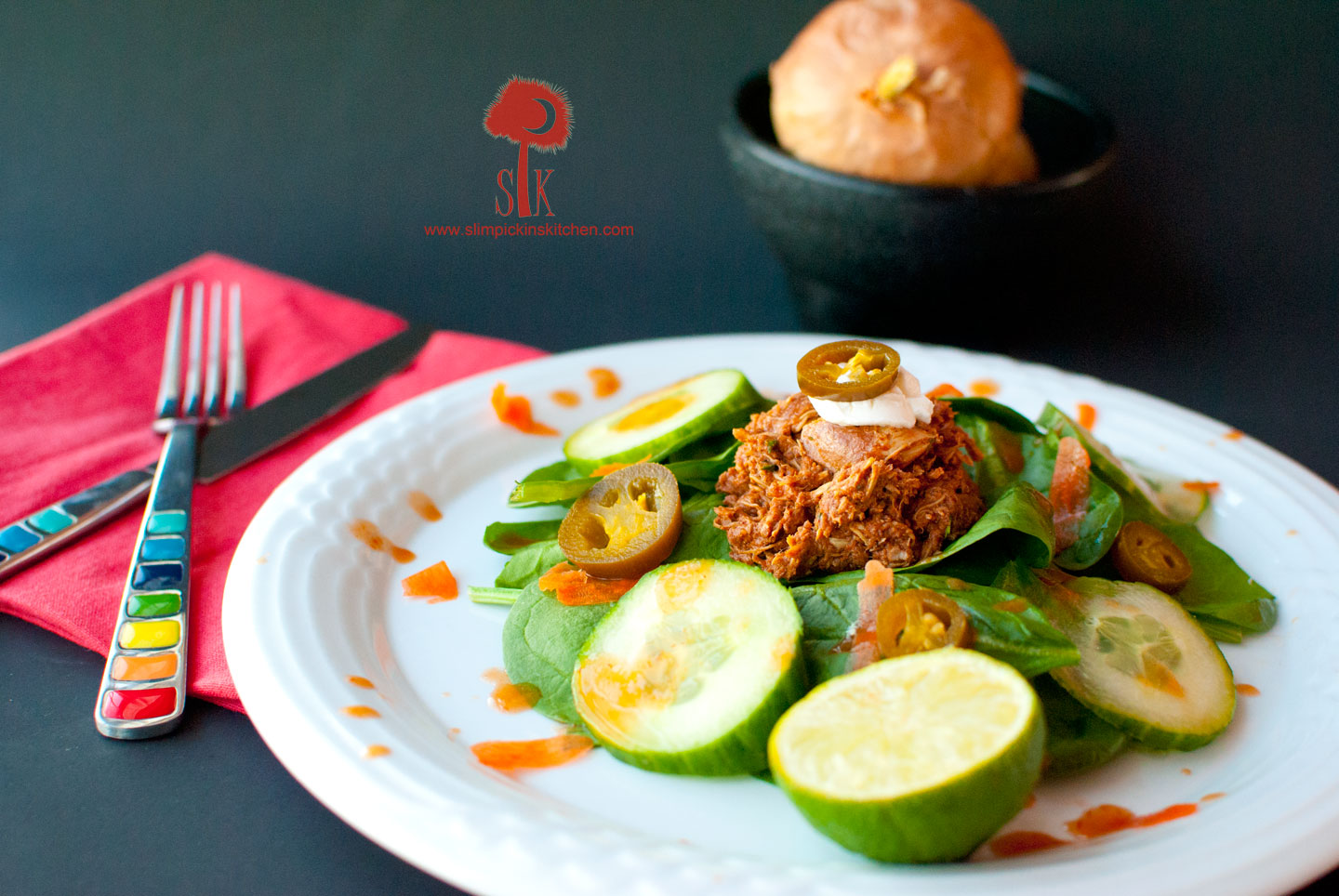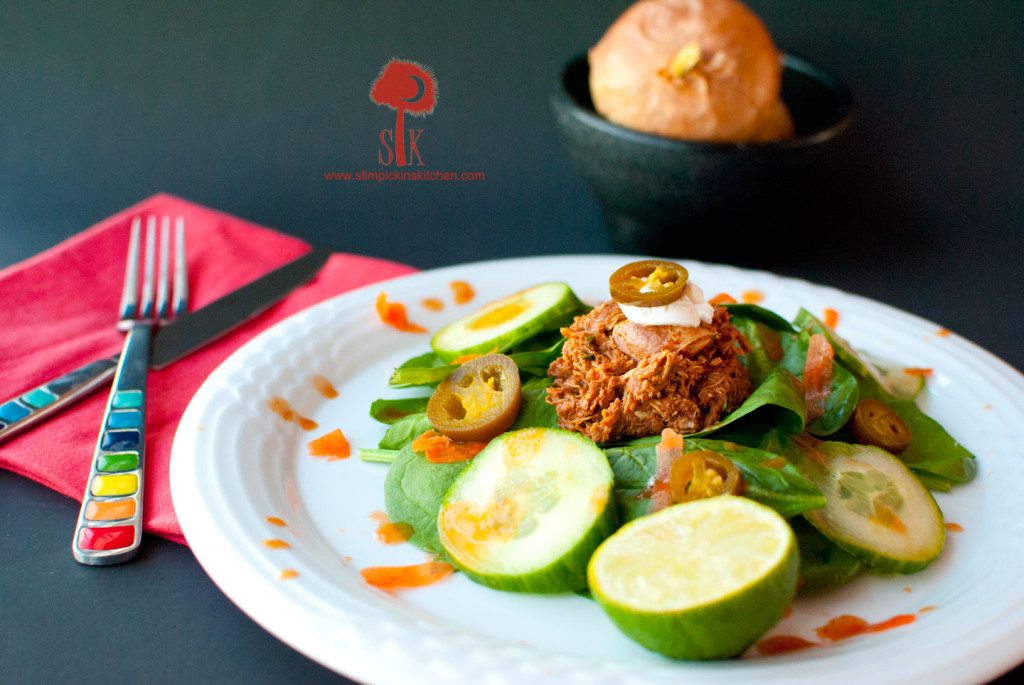 Dollop some on a cucumber? Check!
Scoop some up with a blue corn chip or multi-grain tostatda? Check!
Pick it out of the pot with your grubby little fingers then go back for seconds? Check and check!
Oh, and did I mention this has chocolate in it? And no, I don't mean bittersweet chocolate that I'm appalled is even named such a thing and that traditional mole recipes call for. What's the fun in that?!?
I put semi-sweet chocolate chips in mine...and it is absolutely divine.
Don't knock it 'til you try it, people.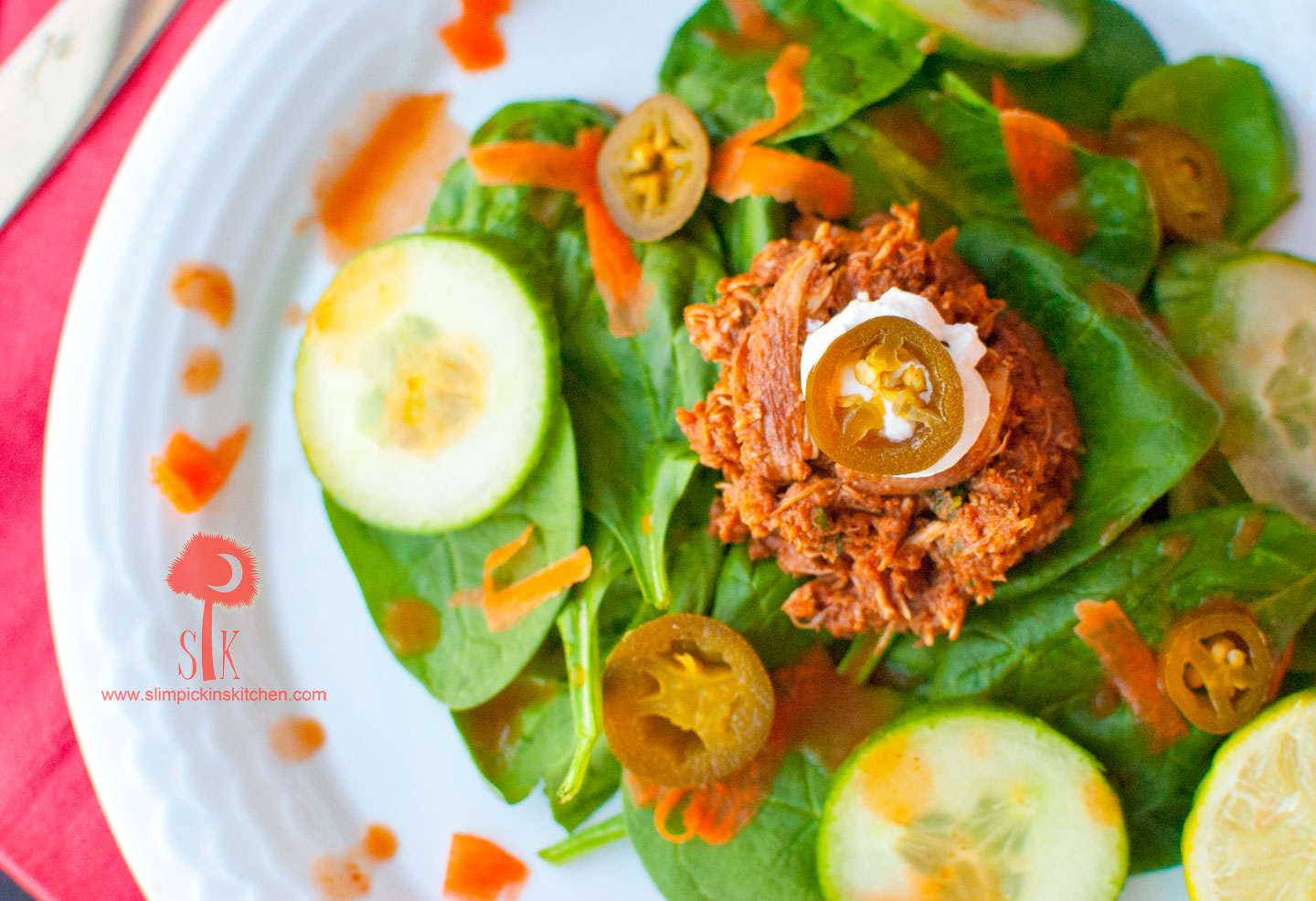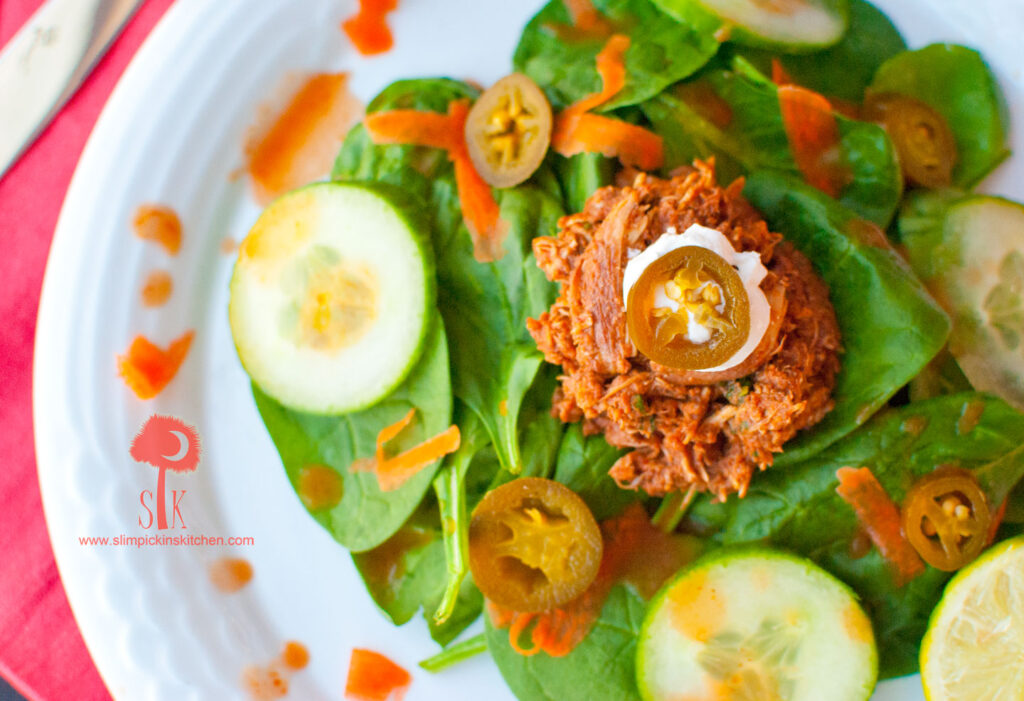 Getting to know you...
What's your favorite Austin Powers movie?
What meal do you make when you don't feel well?
Have you ever put chocolate in a savory dish?
Spicy Crock Pot Chicken Mole Taco Salads

Print recipe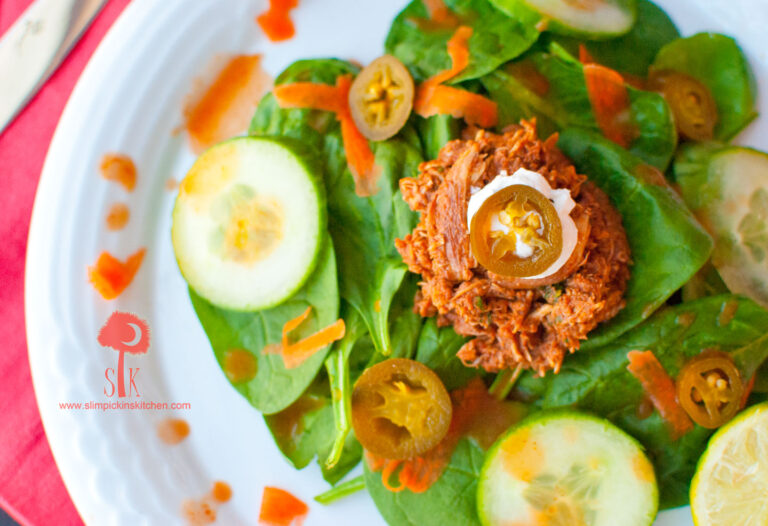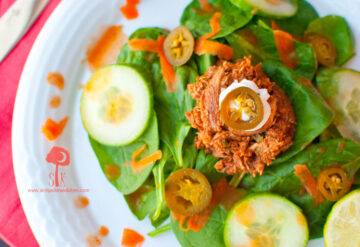 | | |
| --- | --- |
| Serves | 8 |
| Prep time | 10 minutes |
| Cook time | 8 hours |
| Total time | 8 hours, 10 minutes |
| Allergy | Tree Nuts |
| Dietary | Gluten Free |
| Meal type | Lunch, Main Dish |
| Misc | Child Friendly, Pre-preparable, Serve Hot |
| Occasion | Barbecue, Birthday Party, Casual Party |
| Website | Recipe adapted from Carpe Season |
Ingredients
2lb boneless, skinless all natural chicken breasts (or thighs)
28oz can or jarred organic diced tomatoes
1 Large sweet onion (roughly chopped)
1 large chipotle chili in adobe sauce (plus 1-2 teaspoon of the sauce)
¼ cup Ghirardelli semi-sweet chocolate chips
½ cup pecans halves (toasted )
4 Large dates
¼ cup raisins
3 garlic cloves (peeled)
1 tablespoon cumin
1 tablespoon chili powder
1 teaspoon coriander (optional)
½ teaspoon smoked paprika (optional)
1 ½ tablespoon cocoa powder
½ teaspoon ground cinnamon
1 ½ tablespoon extra virgin olive oil
½ cup low sodium chicken stock or water
1-2 Nunaturals stevia packet (to taste)
A couple handfuls of chopped fresh cilantro
salt & pepper to taste
Salad fixin's of choice i.e. spinach, cucumbers, peppers, guacamole, jalapenos, sour cream or plain Chobani greek yogurt, and crushed up blue corn chips
Note
*NUTRITIONAL INFO IS FOR MOLE RECIPE ONLY! SALAD INGREDIENTS ARE NOT INCLUDED*
*WWpts= 6 pts per serving*
*WWpts+= 7 pts per serving*
Directions
Step 1
Heat a medium skillet over high heat, spray with non-stick cooking spray, sprinkle the chicken with salt & pepper, then sear the chicken breasts on each side, about 2 minutes each. Add the chicken to the bottom of a crock pot. NOTE: You can skip this part, but I've noticed that if this isn't done a weird white chicken fatty something forms in the bottom of the pot. You're call 😉
Step 2
Add the remaining ingredients (besides the cilantro and stevia) in a food processor or high powered blender and blend until smooth. Add salt and pepper to taste, blend once more, then pour over the chicken breasts. Cook on high for 4 hours or low for 8 hours.
Step 3
Remove chicken from the crock pot, place on a plate, and cover with tin foil Let rest for at least 5 minutes. Prepare your salads while this rests.
Step 4
Once the chicken has rested, add the paddle attachment to your Kitchenaid stand mixer (or even use a hand mixer) and drop the chicken in the bowl. Turn the speed to low and watch as your chicken is magically shredded in less than 30 seconds!
Step 5
Stir in as much mole sauce from the Crock Pot as you like (this recipe makes a lot), taste for sweetness, then add stevia to taste. Stir in cilantro and more salt and pepper if needed then serve over your prepared salad.
Step 6
Enjoy!