🙂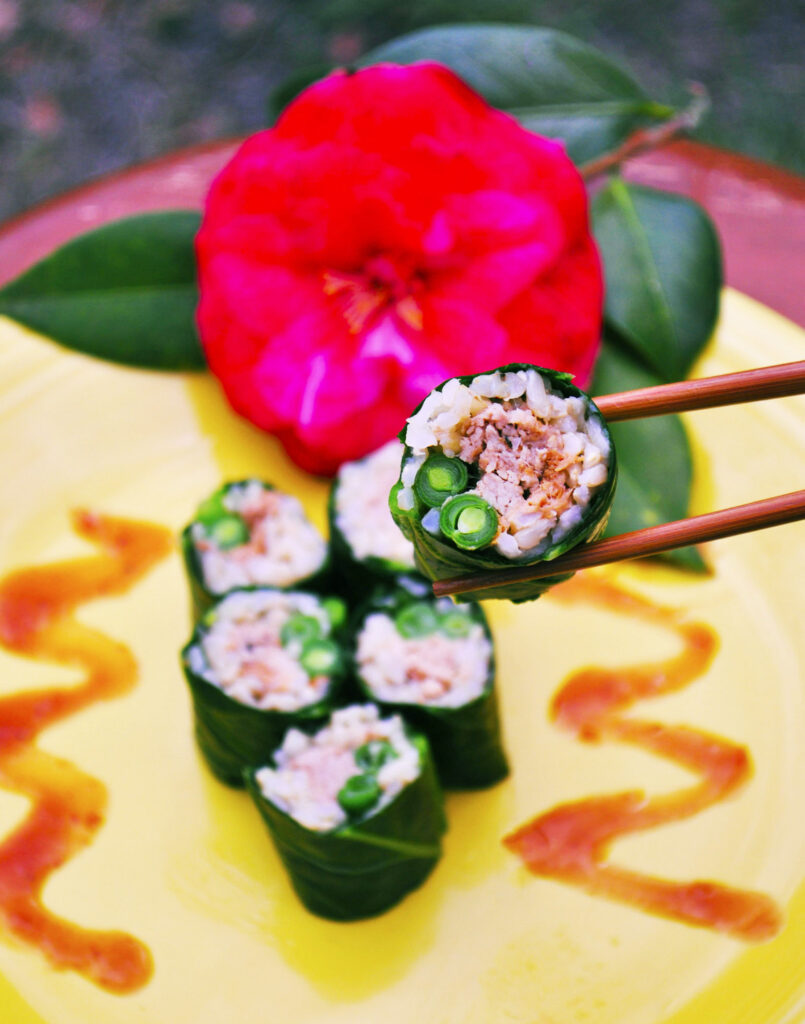 I LOATHE leftovers. We are not friends.
Well, the majority of leftovers anyway. Pizza, cold cheeseburgers (which I am obsessed with BTW), soups, or lasagna are about the only things I will even consider eating the next day. Everything else I avoid like mayonnaise.
Luckily for me, the hubs will eat almost anything, so last night's dinner usually means tomorrow's lunch for him.  After that, any leftover leftovers will either stay in the fridge until I don't feel badly for throwing them away OR they will go into said hubby's lunch again. And again. And then he tells me enough already.
Lately though, I feel as if it is my duty as a wife to control our portion sizes as well as our grocery bills. So, I have been trying to only make enough food for 3 servings, or I have been transforming any extras into brand new meals. Case in point: I had leftover Eastern Carolina (vinegar based) crock-pot BBQ and a mound of cold brown rice taking up room in my fridge. What's a girl to do?
Create southern "sushi", of course!
"📖 Recipe"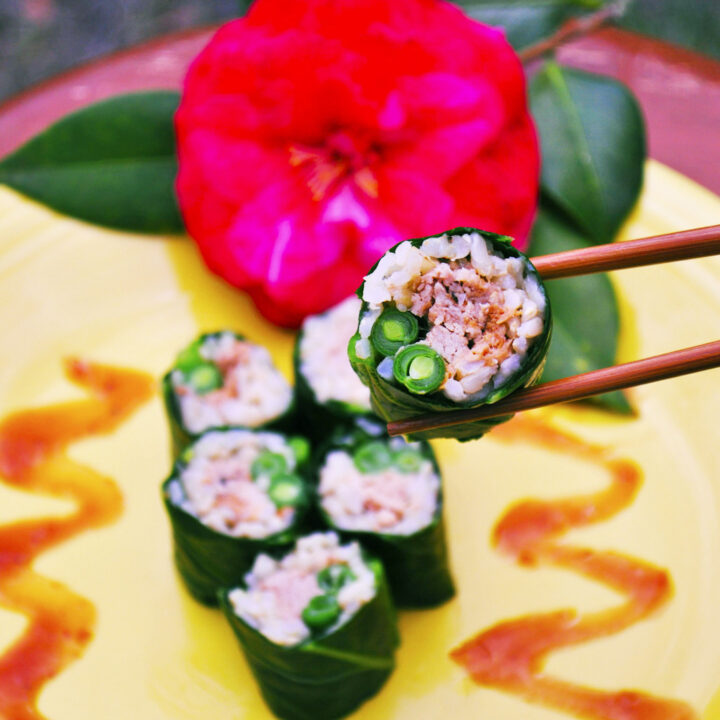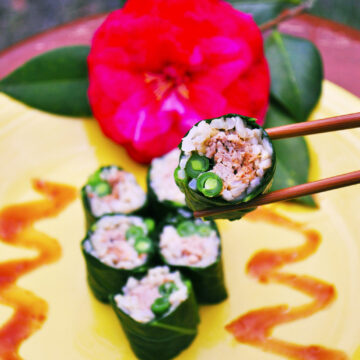 Sassy Southern Sushi
Leftover BBQ is wrapped up into delicious, healthy morsels of Southern flavor
Print
Rate
Ingredients
Sassy Southern Sushi Sauce
3

tablespoon

bottled BBQ sauce

I used Sweet Baby Ray's Hickory Brown Sugar

1

tablespoon

teriyaki sauce

1

teaspoon

agave nectar or honey

½

teaspoon

Siracha chili sauce

or more if you like it spicy

½

teaspoon

fresh ground ginger

1.

Mix all ingredients together until well blended. Cover and refrigerate

letting the flavors mingle while you prepare the sushi rolls.
Southern Sushi Rolls
1

large pot water

2

cups

cooked brown rice

⅓

cup

apple cider vinegar

2 ½

tablespoon

agave nectar or honey

1

teaspoon

teriyaki sauce

8-10

large whole collard green leaves

rinsed with stems and only the thick bottom portion of the membrane removed

¼

lb

fresh raw green beans

ends trimmed

¾

lb

pulled BBQ pork

chicken, or turkey (either homemade or purchased from your favorite local BBQ joint)
Instructions
Put pot of water on stovetop over high heat, covered. While waiting for the water to come to a boil, whisk together vinegar, agave nectar, and teriyaki sauce in a small bowl, pour over cooked rice, and stir. Cover rice mixture with plastic wrap and refrigerate.

Once water is boiling, add kosher salt and stir. (This is the only chance you are going to get to season the collards & the green beans themselves, so the water should be as salty as the ocean). Add collards and green beans and continue boiling until just softened, about 3-4 minutes.

Carefully remove collards and beans from water with tongs or a large slotted spoon, being sure not to break leaves. Immediately place in a colander and rinse under cold running water which will "shock" the veggies and help them maintain their bright green color.

Once the collards are cool enough to touch, carefully separate the leaves from each other and dry them by individually placing them between paper towels or clean kitchen cloths. Pat the beans dry.
Now it's time to make the rolls! The best part? No awkward sushi mat is needed!
Arrange the collards, rice mixture, BBQ, and green beans into an assembly line that works for you and your kitchen.

Place a collard green on a cutting board or clean counter top, making sure it is lying flat.

Using the middle membrane of the green as a guide, add a scant ¼ cup of the rice mixture to the side of the leaf closest to you and lightly press down with your fingers.

Add a small portion of the BBQ and two green beans on top of the rice, being sure to not add too much.

Now roll everything up as if you were making a burrito or a sandwich wrap, keeping everything as tight and compact as possible. Rice will squeeze out of the ends, so you can either fold them in or just cut them off when your roll is complete.

Place your roll on a plate or tray, seam side down.

Repeat steps 1-6.

Cut the rolls into bite size pieces-starting in the middle and working your way out-and serve immediately with a side of Sassy Southern Sauce OR wrap each uncut roll in saran wrap and refrigerate until ready to serve.
Notes
*Nutritional Information via www.myfitnesspal.com recipe builder. Figures may vary*
Nutrition
Serving:
2
g
|
Calories:
224
kcal
|
Carbohydrates:
24
g
|
Protein:
21
g
|
Fat:
4
g