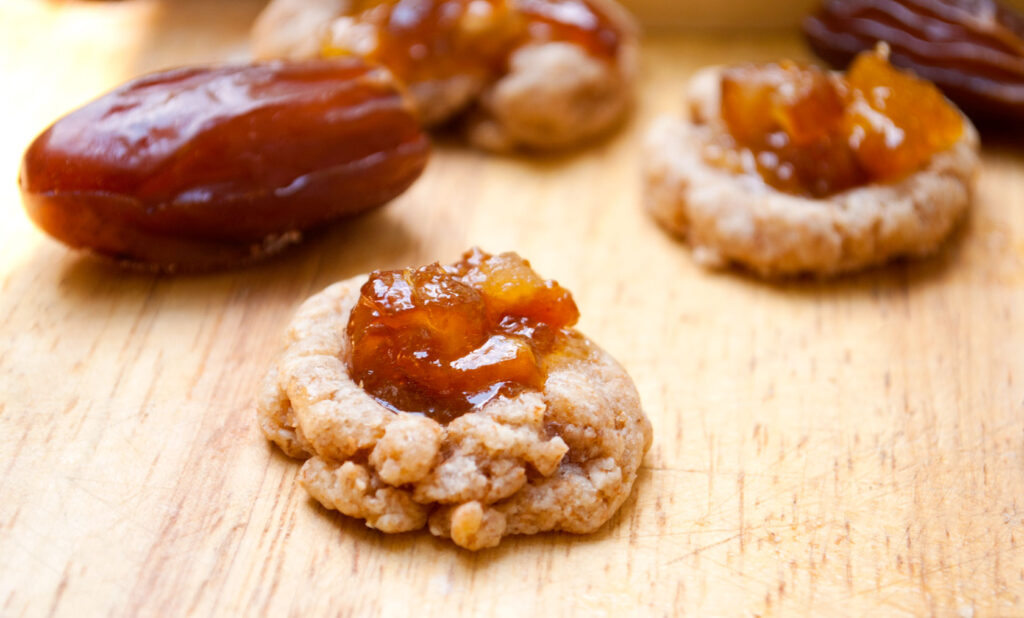 I am so excited about this recipe, I can hardly stand it.
These babies are so delicious, everyone will be singing praises to your name and inviting you (and these crackers) to every fancy function in town during ever season of the year.
Super sharp cheddar cheese + sweet dates + gooey fig preserves + sweet cream butter + whole wheat flour = a healthy match made in sweet and savory heaven.
The inspiration for this recipe came from my fantabulous sister-in-law (or her mom...or grandmother...or some other genius in her family) and her amazingly delightful "cheese dates", which are simply pitted dates wrapped in cheese straw dough that are baked until golden brown.
So. flipping. delicious.
I can not tell you how many times I have taken her cheese dates to a party only to have them devoured before I could even place the platter on the table.
Seriously.
They are that good.
If the hubs happens to sniff them out while they are baking, I barely have time to pull them out of the oven before he starts grabbing at them with his grubby man paws.
Since everyone loves the cheese dates, I decided to play around with her perfectly fantastic recipe and see what I could come up with.
After a bit of brainstorming and a crazy new obsession with fig preserves, I decided that cheese date thumbprint crackers would be an amazing new addition to my recipe repertoire!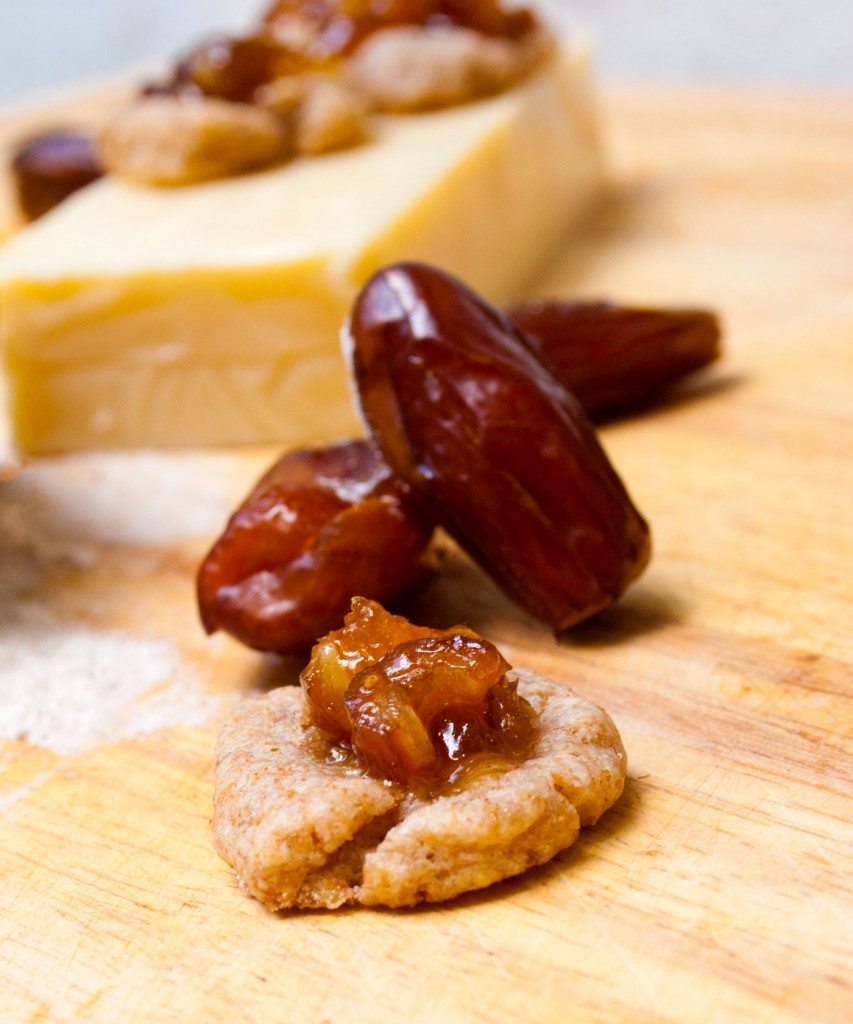 Also, since these are so incredibly easy to make and the recipe makes a ton, you could wrap them up in cute little packages, and give them to your kid's teachers as a thank you for all of their hard work throughout the school year!
I highly suggest that you make the packages childproof though...these crackers are way too hard to resist.
You have been warned! 😉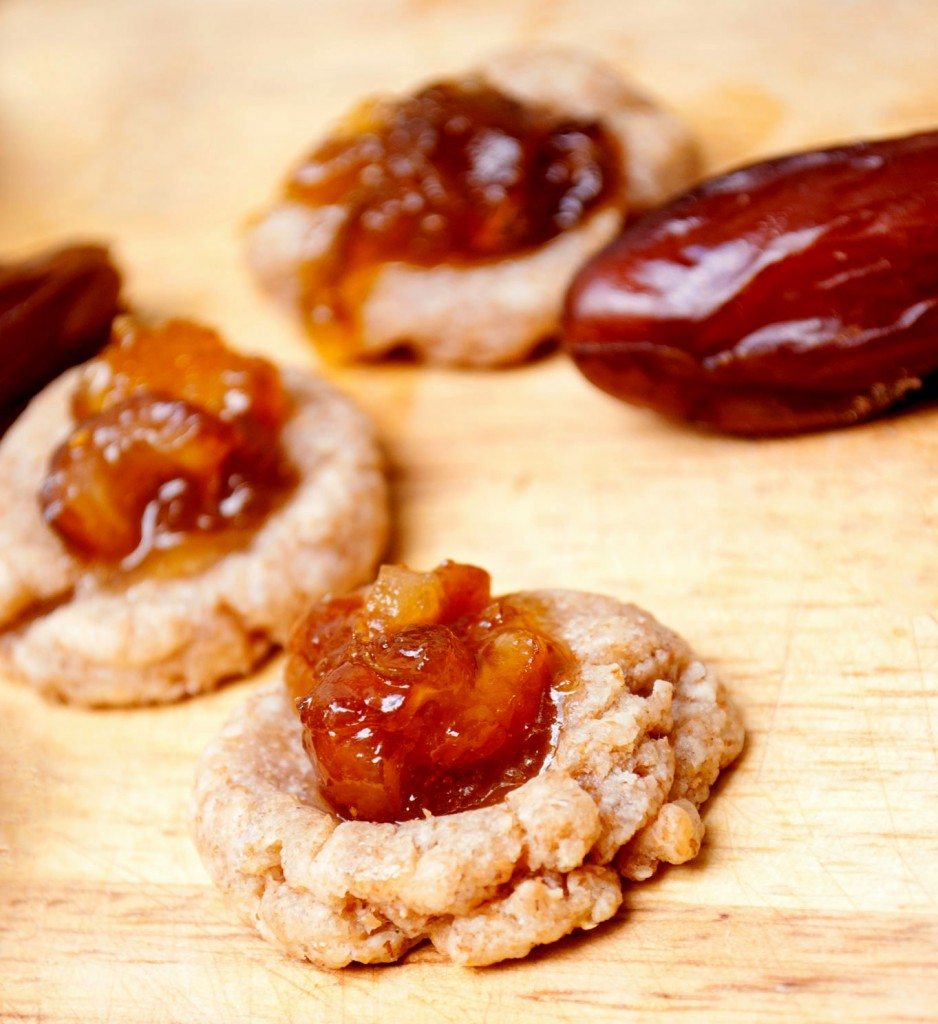 Note: Don't use pre-chopped dates if you can help it! They are coated in sugar and will add unwanted calories and sweetness to the recipe! Also, you could always make the crackers bigger if you want to. I just prefer them to be bite size...that way I don't feel bad for eating 10 of them 😉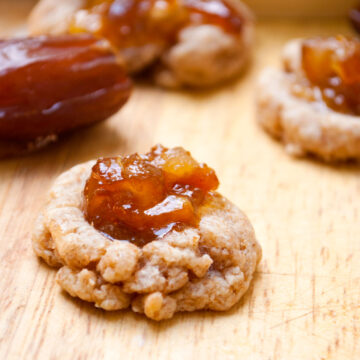 Fig-nomenal Cheese Date Thumbprint Crackers
Super sharp cheddar cheese + sweet dates + gooey fig preserves + sweet cream butter + whole wheat flour = a healthy match made in sweet and savory heaven
Print
Rate
Ingredients
6

tablespoons

*cold* unsalted sweet cream butter

cubed

1 ½

cups

whole wheat flour

⅛

teaspoon

baking powder

1

block Cracker Barrel Extra Sharp Cheddar Cheese

grated (10 oz)

pinch

of freshly ground nutmeg

¾

cup

all natural fig preserves

⅔

cup

pitted dates

I used Sunmaid

1-2

tablespoon

water
Instructions
For the dough and filling:
Pulse the butter, flour, and baking powder in a food processor until butter is finely chopped and well incorporated.

Add cheese, salt, and nutmeg and pulse until it forms a ball.

Wrap dough in plastic wrap and refrigerate for ½ hr.

While dough is resting, dice dates and add to a bowl with fig preserves and water.

Microwave for 30-45 seconds and stir.
For the crackers:
Preheat oven to 350°.

Pinch off small pieces of dough (about a teaspoon or so), roll them into a ball, and place them on a cookie sheet lined with parchment paper.

Using your thumb or the back of a fork, press down on the crackers until they are flattened.

Bake the crackers for 8 mins.

Remove from oven, create a small well in the middle of the cracker with the back of a spoon, and fill the well with a very small amount of the fig and date mixture.

Return to oven and bake for another 2-4 minutes or until golden brown.

Let cool completely.

Enjoy!!!
Notes
*WWpts and WWpts+= 1 pt per serving*
Nutrition
Serving:
1
g
|
Calories:
45
kcal
|
Carbohydrates:
5
g
|
Protein:
1
g
|
Fat:
2
g