Sparkling Blueberry Pomegranate Bruschetta

Print recipe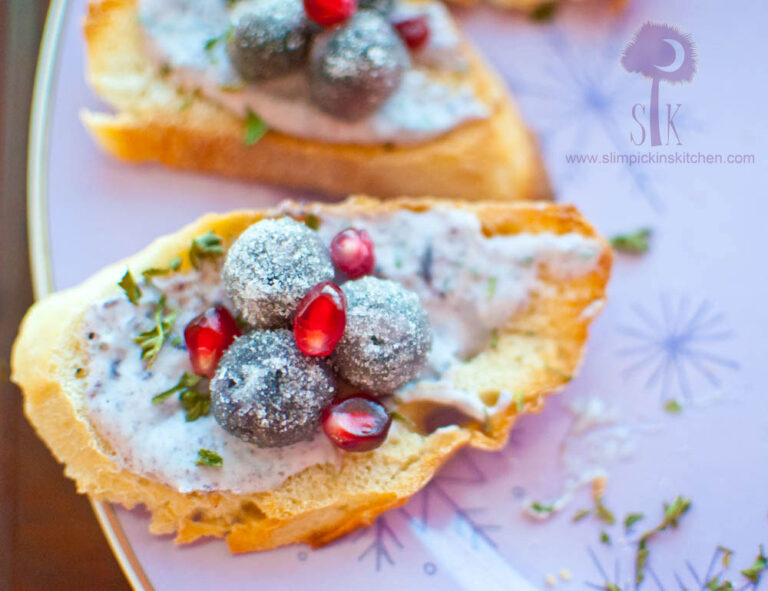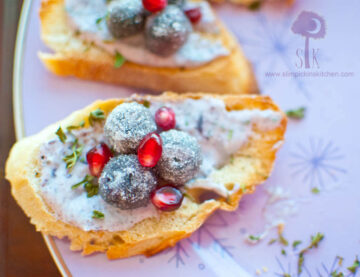 | | |
| --- | --- |
| Serves | 30 |
| Prep time | 15 minutes |
| Cook time | 10 minutes |
| Total time | 25 minutes |
| Meal type | Appetizer |
| Misc | Child Friendly, Gourmet, Pre-preparable |
| Occasion | Casual Party, Christmas, Easter, Formal Party, Thanksgiving |
Ingredients
1 large all-natural, fresh french baquette (or whole wheat if you can find it)
4 tablespoons all natural, high fructose corn syrup free blueberry jam (or any jam, preserves, etc. that you may have on hand)
1 tablespoon water
1 small 4 oz. container of fresh organic blueberries
½ cup pure raw cane sugar (or coconut sugar or sugar of choice. Nunaturals stevia may even work)
1 4 oz. package of fresh goat cheese
2 tablespoons fresh basil + more for garnishing (sliced into ribbons)
A sprinkle of sea salt
A few cranks of freshly ground black pepper
2-3 tablespoons milk of choice (I used unsweetened almond)
¼ cup organic pomegranate arils
Note
*WWpts & WWpts+ = 2 pts per serving*
Directions
Step 1
Preheat oven to 400 degrees (F).
Step 2
Heat the blueberry jam and water in a microwave safe bowl for about 15 seconds or until it's slightly melted. Set aside.
Step 3
While jam mixture is cooling, diagonally slice the baguette into ½ inch slices (it should yield between 30 or so pieces) and place on a baking sheet. Pop into the oven and lightly toast for 8-10 minutes or until the edges are slightly golden brown. Set aside.
Step 4
Pour sugar into a brown paper bag then add the blueberries to the jam mixture and gently stir until each berry is lightly coated. Using a slotted spoon, scoop about ¼ of the blueberries out of the bowl, shake off the excess jam, and add to the bag of sugar. Gently shake the berries in the bag until each one is coated very well. Take the berries out of the bag and place on a wire rack. Continue in small batches until all blueberries are coated. Set aside. NOTE: MAKE SURE YOU USE A WIRE RACK HERE. IF YOU DON'T AND PLACE IT ON A STANDARD COOKIE SHEET OR PLATE THE SUGARS WILL START TO BREAK DOWN THE BERRY AND RELEASE IT'S JUICES MAKING IT SOGGY.
Step 5
Mix together goat cheese, 2 tablespoon of blueberry jam, salt, pepper and two tablespoons of milk. Add another tablespoon of milk if the cheese mixture is too thick to spread. Gently stir in basil then spread a small amount of the cheese mixture onto each slice of baguette.
Step 6
Add 2-3 of the crystallized blueberries to the top of each slice, sprinkle with pomegranate arils and a few strands of basil ribbons. Arrange on a plate and serve!
Step 7
Enjoy!