Fresh Veggie Spring Rolls w/ Mango Mustard, Thai Peanut, & Pineapple Jalapeno Dipping Sauces

Print recipe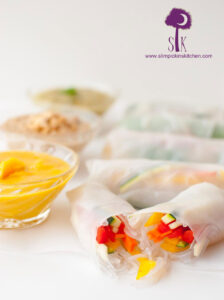 | | |
| --- | --- |
| Serves | 8 |
| Prep time | 25 minutes |
| Cook time | 20 minutes |
| Total time | 45 minutes |
| Dietary | Gluten Free, Vegan, Vegetarian |
| Meal type | Appetizer, Lunch, Main Dish, Snack, Starter |
| Misc | Child Friendly, Pre-preparable, Serve Cold |
| Occasion | Barbecue, Birthday Party, Casual Party, Easter, Formal Party, Valentines day |
Ingredients
8 rice paper spring roll wrappers
16 large fresh basil leaves
1/3 package Asian bean thread cellophane noodles
1/4 of both a large red & yellow bell pepper (thinly sliced/julienne)
1/4 large zucchini (thinly sliced/julienne)
1/2 carrot (thinly sliced/julienne)
1/4 english cucumber (thinly sliced/julienne)
any other herbs & veggies of choice (thinly sliced/julienne)
Directions
Step 1
Make dipping sauce(s) of choice and refrigerate.
Step 2
Cook noodles according to package directions. Drain noodles, but add the hot water to a large bowl (big enough to add wraps to).
Step 3
Add one rice wrap to the hot water and let soak for 10-15 seconds then remove to a wooden cutting board.
Step 4
Layer basil leaves, noodles, and veggies as desired, and roll like you would a burrito, tucking and wrapping the sides as you go. Place on a cookie sheet, plate, or plastic container lined with wax paper (seam side down). Repeat with remaining ingredients.
Step 5
Refrigerate until ready to serve.
Step 6
Enjoy!