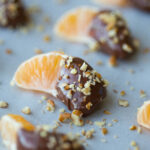 Print
Spiced Chocolate Covered Clementines
A new twist on the classic flavors of chocolate and orange, these Spiced Chocolate Covered Clementines are a perfect holiday dessert and are dripping with a rich dark chocolate that's been gently kissed by cinnamon and allspice.
Line a cookie sheet w/ parchment paper and set aside.

In a microwave safe bowl, heat chocolate chips for 1-2 minutes, stirring every 30 seconds, until completely melted. Stir in cinnamon and allspice. You could also melt the chocolate via a double boiler, if you prefer.

Dip half of each clementine into the melted chocolate, place on cookie sheet, and sprinkle w/ the chopped pecans.

Refrigerate for 10 minutes or until the chocolate is set and serve.

Enjoy!