Pear & Pecan Pizza Pie

Print recipe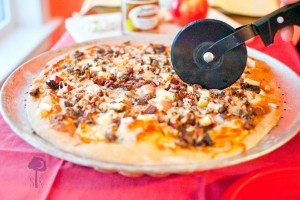 | | |
| --- | --- |
| Serves | 8 |
| Prep time | 10 minutes |
| Cook time | 15 minutes |
| Total time | 25 minutes |
| Allergy | Milk, Tree Nuts, Wheat |
| Meal type | Main Dish |
| Misc | Child Friendly, Pre-preparable, Serve Hot |
| Occasion | Birthday Party, Casual Party, Christmas, Easter, Thanksgiving |
*WWpts= 7 pts per serving* *WWpts+= 8 pts per serving*
Ingredients
+/-1/8 cup whole wheat flour (just for rolling out the dough)
1 16 oz. whole wheat pizza dough, raw and brought to room temperature
1/4 cup pure pear preserves
1-2 tablespoon water
5 sprigs fresh thyme (removed from stem)
1 1/2 cup 2% organic mozzarella cheese (shredded)
3oz pork, turkey, or veggie sausage patties, cooked & crumbled
1/2 small/med Honeycrisp or Grannysmith apple, diced (about 1/2 cup)
1/4 cup dates (chopped)
1/4 cup Gorgonzola cheese (crumbled)
1/4 cup pecan halves (toasted & finely chopped)
A bit of olive oil spray
Note
*WWpts= 7 pts per serving*
*WWpts+= 8 pts per serving*
Directions
Step 1
Preheat oven to 400 degrees (F).
Step 2
Sprinkle a large sheet of parchment or wax paper and the pizza dough with a bit of flour and roll out to fit the size and shape of your baking sheet. Transfer the rolled dough to the baking sheet.
Step 3
In a small bowl, heat the preserves and water in the microwave for 30 seconds, stir, then heat for another 30 seconds. Add another tablespoon of water if the preserves don't seem loose enough to brush onto the dough then stir in the thyme leaves.
Step 4
Brush the preserves onto the pizza dough, sprinkle with half the mozzarella cheese, add the sausage, apples, dates, Gorgonzola, and the remaining mozzarella cheese, then top with the pecans.
Step 5
Spritz the top of the pie with a bit of olive oil and bake for 15 minutes or until bubbly and browned.
Step 6
Let cool for a few minutes then slice and serve.
Step 7
Enjoy!
Love y'all!